Review: Beneteau Oceanis 60
---
The Beneteau Oceanis 60 is a proven hull that comes with features that should attract both coastal and blue-water sailors.
There is simply no arguing the fact that longer waterlines mean faster cruising miles, so, when considering your big trip, the Beneteau Oceanis 60 is a strong contender. The proven Berret Racoupeau hull is now approaching the 100 mark for numbers sold and Beneteau sensibly didn't try to fix something that wasn't broken; it simply improved on it, as I found out when sailing it off Majorca.
BENETEAU OCEANIS 60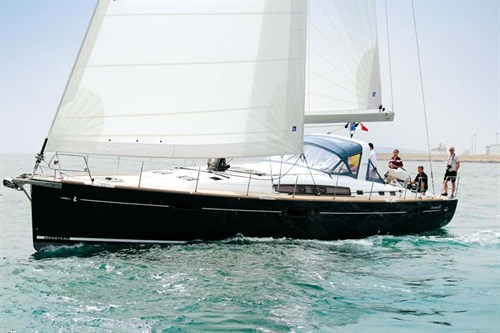 The big improvement is a change to the large sugar scoop transom now replaced by a dinghy garage that's rather modest in dimensions but nevertheless a useful place to store a small rubber ducky. For blue-water sailors the Oeanis 60 is Category A for 12 people and a secure place to put the tender is welcome when the swells break over the stern instead of the dinghy taking a battering on davits. The other blue-water considerations are options for larger tankage and renewable energy that allow you plenty of time staying at those secluded anchorages.
One of the largest production yachts currently being built, the Oceanis 60 at 60ft (18.3m) is an imposing vessel and has the kind of options list found on more expensive custom-built yachts. But as the largest yacht producer in the world, the French company is able to use economies-of-scale to build a competitively-priced boat capable of taking you around the world, and to do it in style.
Berret Racoupeau's hull is high-volume but doesn't look ungainly and was designed to maximise deck space, yet the 60 has remained true to the Oceanis philosophy by delivering a cost-effective cruiser that can be easily sailed. To this remit was added the interior design flair of Nauta Design that has resulted in maximum use of interior space.
DESIGN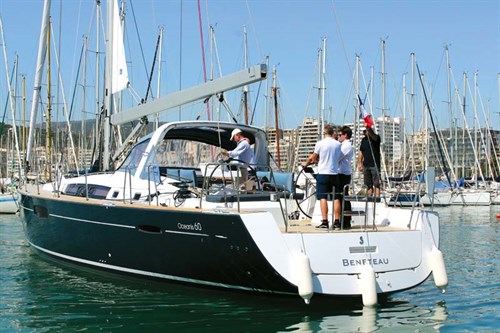 Entering the saloon through the plexiglass curved hatch – a functional electrical washboard with manual control – reveals a vast interior with U-shaped portside galley and a spacious navigation area to starboard adjoining a dinette area that can seat 10 crew. Good features here include the dinette's island bench seat that doubles as a coffee table, while the portside lounge can also have an armrest-cum-table. Abundant natural light comes from sunroofs at the back and middle of the high coachroof where a longitudinal handrail guides you forward. Along with handrails on the companionway and furniture with rounded edges helps make this cavernous interior safer at sea.
Galley features include a dishwasher slot, useful bench top rubbish bin portal and Siemens washer/dryer. Refrigeration space is good with a full-size 110lt front-opening unit, drawer freezer and 100lt icebox all on 24V power. Cooker facilities could be better with only a three-burner stove offered and 10 crew merits a four-burner I think.
Alternate power sources on the Beneteau Oceanis 60 include wind turbines and solar panels, as well as larger water and fuel tanks (1020lt and 1080lt respectively). Beneteau correctly describes the navigation table as a 'desk' due to its large size and surrounding it is good bulkhead space to house plotters, radar screens and satellite phones. Our test boat came with B&G plotters on each pedestal, including the new forward-scan module that allows you to safely nudge into places such as my favourite spot in the Caribbean's Tobago Cays or recesses in our own Great Barrier Reef.
THREE OR FOUR CABINS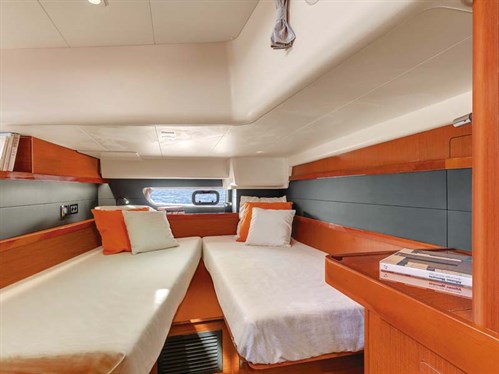 Layout options on the Beneteau Oceanis 60 are for three or four cabins, with the triple setup giving a luxurious owner's suite forward and two double cabins aft, including two singles. The island bed in the owner's cabin hinges up on gas-assisted struts to reveal lots of storage space and features a firm marine mattress along with wooden slats. Nearby, the vanity table opens to reveal a large mirror and plenty of room for personal items. Both stern cabins have tall headroom and overhead locker space.
The dark mahogany Alpi trim throughout the Oceanis 60 is smoothly finished and chromed push-button latches on the myriad of lockers should ensure gear remains stowed away. Ablutions should be easy as well with up to five toilets offered with electric options. This includes a toilet in the optional crew bow quarters accessed via a large deck hatch and which can also be an ideal hideaway for teenagers. It can have a two-bunk setup, hanging locker space and sink.
POWER SYSTEMS
As you'd expect from the premium boat in the Oceanis range, that comprises 11 models ranging from 31 to 60ft, the level of equipment available on the Beneteau Oceanis 60 is extensive. This includes 12 and 24V power as well as 230V circuitry, and the VW engine with twin alternators. What this means is the base price of $956,000 is just the starting point and some add-on items are advisable such as the 24V Quick bowthruster, electric winches and for shorthanded sailing the Selden in-mast mainsail reefing, as found on our review boat. With a boat of this size sail handling can be a challenge unless you enjoy inviting six of your best friends every time you leave the dock, so other nice options may include powered headsail reefing and a snuffer sock on the optional asymmetric kite.
Powering all the gear is a 140hp VW engine, a five-cylinder turbocharged unit with two meaty 12 and 24V alternators. Parts are interchangeable with car components, which was handy for an owner recently cruising in the remote parts of South America. The VW motor offers a better power-to-weight ratio than some traditional marine brands and on the test sail it was one of the quietest engines I've used, with little vibration felt throughout the hull.
For the skipper there are twin helms with bright B&G instruments angled upwards for easy viewing on wide pedestals, the electronic engine throttle (including thruster buttons) on starboard side. Beside the helms are large electric Harken H70.2 primary winches and, slightly ahead, the mainsheet winch, so both can be controlled by the steerer.
HULL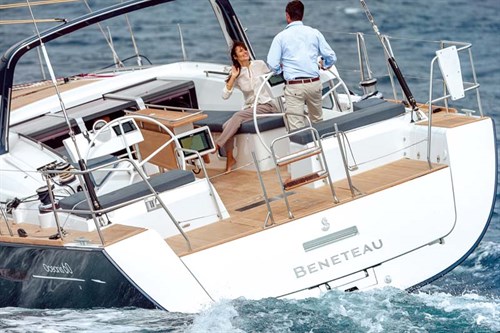 The keel-stepped three-spreader Selden rig with inboard shrouds and twin backstays offers several sail configurations and is strongly supported with chainplates running into the hull grid. The in-mast reefing reduces the mainsail size by 15m2 and is a significant sacrifice for the convenience of easier sail handling. Upgrading the Dacron sails to higher performance Mylar taffeta tri-radial sails from Incidences Sails is another good cruising option.
A major feature to the Beneteau Oceanis range that first came from its innovative Sense models is the fibreglass arch that houses the mainsheet blocks; cleverly avoiding clutter in the huge cockpit. Apart from the factory 120 per cent roller genoa, options include asymmetrics, a Code-O, and useful for serious cruising sailors a staysail setup along with a track for the self-tacking jib. The arch is also a roof strut for the bimini tent which closes off the entire cockpit area.
Hull construction is monolithic polyester with a balsa cored deck and the test boat was hull no. 87. Its wide beam is carried well back but rounded aft sections rather than chines slightly limit the size of the dinghy garage. But at anchor, simply click the electric swimplatform down and you have a comfy spot for both you and the dinghy to launch from.
ON THE WATER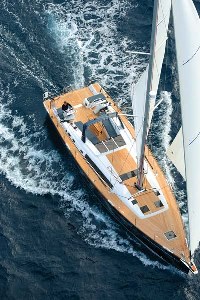 Springtime Mediterranean conditions are often variable, as I found during the seven years I lived on the shores of this ancient sea, and a varied sailplan is essential if you want to avoid the drone of the engine.
Convenience was the key priority for the elderly owner of our test boat, so the mainsail was effortlessly unwound by the electric Harken H46.2 halyard winch as I motored into the light breeze before aligning the Max-Prop propeller to reduce drag.
Under full power I reached 9.2kts with the Volkswagen spinning quietly at 3300rpm without any shuddering or complaint, so a cruising speed of 7.5kts would be ideal and give a large range if you fit the extra tankage.
Sail controls are organised to be away from the front of the large cockpit where half a dozen folk can easily shelter under the large bimini, while at the twin pedestals the crew can get on with the job of sail handling.
Both primaries and the mainsheet are at hand to the steerer, so despite the size the Oceanis can be easily handled by a couple with this sailplan. Unfurling the genoa was equally effortless before I turned the steering wheel down to send us on a beat.
Sitting out on the teak deck proved a comfortable perch to line-up the telltales and the feel from the single rudder was good enough to persuade me to stay there, rather than click the B&G autopilot on and shelter under the bimini with G&T in hand.
Blowing from the Italian side of the Med' the afternoon breeze increased, as did our angle of heel due to the stubby keel but nevertheless the feel was surefooted and the large spade rudder easily drove the Oceanis 60 through the tacks; while I walked between the helms without mishap.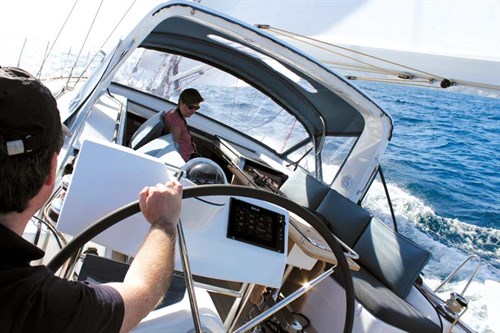 Speed on the B&G showed an unspectacular 4.6kts in the 10kt pressure but this improved drastically as the breeze filled in to 16kts showing a SOG of 9.1kts as I climbed to nearly 30-degrees on the wind. As our heel increased some closer foot chocks would have been nice and the myriad of lines were now overflowing the rope bins, but these were small complaints for what is definitely a blue-water thoroughbred. 
HIGHS
Seaworthy hull and sheltered cockpit
Easy sail handling
Comfortable interior with many options
LOWS
Second bowroller preferable
Cramped dinghy garage
BENETEAU OCEANIS 60 SPECS
Beneteau Oceanis 60 price: $1,050,000 (priced from)

GENERAL
MATERIAL GRP
TYPE Keelboat sailboat
LENGTH 18.97m overall w/ bowsprit; 17.75m hull; 16.43m waterline
BEAM 4.99m
DRAFT 2.7m deep draft; 2.2m shallow draft
WEIGHT 22,051kg; 6435kg ballast (deep draft); 7150kg ballast (shallow draft)
CAPACITIES
CABINS 3/4+forepeak crew quarters
FUEL 480lt; 600lt optional
WATER 708lt; extra 330lt option
ENGINE
MAKE/MODEL Volkswagen shaftdrive
TYPE Five-cylinder turbo-diesel
RATED HP 140
SAIL AREA
MAINSAIL 87.7m² classic; 73m² furling option
GENOA 90m² 120 per cent
ASYMMETRIC SPINNAKER 248m² option
STAYSAIL 48m² option
YACHTFINDERS GLOBAL
Cnr Beaumont St & Westhaven Dr,
Westhaven, Auckland 1010
Phone +64 9 377 3328
See the full version of this review in Trade-A-Boat #253, May / June 2015. Why not subscribe today?
Keep up to date with news from Trade-A-boat or like us on Facebook!