Review: Caribbean 27 Runabout
---
We go for a ride in a brand new Caribbean 27 Runabout.
The Caribbean Boats brand has operated for three generations with a long reputation for premium products. There's always an air of excitement when there's a new Caribbean model or update — such as when we joined the Mercury and Caribbean boats crew at Melbourne's St Kilda Marina on a brisk morning. Our mission? The review the new Caribbean 27 Runabout.
NEW CARIBBEAN 27 RUNABOUT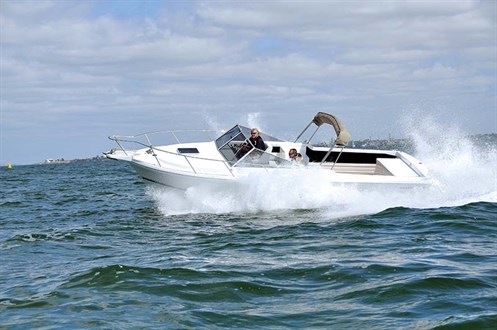 the world of technology and marine electronics has jumped ahead in leaps and bounds. The famous old 25ft Bertram/Caribbean grew slightly in the early 1990s to become the 26ft Caribbean to facilitate the wider 4.3lt V6 engines, replacing the older inline offerings.
In 2009, Caribbean went back to the drawing board to produce the wide bodied (3.21m) 27-footer which facilitated more fuel and water as well as a greater internal footprint.
The relationship between Mercury Marine and Caribbean also rolls back to the early 1960s when company founder Archie Spooner brought the Mercury (and Bertram) agency to Australia. The new 250hp 4.5lt MerCruiser is a perfect fit for the Caribbean 27 and we were lucky enough to get a ride in the first 27 Runabout immediately after propeller trials and commissioning, and just prior to its delivery.
HANDLING AND RIDE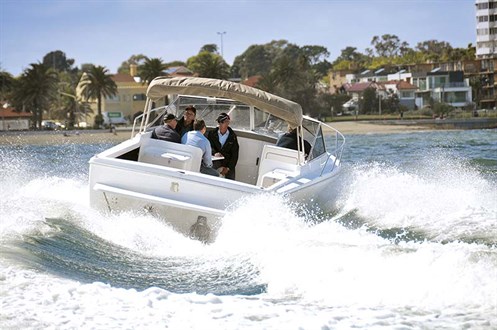 Sportsboats are usually long, sleek and narrow gutted, but I put the Caribbean 27 Runabout in the same stable due to its stallion-like performance. The new 4.5s had the big runabout bolting out of the gates with impressive holeshot. It transmitted the grunt impressively through the high-performance Bravo 1 sterndrives and 19in Black Max propellers with no hesitation; this thoroughbred wanted to run.
Port Phillip Bay turned on its usual conditions, with just under a metre of steep chop trying to slow us down – it didn't! I tickled the reigns and she immediately galloped up to a speedy 23.7kts at 3200rpm punching directly into a head sea with five of us on board. The telltale as to how good the ride was is that we all remained comfortably seated. She didn't buck at all as we rose to the plane and visibility remained almost constant throughout the whole event with the helm looking straight ahead through the big, strong safety glass windscreen that has always been a Caribbean trademark.
I felt a bit guilty kicking the beast in the guts to find out what it's really made of, especially on brand-new engines, but the Mercury boys were quite content as we hit a top speed of 43kts with a wide open throttle at 5200rpm.
The big, wide hull obviously pushes a lot of water, but never copped a drop on the windscreen until we rounded into a little blowback from the stiffening breeze.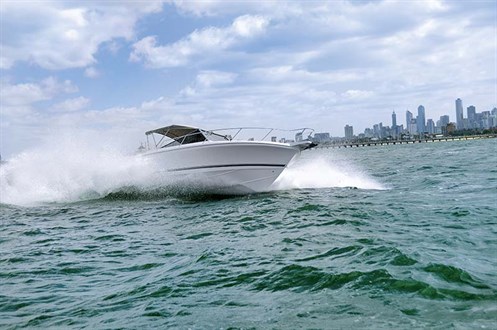 She stampeded downhill as if there were a hot stallion in waiting and all the while we never left the saddle. This is one hell of a boat with some very impressive hard-water performance.
It turned what could have been a spine-splintering hurdle into a casual canter with the surefootedness of a cross country champion. Then it was time to play. She turned from a sprinter to a dependable quarter horse with amazing traction through steep turns from the control of the Bravo 1 drives. This boat had no trim tabs, and didn't need them. It continued down the rough track sitting bolt upright even with four gents at the dinette seating on the port side and myself at the helm.
There is very low windage across the sporty profile, which gives total confidence in the slop – I'd love to take it to sea. Trim it back to a more sensible 4200rpm and you will feel like driving all day. I have no doubt that this prime mustang will achieve more than 40kts once properly run-in, weighted and trimmed.
4.5L MERCRUISER MPI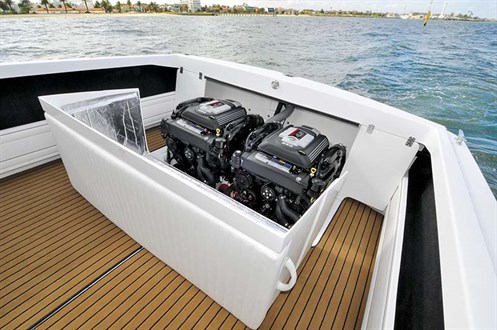 Mercury has produced some terrific innovations that enhance the Caribbean 27 Runabout. The Mercury DTS (Digital Throttle and Shift) mechanism makes life just so much simpler. It has knocked the number of control levers down from four to two, allowing singlehanded control of the whole boat, assisted with the hydraulic steering. That's nothing new – however the DTS controls have a 'sync' mechanism that allows both engines to be operated off a single lever by matching the engine revs on both sides. It makes high-speed control a breeze and eliminates the need to be constantly watching your tachos to match the revs.
The new Adaptive Speed Control allows a set-and-forget function similar to cruise control, whereby both engines will remain at a constant RPM even in a series of tight turns or perhaps in a confused sea where propellers can lose grip. Should an engine hit a point of cavitation, the Adaptive Speed Control immediately governs to whatever rpm is selected to avoid over-revving. You can still trim the engines individually to balance for sea and load conditions.
INFO HUB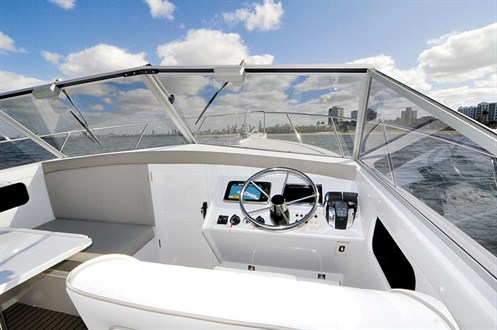 The DTS levers allow much better control of the hull both at speed and for close-quarters manoeuvring in tight marinas and moorings. She's an absolute breeze to drive, aided by the big bite in both forward and reverse from the Bravo legs. The dual set of analogue gauges have been replaced with a compact VesselView multifunction display. Caribbean has modernised the dash and created plenty of space for large electronics.
The 7in VesselView touchscreen has a digital interface that lets you access full engine analysis data quickly and effortlessly for up to four engines simultaneously. It can even be used as a chartplotter or perhaps link to Simrad radar and sonar and Sirius Weather. Mercury calls it a "total digital information hub".
There are more practical improvements to the MerCruiser 4.5lt engines, other than just the obvious power and efficiency. All of the service points have been moved to the front of the engines making them much more user-friendly. This includes the oil filters and dipstick that have traditionally been quite a pain to get to, and often down low in the bilge.
LAYOUT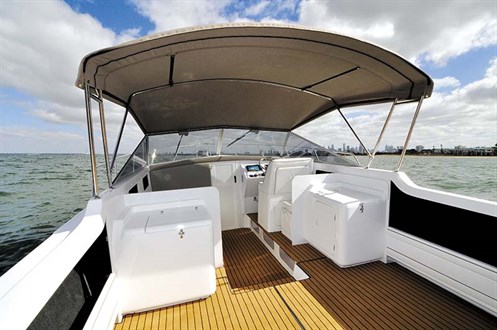 Caribbean Boats has refined the internal finishes, presenting a new, fresh look. It has upgraded the 27 Runabout with some lush and warm Warwick fabrics, inviting some refreshing appeal and included piping on the seat and trim cushions. The laminate edges are now fully trimmed and the wide cockpit is supplied with a teak-look pop-in carpet that adds considerably to the prestige finish. The lockable cabin has a bunk infill making a very large double berth, and there's a pump-out toilet as standard.
Caribbean is offering optional layouts as displayed in our review boat. It retains the convertible dinette, storage and large icebox on the port side, while the helm seating unit remains unchanged other than for the trim updates. However the galley module on the starboard side has been slipped back slightly, allowing a very handy space for a removable icebox.  
THE TRADE-A-BOAT VERDICT
From a fisherman's point of view, I'd love to get my hands on a Caribbean 27 Runabout and fit it out for gamefishing, but from a cruising and sportsboat perspective, she's a ripper. There is 550lt of fuel under the floor to give excellent cruising range, a Muir windless out front to make life easy and the beamy hull provides exceptional stability at rest.
With improved performance from the new MerCruisers and a host of technological, ergonomic and aesthetic updates, the new a Caribbean 27 Runabout package is sure to be another winner.
HIGHS
• Big, open and very sporty
• Tradition meets modern technology
• Strength and stability
• Gutsy engines and DTS controls
• Room to move
LOWS
• Carpet needs Velcro or press studs
CARIBBEAN 27 RUNABOUT SEA TRIALS
Twin 250hp MerCruiser 4.5L MPI V6 engines, with five passengers
| | | |
| --- | --- | --- |
| RPM | SPEED (KTS) | FUEL BURN (LT/H) |
| 2700 | 18 | 21 |
| 3200 | 24 | 30 |
| 3800 | 29 | 42 |
| 4800 | 38 | 70 |
| 5200 | 43 | n/a |
* Pushing hard into a head sea we achieved 36.7kts at 4900rpm burning 76lt/h. Sea-trial data supplied by the author.
CARIBBEAN 27 RUNABOUT SPECS
Caribbean 27 Runabout price: $223,000 (priced from)
OPTIONS FITTED
Interior upgrade to cruiser model, optional deck layout with removable icebox, and Raymarine E Series HybridTouch 12in multifunction display
GENERAL
MATERIAL Fibreglass
TYPE Deep-vee monohull
LENGTH 8.23m
BEAM 3.21m
WEIGHT Approx 2700kg
DEADRISE 22°
CAPACITIES
PEOPLE 8
REC. MAX HP 500
FUEL 550lt
WATER 160lt
ENGINE
MAKE/MODEL 2 x MerCruiser 4.5L MPI
TYPE Fuel-injected V6 petrol
RATED HP 250 (each)
WEIGHT 424kg (each)
DISPLACEMENT 4500cc (each)
GEAR RATIO 1.65:1
PROPELLER 14.5 x 19in
MORE INFORMATION
Caribbean Boats New Zealand
9 Clow Place, Hamilton
Phone 027 279 664 or 027 487 4226
Email scott@carribeanboats.co.nz
See the full version of this review in Trade-A-Boat #254, June / July 2015. Why not subscribe today?
Keep up to date with news from Trade-A-boat or like us on Facebook!