Review: Lagoon 40MY
---
Lagoon 400 Series sail catamarans are so successful, the power cat maker launched a motorised version in the Lagoon 40MY.
Our Lagoon 40MY review boat, one of 10 power cats built at the time of writing, is an owner's version, so has the port hull for a spacious en suite cabin with two doubles and shared bathroom in the starboard hull.
The functional deck layout of the sailing version remains, along with the GRP hull construction. Inside the saloon, however, is where custom designer Nauta has made some changes from the 400S2 sailing version. The finish is in light Alpi laminate and the CNC machining gives an accurate finish throughout.
LAGOON 40MY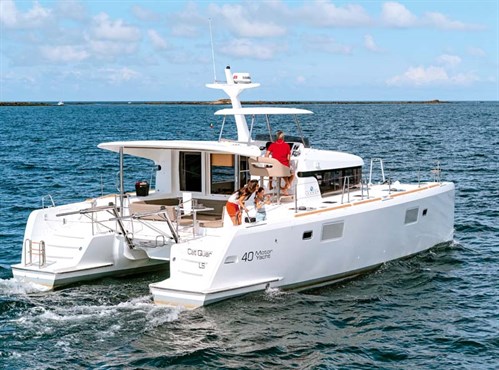 The L-shaped lounge has a rectangular table for diners which is available in a hi-low version that becomes a berth. Alongside is the small navigation table on the port corner with movable stool; and the electrical control panel is hidden behind a cushion.
Usefully on this Lagoon 40MY powered catamaran, there's enough bulkhead space for a large plotter at the chart table and surrounding views for the skipper. Just install a second control head for the Simrad autopilot here and you can relax underway.
The aft-facing galley is ideally placed to serve diners seated on the stern deck, via a sliding window, and is well equipped. A three burner stove/oven with microwave should cover the catering, while there's deep double sinks for the clean-up. Across the door nestles the chest fridge, which has bulkhead space for the television and overhead the lockers have gas struts on the doors. Of course, as with all the Lagoon saloons, the vertical sides maximise interior space, perhaps at the cost of a streamlined exterior but this feature does keep our harsh Aussie sun off the saloon.
BERTHS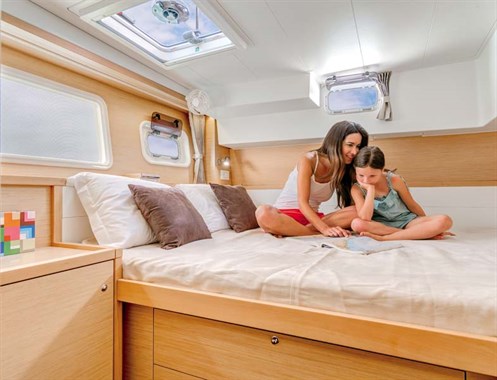 Accommodation choices on the Lagoon 40MY powercat also include a four cabin charter layout, in addition to the dedicated portside owner's suite. Ablutions are flexible as well, ranging from 2-4 bathrooms, so charter operators should be happy. The port hull is devoted to the owner's cabin and as on the old sailing version there is plenty of space, allowing a large walk-in shower forward, roomy study amidships and the same hull-wide bed snugly fitted at the stern. It is closed off via a neat sliding door arrangement, and is what I liked in this layout – giving the feeling of seclusion while not being stuffy. This is due to all the overhead hatch space and large hull windows plus the natural light from the escape hatch, the latter an essential safety feature on all multihulls – although I'd prefer an opening hatch rather than the break-glass screen used. Lightweight doors and laminated bench tops hide plenty of storage, although some of their catches could be sturdier.
Moving across the corridor of the starboard hull gives access to the two twin cabins (with en suite bathrooms) or a centralised single one as on our review boat.
DECK LAYOUT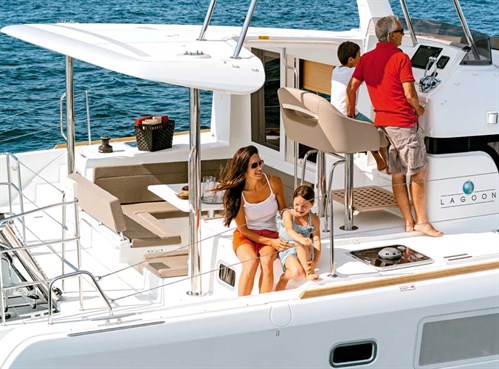 Apart from the sailing rig, the Lagoon 40MY continues with the same deck layout as the sailing model, which is a good thing. Instead of a sailing rig, the 40MY has sunpads on top of the tall coachroof, accessed by a rather flimsy ladder at the front, so you need to be agile. Elsewhere, a lone sheet winch has been used aft as a capstan, but looks rather an afterthought, although it should do the job.
Foredecks are a major feature of catamarans and the 40MY is not exception, with trampolines where two single sunpads can sit. Nearby, a 9kVa Fischer Panda generator can live in one of the large bow lockers (and power the optional Cruisair 40,000BTU air conditioner). Also, there's plenty room for fenders in the other. In between sits the vertical windlass with capstan which is deck mounted but has an exposed rode out to the crossbeam, so watch the kids' toes. Usefully, there's a second bow roller but on the lightweight side for bluewater cruising.
HELM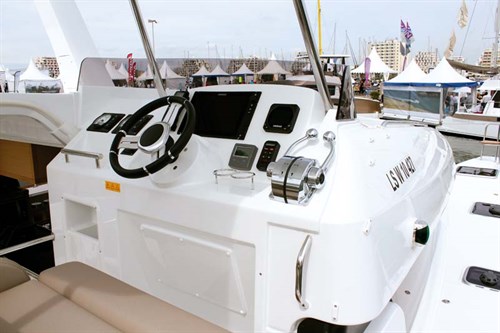 Stepping up to the elevated helm, from either the cockpit or the deck, gives the skipper commanding views and instils confidence during those tight manoeuvres when you need to see all corners of the boat.
A hardtop bimini with sturdy stainless steel struts does its job well and can be closed at the front with clear plastic. The layout also allows the skipper to chat to guests and the console seat is wide and height adjustable.
Down in the aft cockpit, this area is protected by the extended flybridge top which makes the U-shaped dining area a comfy spot in most weathers, while leaving ample room for the transom walkway. Water access is via both hulls and there's a ladder on the port one. In between, the dinghy hangs on its davits, is well clear of the water and easily launched for forays ashore.
Nearby is a large hatch in each hull for engine access which handily has removable storage space above it for, say, shore power lines and so on. Lifting this marine plywood shelf reveals the 75hp Yanmar saildrive which has enough space around it for most maintenance tasks. Its alternators charge two 140amp house batteries plus there's a 40amp/hour battery charger. But with all that flybridge space, some solar panels would be an ideal addition.
ON THE WATER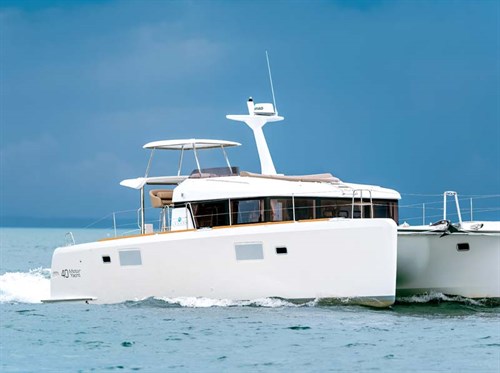 Spinning the Lagoon 40MY hulls around solely by the fore and aft movement of the twin engines allowed me to point our bows towards the breakwater at La Grande Motte, where a small choppy sea awaited me and my host for the day, Christophe de Kerdrel, who is sales manager for Lagoon Asia Pacific.
Standing high up on the single helm gave me confidence to handle this 40-foot powercat, as I could see both bows and the wide transom. The long throttle levers allowed fine control of the 75hp Yanmar engines as I increased speed beyond the breakwater.
For monohull boaters, there's a noticeably different motion on a catamaran and a somewhat unpredictable nature to the way the hull moves in a swell, so it's always wise to have a hand-hold nearby and there's a couple around the helm console. Instrumentation consists of a central Simrad plotter with analogue engine gauges to port and throttles on the outside – so you can stand on the deck and still control the 40MY.
The large seat supports you when sitting and braces when standing, so I found it comfortable, while the small windshield did its job but plastics are needed for offshore. The smallish hydraulic steering wheel felt a wee bit heavy, but controlled the 40MY as I rolled into a series of S-turns, which caused some wave slap under the bridgedeck before I continued into a fairly tight turn. Rough weather might leave you feeling a little lacking in support at the helm, so takes some getting used to if you come from an enclosed flybridge.
Accelerating, I managed 10.1kts while the saildrives spun at 3500rpm but with fuel consumption at 33.5lt/h, a rather wasteful exercise before throttling back to a cruising speed of a tad under eight knots which according to Lagoon uses a miserly 6.18lt/h (no consumption gauges are fitted as standard to the 40MY). A 400lt tank is an option worth considering for bluewater sailors or charter operators.
Lagoon tells me that a new 80hp common rail engine will be used in future models which should increase the cruising speed.
Handling also proved a satisfactory affair, with the 40MY obediently going astern to my bidding – just tweak each throttle to keep on track. But I believe a single thruster option is available –useful for combatting the large windage in stormy conditions.
THE TRADE-A-BOAT VERDICT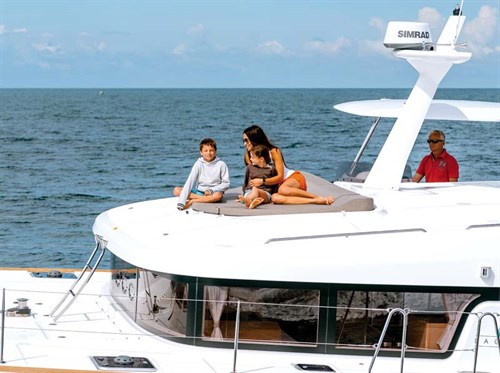 There's not much to dislike about the 40MY despite its rather utilitarian fit-out, which makes it a serious contender in the entry-level motor catamaran market.
LAGOON 40MY SEA TRIALS
Twin 75hp Yanmar 4JH4-TCE turbo-diesel marine engines with HEL 3 PAL 18X16 LH SD propellers.
| | | |
| --- | --- | --- |
| RPM | SPEED (KTS) | FUEL BURN (LT/H) |
| 1000 | 4.05 | 0.61 |
| 1600 | 6.55 | 2.86 |
| 2000 | 7.75 | 6.18 |
| 2600 | 8.75 | 13.71 |
| 3000 | 9.8 | 21.21 |
| 3300 | 10.85 | 33.17 |
* Sea-trial data supplied by Lagoon. Fuel burn figures are for both engines combined.
LAGOON 40MY SPECS
Lagoon 40MY price: $665,000 (price as tested)
GENERAL
MATERIAL Fibreglass
TYPE Cruising powercat
LENGTH 11.99m
DRAFT 0.91m
BEAM 6.79m
WEIGHT 11,253 kg (dry)
CAPACITIES
PEOPLE (NIGHT) 8 to 10
FUEL 2 x 300lt (2x 400lt optional)
WATER 300lt
ENGINES
MAKE/MODEL 2 x Yanmar 4JH4-TCE
TYPE Four-stroke turbo-diesel marine engines
RATED HP 2 x 75hp
PROPELLERS 2 x HEL 3 PAL 18X16 LH SD
MORE INFORMATION
Yachtfinders-global
Cnr Beaumont St and Westhaven Drive Westhaven, Auckland
Phone 09 377 3328
See the full version of this review in Trade-A-Boat #254, June / July 2015. Why not subscribe today?
Keep up to date with news from Trade-A-boat or like us on Facebook!