Review: Mercury Racing 1350/1550
---
The Mercury Racing 1350/1550 engine is an immensely powerful marine engine, despite displacing just 9lt.
Released at the 2015 Miami International Boat Show, the Mercury Racing V8 1350/1550 is a development of the Mercury 1350 and 1650, the latter a dedicated race engine.
By inserting an electronic tag into the instrument panel, the engine can develop either 1350 brake horsepower on 98 RON unleaded fuel or 1550bhp on 120 RON race fuel. All this from an engine that displaces just 9lt and revs to 6800. Considering V8 Supercar engines reach 7400rpm, 6800rpm is definitely not high. Even the new Mercury Verado 400R outboard revs harder.
MERCURY RACING
Designed by the US Mercury's Racing division on the outskirts of Fond du Lac, Wisconsin, the all-alloy cylinder block and head are cast by an external supplier then assembled at the racing factory with the assembler signing-off on each engine. The immense power is achieved by using a turbocharger per cylinder bank combined with pulse-tuned exhausts and electronically-controlled waste gates to provide solid torque and power delivery across the entire rpm range. There are quad camshafts and 32 valves, chain-driven for reliability. Who wants a camshaft belt breaking at over 6000rpm?
As with most turbocharged engines the compression ratio is way lower than naturally aspirated engines, in this case a mere 7.8:1 compared to 11:1 or even 12:1. Sensibly the cylinder bore is much greater than the piston stroke to reduce piston speeds when the engine is worked hard. A 105amp voltage regulated alternator is standard to quickly charge the starter battery that also powers the sequential electronic fuel injection. A ribbed serpentine belt drives the alternator and cooling water pumps.
A cutaway example of the engine shown at the Miami show highlighted the sound engineering. The chain camshaft drive is immensely strong yet easy to access and the turbochargers mount neatly at the back of the engine. The bobtail engine (minus drive leg) is 678mm long, 864mm wide and 737mm high from the crankshaft centreline.
The standard M8 drive leg with forward-angled leading edge can run a multitude of Mercury Racing props that are individually balanced at the Racing factory by long-experienced professional craftsmen. The care taken to get the balance right has to be seen to be believed, though what you'd expect from the world's number one manufacturer of props.
The Mercury 1350/1550 is available in a range of colours to match hulls.
THE TRADE-A-BOAT VERDICT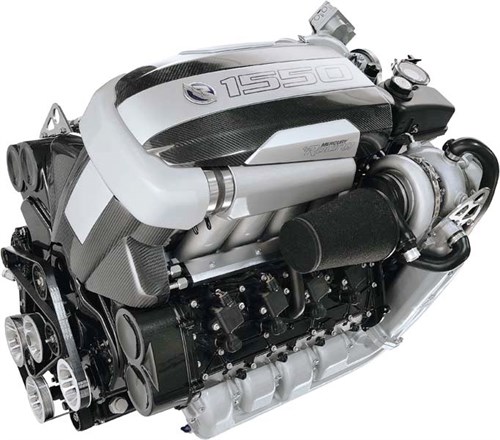 It's a bit sad this engine is described as nine litres and not 552 cubic inches, but this is in line with the other inboards and sterndrives made by Mercury which now all have metric displacements.
Robin Senger, Mercury's Product Training Manager who showed me through the racing factory, told me there's a US trend towards manufacturers giving engines metric displacements. In my opinion, that's un-American and frankly manufacturers shouldn't stand for metric measurements diluting tradition that separates the US from the rest of the world! 
MERCURY RACING 1350/1550 SPECS
TYPE Turbocharged V8 petrol four-stroke marine engine
RATED BHP 1350/1550 at 6800rpm
TORQUE n/a
DISPLACEMENT 9lt/ 552cu in
BORE X STROKE 116 x 107mm
WEIGHT 782kg (dry w/ drive leg)
See the full version of this review in Trade-A-Boat #254, June / July 2015. Why not subscribe today?
Keep up to date with news from Trade-A-boat or like us on Facebook!