Review: Profile 780HW
---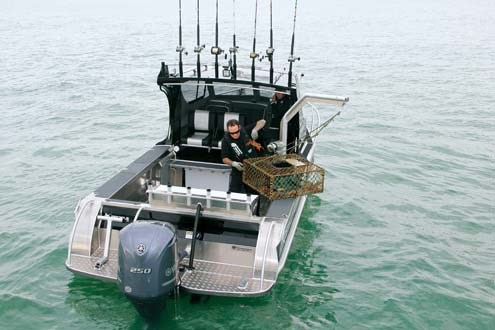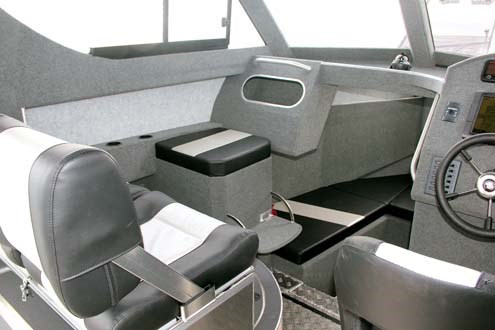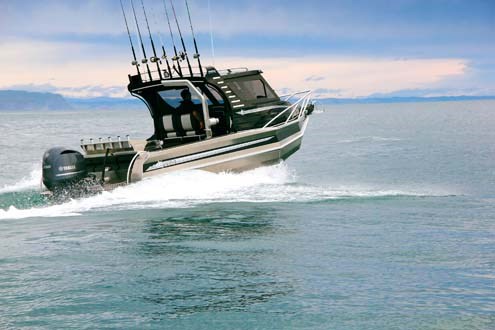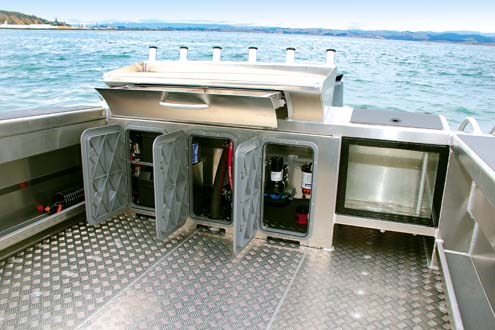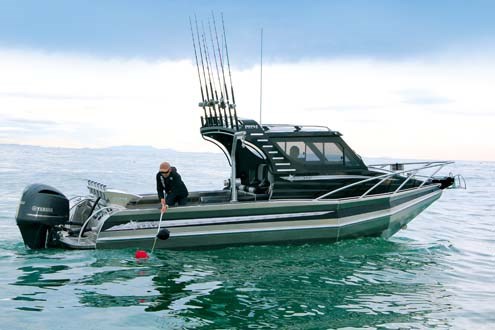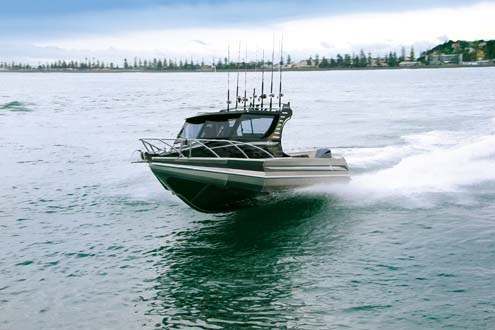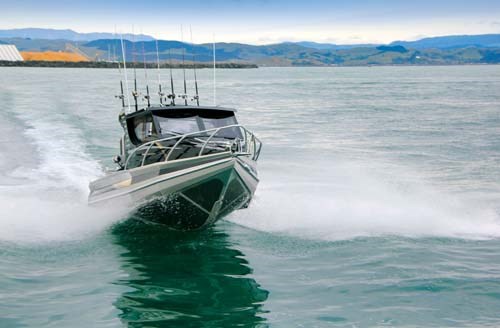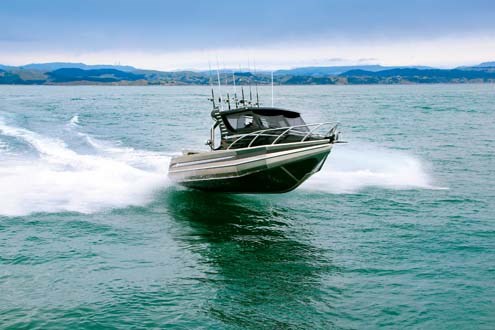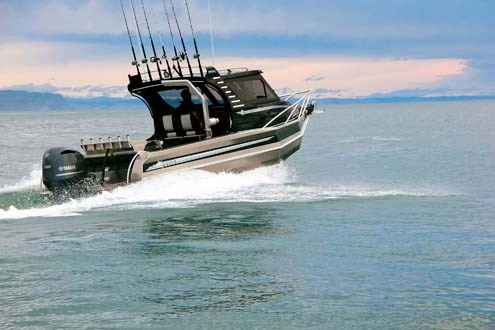 The Profile 780HW is the latest aluminium fishing boat from Profile Boats. It's big enough for commercial use but remains a highly-customisable family favourite.
The Profile 780HW lives up to its promise as a capable and practical large trailerboat. Its size attests to its versatility as both a recreational fishing craft and a small commercial workboat. Its aesthetics and style put it squarely at the top of its class in the pontoon genre – it is little wonder Profile Boats is gaining traction and winning awards.
PROFILE BOATS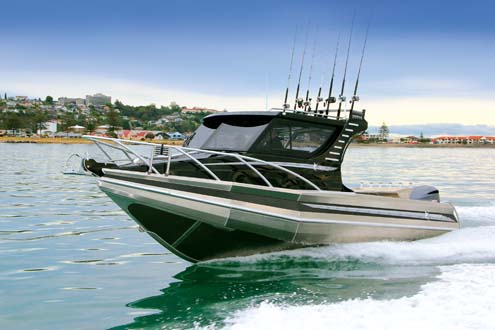 Profile Boat's successes at the Hutchwilco New Zealand Boat Show have cemented the brand as a serious player in the aluminium pontoon market and a worthy rival of larger manufacturers in the pontoon class.
Purchased outright in 2008 by Napier-based Firmans Marine, Profile Boats has experienced rapid growth in production on the back of serious investment, including a purpose-built factory employing 13 fabricators across eight production bays. It is a slick operation and it is about to get better with a 200m2 factory expansion to provide dedicated fit-out bays.
This will facilitate end-to-end production from a single site and deliver efficiencies that will enable Profile Boats to ramp up build numbers and slash build times.   
Profile Boats owner and managing director Brian Firman says the mid-term strategy is to push into the Australian export market, but the company's immediate priority is to get on top of the demand curve in New Zealand.
DESIGN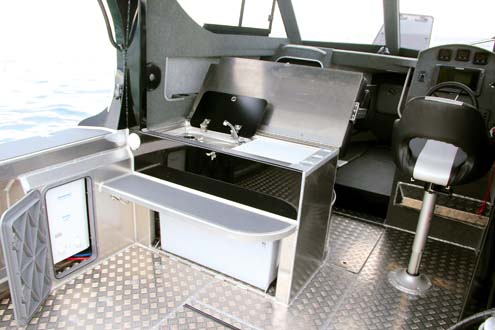 At the upper end of Profile Boats semi-production range, the Profile 780HW is a versatile boat that lends itself equally to recreational and commercial applications. It is a big rig, engineered and designed to provide a robust platform capable of operating safely and comfortably well offshore.
The Profile 780HW has a broad range of configurations and thus tends to be highly customised to suit owners' particular requirements.
Chief among options is the choice of an enclosed lock-up hardtop or in this case, an open hardtop. Both options have been carefully designed but it is the open model that provides for the most advantageous use of space, broader seating configurations and an easy flow from cockpit to helm station and cabin.
Setup for family fishing and cruising on Auckland's Manukau Harbour, this latest example is equipped to a very high level, reflecting the owner's brief for a boat that will meet the requirements for overnight and weekend forays.
As such, comfort is important and this has been delivered in spades. From the hot freshwater shower to the electric head, gas cooker and wetbar, sumptuous double seating and full-length berths, roughing it has no place in this owner's vernacular.
But for all of this, the boat's primary purpose as a no-nonsense fishing platform has not been overlooked. Everything you'd expect on a high-end trailerboat is just where you'd expect to find it, including the custom crayfish winch and boom, an enormous bait station and large glass-fronted livebait tank set into the transom.
DUAL PURPOSE HULL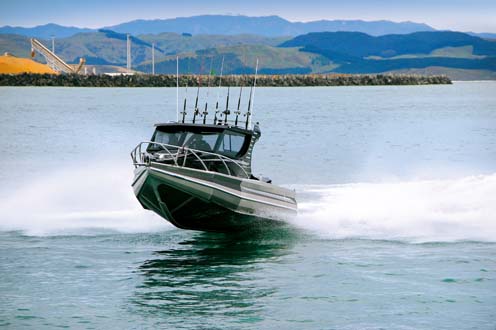 The Profile 780HW's construction is well engineered and executed and centres on the boat's four very substantial box section alloy bearers and fully-welded transverse frames and gussets. This creates three fully independent sealed under-floor sections – capped with a 4mm checkerplate floor.
The 780 hull utilises a mix of 6mm plate for the hull and transom, 4mm topsides and 3mm pontoons. The pontoons are fabricated in three sealed sections providing in an excess of reserve buoyancy approaching 1000kg.Built to survey requirements, the 780HW has been put into commercial charter with a safety rating for nine passengers.
The quality of build is comparable to that of more established pontoon manufacturers although the neatness of welds in some places could be improved. Few welds are ground back, the builders preferring uncompromised strength over the lesser element of form. It was pleasing, however, to see Profile's use of external mounting brackets fabricated to the transom to mount transducers and trim tabs, reducing any risk of water ingress or long-term corrosion.
LAYOUT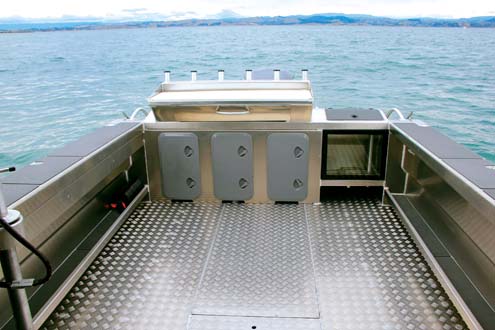 Clever use of space is a feature of the Profile 780HW and there is an abundance of smart touches and design features. Chief among these is the centrally mounted aft bait station that is fabricated as a part of the build process. This station accommodates much of the transom real estate but allows two anglers to bait-up simultaneously or fillet and prepare their catch on the large and stable station. Mounted within this is a retractable drawer with various compartments for tackle, knives, lures and whatever else you might need at hand. Practicalities include a six-gang aft rodholder, taking to 18 the total number of holders spread across the cockpit coamings and overhead rocket launcher.
Transom access on this boat is a little challenging given the owner's preference not to have a walk-through transom, preferring instead the security of a full-width transom across the entire rear of the cockpit. Fortunately, the 780 has one of the widest boarding platforms in its class. This affords divers the space required to remove tanks and gear without first having to hurdle over the transom.
The cockpit proper is broad and long and without any unnecessary clutter. The checkerplate sole is solid underfoot and the cockpit coamings are wide and comfortable. Solid full-length rod racks are tucked well under the coamings and provide a sure footing when stepping from cockpit to deck. The inside transom carries three sealed hatches for convenient access to the boat's house and start batteries, centrally-mounted bilge pump, fuel filters, and ancillary plumbing for the bait tank and washdown pumps.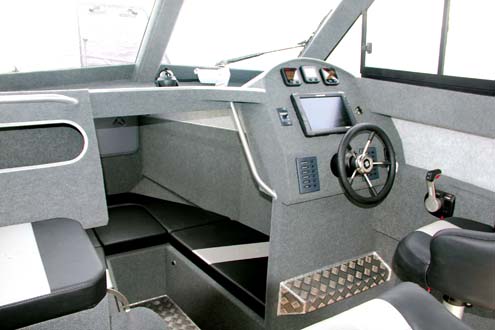 Moving forward and to port you'll find another access hatch built into the coaming. This houses the gas califont for the overhead cockpit shower. Immediately forward again are the twin reversible passenger bucket seats, mounted well off the sole on a solid plinth that hinges forward.
The reversible function of these seats allows passengers to face forward and enjoy the protection of the hardtop or alternatively, face the cockpit with an elevated view of the action at hand. Hinge the whole unit forward and you'll find a single-burner hob and a small wetbar/sink with a small utility cutting board alongside. While not large, it provides the capability to boil a kettle, wash dishes and prepare simple one-pot meals. Among the owner's requirements was a crayfish boom with winch and this is securely mounted to the starboard cockpit coaming and cockpit sole and swings out and overboard. The electric winch is mounted to the boom for a tidy and compact installation.
HARDTOP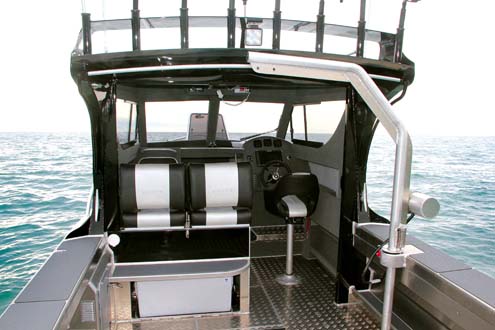 The Profile 780HW hardtop and helm station is thoughtfully laid out to maximise storage and create easy passage to the fully-lined forward cabin which provides comfortable overnight accommodation for two with the addition of an electric head secreted away under the central cabin infill.
Storage abounds under the berths and this is supplemented with side shelves. The hardtop is well-insulated and finished, effectively reducing glare through the split safety glass windscreen.
The five-spoke helm falls comfortably to hand, with a generous dash layout that in this case, carries a 10in Lowrance touchscreen multifunction display and a cluster of three Yamaha digital engine gauges above. The boat's primary switch panel is within easy reach and there is ample room for further flush-mounted instruments if required.
HANDLING AND RIDE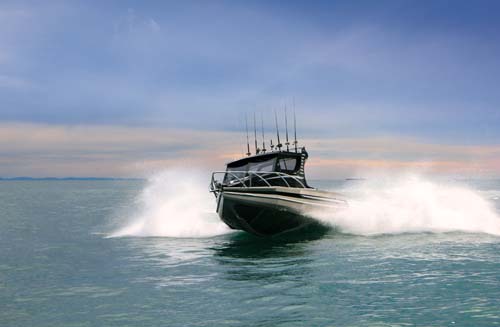 Rated for 200 to 350hp, the fitted 250hp Yamaha four-stroke outboard motor was ideal, delivering an equal measure of performance and economy, while providing a useful range from the 265lt underfloor fuel tank.
Our sea trial had been compromised by two days of persistent wind and rain which robbed Profile's technicians valuable time on the water, setting up engine height and experimenting with different propellers. As such, the 15in Salt Water series prop fitted wasn't quite right for this boat, with a 17in alterative looking a better bet.
Regardless, the big 250hp Yamaha outboard made light work of the Profile 780HW and pushed her to 34kts at WOT. Planing speed is easily achieved at about 10kts and holeshot performance is lively.
With rain looming and poor early morning light, we restricted our test to a short run out to check Brian Firman's crayfish pots off the Napier foreshore and a half-hour jolly on a lazy 1m swell and very light conditions.
The big Profile 780HW feels solid and willing, answering her hydraulic helm with just enough weight to be firm but comfortable. The ride is predictable and there are no obvious handling vices when pushing the boat hard into tight, spiralling turns.
The moderate 18° deadrise hull is highly responsive to trim and flattens out nicely early into the rev range. This should deliver a comfortable and relatively stable platform at lower trolling speeds. At speed, the primary wash is expelled reasonably well aft and doesn't tend to drum on the pontoons as can be the case with some designs.    
PROFILE 780HW SPECS
Profile 780HW price: $185,000 (priced from)
GENERAL
MATERIAL Aluminium
TYPE Open hardtop pontoon fishing boat
LENGTH 7.8m
BEAM 2.66m external, 2.06m internal
DEADRISE 18°
WEIGHT 2750kg on trailer (custom alloy, beach-launch)
CAPACITIES
PEOPLE 9
REC. HP RANGE 200 to 350
FUEL 265lt
ENGINE
MAKE/MODEL Yamaha F250 outboard motor
TYPE V6 four-stroke outboard motor
RATED HP 250
PROPELLER 15in Salt Water Series
SUPPLIED BY
Firmans Marine
220 Prebensen Drive,
Onekawa, Napier
Phone 06 835 9718
Email sales@firmansmarine.co.nz
See the full version of this review in Trade-A-Boat #250, February / March 2015. Why not subscribe today?
Keep up to date with news from Trade-A-boat or like us on Facebook!