Review: Scout 210 Dorado
---
The Scout 210 Dorado is a big family-friendly fishing boat with superior build quality, impeccable manners, and the ability to undertake just about any watersports.
The Scout 210 Dorado is not like most other American all-rounder boats. Many builders take a sports bowrider and offer nifty versatile seating arrangements to give a fishing aspect to their calm-water playboat. The trouble is that you end up with a boat that isn't really designed to tackle anything much more than a moderate chop.
Scout Boats has come at the all-rounder from a different perspective by creating a sea-friendly fishing craft easily capable of skiing, wakeboarding, diving and generally mucking around on the water. So while it's capable of having all sorts of fun, it's based on a hull in which you can safely head offshore.
SCOUT 210 DORADO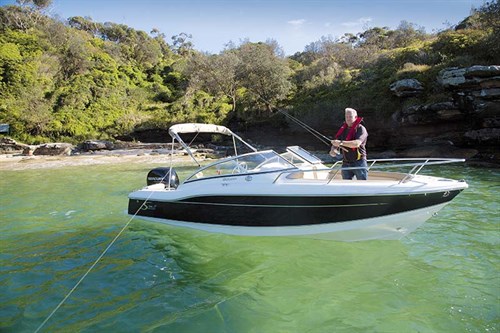 Despite being a relatively small privately owned company, Scout Boats has been an innovator in design and construction since its beginning in 1988. Scout Boats pioneered the 'reverse shoe box' method, chemically bonding the hull and deck moulds together, and has eschewed the use of timber in construction because of the danger of rot over time.
Scout boats are handlaid in the traditional way and to keep weight low it refuses to use any chop strand mat which, Scout claims, does little for the boat's structural integrity. Underfloor cavities are foam-filled for maximum floatation and the beautifully moulded hull and deck are permanently bonded together with the underfloor grid for strength and rigidity.
Flag blue sides follow the flowing lines of the gunwale as it drops low behind the windscreen and narrow at the front where the chines rise at the bow highlighting the Dorado's flashy lines. A high bowrail follows the line of the windscreen base for a sweetly styled look that ties everything nicely together.
LAYOUT AND DESIGN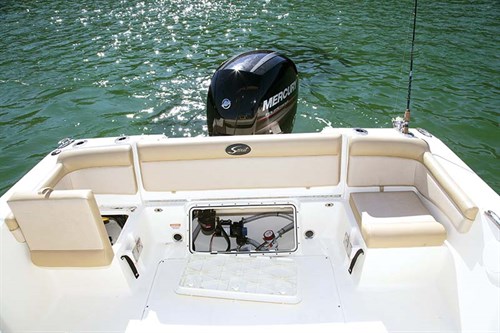 The deep chines along the sides of the Scout 210 Dorado soften as they rise at the sharp entry of the bow where a decent flare proved capable of keeping the boat dry during our test. The variable deadrise hull runs to a moderate 19° at the transom combining with the deep chines for impressive stability at rest, without dramatically affecting sea-handling.
Extra waterline length is added by extending the hull some 160mm either side of the engine well. Each has a small swim or boarding platform, a recessed stainless steel ladder built into the port side. Surprisingly, access from the rear requires stepping onto an upholstered transom lounge which is removable for fishing but would generally remain in place. It's a small thing but it might worry some owners of a boat so neatly fitted out.
The single-level floor runs through to the bow and is finished in a non-skid diamond pattern. It's self-draining for added safety and the cockpit is designed to be as uncluttered as possible.
A full-width lounge runs across the back of the Scout 210 Dorado and the driver and observer seats are mounted on sturdy pedestals, but unusually with the observer's seat located farther forward than the skipper's. This arrangement allows a large storage console forward of the helm and behind the well-raked, five-piece Taylor Made tempered glass windscreen.
DUAL USE BOAT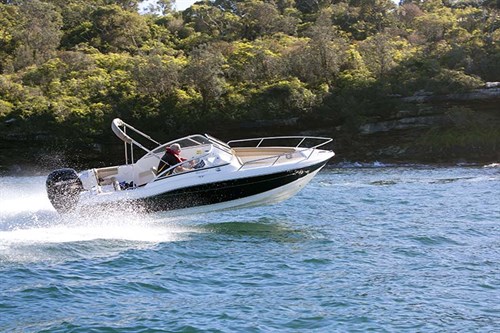 The Scout 210 Dorado's dual boat nature is evident at the transom. The comfortable full-width lounge will seat up to four across the back but the centre section comes out altogether leaving corner seats each side on moulded boxes for batteries and bilge pumps. Without the lounge in place, the rear of the cockpit is opened for better access around the engine for fishing.
Moulded into the hull extensions either side of the engine well are aerated livebait tanks that could double as drink storage when the Dorado is in social mode. Meanwhile stainless steel rodholders and more recessed racks along the port side will accommodate enough fishing gear for most but the very serious angler.
A giant in-floor locker in the forward section of the cockpit is big enough for water toys and doubles as a killtank, with a perfectly moulded and easily cleaned interior.
DUAL CONSOLE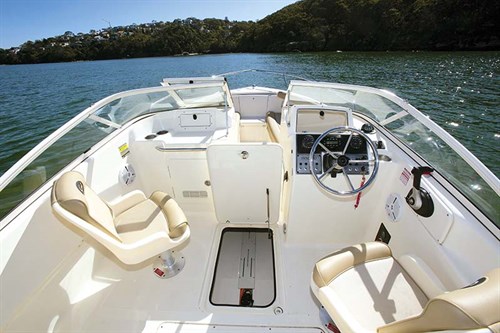 Americans call this style of boat in the Scout 210 Dorado a dual console; there's a console in front of both the skipper and observer leaving a walkway forward to the bow. We'd just say it's a bowrider. Either way, there's an amazing amount of room in the driver's console and a big door in the walkway to access all that space. The passenger side has less room and its more forward position gives extra room in the cockpit.
Two long lounges in the bow beg crew to sit lengthways for a windswept ride underway. Make some room for a couple of extras to sit sideways and the seat backs are still mighty comfortable for lounging around at anchor. Two-tone brown and beige upholstery is carried through to the rear lounge and has a luxury look and feel.
Instead of a central seat in the bow there's a boarding step that lifts for storage and access to a lower locker with a dedicated slot for an anchor. And while it's good to see an anchoring provision on an American boat, Scout hasn't take things too seriously as there's no bowroller and only a single cleat.
Again the storage under the bow seats, removable for fishing, is pristine and could easily be used for drinks or food with some added ice. Funnily enough for an American boat, I couldn't find drinkholders up forward.
HANDLING AND RIDE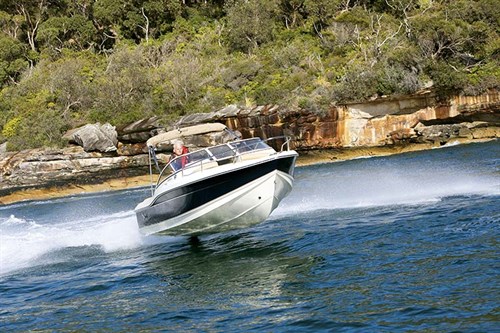 Before heading offshore we had a good play around in the sheltered waters of Middle Harbour. The 150hp four-stroke Mercury outboard motor seems to be the go-to engine for a lot of American boats and it's a good match for the Scout 210 Dorado, giving a top speed of 40kts and with a torquey power band easily capable of pulling watertoys.
Handling is precise and sporty and the boat turns with a flat stance at speed without any untoward behaviour and would inspire confidence in those new to boating.
Out through the heads we had a slow 1m swell and small chop, but enough to get a feel for its handling out wide. Over swell and chop it was as soft and dry as you would expect given its credentials. We felt comfortable at rest and found it easy to walk around, so bottom bouncing should be no problem.
THE TRADE-A-BOAT VERDICT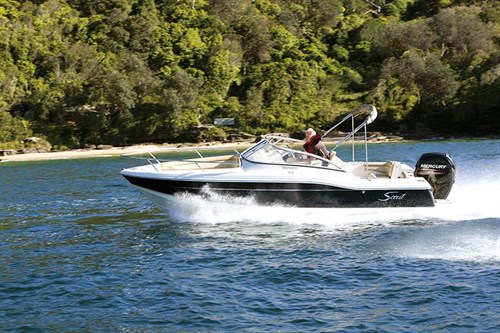 Here in New Zealand the base price of a Scout 210 is $98,500. For that you get a big family-friendly fishing boat with superior build quality and impeccable manners. 
HIGHS
Quality construction
Fit and finnish
Use of space
LOWS
SCOUT 210 DORADO SEA TRIALS
150hp Mercury fuel-injected four-stroke outboard motor
| | |
| --- | --- |
| RPM | SPEED (KTS) |
| 1000 | 3 |
| 1500 | 5 |
| 2000 | 6 |
| 2500 | 10 |
| 3000 (on the plane) | 17 |
| 3500 | 22 |
| 4000 | 28 |
| 4500 | 31 |
| 5000 | 36 |
| 5500 (WOT) | 40 |
*Sea-trial data supplied by author
SCOUT 210 DORADO SPECS
Scout 210 Dorado price: $98,500 (priced from)
GENERAL
MATERIAL GRP
TYPE Monohull
LENGTH 6.3m
BEAM 2.5m
WEIGHT 925kg (hull only, dry)
CAPACITIES
PEOPLE 7
REC. HP RANGE 150 to 200
FUEL 227lt
ENGINE
MAKE/MODEL Mercury 150 FourStroke outboard motor
TYPE Inline four-cylinder fuel-injected petrol four-stroke outboard motor
RATED HP 150
DISPLACEMENT 3000cc
WEIGHT 206kg
GEAR RATIO 1.92:1
MORE INFORMATION
Orakei Yacht Sales
Orakei Marina, 12-14 Tamaki Drive,
Orakei, Auckland
Phone +64 2 192 9592
Email sales@orakeimarina.co.nz
See the full version of this review in Trade-A-Boat #254, June / July 2015. Why not subscribe today?
Keep up to date with news from Trade-A-boat or like us on Facebook!