Tow test: Holden Colorado 7 LTZ
---
The Trade-a-Boat editor tries a more urban orientated Holden Colorado 7 LTZ tow vehicle — and comes away pleasantly surprised.
Before setting off in the latest Model Year 2014 (MY14) Holden Colorado 7 SUV, I was already familiar with many of those sturdy workhorses in the Holden Colorado stable and also their forebears, the Rodeo clan.
However, as the first release of the current generation Colorado 7, the MY14 LTZ version has received major updates inside: new heating, ventilation and air-con control systems (HVAC), and a new 7in touchscreen featuring MyLink, reversing camera and smartphone apps.
Underneath, the Duramax 2.8lt common rail diesel has been boosted further to provide up to 500Nm of torque, but blended with more urban-friendly suspension to give a more compliant and quieter ride and an improved turning circle. It all adds up to a positive drive at bargain pricing.
Holden Colorado 7 LTZ tow vehicle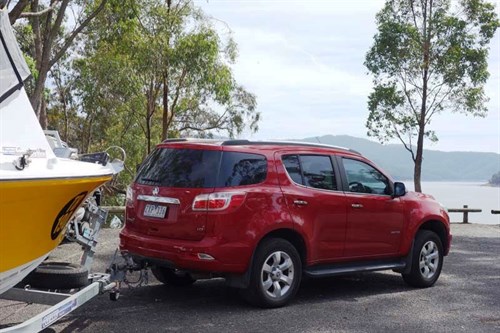 I'd expected at least some degree of harshness and a scattering of those irritating sounds commonly associated with vehicles based on commercially-rated platforms. But there was none to be found, just plenty of good tech and easy-clean surfaces inside the LTZ.
As stated, Holden softened the Colorado 7 LTZ's ride to match an expected bias toward city driving and it shows. The Holden Colorado 7 LTZ is quiet; not luxury car quiet, but well above my expectations of what is still a proper ladder chassis with separate body workhorse.
Under the skin, the major difference from the ute model is in the rear suspension. As the 7 is not expected to carry loads on the rear axle in the same way a ute is, the axle is now hung by way of a five-link system and coil springs, as opposed to the rugged but load-capable leaf spring setup.
The change has pulled the maximum tow capacity down to 3000kg braked (from 3500kg for the ute) and the combined vehicle mass down to 5700kg.But the positive trade-offs are comfort, refinement and articulation, which all benefit from the change.
The drivers seating position is higher than expected, giving better visibility which is a big plus in the city (school run, anyone?). It is made up of – count 'em – seven seats with heaters on the front pair and easy-clean leather all around to meet the LTZ spec. I found the leather seats sticky in the heat of Melbourne's summer but I wouldn't have expected differently.
Rear seating is raised, a handy feature for keeping an eye on the young 'uns in the back and making rear visibility better too. These fold flat in the MY14 version giving up to 1830lt of capacity with the length to take say, a pair of mountain bikes and with the height for most prams. I found a heap of storage under the rear floor too; handy for all sorts of gear from tool kits to wet towels after the beach.
HVAC systems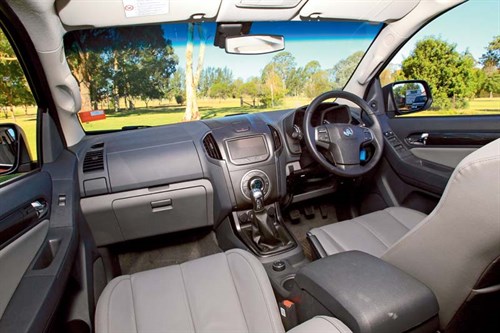 The HVAC systems in the Colorado are good in operation and great to use. The rear benefits from a separate control system that came in handy on the aforementioned hot days. I found blasting the front and rear systems at full (freezing) noise worked well even on days where we pushed into the high thirties. The controls themselves are great – a single big bright display that tells you what the system is set to, and in auto the system plugs away quietly. A small gripe but one found all too often, was no auto down and up on every window. It's present for the driver's window but why can't said driver drop and raise all windows with one flick of each button? Maybe I'm missing something but clearing a hot interior should be easier than this.
With 12V power outlets, the ability to easily connect your smartphone to cars is now mandatory. Holden have done well in this area with a pair of outlets in the traditional spot at the base of the dash and one in the rear cargo space for fridges, etc.
Technology-wise the Holden Colorado 7 LTZ spec aims high and achieves. The 7in screen is easy to read and use, with integration to phones, and phone control made easy through both the screen and buttons on the steering wheel.
For the app lover, MyLink comes preloaded with TuneIn Radio and Pandora internet radio which stream via your phone, providing access to literally hundreds of thousands of global radio stations.
The 7in screen also handles the obligatory reversing camera and the LTZ comes with sensors to eliminate any excuse for hitting that fence. It works simply with guidelines projected onto the image, so lining up a trailer coupling for example, is all too easy.
ANCAP safety rating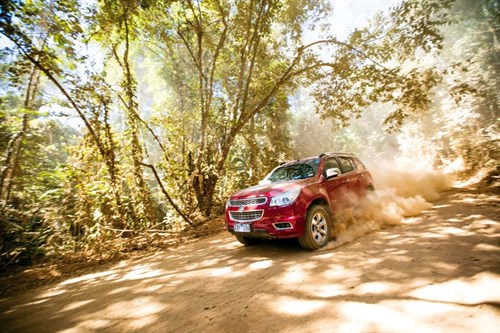 The Holden Colorado 7 LTZ nailed the highest five-star ANCAP rating achievable. No real surprise as it carries all the acronyms a winner needs, plus some handy features such as integrated rear parking sensors and that rear-view camera.
Descent control makes a grateful appearance, making the chance of a downhill rollover less likely.
Trailer sway control is also standard, and although not detectable in my testing, the technology is a fantastic consideration for tall boats, camper and caravan owners.
Power and towing capacity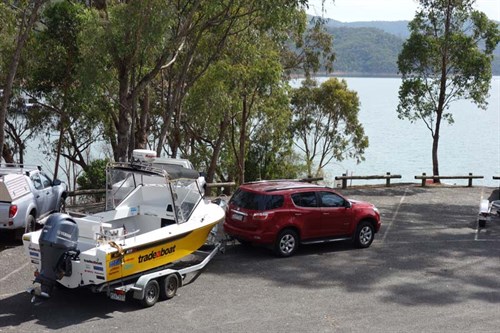 With the facelift of the Colorado came a bump in power and torque: 147kW and an impressive 500Nm, respectively. Pulling this sort of power from a 2.8lt diesel used to be quite an effort, but with modern fuels and some impressive smarts going into engine management it is now par for the course.
The Duramax motor incorporates the latest tech with a variable geometry turbocharger, high-pressure injectors to almost atomise fuel and a suite of sensors to optimise combustion.
It works well but I have to admit the manual versions are easier to stall than expected; not an issue with the optional six-speed automatic in the LTZ tested here. Drive is by part-time 4WD, a welcome change from the growing number of full-time options that take away drive feel and typically increase fuel consumption.
Four-wheel-drive is selected electronically via the rotary knob next to the gear selector. The usual suspects are there: High 2WD, High 4WD and Low 4WD. Low 4WD locks the centre diff to even out power delivery front and rear.
The rear features a fantastically tight limited slip differential (LSD) that allows a chirp from the inside rear wheel to let other drivers know you might be in hurry around town.
During one drive I managed to convince my wife that a shortcut across a subdivision was a good idea to get where we wanted we were going. In reality, I had my eye on a solid ascent on the far side. Deception aside, the ride across and out was good. I used low range and found the match with the auto was easygoing and featured ratios low enough to hold crawling speeds off throttle. With the central diff locked, the excellent rear LSD and extra articulation of the five-link rear made light work of a dirt bank that would probably intimidate a few drivers.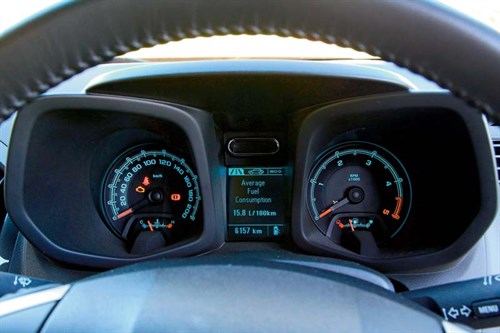 Towing a boat recently on a family holiday gave us the perfect chance to test economy in real world situations.The roads to our lakeside destination were tight, twisty affairs with steep climbs and the real possibility of the need to brake hard.
On trailer and loaded the boat weighed in around 2000kg, a moderate load for the Colorado. The route out and back was 835.5km which consumed 103.13lt of diesel, giving 12.34lt/100km as a tow vehicle.This compares favourably with Holden's claimed factory figures of 9.2lt/100km for an unweighted vehicle.
The tow test did uncover one small gripe though – the spritely set gearing is great around town but when towing our moderate load at highway speeds the gearbox felt uncertain of which gear to choose. It was easily dealt with by manually selecting the gear desired but this is something unexpected of a new 3000kg-rated SUV.
Price and warranty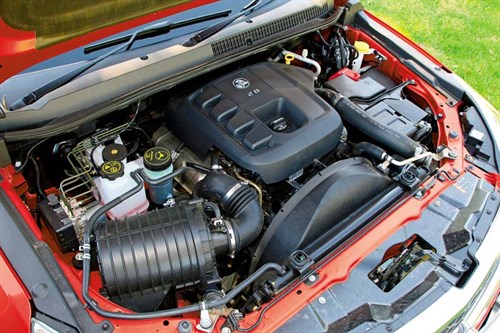 A quick scan of dealer listings suggests a new LTZ spec Holden Colorado 7 can be had for as little $49,990 plus on road costs which includes the 6-speed automatic gearbox, an option in other markets. This is a very reasonable amount for a "proper" 4WD with seven seats, high tow rating and decent offroad ability.
The Colorado 7 LTZ comes with a fairly ordinary three-year/100,000km warranty from the day of registration and covers approved and genuine accessories. It is about time Holden start lifting their warranty periods but considering the low purchase price, trading up every three years is an affordable option.
Competing tow vehicles
There are plenty of seven-seat SUVs and crossovers in the marketplace but very few with the separate chassis and body of the LTZ or with the offroad credentials it boasts.
You could consider one of the many options from Toyota but would need to look at the now older, lower spec'ed and much more expensive LandCruiser Prado or wait on its coming replacement to see the same number of gears, power and ratings.
To me the only true competition comes from the Isuzu MU-X, a vehicle that due to the relationship between Isuzu and GM-Holden shares many common components with the LTZ. The key difference is the Isuzu's older 3lt engine has much less torque, exterior styling and some internal components.The MU-X comes in cheaper than the Colorado 7 LTZ but the older, less torque-rich engine at least evens out the difference in my opinion.
The Trade-a-Boat verdict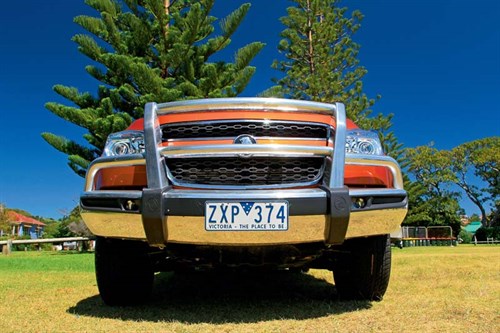 Right now the Holden Colorado 7 LTZ has a real point of difference among its competitors plus the technology and specifications to stand alone all at a very, very reasonable price.
Remarkable fuel economy, great ride and interior make it a worthy consideration for anyone considering a heavy-duty SUV on a budget.
Anyone looking for economical seven-seat options with offroad credibility should consider the Holden Colorado 7 LTZ a real option.
HIGHS
• Value
• Comfort
• Driving position
• Torque of the 2.8lt Duramax
• Tight LSD
• Technology
LOWS
• Gear ratio could be better for moderate tow loads
• Low drawbar
• Small instrument cluster
Holden Colorado 7 LTZ specs
Holden Colorado 7 LTZ price: $49,990 + ORC
TYPE Body on chassis SUV
ENGINE 2.8lt Duramax turbocharged diesel
POWER 147kw
TORQUE 500nm
GEARS Six-speed automatic
KERB WEIGHT 2210kg
PAYLOAD 610kg
BRAKED TOWING CAPACITY 3000kg
GROSS COMBINED MASS 5700kg (inc. trailer)
TURNING CIRCLE 11.8m
FUEL 78lt
See the full version of this review in Trade-A-Boat #254, July / August 2015. Why not subscribe today?
Keep up to date with news from Trade-A-boat or like us on Facebook!