Review: Rae Line 186 Outboard
---
The Rae-Line 186, now complete with Mercury outboard motor, is a well-priced, quality sportsboat with a myriad of applications.
Rae Line Boats makes value-packed, beautifully presented, premium quality boats, among them the fibreglass Rae Line 186 half cabin we reviewed back in 2011. This Rae Line 186 was powered by a 135hp MerCruiser 3.0lt TKS; now this beaut cruiser is available with a Mercury outboard motor.
Rae Line 186 Outboard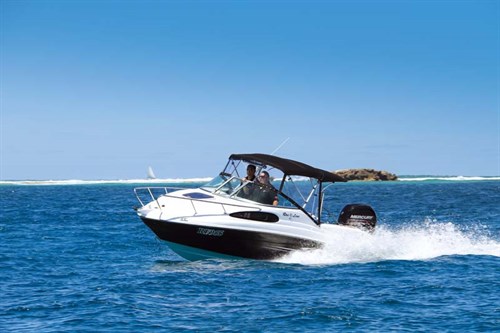 The 150hp Mercury four-stroke outboard motor is one of the new-generation lightweight four-stroke engines that supplies sensational power, low noise levels, exceptional fuel economy and maximum longevity. Combine all of this with the generous features of the Rae Line 186 OB (Outboard) and you have one hell of an attractive package.
The Rae Line 186 OB is a true sportsboat that will provide plenty of thrills for the gang and doesn't make a bad little fishing boat to boot! She also has a very capable hull as we proved by pushing it to the limit via some of our antics in some rough conditions. The Rae Line 186 OB is one tough girl.
Layout and design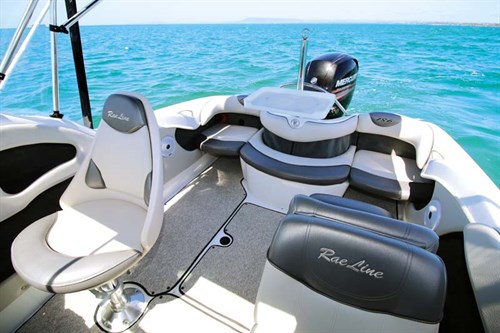 Rae Line manufactures boats under license for the huge US conglomerate, the Brunswick Corporation, particularly for its well-known Sea Ray range. Hence, there's a luxury American boat flavour to the Rae Line 186 OB, coupled with modern design, practical layout and premium quality.
The Rae Line 186 OB is a pretty boat both inside and out. The mouldings are quite superb and the design quite timeless – that is the mark of quality. Many later competitors in sportsboats have transformed to rather stark, square lines with an almost boxy presence – I may be an old fart but I can't say I like it. The sleek, flowing lines of the Rae Line 186 OB are accentuated by the ebony hull, Artic white deck, tasteful graphics, premium accessories and luxurious trim.
---
---
The Rae Line 186 OB has a large, fully trimmed cabin complete with head liner, individual reading lamps, top hatch and side windows. There is a full moulded white fibreglass liner throughout the entire boat with lift-out carpet in the deck area for easy cleaning and a neat finish. Under the liner, the Rae Line 186 OB features full fibreglass construction and is infused with foam for maximum strength, safety and drastically reduced noise levels on the water, giving it a really solid feel. Rae Line backs up its construction with a lifetime structural warranty and manufactures to stringent European 'CE' quality certification standard.
The trim is stylish and smart but certainly not pretentious. My girls just fell in love with the convertible passenger seat module which allows back-to-back comfort in the upright position, then folds down to a day bed/sunlounge – whatever you want to call it. It is a real bonus to those fellas that want to do a little fishing while the 'other half' lays back with a Sav Blanc and a good book (or maybe vice versa!).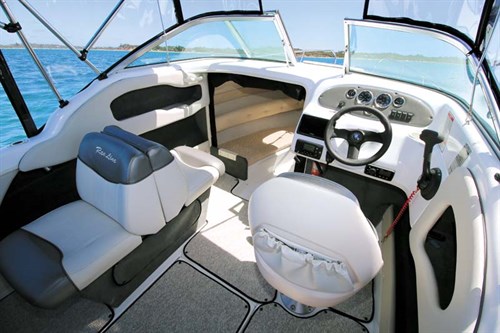 The driver gets a comfortable, swivel seat on a 'softrider' pedestal. It could perhaps be improved with a bolster for more flexibility in the driving position, but this is only noticeable when you're getting excited by jumping off waves as we did, or perhaps when you have a skier out the back.
Other than that the dash and helm is neat, trick, and very well laid out with flush engine controls, a full set of Mercury analogue and digital gauges, sports steering wheel with hydraulic steering, Garmin VHF radio and Fusion Sound System, as well as the very smart Garmin GPS Map 751xs. (If you haven't already checked out these terrific Garmin units then get down to your local retailer as they are sensational technology – better still Google it on the net!). The cockpit is fully sheltered by a three-piece safety glass wraparound windscreen with a centre opening and locally fitted bimini and clears, with an extended cockpit awning giving ventilated shade in summer and cold weather protection for the colder months.
Our review boat was fitted with an optional stainless steel skipole and our local dealer had a removable baitboard fitted to complete the versatility.
Handling and ride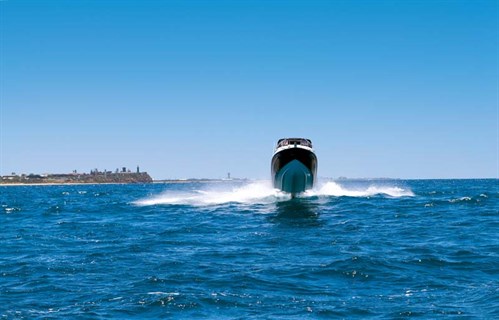 On the water the Rae Line 186 OB is a beaut. I would be more than happy to fish from her, even offshore. She is quite a surprise package from the moment you jump aboard. Her broad beam ads to the stability, and moving around in the boat you feel the confidence of a well-designed and constructed hull.
I have highlighted the merits of the ripper new 150hp Mercury four-stroke on many occasions and it certainly provided some thrills on the Rae Line. Hold onto your hat as you plant the throttle and hurtle confidently up to a top speed at Wide Open Throttle of just on 42kts at 5200rpm. That's 'old school' 50mph, with an engine that was brand new, out of the box, and will improve when run-in.
We did feel a slight hint of torque as we came onto the plane and trimmed down. Combine that with a WOT some 600rpm under the 'advertised' maximum rev count of 5800 and I believe we would get even better performance with some more propeller tuning.
That said, she's wonderful to drive. There's virtually no loss of vision on holeshot and the boat jumped easily onto the plane. The 19°-degree hull is not the absolute softest boat into the chop but, all things considered, with the stability, excellent handling, a safe and confident feel, solid construction and beamy layout, she is truly a great all-rounder. She just loves a fast travelling speed of 30.2kts at 3800rpm and in that rev range it provides very economical boating.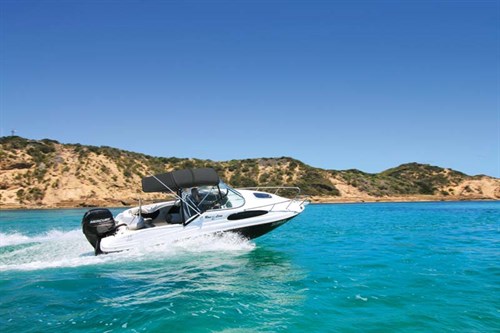 For those that want to play on narrow waterways, the 186 OB turns beautifully and confidently. The hull is a little flightier than its inboard sterndrive sistership, but you will still feel quite confident about handing over the helm to a novice.
Not everyone wants such a fast boat, so there are a number of options. If you aren't considering active skiing but more of a budget-minded family package then I suggest the new four-stroke 115 hp Mercury outboard with the Command Thrust leg option would be worth considering. Mercury Marine have also just released the new 135hp four-stroke that would also be a terrific option.
Rae Line 186 OB Price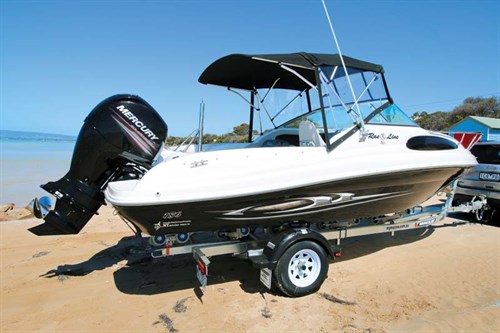 The really pleasant surprise is the price. At just under $60,000 as tested this is one hell of a competitive package complete with its Mackay fully rollered, drive on, single or Tandem axle trailer. It is certainly a quality and very appealing boat for the money.
HIGHS
• Modern design with great looks
• Compact yet spacious layout
• Appealing to all age groups
• Great fun
• Very good ride and stability
• Lifetime structural warranty
• Very well priced
LOWS
• Needs a cross bollard or anchor winch
Rae Line 186 OB sea trials
Mercury 150 FourStroke outboard motor with 19in SST propeller.
| | |
| --- | --- |
| RPM | SPEED (KTS) |
| 2600 (onto plane) | 16.2 |
| 3000 | 21.6 |
| 3500 | 24.3 |
| 4000 | 31.9 |
| 4500 | 35.6 |
| 5000 | 39.4 |
| 5200 (WOT) | 42.1 |
* Speed-trial data supplied by author.
Rae Line 186 OB specs
Rae Line 186 OB price: $65,500
Price as tested
OPTIONS FITTED
Skipole, electronics package (Garmin 751XS Sounder/GPS marine electronics, Fusion MSIP 600G, Garmin 100i VHF), cockpit cover, bimini and clears, rear awning, registration for boat and trailer, saltwater safety equipment for six
PRICED FROM
$62,900
GENERAL
MATERIAL Fibreglass
TYPE Monohull, family sports half cabin
LENGTH 5.7m
BEAM 2.3m
WEIGHT 1550kg BMT
DEADRISE 19°
CAPACITIES
PEOPLE 6
REC. HP 115
REC. MAX HP 150
FUEL 100lt
ENGINE
MAKE/MODEL Mercury 150 FourStroke outboard motor
TYPE Inline, four-cylinder EFI, four-stroke outboard motor
RATED HP 150
DISPLACEMENT 3000cc
WEIGHT 206kg
GEAR RATIO 1.92:1
PROPELLER 19in SST
MANUFACTURED BY
Rae Line Boats
620 South Eyre Road, Kaiapoi, 7692
Phone 03 312 6523
Email info@raeline.com
Web raeline.com
See the full version of this review in Trade-A-Boat #251, March / April 2015. Why not subscribe today?
Keep up to date with news from Trade-A-boat or like us on Facebook!