Review: Arvor 700 Weekender
---
The Arvor 700 Weekender has plenty for the angler but adds features and style to give it broader appeal.
In accepting the virtues of Arvor boats, owners have also embraced their unusual lines, inspired by a North Sea fishing boat heritage where a beefy bow and a high cabin pushed to the front allows maximum space in both cockpit and cabin. This style also incorporates high walkaround sidedecks and a well-protected foredeck.
The unusual styling continues in the semi-displacement hull where wide, deep chines create a tunnel or gullwing effect that gives the boat enhanced stability and a wide base to rest on when subjected to drying European tides. A sturdy keel runs the length of the boat and the propeller shaft exits the hull in a tunnel and is protected even further by a stainless steel skeg.
Arvor Weekender 700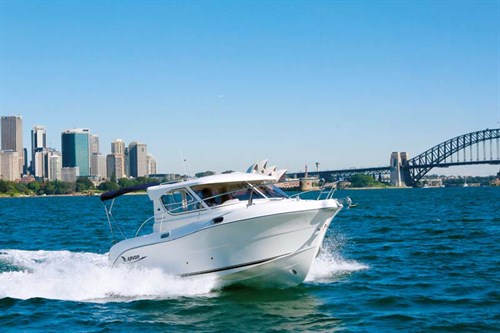 The Weekender has been part of the Arvor boats line-up for some time and is still the company's best-selling current model; probably because it is offered as a turn-key proposition with all the help that makes boating easy. Features include accommodation that sleeps five, an enclosed head, cooking and refrigeration, a bowthruster, windlass, trim tabs and shorepower/battery charger, and plenty of room to spread out.
Rather than the flat windscreen on other models, the Arvor Weekender 700 sports a well-raked version, while extending the cabin farther back gives a nicely balanced look. The roof seems to float above the cabin as a separate entity and lifts at the rear in an incongruous spoiler-like effect that extends past the cockpit for weather protection over the sliding doors. Our test boat included an optional bimini over the entire cockpit, and while it did a great job of keeping the sun off I'm not convinced it adds to the looks.
Layout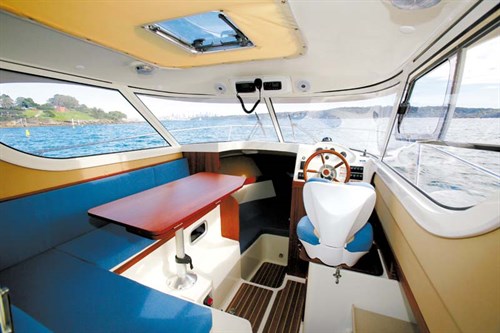 Boarding is easiest across the wide swimplatform and through a central entryway with a slip in door. The platform has a swimladder that sits on the deck but could be quickly dropped into the water to make more room when sitting out there. Four fender holders moulded into the transom are a practical solution to their storage and a timber outboard mount satisfies the boat's EU certification but seems a little unnecessary.
The cockpit is laid out asymmetrically to suit the small movable dining table, with seating on a moulded bench to port and smaller ones either side of the aft walkthough, leaving a passageway to starboard when the setting is in place. Clip-in backrests and cushions make things more comfortable and faux teak laminate on all cockpit hatches adds a nautical quality.
Given the size and nature of the cockpit it's a neat trick to include a raised sunpad that is constructed from elements stored in the lazarette and side bench. It runs full-width and includes rolled cushions for a fully relaxing experience, adding yet another dimension to the Weekender's appeal. A cold freshwater shower will wash you down after a swim, with hot available as a sensible option for overnighting in cooler weather.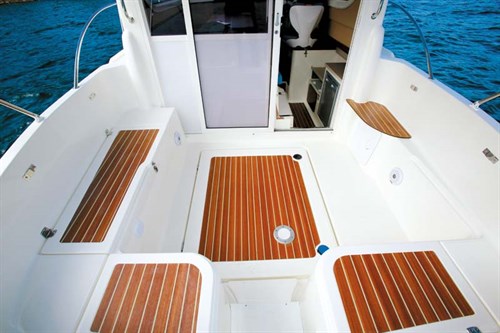 It's probably no surprise that the saloon too has innovative ways of converting itself into a comfortable place to cruise, eat, sleep and relax in a relatively confined space; we're talking a 7m boat after all. The first thing noticeable on entering the cabin is the big moonroof which gives the space a very open feel and, with the wraparound windows, almost unlimited views and light.
An L-shaped lounge to port is both a comfortable place for the crew to keep the skipper company when travelling, and, with table in place, a perfect dining area. Drop the table and it converts into a double bed with cushions in dedicated storage under the bunk. Another double lives in the forward cabin and there's also a good-sized quarter berth running back under the cockpit bench for a total of five berths. A galley runs along the starboard side starting with a stainless steel sink under the flip-up captain's chair, a metho cooktop with servery lid and, farther back, a bench with Waeco fridge below.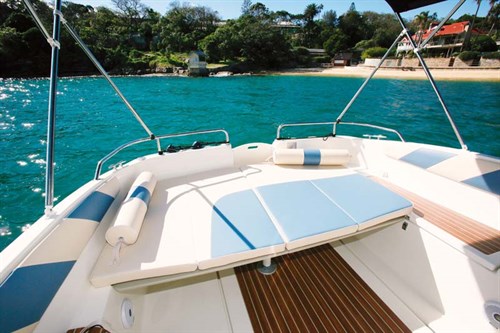 150 hp Mercury Diesel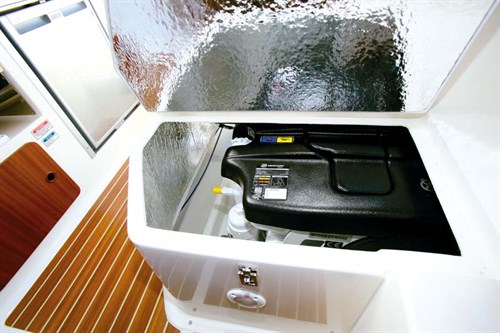 Power on the Arvor Weekender 700 is from a 150hp Mercury Diesel mounted amidships and with limited access for maintenance through a hatch under the rear lounge in the saloon. The torquey engine had the semiplaning hull out of the hole at around 12kts, and once out feels like it will run smoothly all day between 3000 to 3500rpm and up to 17kts. Pushed hard the 700 Weekender will hit 4200rpm and 23kts but it's noisy enough in this range to encourage the skipper to back off to a more sensible speed.
Despite those beefy bows the ride over harbour chop was smooth and quiet and it's only in bigger swells offshore that it gets a bit harsh, but forever dry when carrying higher speeds. The big chines keep the hull flat into turns and handling is predictable if not overly sporty.
The reality is that diesel Arvor bots are not about screaming around at full noise. While it's good to know the boat has the speed and handling to get home quickly if the weather turns bad, the enjoyment of the Weekender is in simply cruising slowly, saving fuel and taking in the fresh air and sunshine.
The shaftdrive's easy maintenance and the self-draining deck makes the Arvor Weekender 700 an ideal proposition for leaving on a harbourside jetty or a mooring, and while there is a $16,000 trailer available the beamy outfit would require a travelling permit and a big tow-rig.
The Trade-a-Boat verdict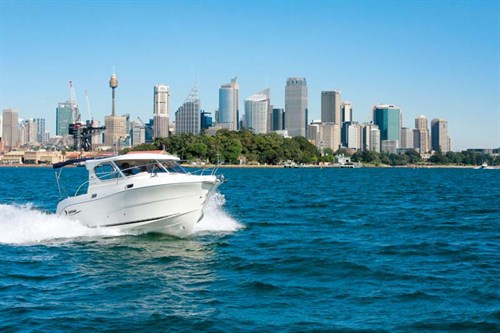 The Arvor Weekender 700 has a drive-away price of $126,600, including the cockpit bimini. For this price, the Arvor Weekender 700 is real value. I'd probably opt for the flushing head and a small GPS-sounder, but apart from that the boat is fully equipped for a few days on board cruising and port hopping and still with the ability for offshore fishing.
Arvor 700 Weekender sea trials
Single 150hp Mercury Diesel QSD marine engine
| | |
| --- | --- |
| RPM | SPEED (KTS) |
| 500 | 3 |
| 1000 | 5 |
| 1500 | 6 |
| 2000 | 7 |
| 2500 | 9 |
| 3000 | 13 |
| 3500 (on the plane) | 16 |
| 4000 | 22 |
| 4200 (wide open throttle) | 23 |
* Sea-trial data supplied by the author.
Arvor 700 Weekender specs
Arvor 700 Weekender price: $149,200 (priced as tested)
OPTIONS FITTED
Cockpit bimini
GENERAL
MATERIAL GRP
TYPE Monohull cruiser
LENGTH 6.96m (7.65m w/ platform)
BEAM 2.78m
WEIGHT 2300kg
CAPACITIES
PEOPLE (NIGHT) 5 (DAY) 7
FUEL 135
WATER 100lt
ENGINE
MAKE/MODEL Mercury Diesel QSD 150 marine engine
TYPE Inline four-cylinder turbo-diesel marine engine
RATED HP 150
DISPLACEMENT 2000cc
WEIGHT 264kg
GEAR RATIO 2.4:1
PROPELLER 19 x 16.5in four-blade
MORE INFORMATION
Bailey Marine
Waipu, Northland 0582
Phone 09 432 1663 or 021 703 720
Email terry@baileymarine.co.nz
Web baileymarine.co.nz or arvor.com.au
See the full version of this review in Trade-A-Boat #255, July / August 2015. Why not subscribe today?
Keep up to date with news from Trade-A-boat or like us on Facebook!