Review: Fi-Glass Ski Angler
---
Fi-Glass has responded to modern customer demand with its ritzy new centre console, the Fi-Glass Ski Angler.
Fi-Glass Boats Managing Director Griff Simpson says the new Ski Angler is a boat that has been developed in response to moving customer demands and provides a glimpse of where Fi-Glass Boats is headed and what potentially lies around the corner.
At first glance you'd be forgiven for thinking that the Ski Angler's DNA is far removed from the second generation Fi-Glass Fireball cuddy released in January. The two boats look worlds apart and yet they're from identical moulds.
Fi-Glass Ski Angler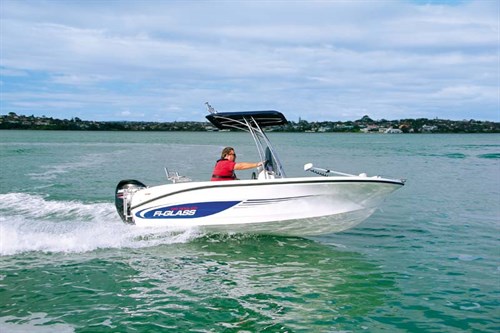 The illusion lies in the Ski Angler's presentation and its high specification. The demonstrator featured here came within a whisker of taking out the major award in its class at the recent Hutchwilco New Zealand Boat Show and it's not hard to see why. The boat oozes charisma and it's been dressed to kill with more bling than a 1950s Cadillac.
But look beyond the long list of optional extras and you'll recognise the same sweet looking hull with its distinctive scalloped topsides, effective gullwing design and shapely Portofino transom – all set off with smart graphics that accentuate the Fireball's sassy curves.
It's up on deck where things change or so it seems. But this again is largely an illusion. There's the same moulded transom jump seats, smart internal hull linings and the familiar Fireball anchor locker moulded into the foredeck. And underfoot you'll find the foam-filled cockpit sole that gives the Ski Angler the necessary reserve buoyancy to qualify for CPC compliance.
Centre Console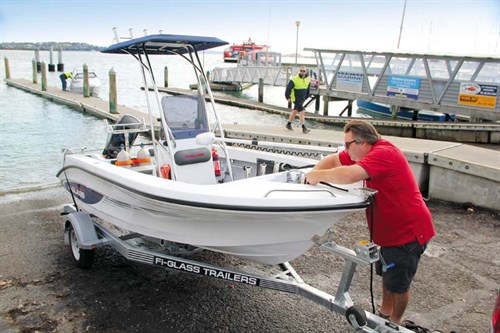 The Ski Angler's centre console design is stylish and contemporary with a single forward-facing seat on the centreline, generous enclosed dry storage, a good-sized dash and helm fascia with protective acrylic windscreen and a single aft bench seat formed by an ice chest fastened on the centreline.
What's really impressive is the over-sized stainless steel targa and bimini top that towers above the console and lends to the boat's purposeful and aggressive look. It's a nice piece of work that would look at home on any Florida-based game boat.
However, its practicality on 4.75m runabout is questionable. While the bimini will provide an element of protection from the midday sun and the overhead rocket launcher is useful, the height of the targa will be an issue for garaging and its windage will impact on the boat's performance. It also intrudes a little on walkaround space and compromises visibility of the side-mounted navigation lights.
Regardless, it's a nice piece of kit and it certainly looks the part. The Ski Angler makes good use of space forward of the console with additional stainless steel rodholders fastened to the front bulkhead and a smart enclosed tackle box secreted away into the base of the forward-facing jump seat.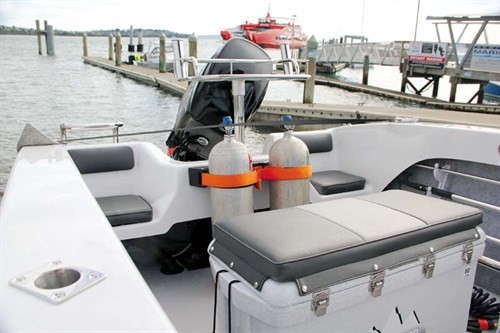 The cockpit aft provides enough space for two anglers but the moulded jump seat bases do compromise your ability to work the boat's extreme aft quarters. For divers, the bottle rack fastened to the inside transom will be useful, as too will the fold-down stainless steel ladder on the port side.
The Ski Angler's quality stainless recessed rodholders and aft bollards add a sense of style and the relatively wide coamings are comfortable and secure. The drop-in stainless baitboard can be quickly and easily swapped out for the stainless skipole that is neatly stored in rod racks fastened to the inside coamings. Here you'll also find a telescoping boat hook and an emergency two-piece paddle.
The electronics that have been fitted to the display boat are impressive and include a flush-mounted Raymarine GPS-plotter, a four-way breaker panel for instruments and nav lights, Mercury's digital/analogue multifunction display and a pair of 12V auxiliary power socket outlets.
Handling and ride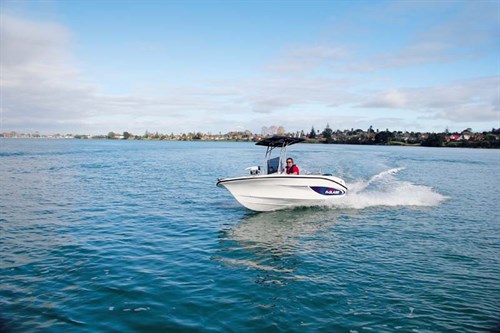 With rapidly deteriorating weather, a flood tide and a wind warning in force, our test window was marginal as we set off upstream in Auckland's Tamaki Estuary to find a little flat water for photographs.
Despite the short and pesky chop, the little Ski Angler made light work of the conditions, lifted her skirts without a hint of hesitation and skipped across the shallows in harmony with the 60hp Mercury four-stroke bolted to the transom.
Keeping a small centre console in trim can take a bit of doing in strong crosswinds and human ballast is effective in this regard. However, when riding two-up there's nowhere to hide and as a passenger you certainty get the full sensory experience of open boating. This said, the Ski Angler's turned down gull wing chine and flared topsides do an excellent job of channelling wash back into the tide and delivering a dry and comfortable ride. In behind the centre console you will appreciate the acrylic half-screen and the targa for the support in provides.
Ergonomically, the console works very well. The wheel is a comfortable height whether seated or standing and the engine's reversed throttle lever position doesn't create any hardship.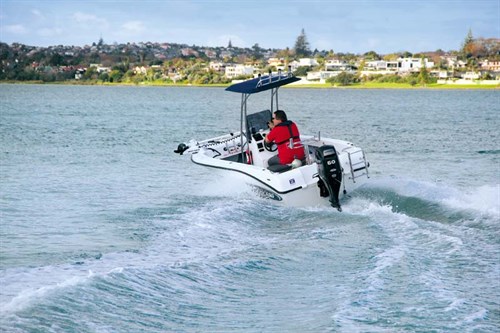 The Ski Angler's mechanical steering is a firm and precise and without any annoying cable slack.
Correct outboard trim proved the key to keeping the Fireball level in the gusty conditions and, like the cuddy, it takes a little perseverance but once it's dialled in correctly the little boat performs brilliantly.
The Fireball cuddy scored very highly on fun and the centre console Ski Angler does also. It is a nimble performer and it does what's asked of it willingly and, being a Fi-Glass, it has the build pedigree, safety and the wherewithal to get you home when things cut up a little rough.
The Trade-a-Boat verdict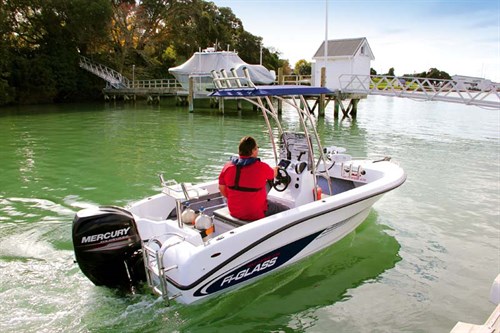 The question we might ask is just what is the Ski Anglers's true calling? From where I sit I'm not really sure that it has one. I'd describe it as a hybrid, a jack-of-all-trades and a master of none – a perfect family boat that ticks three key boxes; affordability, versatility and fun.
Like all Fi-Glass Boats, the Ski Angler carries a six-year factory hull warranty which is matched by Mercury's five-year warranty for peace of mind. The boat is delivered on a Fi-Glass single axle, galvanised, multi-roller trailer fitted with LED submersible lights and jockey wheel.
Highs
• Versatile design
• Quality build and finish
• Competitive pricing
• Excellent aesthetics
Lows
• Nav lights location
• Minimal gear storage
Fi-Glass Ski Angler sea trials
60hp Mercury four-stroke outboard motor
| | | |
| --- | --- | --- |
| RPM | SPEED (KTS) | FUEL BURN (LT/HR) |
| 500 | 2 | 0.9 |
| 1000 | 2.9 | 1.3 |
| 1500 | 3.6 | 1.8 |
| 2000 | 4.89 | 2.8 |
| 2500 | 6.2 | 4.8 |
| 3000 | 10.4 | 5.5 |
| 3500 | 16.1 | 6.1 |
| 4000 | 19.6 | 7.8 |
| 4500 | 23.7 | 10.9 |
| 5000 | 26.6 | 13 |
| 5500 | 29.4 | 16.4 |
| 6000 | 32.2 | 19.6 |
*Sea-trial data supplied by author
Fi-Glass Ski Angler specs
Fi-Glass Ski Angler price: $39,900
Price as tested
PRICED FROM
$20,000 with 50hp two-stroke outboard
GENERAL
MATERIAL GRP
TYPE Monohull
LENGTH 4.75m
BEAM 2m
DRAFT 0.65m
WEIGHT 390kg (dry)
CAPACITIES
PEOPLE 5
MAX REC HP 75
FUEL 24lt
ENGINE
MAKE/MODEL Mercury FourStroke 60 outboard motor
TYPE Four-cylinder, four-stroke EFI outboard motor
RATED HP 60
SUPPLIED BY
Auckland Marine Centre
247 Ti Rakau Dr, Burswood, Auckland
Phone 09 579 7981
Email sales@aucklandmarine.co.nz
See the full version of this review in Trade-A-Boat #255, July / August 2015. Why not subscribe today?
Keep up to date with news from Trade-A-boat or like us on Facebook!