Review: Lazercraft 580 Sport GT
---
The return of the Lazercraft boats brand has produced an extremely smart-looking boat with performance to match.
In the Lazercraft 580 Sport GT, the rounded lines of the fibreglass cabin top match well with the strength and ruggedness of the alloy hull, and the build quality is extremely good.
Lazercraft 580 Sport GT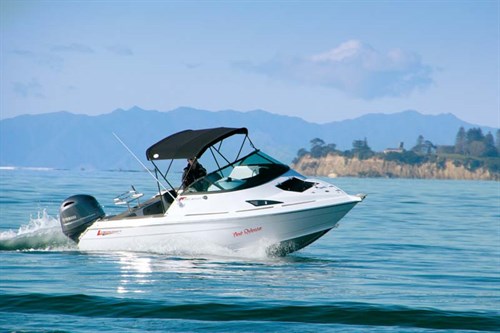 A well-known name nearly a decade ago, Lazercraft was taken over in 2008 by Dunedin boatbuilders Southern Boats. More recently, that combined company was bought in partnership with Family Boats, their largest dealer at the time. Since then Southern Boats has dramatically ramped up production and expanded the range of models available.
While the Southern Boats range unashamedly targets the top end of the alloy boat market, demand still exists for an offering in that mid-range of price bracket and level of finish. Jono Bakker, general manager of Southern Boats, says the Lazercraft 580 hull was well-liked and had built a faithful following before production ceased.
That said, it was an easy decision to resurrect the brand, starting with a refresh of this popular model. The Lazercraft 580 Sport GT is the first 'new' Lazercraft to come out of the factory.
These boats are being built by the Southern Boats team with the same high standards and quality of workmanship that has always characterised a their vessels.
'New' Lazercraft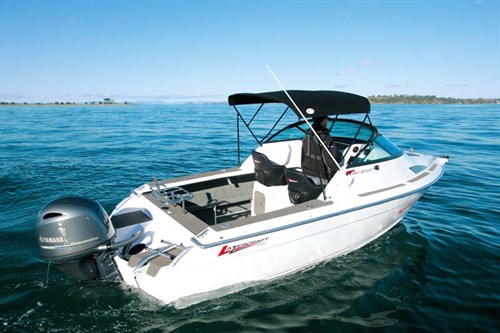 Up at the pointy end of the Lazercraft 580 Sport GT is the smoothly rounded cabin roof that only a fibreglass mould can provide. The bowrail is an optional extra, giving clean lines and indicating that access to the bow is best achieved from inside the cabin, up through the angled polycarbonate hatch.
The optional auto windlass was fitted to the review boat for easy anchor deployment, and a stainless steel fairlead and bollard nicely offsets the white paintwork and grey non-slip pads. In fact the whole boat is almost a work of art with brilliant white cabin and hull sides, grey motor cowling and gunwale pads, offset by the black bimini and detailing ensuring that heads will turn wherever this boat is taken.
The main cockpit is protected by a tinted windscreen and that black bimini canopy. We did not have the clears fitted but these provide complete protection when required. The helm seats are fully upholstered in black vinyl and fitted to adjustable pedestal boxes, providing dry storage areas underneath each. Alternative seating options are also available.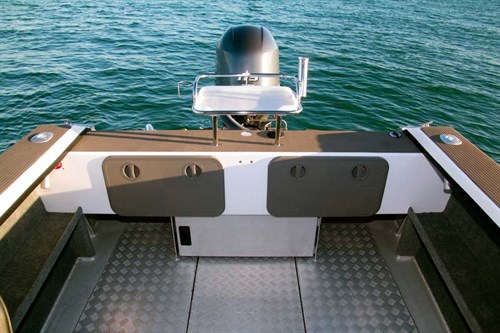 A checkerplate floor makes the boat easy to clean with a washdown hose. The forward cabin is fully carpeted and lined with that soft-feel upholstery which is warm and snug. The bright white dash area has a Garmin echoMAP 75 chartplotter-fishfinder, two Yamaha digital gauges and a switch panel.
There is ample space for a considerably larger display unit, although the high-definition of the Garmin screen means that the detail is clear and easily readable. A VHF was fitted, low and out of the way. Steering is by conventional cable system but was remarkably light and responsive.
Layout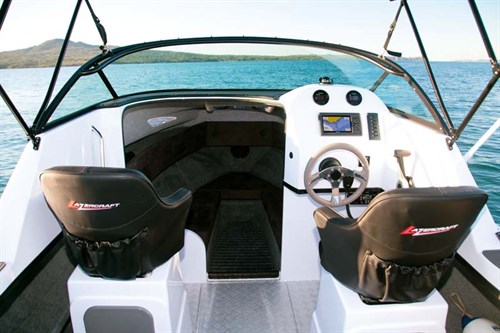 There is no step-through at the transom as standard, nor is there a livebait tank (both are options), but the huge hatches in the transom open to reveal sizeable storage lockers either side, with the battery snug between them.
The stern of the boat is interesting, the boarding platforms on either side are angled slightly outwards to form the outboard well. These result in a slightly pointed rather than flat transom profile below the waterline, which greatly improves speed and control when backing up. It also improves safety for swimmers getting back onto the boat, as the boarding ladder is angled away from the propeller.
Fitted to the well was the new Yamaha F115B four-stroke outboard motor. These new-generation engines were released in 2014 and Yamaha claims the highest power-to-weight performance in its class. Weighing in at 13kg less than the previous F115A, the new motor is not only lighter and more compact but boasts a whole range of new technologies.
Handling and ride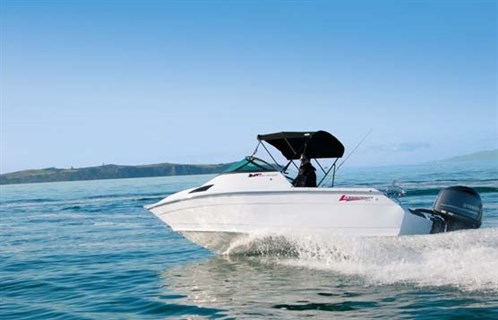 Out on the water we opened the taps on the Yamaha F115B and the boat hurtled out of the blocks. A respectable 36kts showed on the clock at 6000rpm with a full fuel tank and two occupants, and a bit extra still possible. The most fuel-efficient cruise  seemed to be around 19kts at just over 3500rpm, although there was less than 10 per cent difference in economy between 3500 and 4500rpm (19 to 26kts).
The digital Yamaha gauges are great, enabling the fuel-conscious skipper to find the optimum speed in the conditions and load. Bakker felt that the motor could spin a slightly more aggressive pitch prop which will give an even higher top speed, but this would be a personal choice depending on the intended loading of the boat.
The previous generation of Lazercraft built an enviable reputation of being soft-riding and this new boat certainly bears that out. We threw it through big wakes, getting completely airborne at times, but were pleasantly surprised at how quiet and soft the landing was.
The lack of a planing strake in the forward half of the hull is a major contributor to this of course, but other elements such as the 19° deadrise, rigid hull construction, fully carpeted interior and the comprehensive paint job all do their bit to keep things quiet and comfortable.
This boat certainly it lives up to its claims and we had no hesitation in taking it at top speed through some pretty big waves during our testing.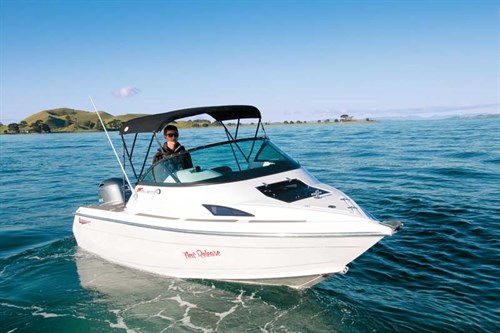 Manoeuvrability was also excellent, the boat spinning in a very tight circle when asked. There was no cavitation, no matter how hard we pushed, and also no side-slip thanks to the wide chine and single half-length planing strake. That same configuration means it cuts through wakes and waves without excessive lifting.
We also tested the backing ability and, with that slightly pointed transom and the lack of a stern door, this boat can be safely driven (and properly steered) in reverse at a quite remarkable speed. Boats with high deadrise angles are often tender at rest but the Lazercraft does not seem to suffer from this.
The Trade-a-Boat verdict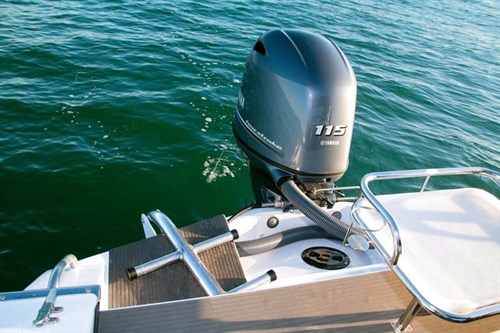 Overall this is an extremely smart-looking boat with performance to match. The rounded lines of the fibreglass cabin top match well with the strength and ruggedness of the alloy hull, and the build quality is extremely good. Handling is excellent, both at speed and when manoeuvring around a marina. The only surprising thing about this boat is that the price is not higher! 
HIGHS
• Soft and quiet ride
• Awesome backing and handlingin reverse
LOWS
• Lack of transom step-through
Lazercraft 580 Sport GT sea trials
Single Yamaha F115B outboard motor
| | | |
| --- | --- | --- |
| RPM | SPEED (KTS) | FUEL BURN (LT/H) |
| 1000 | 4.1 | 1.8 |
| 1500 | 5.8 | 3.5 |
| 2000 | 6.7 | 5.6 |
| 2500 | 8.4 | 8.2 |
| 3000 | 13.5 | 11.2 |
| 3500 | 18.9 | 12.7 |
| 4000 | 23.1 | 16.9 |
| 4500 | 26.3 | 19.7 |
| 5000 | 29.2 | 25.5 |
| 5500 | 32.5 | 30.8 |
| 6000 | 36.2 | 40.8 |
*Sea-trial data supplied by author
Lazercraft 580 Sport GT specs
Lazercraft 580 Sport GT price: $65,995
Price as tested
GENERAL
MATERIAL Aluminium hull (5mm bottom, 3mm sides), fibreglass deck and mouldings
TYPE Monohull
LENGTH 5.8m
BEAM 2.25m
WEIGHT 1100kg (BMT)
DEADRISE 19°
TRAILER Alloy w/ mag wheels
CAPACITIES
PEOPLE 5
REC. HP RANGE 100 to 150
FUEL 150lt
ENGINE
MAKE/MODEL Yamaha F115B outboard motor
TYPE Four-cylinder four-stroke petrol outboard motor
RATED HP 115
DISPLACEMENT 1832cc
WEIGHT 171kg
MANUFACTURED BY
Southern Boats
SUPPLIED BY
Family Boats
247 Ti Rakau Drive, East Tamaki, 2013
Phone (09) 274 0511
See the full version of this review in Trade-A-Boat #255, July / August 2015. Why not subscribe today?
Keep up to date with news from Trade-A-boat or like us on Facebook!