Review: Mitsubishi Triton GLS 4WD
---
The updated Mitsubishi Triton ute range is here. We recently put the Mitsubishi Triton GLS Double Cab through its paces, with the well-specified and well-proportioned senator RH650 on the back.
The new Mitsubishi Triton range has arrived in New Zealand, and on first impressions looks like it'll give the rivals a run for their money within this increasingly competitive segment of the market.
Mitsubishi Triton GLS Double Cab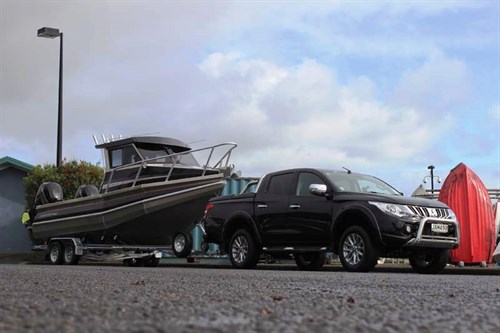 Our time with the top spec Mitsubishi Triton GLS Double Cab was primarily spent hauling some serious fishing hardware; a Kiwi-constructed Senator RH650 twin-rig pontoon. This able 6.5m long mid-ranger from Senator features all sorts of standard kit and certainly looked the part hitched to our test Triton.
With the Triton's 3100kg braked tow rating in mind, the Senator sits well inside this at 1900kg, but the boat still features a decent footprint with a length of 8.2m combined on its tandem-axle trailer and an on-trailer width of 2.4m.
With a crosstown run between our pick-up point at Auckland Marine Centre to a boat ramp around 10km away, we were interested to see how the Triton coped with the stop-start nature of urban towing; there'd be no relaxed motorway cruise for us today.
Design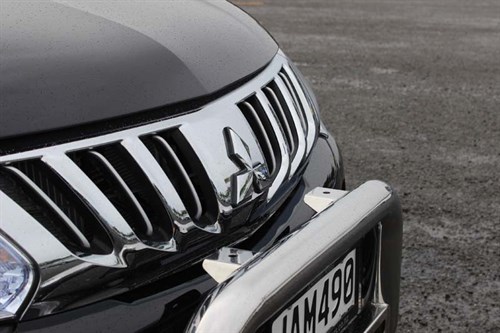 Thanks to its Super Select technology the Triton boasts easy-running, all-paw ability that means the driver enjoys assured performance on tar seal, just as they would on gravel. We utilised this setting for almost the entirety of our time with the RH650 hooked to
the back.
The 2015 Triton features a new centre differential which provides for 60/40 torque split, working as effectively on road or off with regards to providing better grip and traction. Mitsubishi says the low-range gearing in the Triton is 25 per cent lower than the previous model, so if you really wanted to go rock crawling (albeit sans a boat this size), you could with confidence.
Mitsubishi's four-mode system has been an easy-to-use feature for some time now. It lets you toggle between 2WD for standard around-town running, 4H, 4HLC high-range gearing for dedicated off-road travel, and 4LLC (Low Range with Locked Centre Diff) which will get you to wherever you need to go regardless of whether there's a track under the wheels or not.
The various traction systems featured in the Triton come under the heading of Mitsubishi All-Terrain Technology (or MATT for short). This system provides the full gamut of active safety software designed to keep you on the road (or the boat ramp) and includes Active Traction Control, a Multi-Mode Anti-Lock Braking system which sends different amounts of brake force to individual wheels depending on the situation, and Active Stability Control designed to combat under- or over-steer.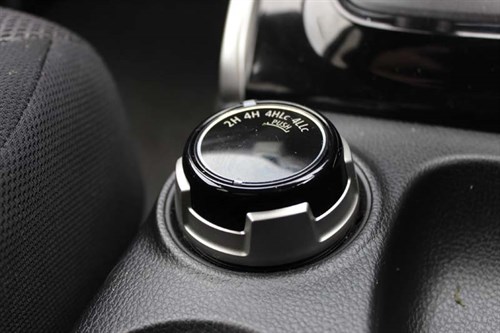 Another standard safety item in the 2015 Triton GLS toolbox is Trailer Stability Assist which utilises sensors to detect sway at open road speeds. The system applies brake force to the appropriate wheel and adjusts engine power in order to stabilise any
sway motion.
The standard braking mechanism on the trailer created a bit of shunt on the drawbar when coming to a stop at traffic lights (of which there were many). Generally though the entire return trip in the Triton was a finessed affair with the ute pulling away from stationary without any drama.
Performance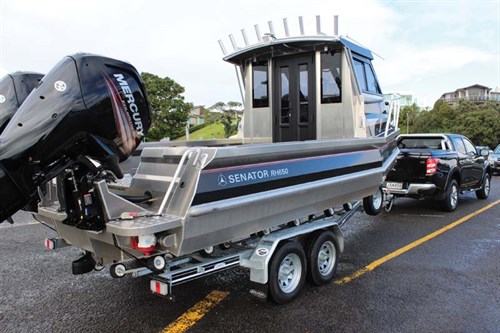 Being at the bottom of a reasonable hill our boat ramp of choice featured a climb out on the access road, but the Triton is well-geared for this sort of haul and there was barely any rev surge as we made our way up. Our test Triton featured a five-speed automatic gearbox with sports-shift paddles, although a six-cog manual is available in all grades too.
Backing up to the trailer at Auckland Marine Centre was a cinch too, thanks to the GLS grade's standard reversing camera. With our tester fitted out with a hard tonneau lid, there is a lot of sheet metal to see over, so having a clear resolution camera is a great bonus. Eyes in the back of the head are also good when you're performing simple backing manoeuvres in busy urban environments where a lot of double-cab utes spend their entire lives these days.
Safety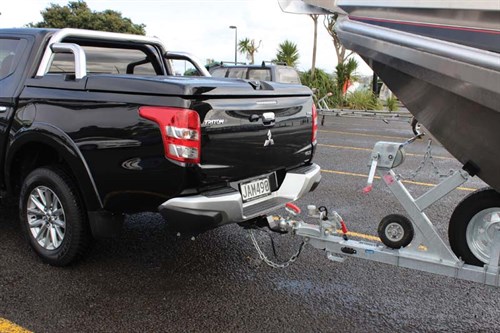 Other safety spec? Every Triton features seven dual-stage airbags placed throughout the cabin, an ISOFIX latching system for child car seats in the back, LED Daytime Running Lights outside and a new addition called SmartBrake. In an emergency braking scenario, this system detects if you've inadvertently hit the accelerator as well as the brake pedal and cancels out the accelerator action. It's one of those pieces of technology you hope you'll never need, but it's good to know it's there.
One-touch push-button start (with keyless entry), handy Bluetooth hands-free phone calling and audio streaming, a big and bright 6in touchscreen display and dual-zone air-conditioning all complete the picture inside.
The verdict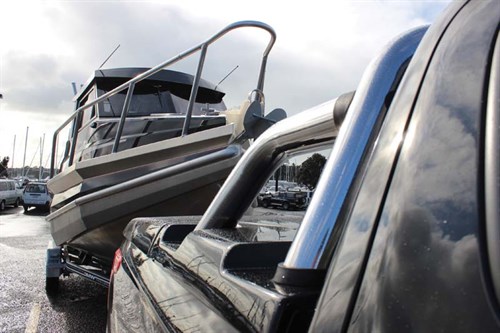 This is one comprehensive ute, bolstered by great looks (the GLS we tested comes with tasty 17in alloys as standard) and Mitsubishi New Zealand's hard-to-beat five- and 10-year Diamond Advantage warranty programs. 
Mitsubishi Triton GLS Double Cab specs
Mitsubishi Triton GLS Double Cab price: $59,490 + ORCs
Price as tested
GENERAL
TYPE 4WD double cab ute
ENGINE Four-cylinder MIVEC turbo-diesel
RATED HP/KW 181/135
TORQUE 437Nm
DISPLACEMENT 2.4lt
TRANSMISSION Five-speed automatic
FUEL 75lt
FUEL ECONOMY 7.6lt/100km
CO2 EMISSIONS 198g/km
TOW RATING 3100kg (braked)
PAYLOAD 960kg
SUPPLIED BY
Mitsubishi Motors New Zealand
Todd Park, Heriot Dirve,
Porirua, 5023, Wellington
Phone (04) 237 0109
Web mmnz.co.nz
Auckland Marine Centre
247 Ti Rakau Drive,
Burswood, 2013, Auckland
Phone (09) 271 1575
Fax (09) 525 3838
Email sales@aucklandmarine.co.nz
See the full version of this review in Trade-A-Boat #255, July / August 2015. Why not subscribe today?
Keep up to date with news from Trade-A-boat or like us on Facebook!