Review: Profile 1410
---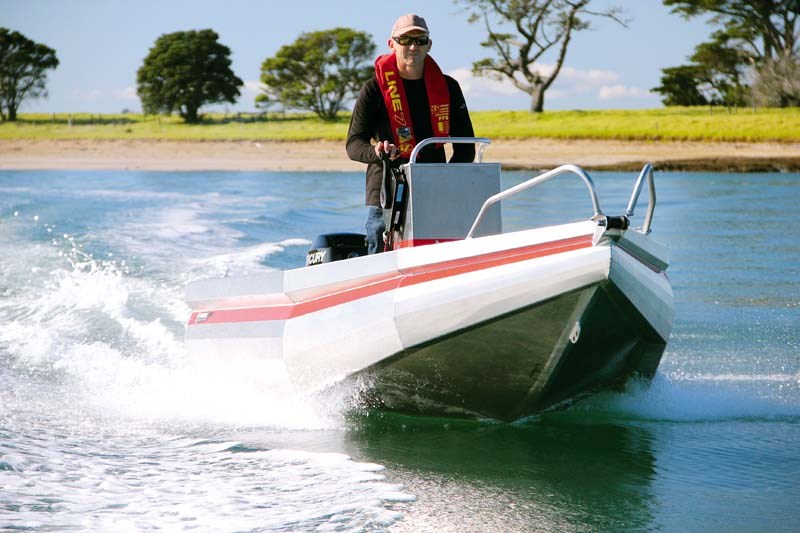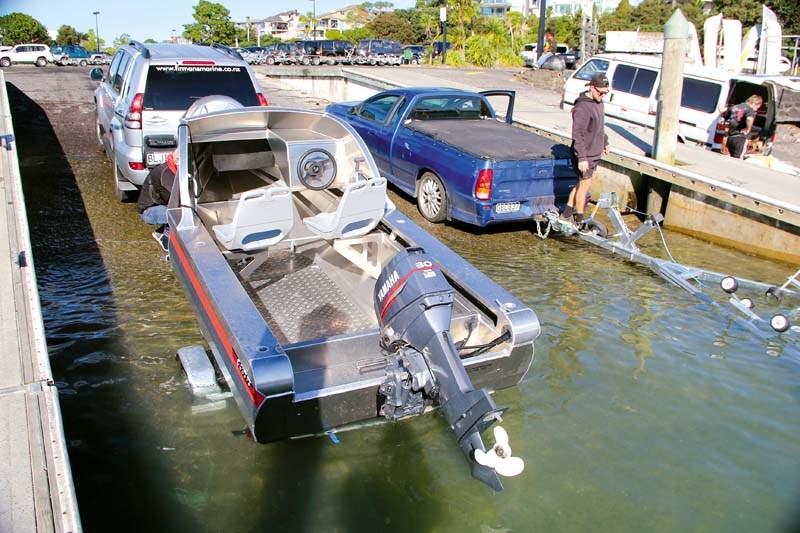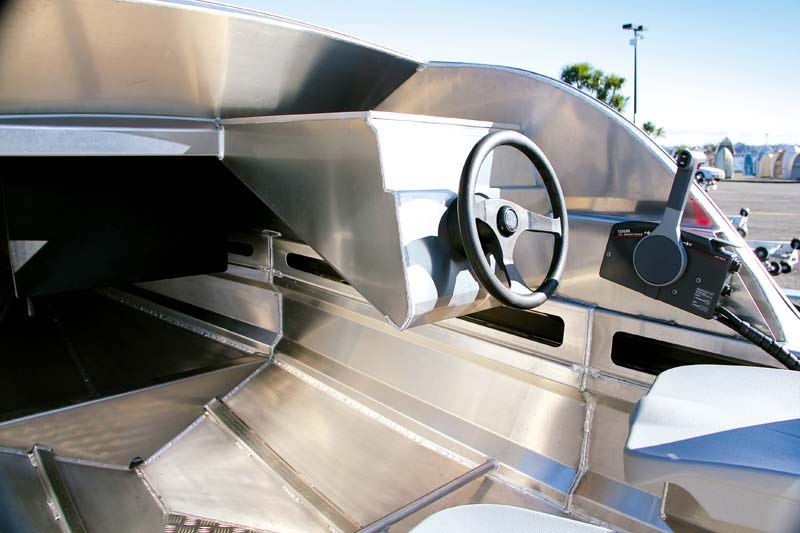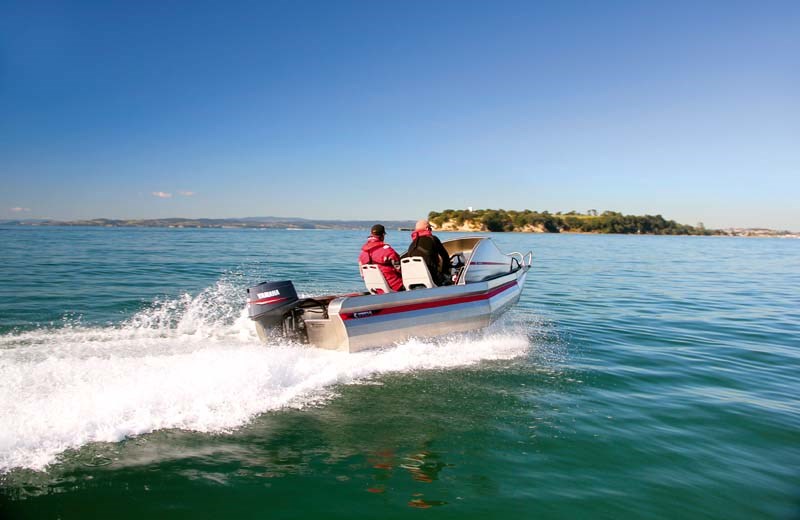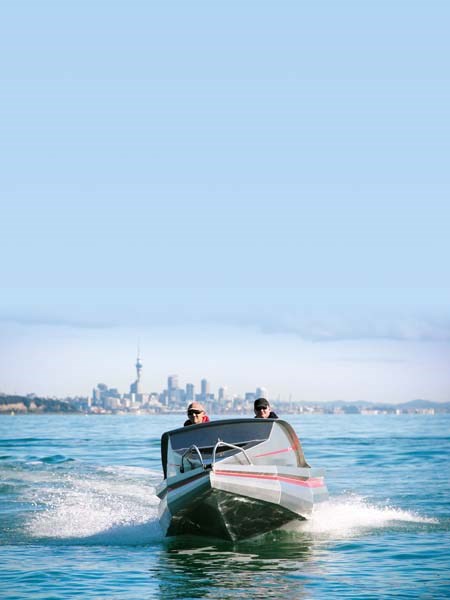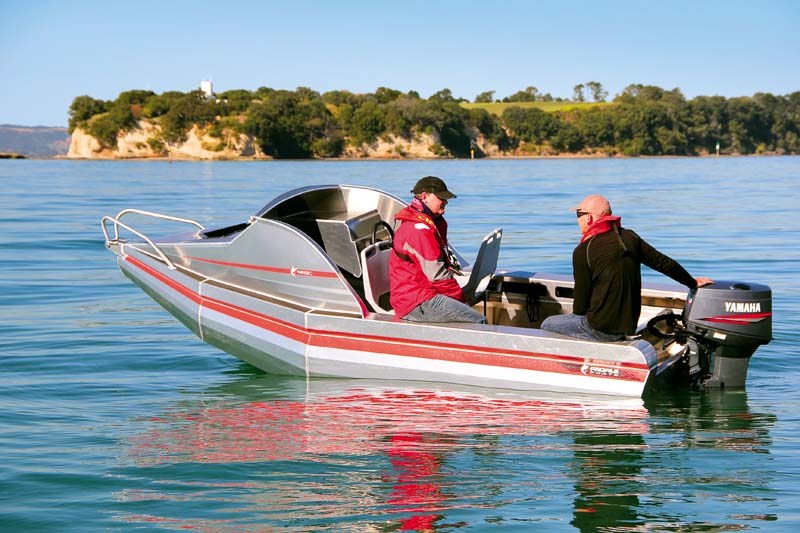 The Profile 1410 is a capable and well-priced aluminium fishing boat to get you out on the water safely and cheaply. It will appeal as much to the experienced boater as it will to a first timer. Whether you choose the cubby for its weather protection, the fishing practicality of a centre console or the most basic tiller-steer dinghy, you can be confident that the boat is inherently safe, strongly built and won't send you to the wall.
The pedestrian build up around Profile Boats' indoor stand at this year's Hutchwilco New Zealand Boat Show was actionable. But it wasn't Profile Boats' big alloy hardtops causing the gridlock but the pint-sized 1410 pontoon dinghies.
Profile Boats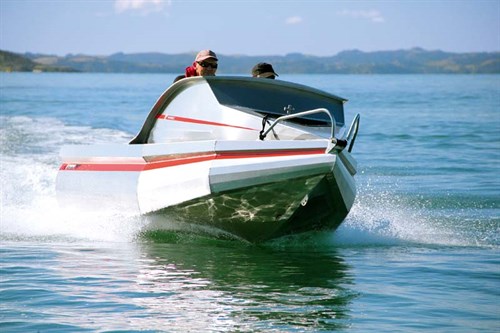 Presented as a new release in three configurations – dinghy, centre console and cuddy cabin – and priced at a shade under $13,000 (dinghy) complete with outboard and trailer, it was little wonder the new 1410 family was something of a show-stopper. At last, show visitors were presented with a genuine turnkey package and all for little more than the price of their family boat show pass and the obligatory hot dog and chips.
Cleverly designed and fabricated from a single sheet of 3mm aluminium plate, the new 1410 range is Profile Boats' push into the most basic entry-level market. But the 1410's capacity and its capability go far beyond what you'd expect from a Billy Basic aluminium dinghy. This is a serious little vessel and it has many of the hallmarks of a small commercial workboat – bulletproof construction, a practical no-frills layout and a design pedigree that should see it punch well above its weight.
What's more, the 1410 looks very sharp for what is essentially a box-type structure and you get to choose the boat in any colour you want as long as it's red or blue.
Both the 1410 cuddy cabin and the 1410 centre console are built on the same hull platform as the 1410 dinghy, albeit with a minor transom modification to the cuddy. A standout feature of these little boats is the big 1.74m external beam.
This is getting up to 5m runabout territory and it gives the dinghies a definite big-boat feel in a small-boat footprint. Their on-the-water performance is right up there too, but more on that soon.
The concept of small pontoon-style dinghies is nothing new and there is no shortage of pontoon dinghy builders. In fact, some manufacturers specialise in entry-level pontoon boats, so it's a relatively crowded segment of the alloy market. This is not altogether surprising given the benefits of pontoon construction in small boat design. Pontoon hulls are initially quite stable and they will generally carry plenty of reserve buoyancy in sealed chambers. Their fold-over box coamings make them comfortable and practical for fishing and diving. They're also robust and require little or no maintenance and are ideal for beach landing and launching.
The only negative, perhaps, is the weight penalty they carry in their bones and the requirement this imposes for a little more horsepower on the transom compared to, say, a rigid hull inflatable. That said, a pontoon boat will take far more abuse and punishment than a RIB and it won't fold up around your knees if you run amuck with a gaff.
Design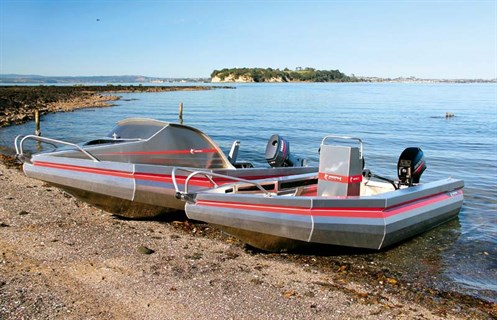 Profile Boats' brand development manager Mark Hunter says the new 1410s are central to Profile Boats' long-term growth strategy and export ambitions.
"The 1410 is all about getting people on the water as cost-effectively as possible and raising our brand awareness," said Hunter.
"Experience tells us that if customers have a good early experience with one of our products there's every chance they will remain loyal to the brand.
"It therefore makes sense to expand our range of entry-level boats and introduce customers to our brand a whole lot sooner. We've been slow out of the blocks in this regard but we're rapt with the 1410 and customer feedback has been tremendous."
Hunter says the 1410's build quality and competitive pricing is a direct consequence of Profile Boats' recent factory expansion and investment in plant and machinery, which has had a major impact on the 1410's build time.
"The entire boat is essentially fabricated from a single sheet of aluminium plate pressed and folded multiple times to create the hull, the chine and the pontoons," he says. "This method of construction means a lot less welding and a lot less labour content in the finished product. This is reflected in the prices."
The Profile boats 1410 family shares the same solid 4mm checkerplate sole that effectively ties the boat together and creates a hull of some significant strength. A single 3mm sheet transom, internal box frame stringers and athwart bracing provides additional rigidity and prevents any serious wracking.
Hunter says it is no coincidence that each of the 1410 models carries Profile Boats' class-leading 10-year manufacturer's hull warranty. This reduces to 36 months if ownership changes within the first three years.
Profile Boats range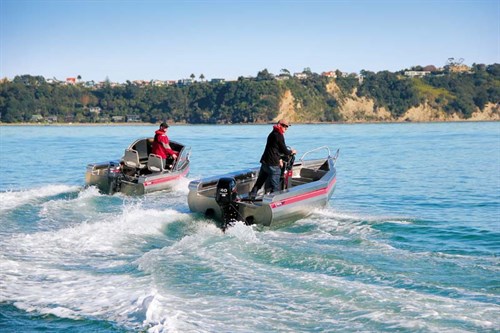 While all three models are rated for four passengers, the boats' performance will suffer with the weight of four and additional gear, and for this reason I'd suggest they're more practical and potentially a lot more fun two-up.
The cuddy is the heaviest of the three, though only marginally. The centre console comes in second followed by the dinghy with an approximate hull weight of 180kg. Weight on-trailer is estimated at 450kg, well within the capability of the average four-door family sedan.
The cuddy is the most practical of 1410 models if not the least fun. It provides a higher level of comfort with a very solid wraparound aluminium windscreen, a useful half-dash for mounting optional engine gauges and electronics, and a pair of plastic rotomoulded swivel seats mounted on aluminium bases.
It also has a small open-top plastic-lined anchor locker, a solid single bollard, fairlead with roller and a short aluminium bowrail. Driver and passenger comfort is pretty good and there's a solid foot bar welded across the top of the sole. The cuddy itself is obviously quite small and there's no dedicated storage as such, but it's big enough to gobble up a couple of 20kg dive bags and keep them dry in most conditions.
Over your shoulder there's plenty of room for two anglers and a large chilly bin for your bait, ice and catch. The 1410's 200mm-wide coamings offer a comfortable perch but would benefit from the optional non-skid finish.
All three models feature two welded rodholders on each side, solid welded bollards aft, two-metre-plus parcel shelves scalloped into the pontoons and a pair of self-draining cockpit scuppers. The engine start battery in the cuddy and the dinghy is tucked in alongside the tote tank under the transom and secured by aluminium gussets. In the centre console it is housed within the console itself.
The centre console is a more open and simple boat and in some ways it's more practical, allowing anglers to work both ends of the boat. Up front you'll find a partitioned open anchor well that forms the back of an athwart bench seat/casting deck.
The console carries a single forward-facing seat for the passenger. Sitting is not an option for the driver. Underfoot, there's a small ramp on the starboard side to cover the mechanical steering and battery cables.
The helm is well-positioned and there's reasonable space to flush-mount or top-mount instruments and gauges should you choose to fit them. The top of the console is equipped with a sensible and necessary solidly welded handhold and there is reasonable dry storage within the console.
Handling and ride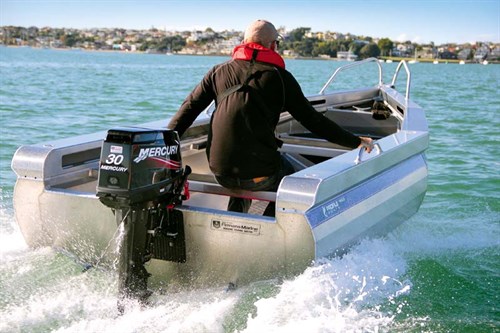 Equipped with a 40hp Mercury long shaft two-stroke, as opposed to the cuddy's 30hp Yamaha two-stroke, the centre console was by far the more willing of the two on the review day.
Both boats feel robust and purposeful and a lot bigger than their actual 14ft (4.3m). And while you're not going to want to be caught out on a wild west coast, neither will you feel any compunction to bolt for home at the first sign of any weather. These are capable little boats – within reason – and will punch well above their weight.
The setup is excellent in both models. The mechanical steering is positive and firm, the throttle position is comfortable and the long shaft outboards provide adequate trim to get the little boats riding and then smoking along at wide open throttle.
Essentially scaled-down models of Profile's larger pontoon hulls, they share similar traits and on-the-water performance. They feel very solid underfoot, carry the same moderate 17° transom deadrise and have a relatively fine entry. The angled-down chine rails hang on extremely well and it's a good thing Profile Boats recognise the value in solid handholds.
The Trade-a-Boat verdict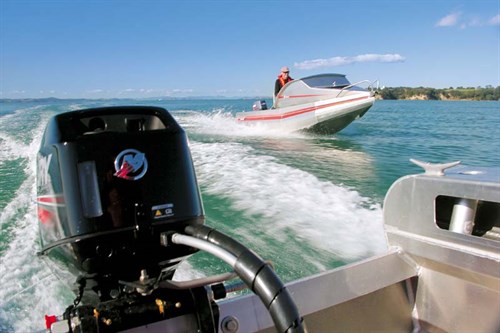 The real attraction of the Profile 1410 is its simplicity. You could trick it up all you like, but why bother? They are what they are, a capable and well-priced platform to get you out on the water safely and cheaply. It hits both targets square on.
In all its forms, the 1410 will appeal as much to the experienced boatie as it will to a first-timer. This is a boat you can easily launch and retrieve on your own. It's an easy-care, no-fuss package that you park under a tree on the lawn and walk away from without guilt.
Whether you choose the cuddy for its weather protection, the fishing practicality of a centre console or the most basic tiller steer dinghy, you can be confident that the boat is inherently safe, strongly built and won't send you to the wall. 
HIGHS
• Solid construction
• Stability
• Reserve buoyancy
• Practicality
• Price
LOWS
• Under-powered Cuddy
• Minimal standard spec
Profile Boats 1410 specs
Profile 1410 Centre Console Price: $21,940
w/ 40hp Mercury two-stroke (electric trim/start), on road-legal trailer
Profile 1410 Cuddy Cabin price: $22,490
w/ 30hp Yamaha two-stroke (electric trim/start), on road-legal trailer
PRICED FROM
$13,490 1410 Tiller-steer Dinghy w/ 30hp Mercury two-stroke, on road-legal trailer
GENERAL
MATERIAL Aluminium; 3mm hull, 4mm floor, 3mm pontoons
TYPE Monohull
LENGTH 4.3m
BEAM 1.74m
DEADRISE 17°
TRANSOM HEIGHT 508mm
WEIGHT 180kg hull; 450kg BMT
ON-TRAILER DIMENSIONS 5.2m length; 2.05m width; 1.8m Cuddy height; 1.5m Centre Console height
CAPACITIES
PEOPLE 4
REC. HP RANGE 15 to 40
ENGINE
MAKE/MODEL 40hp Yamaha or 30hp Mercury
TYPE Two-stroke outboard motors
MANUFACTURED BY
Profile Boats
SUPPLIED BY
Firmans Marine
220 Prebensen Drive, Onekawa, Napier
Phone (06) 835 9718
Email sales@firmansmarine.co.nz
See the full version of this review in Trade-A-Boat #255, July / August 2015. Why not subscribe today?
Keep up to date with news from Trade-A-boat or like us on Facebook!