Review: Ballistic 7.8 rigid inflatable
---
This Ballistic 7.8 is a great-looking RIB (rigid inflatable boat) and a sensible choice as a harbour cruiser and family dayboat.
When the barometer rose and the sea flattened to a glistening expanse of quicksilver, our plans to head offshore and review the new Ballistic 7.8 RIB went out the window. We quickly formulated a plan B, and rather than head out to Sydney's Barrenjoey decided to seek out some idyllic spots along the Hawkesbury River instead, playing tourist and soaking up some late winter sunshine.
While we missed out on playing in the waves, we still got to do what most big-RIB owners enjoy with a leisurely cruise around a feature-packed waterway, taking in the scenery and sucking up the serenity. Well, if tooling along at more than 50kts as we left the confines of Akuna Bay is a leisurely cruise...
Ballistic RIBs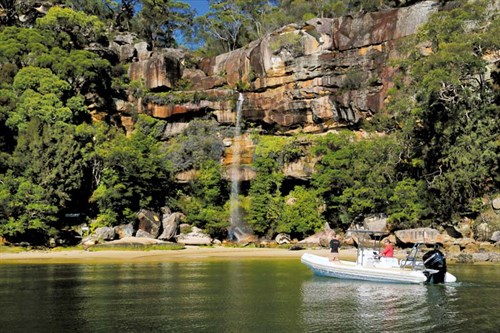 Even without taking into account the gutsy Mercury on the back, the Ballistic 7.8 rigid inflatable exudes a sporty appeal and at 7.8m overall length, it's no shrinking violet. It's a boat that looks designed to get you places in a hurry and in comfort. And if you're one of those who have only considered the inflatable concept as a tender, then you're going to need a mighty big mothership.
Ballistics RIBs are engineered to last. Well-finished stainless steel fittings are all high-quality 316, while the tubes are constructed with five air chambers and from the best French Orca Hypalon using Lloyds-approved adhesives.
The hull is constructed from three mouldings bonded together to give the boat formidable strength. Between the hull and deck sections is a preformed grid of stringers and bulkheads that combine in a stiff and robust combination.
Below the waterline, each side includes four running strakes and an aggressive reverse chine that contributes with the deep deadrise to a feeling of running on rails at full noise.
Layout and design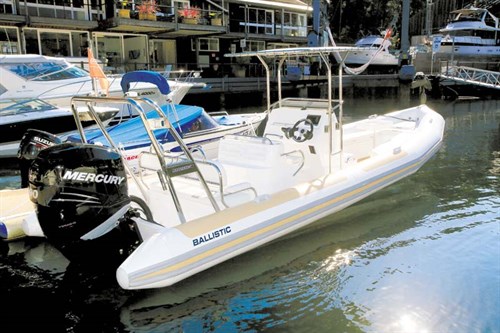 The Ballistic 7.8 rigid inflatable is rated to carry up to 15 passengers, a massive number for the size. I'm not sure I'd like to test that figure as it would be a bit squeezy and some would need to sit along the sides, but it's testament to the additional buoyancy that air chambers bring to the design.
Seating includes a five-person V-lounge in the bow, a settee forward of the console, a twin helm seat and a rear lounge for three. It wouldn't be ideal for a party on board, but very handy if you're heading to a waterside restaurant with 14 friends.
Forward of the V-lounge is a vinyl fairlead to prevent chafing of the Hypalon and a single stainless steel bollard for an anchor that is stored in an unlined locker under the bow cushion. As well as the bow cleat, there are three grabrails along the sides that double as mooring points.
Demonstrating it's more than a high-capacity commuter, bow seating converts with infills to a 1.8m long daybed. I have to admit that after trying it out (in the interest of thoroughly examining what the boat had to offer), I found it hard to relinquish the spot after the morning sun started to warm my bones. It was very comfortable and most mesmerising with the gentle sound of water lapping the sides.
Console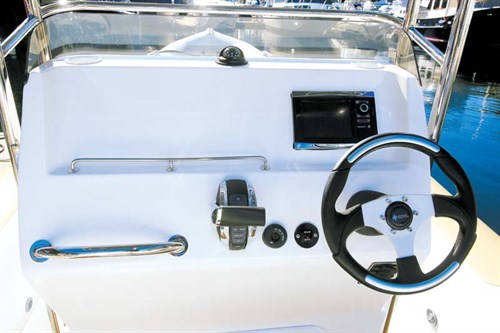 You get a forward-facing twin seat which lifts to reveal a storage hatch. In this case though there are dedicated storage spaces for the bow table and leg, as well as a myriad of electronics and a covered hatch for the twin batteries. It makes accessing these items easy for maintenance but cuts back on usable storage space somewhat.
The business section of the console is a neat, all-white moulding with the wheel to starboard and the engine controls in the centre. This leaves a large area of dash to port for your choice of navigation screens to around 15in, while a 7in SmartCraft screen behind the wheel gives a comprehensive display of engine readouts.
The passenger gets a sturdy grabrail and there are a couple of cupholders on top of the dash. The bar-work over the console for the T-top is strikingly neat and beautifully contoured into the lines of the console. At 2.1m there is plenty of head height, even with a pair of cleverly designed stainless steel holders for the bow infill fitted under the Sunbrella shade (a local suggestion that has now been taken up by the factory).
Storage space is abundant toward the back of the boat, with big areas in the rear of the helm seat moulding as well as under the aft lounge making space for a full complement of 15 lifejackets, fenders and still leaving room for personal storage for the crew.
Handling and ride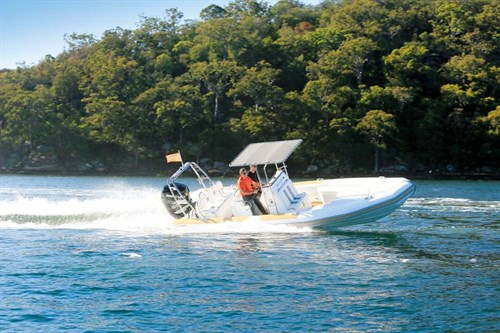 A full-width engine well can accommodate a twin-engine setup to a maximum total of 500hp which, I'm sure you'd agree, would be an awesome rig and gives some indication of how robust the construction must be. Factory tests with twin 225hp outboard motors have delivered a very impressive 64kts at full noise.
Access over the back for swimming is very tight, so I'm told most owners opt for an optional ladder that can be deployed over the side for re-entry from the water.
Having the engine control to the left of the wheel didn't seem totally familiar to me, but it didn't take long to get used to the arrangement, as did the left-hand-side trim switch. When you push the throttle forward there's an instant response from the silky-smooth supercharged inline six-cylinder four-stoke Mercury Verado.
And it just keeps accelerating right through the rev range, till it tops out to a very swift 53kts. Cruise along at 30kts or so, at around 4000rpm, and a poke of the throttle will kick you back in the seat. At wide open throttle there is no hint of chine walking as the tubes and chines plant this big girl solidly in the water.
Handling is also superbly predictable and reassuringly safe. We could only find some boat wake to evaluate the ride in rough water and the 7.8 felt soft and rattle-free in the conditions, but I would have liked to assess it offshore in something more trying.
Seating is comfortable and individual bolsters on the twin helm are a neat idea, allowing the skipper to either sit or stand. Vision is good from either position and the small screen does a good job of deflecting air overhead.
The Trade-a-Boat verdict
The Ballistic 7.8 rigid inflatable is a versatile and friendly craft, with more than ample performance and enduring style. The Ballistic 7.8 price as tested is $A95,000 with the T-top and carpet, but drops to $A83,995 without these options and with a 250hp outboard motor. Ballistic Ribs Australia is also the New Zealand distributor, so for enquiries contact the company's Sydney office (below).
HIGHS
• High stability at rest
• Scintillating performance
• Sporty handling
• Huge 15-people capacity
LOWS
• Water access could be better
Ballistic 7.8 sea trials
Single 300hp Mercury Verado outboard motor
| | |
| --- | --- |
| RPM | SPEED (KTS) |
| 1000 | 5 |
| 1500 | 6 |
| 2000 | 8 |
| 2200 (on the plane) | 9 |
| 2500 | 13 |
| 3000 | 17 |
| 3500 | 26 |
| 4000 | 32 |
| 4500 | 39 |
| 5000 | 42 |
| 5500 | 47 |
| 5900 (WOT) | 53 |
* Sea-trial data supplied by the author.
Ballistic 7.8 specs
Ballistic 7.8 price: $A95,000
Price as tested, subject to exchange rate
OPTIONS FITTED
Engine upgrade, T-top and carpet
PRICED FROM
$A83,995 (subject to exchange rate)
GENERAL
MATERIAL Fibreglass hull, Hypalon tubes
TYPE Rigid inflatable monohull
LENGTH 7.8m
BEAM 2.5m
WEIGHT 1200kg (dry, hull only)
CAPACITIES
PEOPLE 15
REC. HP 300
REC. MAX HP 500
FUEL 250lt
ENGINE
MAKE/MODEL Mercury Verado 300 outboard motor
TYPE Supercharged inline six-cylinder four-stroke outboard motor
RATED HP 300
DISPLACEMENT 2600cc
WEIGHT 288kg
GEAR RATIO 1.75:1
PROPELLER 21in three-blade stainless steel Mirage
SUPPLIED BY
Ballistic Ribs Australia
3/10 Ponderosa Parade,
Warriewood, NSW, 2102
Phone +61 2 9125 0606
Email ribs@bribs.com.au
See the full version of this review in Trade-A-Boat #258, on sale October 1. Why not subscribe today?
Keep up to date with news from Trade-A-boat or like us on Facebook!