Review: Clipper Cordova 60
---
The profile of the Clipper Cordova 60 might point to the grand old days of trawler yachts, but as the saying goes, for this luxury motoryacht, it's what's inside that counts.
The first thing I noticed about the Clipper Cordova 60 as I stepped aboard at Runaway Bay, on the Gold Coast, was the way this motor yacht was happily purring away on the spot – in the middle of the marina – with no one at the helm and no anchor down. Huh?
Turns out this handy trick is Twin Disc's 'Express Positioning' feature, courtesy of its Electronic Joystick System (EJS). Find your spot, hit the button and stay there. Handy stuff.
Alighting from the hydraulic swimplatform on the Clipper Cordova 60, there's a pair of moulded steps either side, leading through matching transom gates.
This is a serious, oceangoing yacht for long trips over big water and her 18.6m overall length is matched by a healthy 5m-plus beam. You might say she's got substantial presence, which is just want you want when heading offshore, chart in hand, with tropical dreams bouncing about your head.
Clipper Cordova luxury trawler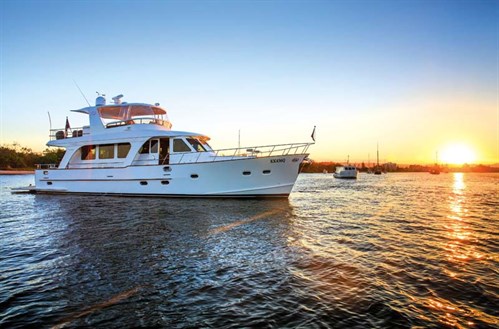 If you're coming through the aft doors, you're coming through the galley, too. There's no missing this massive (and massively impressive) space for chefs to work their magic.
It's far and away the biggest galley I've seen on any yacht this size and a fair whack larger than the kitchens of most houses I've lived in.
This glorious workspace stretches down the portside of the Cordova's saloon, and is sectioned off from the living areas by an island bench, complete with swivelling stools.
It's all too easy to see a few friends enthusiastically embracing this space, knocking back a few glasses of something fizzy and cold, while putting together a relaxed, casual lunch. Just like you'd do at home.
That apartment vibe extends to sisal carpets underfoot and tall windows which surround the saloon to welcome natural light and – via sliding frames – the sea air as well.
The cabinetry and wall liners are American walnut in a satin finish, laid with a horizontal grain for a modern feel that contrasts nicely with the lighter sofa fabrics.
Head forward toward the helm and you come across a deep L-shaped lounge with a folding high-low table for dinner indoors or a snack while on passage.
Helm and electronics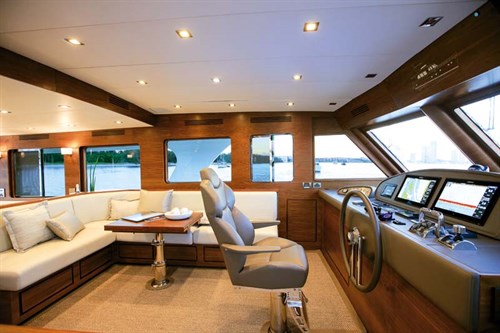 Across from this seating area is the downstairs helm. Twin Simrad NSS 16in touchscreens dominate this area, ensuring navigation is breeze and aided by great vision all around.
There is also a pair of Mercury VesselView engine monitors to keep an eye on the thumping Cummins QSM 11s. The gleaming throttle and docking joystick confirm Twin Disc make the best looking go-fast gear in the business, and the fact they work so well doesn't hurt either.
In fact, it's all stylish curves, sexy leather and polished metal down here.
It's a bloody good looking helm, and functional to boot. But is it just a waste on a flybridge boat? You can never have too much stylish design in my opinion – but I'll still be helming from upstairs.
And what of that flybridge? Where the saloon and galley are all warm woods and modern fabrics, the flybridge treads a more traditional path, but is nonetheless a top spot to spend time.
Amid the blindingly white expanse of fibgreglass are a host of creature comforts, including twin helm chairs, and two lounging areas, both with high-low tables. There's also a barbecue/wet bar on the port corner for entertaining the masses, and with the tender safely stashed on the swimplatform, there's room up here to swing an army of cats.
Bow sunpad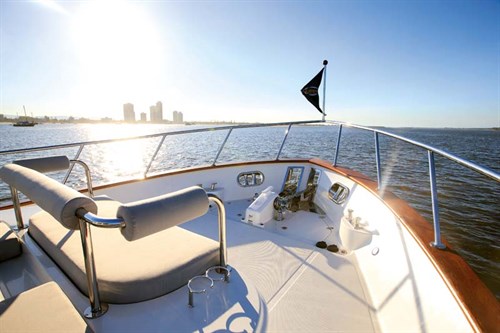 Peering forward through the clears from the flybridge helm, you'll notice a tempting array of bow seating below. There's a wide sunpad and a comfy bench, all with drinkholders. This would make an amazing spot to chill out at anchor, or even while flatwater cruising. It's just another in the Cordova's long list of attractive entertainment spaces.
Walking aft from the bow, you can't fail to notice the wide varnished caprails down each side. These glossy teak highlights add a real touch of class to any vessel, but the fact they were already fading in the brutal Queensland sun demonstrates the need to apply both time and money to their maintenance if you want the boat to stay looking smart.
As noted, the tender on the Clipper Cordova 60 can be stowed on the aft-most section of the swimplatform which keeps the flybridge clear. The current owners have fitted a 380 Brig RIB here, with a 30hp Honda and the hydraulic platform makes launching a simple affair. Even better, the same platform can be lifted well clear of the water in a following sea to keep the tender safe.
Upstairs downstairs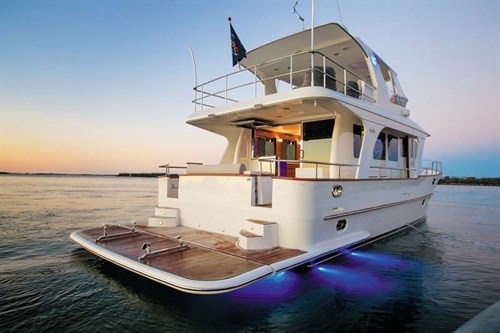 From the galley, a sparkling stainless steel and walnut staircase (complete with striking blue LEDs) leads upstairs, while another staircase leads down to the accomodation, just forward of the starboard helm door.
The stylish walnut fitout and angular contemporary fittings continue below decks, where a short corridor leads to the forward VIP and twin cabins, or down a couple more steps to the centrally-located master.
The VIP cabin is a stunner, with carvel-style planking lining both walls and an inviting island bed, plus four portlights. It's beautiful woodwork.
The VIP shares access to the head with the twin guest cabin, where it was nice to see 'proper' king-size single beds, rather than bunks. A mirrored roof panel in the bathroom adds to the sense of space, where a varnished teak floor grate sits beneath a choice of handheld showerhead or an overhead 'rainshower-style' showerhead. Decisions, eh?
In the master cabin, the sumptuous island bed is situated along the centreline to provide a perfect night's rest. What's more, a programmable Simrad repeater screen will ensure peace of mind while you're hanging at anchor and there's a Fusion stereo remote to control the aural ambience.
A door to access the bathroom was also a welcome sight. Call me old-fashioned, but I do like a bit of separation between sleeping zones and ablutions, unlike some modern designs which integrate a shower or bath as bedroom furniture.
Down aft, accessed via a hatch next to the engine room is a crew cabin, which can be used as extra guest accommodation as required.
Twin 715hp Cummins engines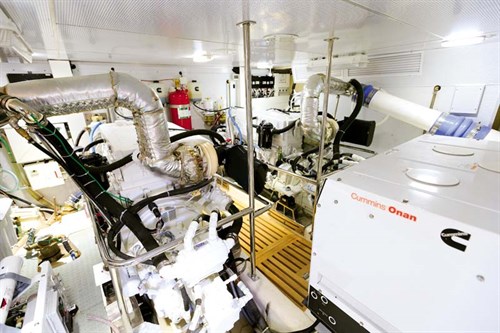 Underway, the Cordova feels assured and steady. She's stable and powerful through turns too, although I expect most cruising will be done in a straight line, heading directly for warmer latitudes and swaying palm trees.
Wesmar stabilising fins keep her on an even keel if the weather turns lousy and as you'd expect from a trawler hull, the overall ride is smooth and predictable, designed to chew up the miles efficiently, with minimal fuss.
One significant advantage of pairing the 715hp Cummins engines with a semi-displacement hull is the ability to move fast if required. She'll plough along all day at 9kts to give you a range of around 1000nm, but if there's a bar to cross or a front moving in, the Cordova can get up and go too, hitting 23kts when you ask the question. It's this sort of ability at both ends of the cruising spectrum which makes these modern Clipper boats so appealing to every market sector.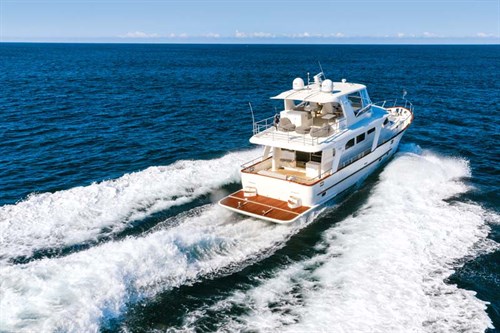 The EJS Express Positioning system adds another level of ease to manoeuvring this big girl and brings handling the Cordova within reach of an experienced husband and wife team. Not only is it a great feature for holding station while you're fishing or waiting for friends to board, it also makes docking effortless – just twist the joystick for a perfect low speed approach, then hold her there while your assistant takes care of the lines and fenders. If shorthanded, the captain can even engage this 'virtual anchor' while retrieving the lines themselves, although this is not recommended practice.
As if all this wizardry weren't enough, there's also an aft control station on the port quarter to help line up your berth.
The Trade-a-Boat verdict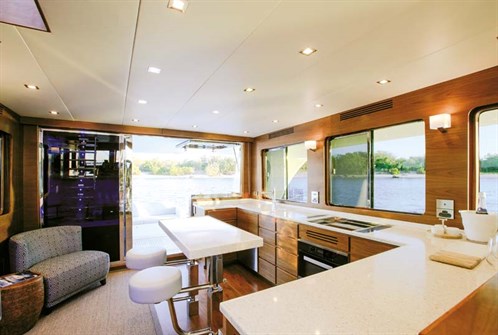 Between the stunning interior redesign, robust bluewater capability and Twin Disc's intuitive electronics, it's a tough job to fault the Clipper Cordova 60.
The wide expanses of the flybridge and saloon make for a great entertaining platform near home, but that trawler hull and versatile Cummins setup will take you across the International Date Line.
HIGHS
• Huge, well-equipped galley
• Serious offshore passagemaker
• Spacious flybridge
• Appealing modern layout
• Express positioning via EJS
LOWS
• More varnish layers required on caprail
• Headliners pull loose in some cabins when portlight covers are attached
Clipper Cordova 60 sea trials
Clipper Cordova 60 with 2x 715hp Cummins QSM 11s
| | | | |
| --- | --- | --- | --- |
| RPM | SPEED (KTS) | ECONOMY (LT/H) | APPROX RANGE (NM) |
| 1040 | 7.4 | 25.9 | 1228 |
| 1100 | 8 | 29.9 | 1150 |
| 1210 | 9 | 38 | 1018 |
| 1290 | 9.2 | 45.7 | 846 |
| 1400 | 11.1 | 58.5 | 815 |
| 1500 | 11.7 | 73 | 690 |
| 1600 | 12.2 | 89.8 | 584 |
| 2020 | 15.9 | 157.4 | 434 |
| 500 | 22.5 | 292 | 331 |
* Fuel burn figures are for both engines combined.
** Sea-trial figures supplied by Clipper.
Clipper Cordova 60 specs
Clipper Cordova 60 price: AUD$2,470,000
Price as tested
OPTIONS FITTED
Twin Disc EJS x3 stations, 2x 715hp Cummins engine upgrade, Simrad electronics upgrade & HD radar, custom staircase, hydraulic swimplatform, Wesmar stabilisers, Muir hydraulic windlass, bow & stern thrusters, custom galley bench & stools, hopper window.
PRICED FROM
AUD$1,850,000
GENERAL
MATERIAL Handlaid fibreglass
TYPE Semi-displacement trawler
LENGTH 18.6m
BEAM 5.12m
DRAFT 1.67m
WEIGHT 26,800kg (approx)
CAPACITIES
PEOPLE (NIGHT) 8
FUEL 4300lt
WATER 1500lt
ENGINE
MAKE/MODEL 2x Cummins QSM 11s marine engines
TYPE Turbocharged six-cylinder diesel
RATED HP 2x 715hp
DISPLACEMENT 10.8lt (each)
SUPPLIED BY
Clipper Motor Yachts
Gold Coast City Marina,
76-84 Waterway Dr, Coomera, Qld, 4209
Phone +61 (0)7 5519 4019
Email brett@clipperyachts.com.au
Web www.clippermotoryachts.com
See the full version of this review in Trade-A-Boat #255, July / August 2015. Why not subscribe today?
Keep up to date with news from Trade-A-boat or like us on Facebook!