Review: Key West Bay Reef 210
---
The Key West boats Bay Reef 210 blends the storage needs and casting platforms of a high speed tournament boat, with the ocean-bred hull of a centre console sportsfisher. It's a seriously versatile US import, and damn affordable.
Bay boats like the Key West Bay Reef 210 were born on the gin-clear waters of the Florida Keys, chasing bonefish and tarpon for hardy fly fishers who love blasting across the flats on shallow-draft, high-powered centre console fishing boats.
Tasmania, or more specifically Hobart, is located 42° south of the equator and is home to both barrel-sized tuna and intimidating Southern Ocean low pressure systems. How could a bay boat like the Key West Bay Reef 210 possibly be appropriate for fishing down there?
As it turns out, the Key West 210 Bay Reef is perfectly suited to the needs of her owner and tournament fishing fiend Damien Virieux.
Key West Bay Reef 210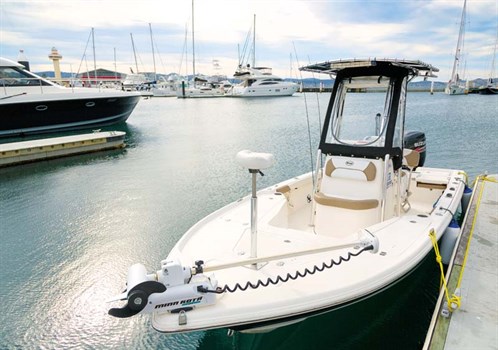 While organising the boat review, Damien had another surprise in store for me. He suggested heading south east of Hobart to put the boat in near Eaglehawk Neck so we could chase some tuna. I checked the weather as the day drew nearer – 22oC and light winds (possibly the most promising fishing forecast Hobart has ever seen).
The weather gods had other ideas and in typical changeable Tasmanian fashion, our test day dawned grey and windy. Tuna fishing was shelved for a blast around the River Derwent in what turned out to be solid boat review conditions.
Competition boat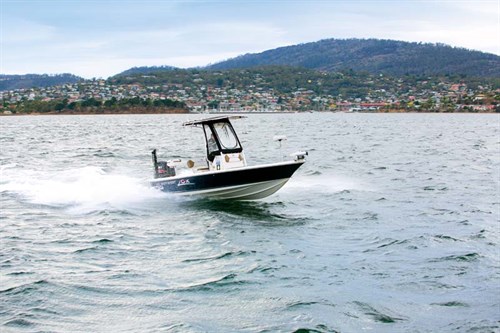 On the water, it became clear just how versatile the Key West Boats Bay Reef 210 boat. Damien spends part of his time fishing the Tasmanian tournament circuit, chasing both bream in the estuaries and trout in the highland lakes. He needs a vessel that can blast around shallow waters at high speed for contests, but can also handle formidable Antarctic swells when he heads offshore chasing tuna and snapper.
This classy centre console was bought new from the States through Key West Boats Direct, who specialise in importing these popular models for Aussie and Kiwi fishos.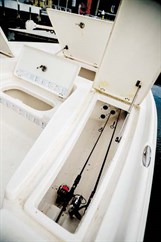 Damien admits he sent a total of 77 emails seeking info from Japan-based export agent Simon Burger in the lead-up to his purchase. But after taking possession in 2012, he couldn't be happier, and speaks in glowing terms of the buying experience.
The Bay Reef gets results, too. Damien and tournament partner Andrew Pender finished as high as second in the Tas Bream Classics in recent years.
Plenty of boaties have wrestled with the pros and cons of importing American boats in recent years (both new and used) so it was interesting to hear how Key West Boats Direct deals with clients and to examine what you get for your money on a new rig.
The short answer is a helluva good deal. It seems crazy that people might buy an unseen American boat off eBay, when they could have a brand new 6.4m centre console fishing boat landed on a trailer for less than $58,000.
Okay, that base boat doesn't include a 200hp donk or power spikes, but it's a pretty fair starting point.
Layout and design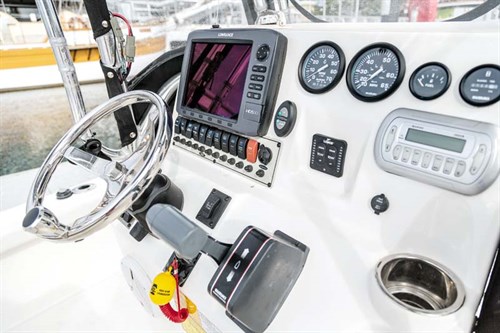 What makes a bay boat anyway? Key points are front and rear casting platforms and a wealth of rod storage, livewells and fish bins. Damien's boat has a Minn Kota Riptide trolling motor taking pride of place on the bow, plus a clever offset roller for anchoring.
There's also a removable pedestal seat on the bow for relaxing while flicking lures about, and underfoot, a livewell/killtank, plus rod lockers either side. The seat on the front of the console hides more storage and the port side of the console opens to reveal a huge space – more than big enough for a Porta Potti, which increases this boat's facility.
On starboard, there are rod racks, and more again under the gunwales, including space for 10ft fly rods either side.
The gunwales are bolstered, too – a nice touch that matches the seat upholstery. Moving aft, you step up to the rear platform, or take a seat in either of the fold-down jump seats in the corners.
Folded flat, these form the casting platform, and in between is an aerated livewell with programmable remote at the helm so you can adjust how many bubbles your fishy captives enjoy.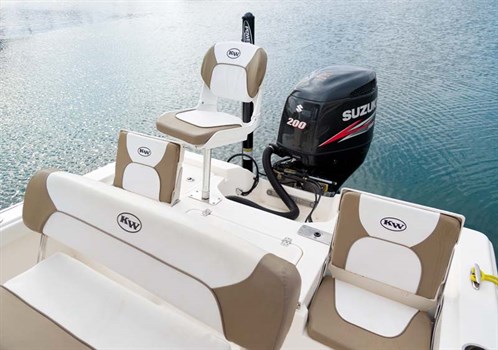 A second removable pedestal seat lives here – this one a 'proper' chair – and the Power Pole shallow water anchor spike juts proudly next to the 200hp four-stoke Suzuki outboard motor.
For those not familiar with anchor spikes, let me inform you. They're awesome kit and popular especially with shallow water tournament anglers.
On arriving at your chosen fishy-looking location, the skipper quickly and silently deploys the spike to the bottom, via remote, to hold the boat against wind and current.
Handling and ride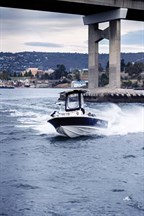 While the big Suzuki outboard engine undoubtedly provides enough punch to move quickly around inshore bream grounds, it's a different story out wide.
Bay boats are traditionally designed with moderate deadrise that lets skippers confidently tackle sharp chop and as such, they're suited to limited offshore work.
Eye-watering 25kt winds whipped the River Derwent into a mess of whitecaps, but the 210 simply shrugged them aside, and more impressively, we stayed dry.
Twin clear skirts can be fitted either side of the T-top, but Damien says he rarely needs them. Trimmed correctly, the Bay Reef runs very flat through turns and the clever Brody Knob on the steering wheel lets you power out of the corners assertively, while keeping one hand on the throttle.
We weren't able to pit her against those famous Southern Ocean swells, but the fact Damien regularly chases pelagics in the Key West Bay Reef 210 speaks for itself.
"People reckon you can't go offshore in a bay boat, but I've been 25km out in 10-15kt winds, casting to tuna," he told us.
The Trade-A-Boat verdict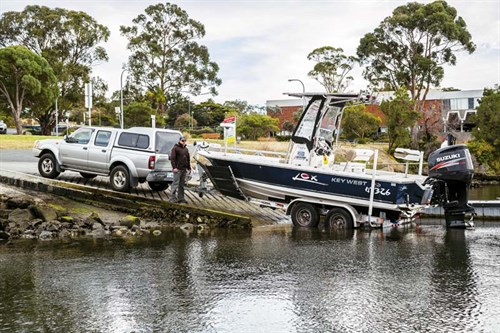 The Key West Boats Bay Reef 210blends the storage needs and casting platforms of a high speed tournament boat, with the moderate-vee and ocean-bred hull of a centre console sportsfisher.
It also looks the business with that jaunty T-top and classic navy hull, and the landed prices (which include a tandem trailer) will have many fishos thinking hard about US imports, despite our currently weak dollar.
HIGHS
• Versatility
• High-speed thrills
• Handy jacking plate
• Safe, dry ride
• Storage abounds
• Slick looks
LOWS
• Reduced freeboard
• I didn't catch a tuna
Key West Bay Reef 210 sea trials
200hp Suzuki four-stoke outboard motor with two people aboard
| | |
| --- | --- |
| RPM | SPEED (kts) |
| 2000 | 7 |
| 2500 | 8.5 |
| 3000 | 10.5 |
| 3330 (planing) | 17 |
| 4000 | 24 |
| 4500 | 32 |
| 5000 | 37 |
| 5800 (WOT) | 43 |
* Sea-trial data provided by author.
Key West Bay Reef 210 specs
Key West Boats Bay Reef 210 price: $A81,000
Price as tested, subject to exchange rate
OPTIONS FITTED
Suzuki 200hp outboard motor upgrade, hull paint, T-top, stereo, trim tabs, jacking plate, power pole, fresh water washdown, interior lights, clears and more.
PRICED FROM
$A54,000 with Suzuki DF140A outboard motor and tandem trailer, subject to exchange rate
GENERAL
MATERIAL Fibreglass
TYPE Monohull bay boat
LENGTH 6.42m
BEAM 2.4m
DRAFT 0.3m
WEIGHT 860kg approx.
DEADRISE 19°
CAPACITIES
PEOPLE 6
FUEL 227lt
REC. HP 150-225
ENGINE
MAKE/MODEL Suzuki DF200 outboard motor
TYPE DOHC four-stroke outboard motor
RATED HP 200
WEIGHT 264kg
SUPPLIED BY
Key West Boats Direct
Asia Pacific Office,
Kobe, Japan
Phone + 81 90 8983 4061
See the full version of this review in Trade-A-Boat #256, August / September 2015. Why not subscribe today?
Keep up to date with news from Trade-A-boat or like us on Facebook!