Review: MasterCraft X-46
---
Looking for the perfect wave? Behind the MasterCraft X46 wakeboat is the best spot.
The MasterCraft X46 is once again another classic example of the MasterCraft wakeboat craftsmanship. Like all MasterCraft boats, the new X46 is loaded with a ridiculous amount of innovative features: young gun bling, refined finishes and, as expected, marine luxury as standard. But best of all it also has the latest Gen 2 Surf option fitted that produces an endless summer of waves, without needing a wild ocean to provide them.
MasterCraft X-46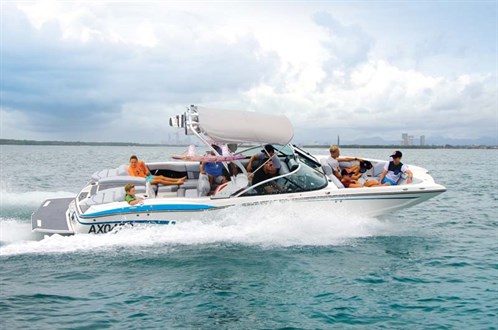 Before getting into the MasterCraft bling, know that the X46 is one of the big boys of the fleet – noticeably larger than its siblings, both from a distance and internally.
At 7.47m (24.5ft) and with a beam of 2.59m the MasterCraft X46 wake boarding/surfing weapon can carry up to 15 passengers. A brief glimpse at the layout and one can easily see the abundance of space and seating to suit family, friends and even distant  acquaintances on-board.
Once aboard, the wake boarding/surfing experience comes alive for those into the sport, and equally for those who are not. These are social boats of note and with a 360-degree combination of stylish and comfortable wraparound seating options in the cockpit and bow area, everybody gets to sit back and relax in style while watching the action in the wake.
Sit back, lay back, reverse the centre lounge for rear viewing, recline in the bow like an executive, and just enjoy the ride.
Features and options
For those feeling a bit chilly on the water, if you ask nicely the captain might just switch on the seat heating and heater for you. With all this seating you get copious amounts of usable storage space below, and that's something necessary when it comes to watersports of this nature. Large wet and dry storage is easily accessible and it even has a coffin-styled hatch that can swallow any spare boards.
Professional wakeboard boats simply can't be without a decent tower and sounds, and the X46 doesn't lack in this area. A schmick-looking anodised aluminium waketower with hinged sideracks for boards, forward extending bimini and four massive tower-speakers connected to the sound system will keep you jamming to the rider's preset tunes.
Other impressive parts to the layout include the abundance of standard features like drinkholders and USB charge ports, LED lighting throughout, underwater lighting, a well-appointed and stylish captain's helm with multifunction digital control panel that controls the wake and (Gen 2 Surf) ballast setups and engine data – plus  way too many others to list.
Ilmor engine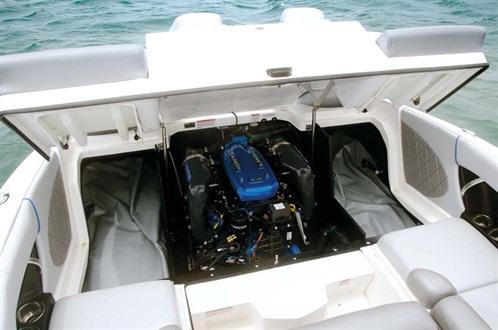 Pop the easily accessible motor hood on the MasterCraft X46 and you still get a dirty big V8 that's ready to rumble but the kind of V8 that looks amazing and nothing like the old school stuff.
Instead, the MasterCraft X46's motors are built by Ilmor which, coincidently, has produced some of the top IndyCar racing motors, so no there's bullshit when it comes to performance.
Fitted with closed loop cooling there's no more worrying about corrosion, and being digitally controlled the motor's performance and fuel consumption is far better than the old engines – regardless of it having a 6.16lt displacement.
On the water the pure grunt is evident as the MasterCraft X46 wakeboat slides onto the plane effortlessly, due to serious low-down torque, gear ratio and auto tab system. Considering that 680kg or more of ballast is on tap to produce the ultimate wake, the technicality involved in maintaining clear vision over the bow must have been quite difficult – or so you would think. Still, MasterCraft has nailed it, and even when loaded with ballast and a full tribe onboard you can see exactly what's happening over the bow.
What's the wake like?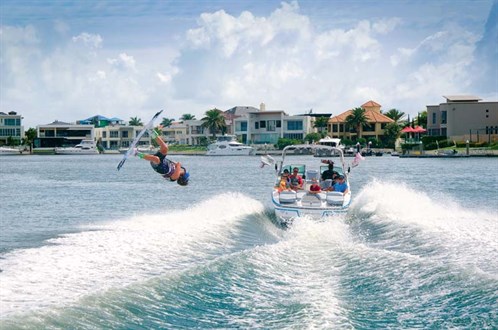 Your life is made easier again with a multifunction touchscreen control panel (Murphy) at the helm – simple to dial up the wake and all data is right there at your fingertips. Between that and the motor I think the only thing it can't do is make a coffee, or pour a rum in my case.
Preloaded with the rider's preferences for speed and wake, or Gen 2 wave preset, Murphy maintains everything to suit the rider and eliminates the stress of being chewed out by the rider throughout the session for not doing the right thing as driver.
When it comes to manually working the helm and just giving the X46 a good old fashioned thrashing, you can expect a top-end of about 35kts.
The MasterCraft X46 is super-stable both at rest and underway, and being a slightly lower profiled hull I find it banks a touch less into turns and has a really good safe feel to the ride.
The Trade-a-Boat verdict
Besides the tons of accessories crammed into the MasterCraft X46, the overall finish of this MasterCraft wakeboat totally blew me away. The pickle fork bow design and low-profile hull, matched with flawless gelcoats and colour options, is most certainly a head spinner and jaw dropper.
HIGHS
LOWS
Wife won't buy me one for Christmas
MasterCraft X46 sea trials
Single 430hp Ilmor V8 marine engine
| | |
| --- | --- |
| RPM | SPEED (MPH/KTS) |
| 1500 | 8 / 6.9 |
| 2500 | 11 / 9.6 |
| 3500 | 24 / 20.8 |
| 4500 | 33.6 / 29.2 |
| 5500 | 39.2 / 34 |
| 5800 | 41.5 / 36 |
* Sea-trial data supplied by the author.
MasterCraft X46 specs
MasterCraft X46 price: $179,900
Priced from
OPTIONS FITTED
Packs (Saltwater, Convenience and Surf), Ilmor 6.2lt, sound system, tower speakers with lights, underwater lights, custom colours, convertible centre, heater, heated seats, and rear lights
GENERAL
MATERIAL GRP
TYPE Monohull wakeboat
LENGTH 7.47m
BEAM 2.59m
WEIGHT 2495kg
CAPACITIES
PEOPLE 15
REC. HP 400
REC. MAX HP 550
FUEL 299lt
ENGINE
MAKE/MODEL Ilmor 6.2L marine engine
TYPE V8 petrol inboard
RATED HP 430
DISPLACEMENT 6.16lt
WEIGHT 427kg
GEAR RATIO 1.56:1
MasterCraft NZ
560 Te Rapa Road,
St Andrews, 3200, Hamilton
Phone (07) 849 0083
See the full version of this review in Trade-A-Boat #257, September 2015. Why not subscribe today?
Keep up to date with news from Trade-A-boat or like us on Facebook!