Review: Zodiac Milpro SRA-750
---
Originally conceived for the military, the Zodiac Milpro SRA-750 rigid inflatable boat is proving to have all sorts of commercial and private uses.
Zodiac Milpro has developed an unrivalled range of more than 60 different inflatables, rigid inflatables and aluminium boats for a huge range of applications and all sea conditions. The Zodiac Milpro military and professional sectors now have five dedicated ISO 9001-approved production facilities worldwide, including Australia. These are focused on developing the needs of the most demanding customers, in particular professional and military inflatable and rigid inflatable boats.
Zodiac Milpro SRA-750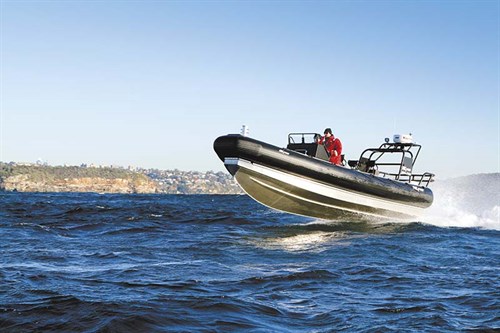 We got to review the Zodiac Milpro SRA-750 (Sea Rib Aluminium) with its twin 150hp Evinrude E-TEC Gen1 outboard motors in Sydney Harbour.
The wind offshore gusted to 20 to 25kts with a runout tide through Sydney Heads standing the 2m swell on its head and fast approaching a washing machine-grade rating. As a result I'm happy to warn any would-be foes to watch out if the Zodiac Milpro is on your tail – you won't have much chance of escape.
The Zodiac Milpro SRA-750 a capable 5mm deep-vee aluminium hull commercially fitted out with a robust centre console, strong towing and recovery points, and five specially-designed Milpro AIR or AIR DUO jockey seats. The hull features inflatable D-shape collars for maximum safety and stability, acting like a full set of 'floaties' for the entire boat. The collars are also removable, and while overall beam is 2.76m you can let the air out bringing it in under the wide-load provisions of 2.5m for towing.
The Zodiac Milpro SRA-750's unique design also allows for maximum internal volume, with inherently robust vertical knees greatly improving overall strength. The collars themselves are made from a hard-wearing CSM/neoprene polyurethane-coated construction.
Military boat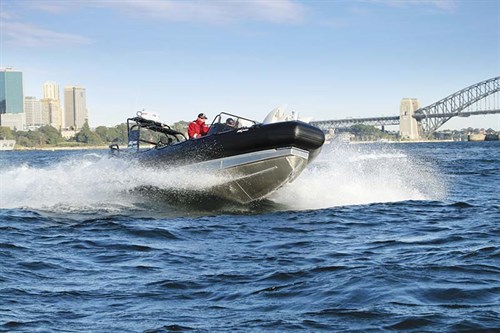 The inflatable sides also make an excellent buffer for boarding or inspection of other craft as the soft sides will do little harm to fibreglass or painted surfaces and eliminate the need for fenders and their storage problems.
The Milpro Sea Rib is an ideal high-speed military-grade vessel that has applications for recreational and commercial pursuits. The twin 150hp E-TECS get her buzzing at a WOT speed of an impressive 42.6kts with a pair of stainless steel Rebel three-blade 15.5 x 17in props. We can look forward to even higher top-end speeds with a proposal to rate future hulls for twin 200hp capacity.
There is enormous range capability with twin interconnected 260lt underfloor fuel tanks fore and aft. Personally, I found the ride absolutely thrilling. We thundered around Sydney Harbour in some spine-splintering chop that would slow many competitors' alloy hulls to a crawl, but felt quite comfortable slicing across the top, scissoring the ride to a gentle rattle.
Layout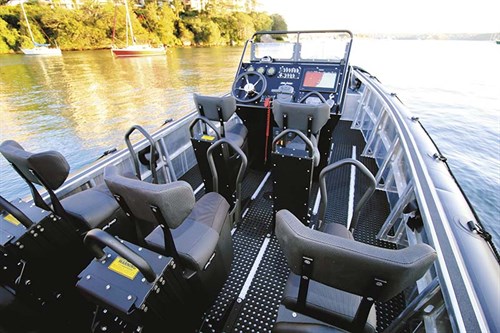 The dual centre console on the Zodiac Milpro SRA-750 is big and wide, allowing plenty of dashboard space for the array of modern electronics that seem standard on all military and commercial packages. This one was optioned with a 12in Raymarine A-series multifunction display as well as twin engine controls, Evinrude's I-Command gauges, Raymarine VHF, an array of switch gear including isolators, compass, grabrail and a tough stainless steel spoked steering wheel with hydraulic helm and rubberised grips.
The radar aerial was fitted to a tube-style arch/roll cage above the transom that also provides a great mounting point for lifesaving devices, spot and work lights, identification, navigation and emergency lighting, and maybe even a FLIR night-vision camera.
I particularly liked the perforated rubber flooring cut to size in between the floor tracking system. There are pumps, plumbing and fuel filters all mounted out of harm's way under the rear thwart seat which also forms the back wall of a full engine well.
Handling and ride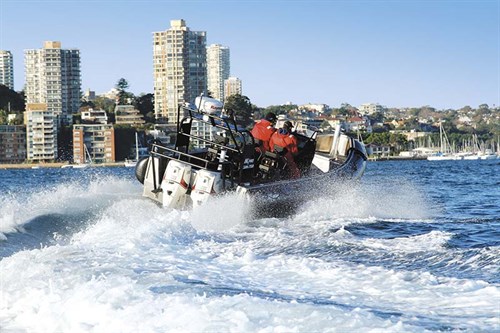 Out to sea on the Zodiac Milpro SRA-750 we thundered in an unstoppable stampede that challenged the difficult offshore conditions with defiant confidence. The Milpro boys deliberately got more air than water time, while my camera clicked continuously at a ridiculous rate trying to keep record of the display unfolding before my eyes. These fellas simply hammered it, eager to show off the package's enormous capabilities.
My turn came to take the helm and while I took the opportunity to have my fair share of fun in the slop, I was more intent on feeling just how long you could keep up a fast speed in rough conditions. The answer came quickly: as long as you can physically hold up, the boat won't slow you down.
You would be damned stupid to attempt the antics this craft proved capable of with conventional boat seating, hence the invention of the Milpro AIR Jockey seating modules. These immensely strong modules make you straddle the cushioned seat and provide a full backrest and handle assembly to lock yourself in when the going gets rough. They have adjustable air shocks to help cushion the ride and are fully adjustable vertically as well as fore and aft. There's also a lockable storage compartment, and footrests.
Milpro offers numerous optional features on the AIR seating arrangement including a fold-down AIR DUO Jockey model to quickly increase the seating capacity. One feature I felt truly innovative however was the modular tracking system built into all the seats, the centre console and the floor, making the whole internal layout easily adjustable to suit the application and expected load.
The Trade-a-Boat verdict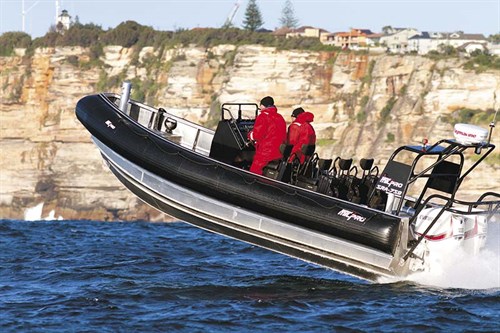 The Zodiac Milpro SRA-750 is a purpose-built vessel that puffs its chest to take on tough tasks at hand. However, there are plenty of lessons to be learnt and detail to be admired by serious recreational enthusiasts as well. And you can sleep well in the knowledge that our brave protection agencies are looking after our interests in wonderful vessels like this SRA-750 Sea Rib Aluminium. 
HIGHS
• Tough customer
• Practical layout
• Modular track design
• AIR seats
• Safety
• Handling and ride
• 150hp E-TEC outboard motors
LOWS
• Would love to test with Gen 2 E-TECs!
Zodiac Milpro SRA-750 sea trials
Twin 150hp Evinrude E-TEC Gen 1 outboards with Rebel three-blade 15.5 x 17in propellers
| | | |
| --- | --- | --- |
| RPM | FUEL BURN (LT/H) | SPEED (KTS) |
| 1000 | 4.5 | 5 |
| 2000 | 20.3 | 8.8 |
| 3000 | 41.8 | 22.1 |
| 4000 | 49.7 | 30.3 |
| 4500 | 78.8 | 35.5 |
| 5000 | 97 | 39.4 |
| 5500 | 117 | 42.6 |
| 5660 (WOT) | 117 | 42.6 |
* Sea-Trial data supplied by Zodiac
Zodiac Milpro SRA-750 specs
Zodiac Milpro SRA-750 price: $POA
GENERAL
MATERIAL Aluminium hull; CSM / neoprene polyurethane-coated inflatable pontoons
TYPE Monohull RIB
LENGTH 6.77m
BEAM 2.76m inflated; less than 2.5m deflated
WEIGHT 2567kg
DEADRISE 24°
CAPACITIES
PEOPLE 8 Cat B; 16 Cat C
REC. HP 225; 2 x 115
REC. MAX HP 250; 2 x 150
FUEL 520lt
ENGINE
MAKE/MODEL 2 x Evinrude E-TEC 150 Gen 1 outboard motors
TYPE V6 direct-injection two-stroke outboard motors
RATED HP 150
WEIGHT 196kg (each)
DISPLACEMENT 2592cc (each)
GEAR RATIO 1.85:1
PROPELLER Rebel three-blade 15.5 x 17in
MORE INFORMATION
Hutchwilco
10 Farmhouse Lane,
Glen Innes, 1743, Auckland
Phone (09) 528 0788
Email enquiries@hutchwilco.co.nz
Web hutchwilco.co.nz
See the full version of this review in Trade-A-Boat #257, September 2015. Why not subscribe today?
Keep up to date with news from Trade-A-boat or like us on Facebook!