Review: Karnic Smart One 55 CC
---
A centre console boat that's a good all-round fisher, can be used for a bit of skiing, is a boat that the family can enjoy, and is effortless to tow and operate? Karnic Boats has achieved just that with the Karnic Smart One 55 Centre Console.
Close to a decade back, centre console boats were more of an outcast than the cool kid on the block when it came to trailerboats, and more so as tiller steers and cabin-style boats were constantly winning the popularity fight hands down. Well things have changed significantly and whether in fibreglass or aluminium, centre console boats are now in, the new rage on the water, and are here to stay.
Karnic centre console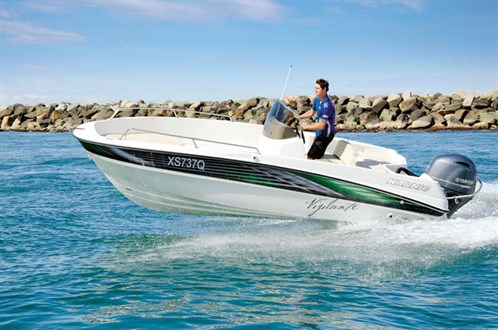 The Karnic Smart One 55 Centre Console is aimed at people who want 'more for less' out of a boat. Karnic has taken what would be a standard centre console boat and managed to create a really good all-rounder not only suiting a number of fishing styles but also serving as an easy-to-handle family boat for day adventures or even a bit of skiing – and all at an affordable pricem via Queensland's Stefan Boating World.
Layout and design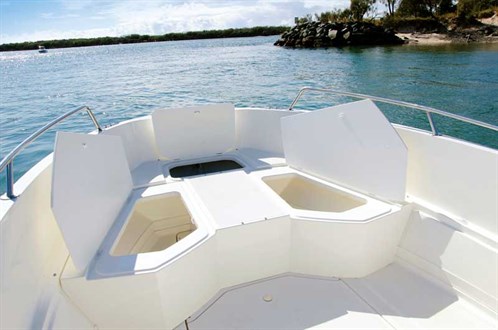 I really liked the internal layout of the Karnic Smart One 55 Centre Console. It caters more for the family or extra mates onboard thanks to its full-length transom seating and spacious console seating for two that doesn't restrict access to the bow. The casting deck also has a padded cushion to lounge on when stationary.
The Smrt One 55 also has more than standard storage space for a centre console; the small casting deck and console being a good spot for dry gear, and the starboard flush-mount hatch and deep centre-hatch in front of the console good for wet gear and drinks, or perfect to load-up with the day's fish.
The high gunwales, wide beam and self-draining/non-slip wet deck is also a nice feature on the Smart One, for both comfort and safety. Wet decks are easy to clean and high gunwales are not only good to keep the kids in but also a bonus to lean into when fishing. In saying that there is no recess for toe-locks but that's not a major issue as the Karnic Smart One 55 Centre Console's stability is really good and if need be you could add some bolster to the coaming or even a stainless steel rail to hook the toes into.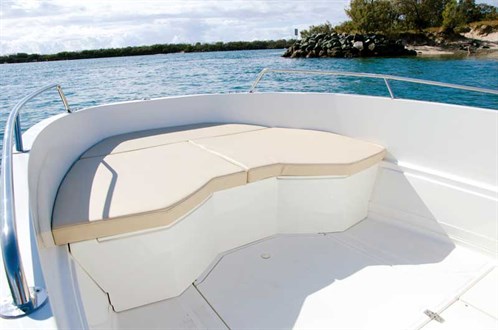 If you're a fan of sidepockets don't expect much in that department as the port side has a half-size up to the transom and a small one on the opposite side. Regardless it doesn't bother me as the kids and mates always seem to fill them up like trash cans. All the extra storage space makes up for it anyway.
The Karnic Smart One 55 Centre Console is most certainly a beamy 5.5m centre console boat and with the added uncluttered internal space it feels like a far larger boat.
Handling and ride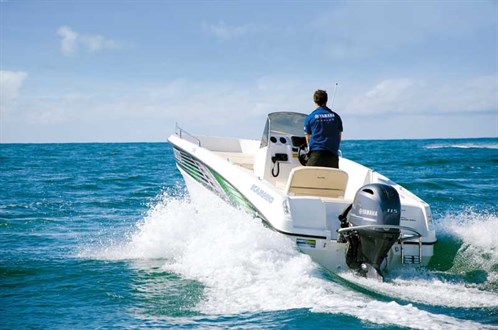 The Karnic Smart One 55 Centre Console's big beam and cutting-edge bow entry looked the recipe for a good ride. Swanking the latest 115hp Yamaha four-stroke outboard motor not only added to the boat's classic styling but also gave the impression of some cracker performance to come.
Knocking the hammer down, acceleration is equivalent to a gamefish chasing its prey and getting up to wide-open throttle, well that's effortless as the power-to-weight ratio is perfectly matched in my opinion. You can run a far lower horsepower but I'm all for the maximum on this boat, especially if you want to do a bit of skiing with it.
On the go, the Yamaha engine purrs along in the mid-range rev department and to give you an idea, the comfortable cruise-speed was around the 25kt mark to suit the day's mediocre conditions – at 4500rpm and sipping a gentle 19lt/h.
The quality of a boat's ride seems something that people are more critical of nowadays, due to prevailing rough conditions. Personally it's something I look for, and in fact more than what the boat has to offer onboard. Let's face it, we don't have the luxury of choosing the perfect weather days all the time so a decent soft-riding boat is preferable for the choppy days.
For its size the Smart One produces a spine-saving ride throughout the speed ranges, and that being in moderate to choppy conditions. The deep-V bow entry slices up the chop nicely and with the keel flaring out to a moderate planing-plank at the stern, the ride is also a stable one for the boat's size.
At times when quartering the chop and swell you do get a bit of spray which at no stage was annoying to me. A touch of extra trim helped but if it is niggling simply adjust your weight to kick up the windward side to eliminate it. Good ride and stable at rest, with a bit of spray in the rough. The latter is a fair compromise that I would be happy with.
Karnic Smart One price
Starting at just under 40,000k, the Karnic Smart One 55 Centre Console is not badly priced. If that's a bit over your budget then have a look at the Karnic 48 CC which is on offer for just under $30,000.
The Trade-a-Boat verdict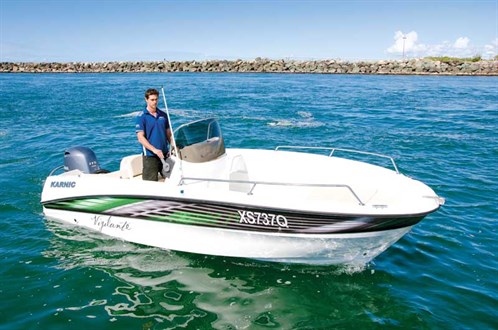 Considering the stability and layout as tested, the Karnic Smart One 55 Centre Console serves as a good combination between lure and bait fishing. For the lure brigade an additional electric motor could be mounted on the bow, and the small casting deck/seat up front gives some good elevation to fish from.
For the bait brigade, a colossal-sized plumbed livewell will keep the livie's kicking for the day, and with the boat having a decent beam you get better fishability in the stern and bow section.
As mentioned earlier, I'm a fan of wet-decks especially when it comes to the ease of cleaning and not having the need for bilge pumps. Fish or killtank space is plentiful and as a bay, dam, creek, light offshore boat, or whatever fishing you want to do, the Smart One is a good all-rounder that can be fine-tuned to suit with accessories.
Karnic Smart One 55 CC sea trials
Single 115hp Yamaha four-stroke outboard motor, two adults.
| | | |
| --- | --- | --- |
| RPM | SPEED (KTS) | FUEL BURN (Lt/H) |
| 1500 | 5 | 3.5 |
| 2500 | 7 | 8.1 |
| 3300 | 15 | 10 |
| 4500 | 25 | 19 |
| 5500 | 32 | 32 |
| 5900 | 35 | 40.4 |
* Sea-trial data supplied by the author.
HIGHS
• Nice and spacious
• Numerous layout options available
• Pretty good ride for the size
• Multipurpose usage
LOWS
• Transom quarter seats could do with a higher backrest
• No coaming bolster
Karnic Smart One 55 Centre Console specs
Karnic Smart One 55 Centre Console price: $A46,999
Price as tested
OPTIONS FITTED
Lowrance HDS-9 Gen3 touchscreen, TurboSwing, half wrap, and Yamaha F115 outboard engine upgrade
PRICED FROM
$A39,999
GENERAL
MATERIAL GRP
TYPE Monohull
LENGTH 5.5m
BEAM 2.3m
WEIGHT 550kg (hull)
CAPACITIES
PEOPLE 5
FUEL 110lt
ENGINE
MAKE/MODEL Yamaha F115LB outboard motor
TYPE Inline four-cylinder four-stroke petrol outboard motor
RATED HP 115
DISPLACEMENT 1832cc
WEIGHT 171kg
GEAR RATIO 2.15:1
PROPELLER 16-M 14½ stainless steel
SUPPLIED BY
Stefan Boating World
27 Waterway Drive,
Coomera, QLD, 4209
Phone (07) 5665 8400
Fax (07) 3844 4777
Email email@stefanboatingworld.com.au
See the full version of this review in Trade-A-Boat #259, on sale October 29, 2015. Why not subscribe today?
Keep up to date with news from Trade-A-boat or like us on Facebook!