Review: Maritimo S48 Sedan Motoryacht
---
Maritimo boats have a deserved reputation for being well-appointed, long-distance cruisers. The new Maritimo S48 slots in there comfortably, even if some might say at the entry-level. Including a full-beam cabin puts it in a class with few, if any, competitors and at a price that seems very reasonable for what's on offer.
The S48 is yet another of several Maritimo yachts to be released in recent months. The third new Maritimo boat to be released, it joins the M48 and M65, both of which debuted at the 2015 Sanctuary Cove boat show. With these new models the number of Maritimo boats across the range increases to 14. Significantly, that Maritimo M48 was the 400th hull out of the Coomera-QLD factory since production began nine years ago. Indeed, in those short years Maritimo has become a world force among luxury boatbuilders and according to marketing manager Greg Haines this is due in part to listening to customer feedback. Accordingly, many of the ideas in the new models came out of a forum of Maritimo owners in 2014.
Maritimo S48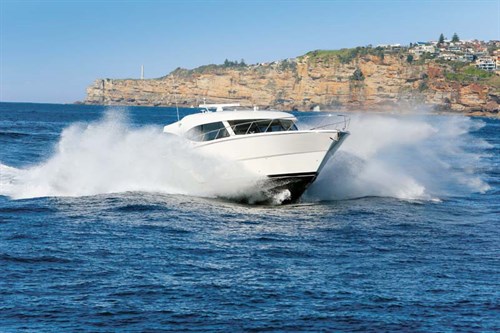 Sharing a hull design with the M48 Maritimo flybridge, the new S48 version joins the S43, S50 and S58 in the sedan range catering for those who prefer a single-level platform, either because of a dislike of stairs or that home base may require passing under a bridge.
Construction follows the traditional Maritimo yachts process of a solid handlaid fibreglass hull with balsa cored superstructure and deck. I'm told that lessons from the brand's raceboat technology have led to a more stringent preparation of resins in the layup for greater build strength.
A separate hull liner includes the immaculately finished engineroom and en suites, and adds to the boat's structural integrity and rigidity. A stout keel runs from amidships to just short of the transom providing steady tracking underway and minimal drag at anchor. These new hulls have a more efficient eight-degree shaft angle, and along with a slippery hull add to the claim of better fuel economy than rival brands. To overcome variations in ride as fuel and water levels differ, the 600lt water tank is now forward under the companionway, while fuel is in wing tanks either side of the engineroom.
Layout and design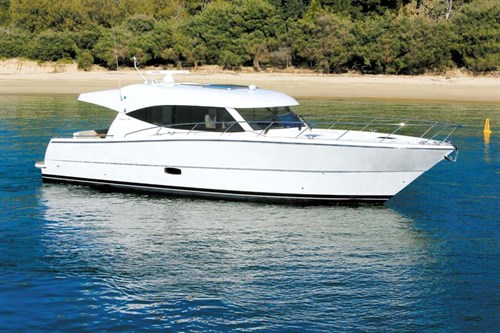 Although only marginally shorter than the Maritimo S50, according to Haines the Maritimo S48 is noticeably smaller and thus less intimidating for couples to operate, especially out of confined moorings. By reintroducing the Maritimo S48 the company has filled a gap in its range and the new boat will stand as a direct competitor to Riviera's 5000 Sports Yacht.
The boarding platform with optional teak deck leads to the cockpit through gates either side of the transom. It's worth pausing here because the transom moulding lifts on rams to open a cavernous garage under the deck, accessible from the platform or through a floor hatch. A ladder takes you down to this neatly lined area and, as well as room for an inflatable up to 2.8m, it could have racks for all manner of toys and fishing or diving gear.
Lockers each side of the cockpit keep mooring lines and fenders handy, and the size and quality of cleats and rails give a reassuring impression of strength and durability. So too the substantial stainless steel legs of the folding cockpit table where a transom lounge has room for two couples.
Saloon and lounge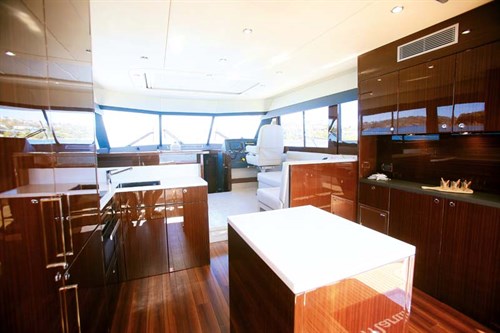 Wide stacking doors open to the saloon where a central island unit housing a dishwasher doubles as servery or a bar – a likely gathering place for drinks when there are more than a couple of guests on board. It adds to preparation space because the galley is set to port in the rear of the saloon, making it a central focus when entertaining while neatly separating the cockpit from the forward lounge and diner.
Over recent years the quality and design of interior fittings has improved for a higher first impression. Joinery is high-gloss wenge timber, contrasting with white Corian benchtops that may look stark in photos but is quite pleasing in reality. The timber theme continues with rosewood Amtico flooring in the galley but moves to a light-coloured carpet forward to blend with the cream leather lounges.
Forward of the galley are deep tinted windows that open at the lounges and helm for a great flow of breeze but there is, of course, air-conditioning to the saloon and cabins. An electric sunroof allows more light and air, while Wabasto electric sunblinds close things off at night. The galley comes with equipment and storage enough for entertaining crowds, as well as for lengthy stays aboard. A $12,300 Miele package includes a 500lt two-door fridge, convection microwave, dishwasher and four-burner cooktop.
You also get a large foldout pantry, stainless steel sink and an Isotherm icemaker set into the starboardside entertainment unit. Other features include a Bose 535 sound system and a 32in television above the rear door that's viewable from the lounges.
Full-beam master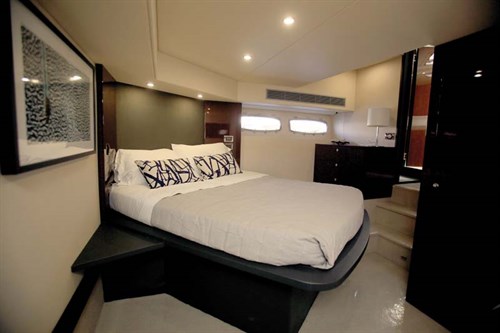 Five steps descend to a hallway with a door leading back to the amidships full-beam master. Ahead is a second double in the bow, a small starboard multipurpose room and the dayhead.
Haines suggests the S48 is probably the only shaftdrive boat in its class with a full-beam master cabin, a credit to the designers for not compromising usability. Set on two levels with the en suite at the entry it's another three steps down to the living quarters with views close to the water through opening ports either side. The island queen bed sits diagonally and décor is a modern and well-coordinated mix of textured fabric on walls and bedhead and superb timberwork. It's roomy and private with good storage options and a daybed under the starboard port.
The VIP in the bow now has more room between the entry and the bed and added headroom courtesy of the raised foredeck. Guests will appreciate a cedar-lined hanging locker, three drawers under the bed, a roof hatch and access to the shared bathroom.
Handling and ride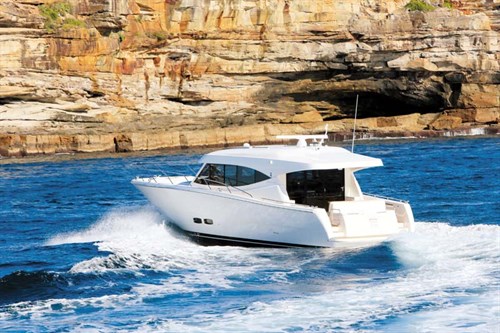 To underline the boat's easy handling Haines deftly eased it out of a very confined pen using a light touch on the throttles and a couple of dabs of the front and rear thrusters to get us into the open waters of the harbour.
As already mentioned, the helm is surrounded by comfortable lounges but the skipper gets a proper chair, high on a pedestal with sweeping views. Instruments and screens are laid out for quick recognition, while controls for Bennett trim tabs, wipers and the Muir anchor winch are all easily reached. Our review boat had a Garmin marine electronics package comprising a pair of 12in multifunction 7412 displays for sounder, plotter, GMR 424 xHD2 radar and GHP 12 Reactor autopilot.
Engines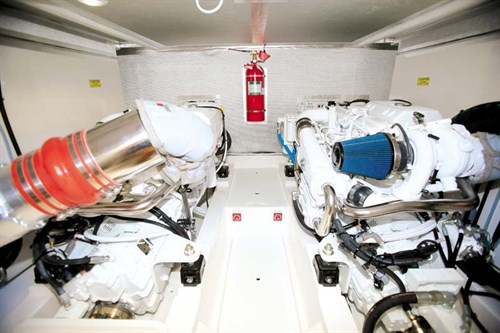 Power was supplied by twin 600hp Cummins QSC8.3s delivering a top speed just under 30kts at 3000rpm. In lumpy 1.5m seas offshore at 22kts, the Maritimo's weight eased through the swell and felt like it could run forever without a creak or rattle from anything. The S48 likes a fair amount of trim to get the bow higher so it can run on its rear flatter section where the hull works to keep the ride steady.
At 2000rpm I saw 16.2kts for a fuel burn from both engines of 90lt/h and a range of 518nm from the 3200lt tanks with 10 per cent reserve. Pushing the throttles forward brought up 23.2kts at 2500rpm, so in the right conditions expect a joyful run of 422nm at 158lt/h.
The Trade-a-Boat verdict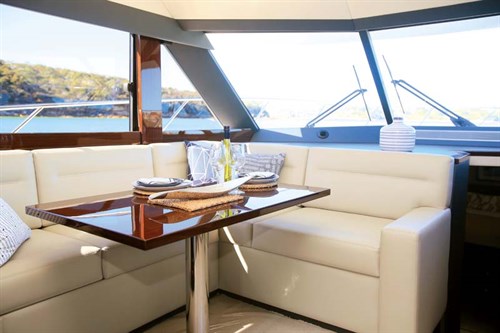 Maritimo has a deserved reputation for building well-appointed long-distance cruisers and the new S48 slots in there comfortably. Including a full-beam cabin puts it in a class with few, if any, competitors and at a price that seems very reasonable for what's on offer. 
HIGHS
• Elevated level of finish
• Modern furnishings
• Long-distance cruising
• Roomy dayboat
• Great entertainer
• Monster garage
• Full-width master
LOWS
• Head-height at master cabin entry
Maritimo S48 Sedan Motoryacht sea trials
Twin 600hp Cummins QSC8.3 marine turbo-diesel engines.
| | | |
| --- | --- | --- |
| RPM | SPEED (KTS) | FUEL BURN (LT/H) |
| 600 (idle) | 5.5 | 3.6 |
| 1000 | 8.3 | 12.8 |
| 1500 | 10.9 | 43 |
| 2000 | 16.2 | 90 |
| 2500 | 23.2 | 158 |
| 3000 (WOT) | 29.5 | 248 |
* Sea-trial data supplied by the author. Fuel burn is for both motors combined.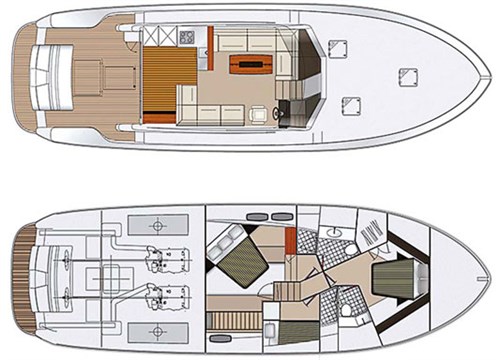 Maritimo S48 Sedan Motoryacht specs
Maritimo S48 price: $POA
Price as tested
OPTIONS FITTED
Teak platform, Miele appliances, Bose sound, Garmin electronics, cockpit table, joystick, sunroof, and more
PRICED FROM
$1,400,000
GENERAL
MATERIAL GRP
TYPE Planing monohull
LENGTH 15.27m
BEAM 5.03m
DRAFT 1.2m
WEIGHT 19,000kg
CAPACITIES
PEOPLE (DAY) 20
REC. MAX HP 2 x 725
FUEL 3200lt
WATER 600lt
HOLDING TANK 200lt
ENGINE
MAKE/MODEL 2 x Cummins QSC8.3 marine diesel engines
TYPE Inline six-cylinder marine turbo-diesel engines
RATED HP 600 (each)
DISPLACEMENT 8.3lt (each)
WEIGHT 896kg (each)
GEAR MAKE/RATIO ZF / 2.5:1
PROPELLER Five-blade Teignbridge 32 x 34in propeller
MORE INFORMATION
ORAMS MARINE
142 Beaumont Street,
Westhaven, 1140, Auckland
Phone +64 9 308 4800
Email info@oramsmarinesales.co.nz
See the full version of this review in Trade-A-Boat #258, October 2015. Why not subscribe today?
Keep up to date with news from Trade-A-boat or like us on Facebook!