Review: McLay 591 Sportsman Hardtop
---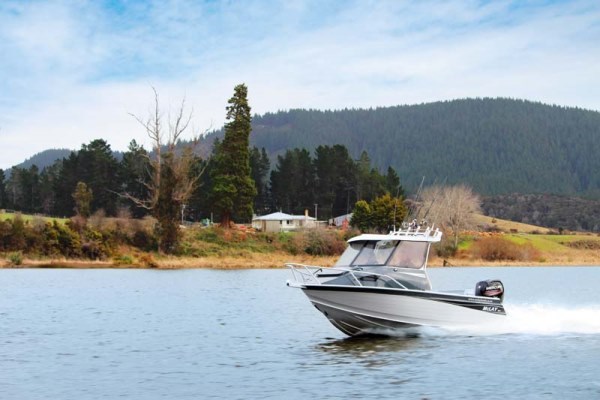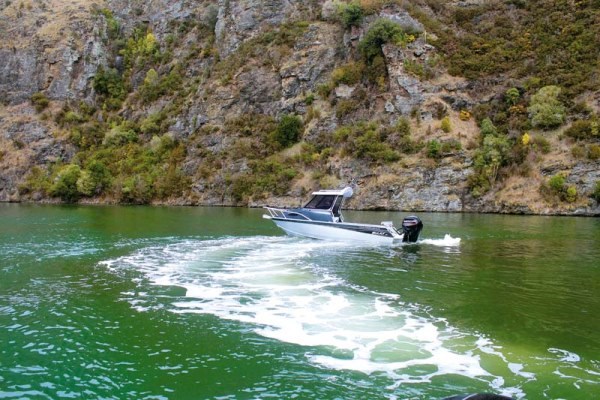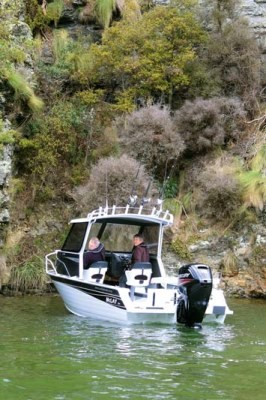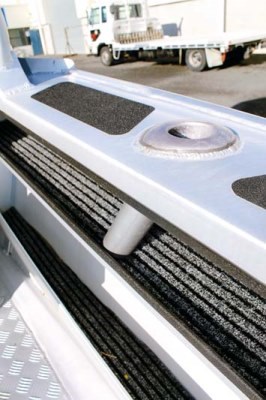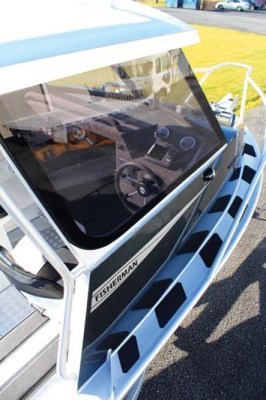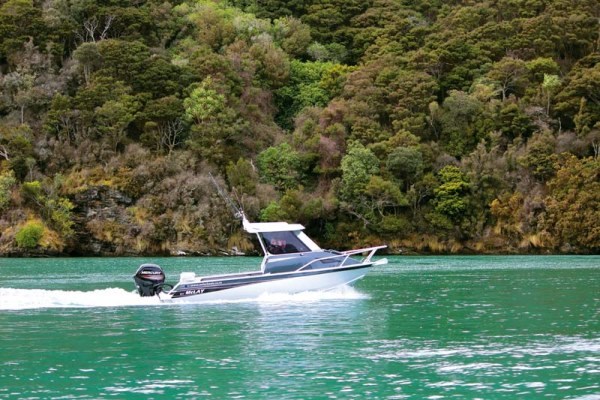 The McLay 591 Sportsman HT (hard top) is a giant killer of an aluminium fishing. It's well made, easy to tow and launch, superbly finished, stable, quick, and comes with a myriad of options. Its character will appeal to the heart of the hardest boatie.
At 200km, the Taieri River is the fourth longest in New Zealand and the last 20km is navigable. It passes near the town of Milton in Otago and, from where we launched, the last 10km meanders through farmland into a winding gorge to the mouth, and out past Taieri Island into the Southern Ocean.
On a good, clear day, the Taieri River bar is discernible by water colour changes, and crossings are possible if your skipper has the experience and confidence to do so.
But this was no good, clear day. It was raining, breezy, freezing, and a little lumpy, but a couple of factors were in our favour – the tide was right, and our bar skipper had years of experience and knew every inch of that shifting shoal and sandbank.
He also had the helm of the McLay 591 Sportsman Hardtop firmly in his grip and that plucky boat just ate everything that came at it, with alacrity and solid ability.
Actually it revelled in the conditions. Time and again we passed through vigorous washing machine slop, into rearing swells and short-faced chop.
It was exhilarating to be out in the elements in a boat that was immediately so instinctively trustworthy and capable.
McLay Hardtop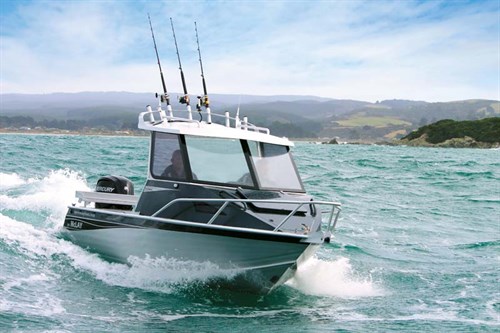 I have spent much of the last five or so years making a television program in which I've been aboard with mad skippers – racing through the elements to get fish onboard before their competitors on an identical boat did the same.
It is fair to say that their seamanship varied greatly and we had some days when I was looking longingly at a distant smudge of land as bravado and the thrill of the chase drove these competitors to ever-greater madcap horizons.
Occasionally, when my osteopath bills got a bit steep, I'd question the capability of the vessel for handling the sort of short sea conditions we find in our sheltered waters. Not on this test...
The McLay 591 Hardtop Sportsman is unlikely to add to the burden of chiropractic costs. The ride is smooth, with a fine entry and has a wide beam with characteristic downturned chines towards the stern. Even in the moments when cresting out of a wave, the boat is predictable and lands evenly with immediate grip and minimal bounce. The boat has a variable 17° deadrise and is one of the most 'collected' I have felt, and that unity is a testament to its quality of build.
It is stiff, strong and sure on the water, and it was hard to wipe the grin off my face as we put this little zinger through its paces.
Alloy boats are often hard-riding, and sure, this boat is light – with boat and motor weighing in at only 813kg dry, but with all that movement at the Taieri rivermouth, I never once thought about my normally troublesome knees or back.
With the Mercury 115 FourStroke outboard motor purring away on the transom, the McLay 591 Hardtop Sportsman danced in and out over the bar many times, with confidence and ease. The 2097cc four-stroker is very light for its class but for my money, an upgrade to a Command Thrust gear box and bigger prop would be a great investment. Although she handled nimbly and had an impressive out of the hole performance, the bigger prop would give a little more instant bite in those trying seas on the bar when you need the confidence to swing fast in aerated waters.
Although the McLay 591 Hardtop Sportsman itself is fairly light at 650kg, she has solid 5mm plate in the hull, with 3mm sides and 4mm deck plates and transom. The hull is kept straight and strong with six full-length stringers plus a central stringer and four thwarts. Under the deck is a 135lt fuel tank.
The hardtop is rigid and of excellent height and has handholds galore. The six-rod rocket launcher is easily reachable for my 183cm but is not a hazard to head health. Visibility is excellent through two big safety glass windscreens – however, given the conditions, it was discovered that the initial decision not to install wipers on this boat needed revision.
Layout and design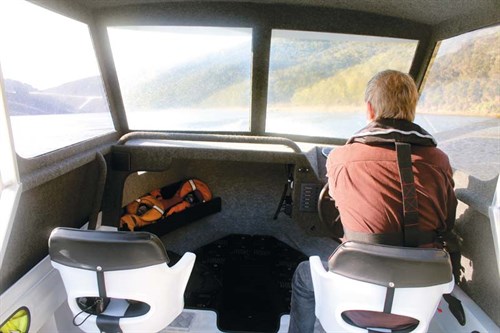 The dark fabric of the fully lined wheelhouse looked very good indeed. It added a welcome touch of comfort and chic to the helm and aided with the reduction of noise. The workmanship was exemplary. Contrasting with the dark colour, were two upholstered white plastic swivel seats on pedestals with fly-mounted rear-facing padded seats for passengers or gear.
The helm position is good with clear room for feet when standing. Kickboard and footrests for both seats are standard. Headroom is plentiful and the view right around the boat is superb with the large Perspex side windows. A chunky covered handrail on the dashboard was made extensive use of during the test.
Electronics included Mercury engine gauges, a Lowrance Elite 5 combo, GME VHF radio, Panasonic stereo, wiring loom, switchgear, navigation lights, anchor light, 1100gal/h bilge pump, and the two aerials mounted atop the rocket launcher. Battery box and switch are behind two hatches mounted up in the transom.
The boat as tested had top and side-stripes and to my eye looked very crisp and smart, both on the water and the trailer.
Up front there's a cuddy cabin and  two squabs with storage beneath and shelves with padded backrests. With the cabin also lined, noise is reduced and the finish is good.
The forward hatch is wide and accessible, even for burly fellas, and it provides good easy access to the lidded anchor locker, bollard, and bowsprit. The addition of a bowrail adds a big boat look and is practical too – on this boat there was no anchor winch or capstan; it's 'hands-on' anchoring in
the south. But given that most fishing down this way is about 15km off the coast, there's nowhere much to anchor.
Used elsewhere, I'd pause to consider whether the marital relationship was more valuable than the cost of a hands-free winch or capstan – both of which are on the extensive accessories list.
Cockpit and fishability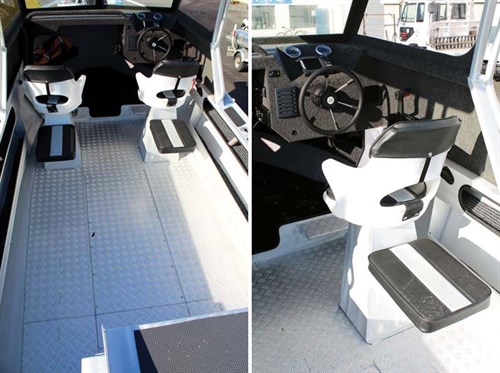 The cockpit is a revelation. It is roomy – and will fit four fishos easily. There is a wealth of space for gear, bags, chillybins and fishermen.
The gunwales are wide and excellent for perching on, with four welded alloy rodholders, and beneath those are lined shelves for tackle, glasses, lunch, drinks and what-have-you.
The gunwale height-to-leg ratio will depend on the stature of the fisherman, but at my height it felt comfortable and supported. There's also a decent amount of ledge outside the wheelhouse to walk up front in safety, with out the common tightrope-walker feel of many boats and the addition of grip tread ensures safety even further.
The usual rod shelves run lengthwise either side, and are carpeted, but I'd like to see clips for holding rods firm against the sides.
A baitboard and drain are mounted neatly into the transom, however care is needed so the engine cowling doesn't rub against it when trailering the boat with the outboard fully tilted.
At the rear there's a walkthrough transom, rear platforms, auxiliary outboard bracket and one of the most solid boarding ladders ever.
The bilge has a nice touch, with downward curves into the bilge hatch and bung area. But as is often the case on small boats, it's not easy to get to the pump itself for cleaning out tag ends and the usual detritus of a fishing trip. A mesh over the drainage gaps could solve this problem.
The Mercury 115 FourStroke is a 2100cc fuel-injected motor with a three-star EPA emission rating. On test, we found the most efficient fuel range to be at 4000rpm and this was backed up by Mercury's own data.
The 591 was up on the plane at around 2800rpm and will run happily on anything unleaded from 87 octane. This version had cable steering, which operated freely and easily.
In the smooth conditions of the river, the 591 whistled along with stability and remarkably low noise.
Undoubtedly the hardtop helps with shelter and although much of my fishing has been in centre console boats I found this very attractive. The hardtop design is one of the best features of this boat, large enough to accommodate everyone inside and protected from the elements.
It is also short enough that it does not protrude into the cockpit area impeding casting ability for fishermen. Often this shortening can make a boat look a bit 'industrial' – not so the 591. The aesthetics are maintained with the great attention to detail.
The Trade-a-Boat verdict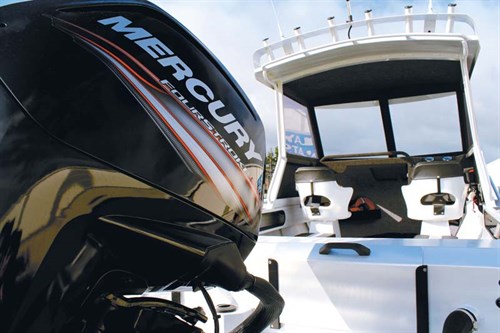 All in all? The McLay 591 Sportsman Hardtop is a giant killer, well made, easy to tow and launch, excellently finished, stable, quick, and offered with a myriad of options.
Its character will appeal to the heart of the hardest boatie. It is strong, capable and, I have to say, damn handsome. 
HIGHS
Build quality and finish
Handling
Affordable entry
Excellent fishing space
Hardtop design
LOWS
Rod storage options
No anchor winch
McLay 591 Sportsman HT sea trials
115hp Mercury four-stroke outboard motor with Vengeance propeller
| | | |
| --- | --- | --- |
| RPM | SPEED (KTS) | FUEL BURN LT/H |
| 500 | 1.6 | 1.3 |
| 1000 | 2.26 | 2.4 |
| 1500 | 3.34 | 3.7 |
| 2000 | 4.85 | 6.3 |
| 2500 | 6.04 | 8.7 |
| 3000 (plane) | 10.79 | 10.8 |
| 3500 | 15.17 | 12.2 |
| 4000 | 18.89 | 15.6 |
| 4500 | 23.21 | 19.5 |
| 5000 | 26.99 | 23.9 |
| 5500 | 29.85 | 32.4 |
| 6000 (WOT) | 32.39 | 40.1 |
* Sea-trial data supplied by McLay Boats.
McLay 591 Sportsman HT specs
McLay 591 Sportsman HT price: $53,500
Priced from
PRICE AS TESTED
$61,229
OPTIONS FITTED
Bowrail, full-length keel strip, lined cabin, six rocket launcher, painted cabin and S-strip, 115hp engine upgrade and Panasonic stereo
GENERAL
MATERIAL Aluminium
TYPE Monohull hardtop fishing boat
LENGTH 5.91m
BEAM 2.2m
DEADRISE 17° variable
WEIGHT 650kgs (dry)
TOW WEIGHT 1100kgs approx. (BMT)
FREEBOARD 0.72m
CAPACITIES
PEOPLE 6
FUEL 135lt
ENGINE
MAKE/MODEL Mercury 115 FourStroke outboard motor
MODEL Four-stroke, four-cylinder outboard motor
RATED HP 115
WEIGHT 163kg (dry)
DISPLACEMENT 2097cc
PROPELLER Vengeance
SUPPLIED BY
McLay Boats
Union Street, Milton
Phone (03) 417 8135
Email info@mclayboats.co.nz
Web mclayboats.co.nz
See the full version of this review in Trade-A-Boat #257, September 2015. Why not subscribe today?
Keep up to date with news from Trade-A-boat or like us on Facebook!