Review: Osprey 630 Open Hard Top
---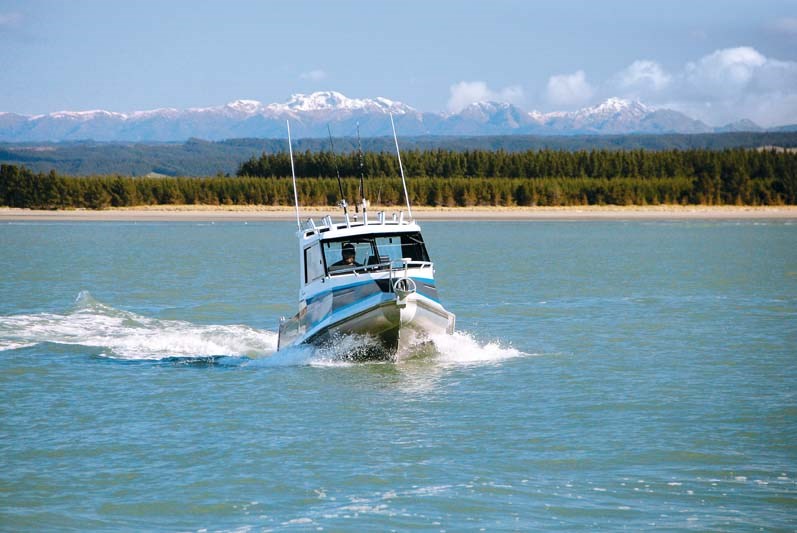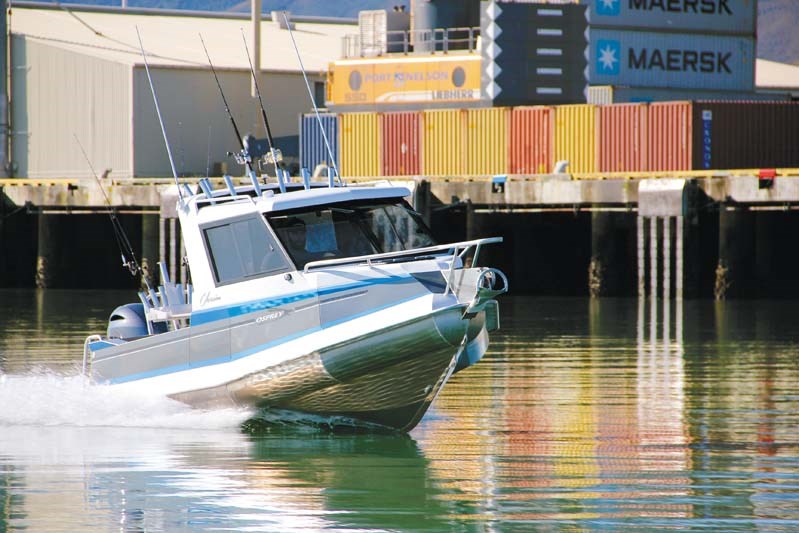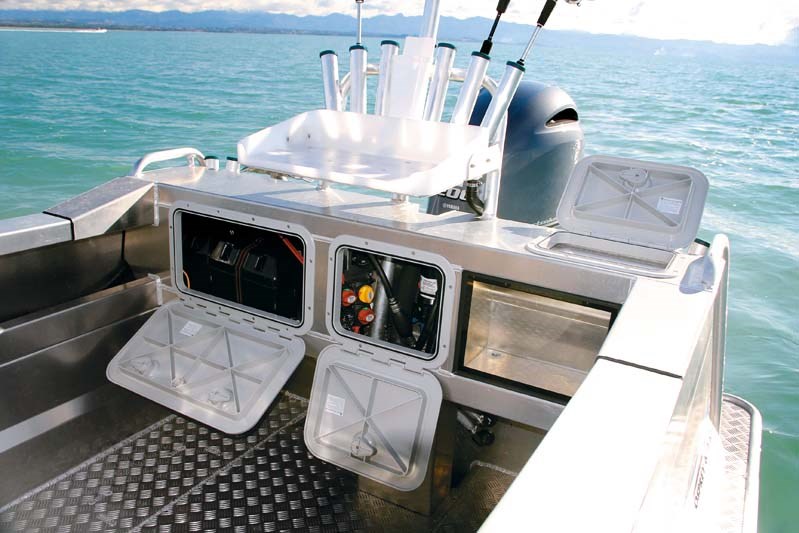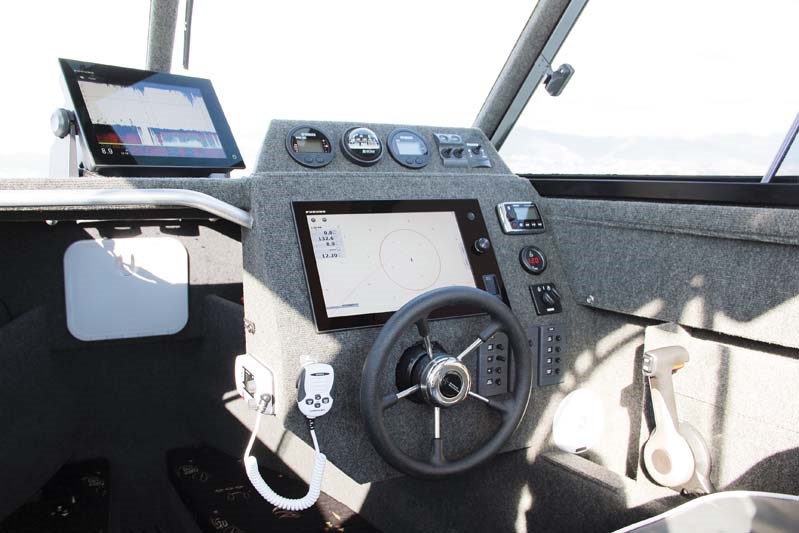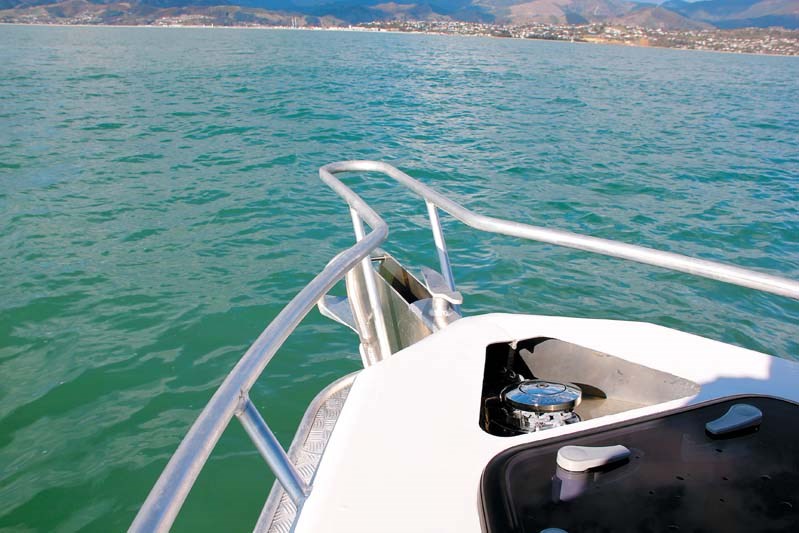 This Osprey 630 Open Hard Top is a boat built for an expert by experts, and given the owner's satisfaction with the result it has achieved its design goals.
When you spend half of your life at sea as a mate and relief skipper on a deep-sea factory trawler you gain an appreciation and knowledge of the ocean in all its guises. It is a knowledge that only comes with experience and time on the water. If you took this knowledge and applied it to the selection of a recreational trailerboat for coastal and offshore fishing, what might this boat look like and how and what would it be built from? How to might it differ from similar offerings?
These are questions that Nelson-based trawler man Jesse Crasborn has addressed in no small way in the commission of his latest acquisition – a customised Osprey 630 Open Hard Top that he appropriately named Obsession.
Crasborn is a bloke that fishes to live and lives to fish and in his world there is little demarcation between work and pleasure. It's all about the fishing and no sooner has Crasborn swung off one vessel and he's out on the other.
The 'other' in this instance is his aluminium pontoon-hulled Osprey 630 OHT – a build that provides a useful glimpse into the thinking of an experienced seaman and what, to a seaman's mind, works in a small, dedicated recreational fishing platform.
Osprey 630 OHT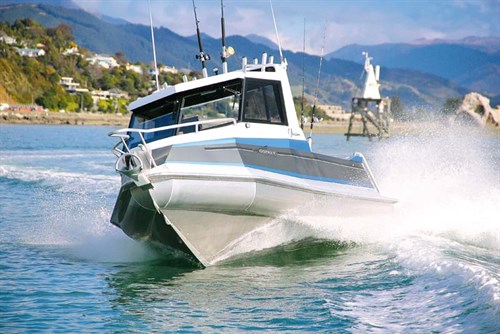 It is not surprising, perhaps, that bomb-proof construction and inherent design safety were Crasborn's key criteria in a build and it was these priorities that ultimately put him on the pathway to Nelson-based Osprey Boats.
While Nelson-based himself there was nothing parochial in his decision to work with a local builder. Rather, it was Osprey Boats' reputation in the commercial marine sector for building robust boats engineered to provide years of trouble-free service.
There is no argument here. Osprey Boats is the brand of choice for many charter operators. These include the likes of Marahau Water Taxis and Abel Tasman Water Taxis. Osprey is also the go-to manufacturer for Rakiura Charters that operates out of Stewart Island. In fact, wherever there is demand for small commercial water taxis the chances are you'll find an Osprey – even as far north as Whangaroa where an Osprey is in charter ferrying passengers between Whangaroa and Kingfisher Lodge.
The question, therefore, is why Osprey Boats are so sought after by commercial operators. The simple answer is its record and willingness to work beyond the brochure to give operators what they want.
Design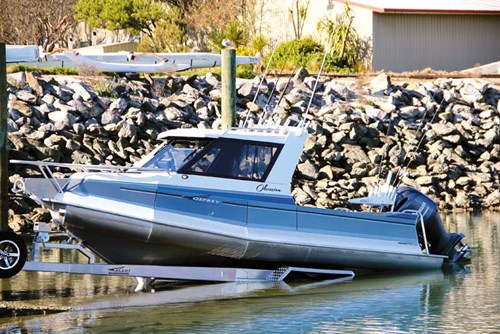 Crasborn says his requirement for uncompromised safety was always going to restrict his preferred build to sealed pontoon construction. This in turn dictated that his ideal boat would be built from aluminium. He further required a builder prepared to shake off a production-build mindset and incorporate his own requirements and not just in terms of layout and fittings but in the actual build itself.
This degree of involvement might be considered offensive by some builders but it's the sort of customer input that Osprey Boats founder and designer Lloyd Elliot is happy to accommodate where there are sound reasons for doing so. In this instance Crasborn's build requirements were both sound and feasible; but it could be argued they teeter on the edge of overkill for a 6.3m recreational trailerboat.
Chiefly, Crasborn's brief called for double-skinned 3mm pontoons as opposed to single skin, and an increase from 5mm to 6mm plate in the hull. He further requested that the under-floor fuel tank capacity be increased from 200 to 275lt. The advantage in greater range is obvious but what is less clear is why he would choose to add considerable weight to the hull given that the factory spec Osprey 630 OHT is no lightweight.
Crasborn says the reasons are three-fold: added safety through sacrificial protection of the hull's reserve buoyancy in the pontoons; improved handling and ride in rough offshore conditions; and hull noise dampening when running at speed in light and moderate conditions.
"Put it like this," says Crasborn, "I wanted a boat that was manageable on the trailer and would tow comfortably on Nelson District's narrow, windy roads. I also wanted the safety and seakindliness inherent in larger, heavier boats.
"The solution as I saw it lay in adding additional weight low down in the boat where that extra weight would be most effective. The challenge was how to achieve this in a way that wouldn't compromise the boat's performance or its look."
Crasborn says doubled-skinned pontoons and heavier hull plate achieved his objectives without any adverse effects. The changes were also well within Osprey Boats' capability.
"The changes did impact on build time and cost, but this was a small price to pay for the peace of mind knowing that my 630 OHT is bullet-proof, unsinkable and has the weight behind it to muscle through when the going gets tough."
Crasborn has put 40 hours on the boat in the two months since its launch and has ventured beyond D'Urville Island at the top of the Marlborough Sounds. He says the boat performs well in all conditions but really excels in the big stuff.
"Trailerboats are most vulnerable to following seas because of the danger of broaching. The risk increases where there is a propensity for a boat to steer off by the bow; this is where weight (displacement) comes into its own. The Osprey's 23-degree deadrise ensures there is plenty of hull in the water and that it stays in the water when you most need it. I've had a lot of different pontoon boats and wouldn't choose anything else. And as for the changes I've made, there are no regrets. The 630 is an awesome machine."
Layout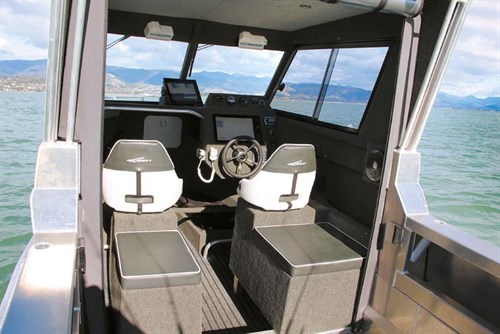 Beyond changes below the waterline, Obsession is to factory specification. It is a very simple boat and while it lacks some of the finishing and detail of some competitors in this class, the 630 OHT meets its brief as a dedicated fishing platform head on.
Like all Osprey Boats Obsession has the excellent external walkaround belting that extends from the transom to the bow. This enables the hardtop superstructure to be built out to the full width of the hull to maximum cabin and hardtop volume. This gives the smaller Osprey models a somewhat slab-sided appearance but the practicalities far outweigh any aesthetic consideration.
Capped with a solid rail, the checkerplate walkaround provides excellent service as both a protective belting and a solid surefooted platform upon which to get around the exterior of the boat.
Osprey has had good success with vinyl wrapping and this example is no exception with vinyl-wrapped topsides and hardtop, while the top half of the pontoons have been treated with Nyalic for protection and aesthetics. The net result is a very smart-looking boat that should retain its finish for years to come without excessive maintenance.
The hardtop is fitted with a two-piece 10mm toughened-glass windscreen and 8mm toughened-glass side-opening windows. In this build Crasborn has chosen to go without a hardtop enclosure, opting instead to fit removable canvas drops.
"I much prefer an open cabin for fishing because I'm constantly on and off the throttle," he explains. "This would be awkward with a hardtop enclosure. The trade-off is a bit more engine noise, but I give up little in protection because the hardtop extends well into the cockpit. The curtains are pretty effective too."
Cockpit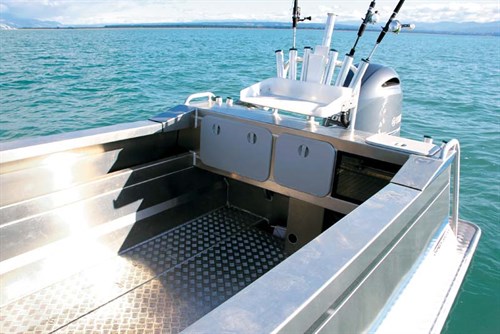 The cockpit design is simple, practical and clutter-free. Given Crasborn's first love is fishing he has chosen not to have the optional transom walk-through, preferring the protection of a full transom across the beam of the boat.
This is of little consequence because the Osprey has one of the biggest and most robust boarding platforms in its class. The platform is also equipped with substantial handrails that come up and over the transom. Doing away with a walk-through has enabled the glass-fronted livebait tank to be mounted well off the cockpit sole in line with the enclosed batteries, isolators, battery switches and washdown pumps. This frees up the entire section under the transom for removable fishbins.
Crasborn's requirement for a long-range fuel tank has encroached on underfloor cockpit space and there is not sufficient real estate for a fishbin. "It is rarely something that I would use anyway," says Crasborn. "I catch a lot of fish but I keep very few, and I'm particular about the fish I target."
There is little more to report from the cockpit other than the two solid parcel shelves built into the sides into which Crasborn has had fitted red LED strip-lighting for night fishing. These are part of Osprey's optional Hella LED lighting pack which includes blue underwater lights and an overhead cockpit spotlight.
Crasborn had Osprey more than double the number of rodholders on the boat, with additional holders fitted each side of the central cockpit baitboard. There is a second fan of six rodholders across the rocket launcher. The checkerplate cockpit sole is solid under foot and provides plenty of toe kick, while the coamings are comfortably wide and secure. These have yet to be dressed in some form of non-skid.
Crasborn's choice of aluminium box-frame seats in a king/queen configuration provides additional dry storage, and they are a reasonably comfortable proposition for rear-facing passengers. There is nothing showy to speak of, just a practical seating plan in keeping with the boat's primary job.
This too goes some way to describing the layout and finish within the cabin: workmanlike, sensible and practical. The hardtop layout features a half-bulkhead steering station for easy access to the small cuddy. There is a big dash area, which is beneficial given Crasborn's impressive electronics.
Fully carpeted throughout and fitted with upholstered bunk extensions, a foredeck hatch and LED lights, the cuddy can provide a degree of comfort for overnight excursions, but these, says Crasborn, will be rare.
Seated behind the wheel, everything falls nicely to hand. The wheel is well-placed whether seated or standing and there are ample handrails and bracing points. The twin digital Yamaha engine and fuel management gauges are easy to read and visibility around the boat is excellent. Twin windscreen wipers ensure this remains the case underway.
Anchoring duty is no hardship with remote up/down operation of the Maxwell RC6 winch connected to a Manson Supreme anchor.
Crasborn's ability to accurately target species reflects not just his experience but his choice of top-of-the-line electronics. In this build he's gone with Furuno's ultimate DFF1 Ultra High Definition CHIRP solution and fitted an Airmar 1kW transducer. To get the best from the CHIRP he's chosen the latest Furuno TZT 14in and TZT 12in multifunction touchscreens. The power demand of these electronics is considerable, so he has also installed a separate house battery monitor.
Handling and ride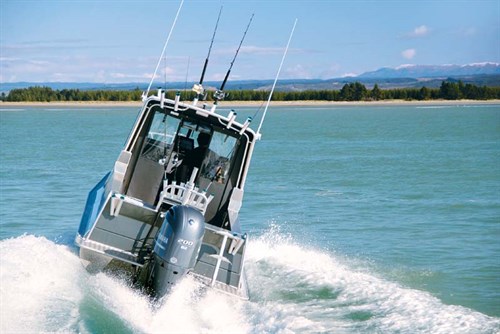 While rated for up to 250hp, Crasborn chose to reduce transom weight and fit the 227kg Yamaha F200 four-stroke which he says still provides plenty of mid-range power if not the holeshot performance of a 250.
Top-end speed is still a respectable 39.1kts at WOT. Crasborn, however, is more concerned about economy and rates the F200 highly with figures of 1.8km/lt at 3500rpm. This gives a range of about 267nm at a cruise speed in the low 20s. Even at 4000 or 4500rpm, the range from the 275lt tank is excellent at 237nm and 222nm respectively.
While Nelson on a flat, calm day is hardly a testing environment for a boat built to excel in the rough, what we can say is that the Osprey 630 OHT is a delight to drive and feels nimble despite the additional build weight. The double-skinned pontoons do have a marked dampening effect on water slap underfoot and there is not a hint of rattle or squeak within the cab under full power. The SeaStar hydraulic steering is firm and precise and the Yamaha remote silky, with plenty of travel.
The helm position is comfortable seated or standing and the solid foot brace will be welcome when the going gets tough. This is not a sportsboat but nor is it a trawler either and there were no complaints when pushed into unnaturally hard turns at speed. The Yamaha Reliance 14¼ x 17in stainless steel prop has ample bite and the hull is good and sticky.
The Trade-a-Boat verdict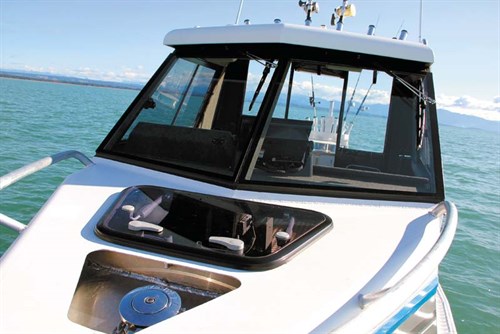 Jesse Crasborn's criteria for a rock-solid, reliable and efficient workboat have been well and truly met in the Osprey 630 OHT. This is a practical, no-frills fisher. Its systems are well-engineered, robust and will last for seasons to come.
Professionally finished and dressed, the 630 OHT is a handsome if not pretty boat and there is no mistaking its vocation. With Crasborn calling the shots I'd be comfortable if caught out in a blow – which pretty much says it all.
At 2100kg on trailer the 630 OHT is a heavyweight in its class but still manageable in conjunction with Osprey Boats' ELERT (Easy Launch Easy Retrieve) self-latching trailer system. This and Osprey's use of self-aligning skids on its alloy trailers takes the guesswork out of launching and makes for a simple one-person operation. 
Highs
• Bomb-proof build
• Practical clutter-free layout
• Excellent exterior belting and walkaround
• Large full-width boarding platform

Lows
• Basic level of interior detail and finishing
• Minimal stowage options
Osprey 630 Open Hard Top specs
Osprey 630 Open Hard Top price: $140,000
Price as tested
Priced from
$89,000
GENERAL
MATERIAL Aluminium
TYPE Monohull plate aluminium fishing boat
LENGTH 6.35m
BEAM 2.25m
WEIGHT 2100kg (BMT)
CAPACITIES
REC. MAX HP 250
FUEL 275lt
ENGINE
MAKE/MODEL Yamaha F200 outboard motor
TYPE Inline four-cylinder four-stroke outboard motor
RATED HP 200
DISPLACEMENT 2800cc
WEIGHT 226kg
SUPPLIED BY
Osprey Boats
105 St Vincent Street,
Nelson, 7010
Phone (03) 548 7887
Email lloyd@osprey.co.nz
Web osprey.co.nz
See the full version of this review in Trade-A-Boat #257, September 2015. Why not subscribe today?
Keep up to date with news from Trade-A-boat or like us on Facebook!