Review: Smuggler Strata 600
---
Superyacht tenders don't get much better than the Smuggler Strata 600, something the average trailerboater is discovering too.
When your budget runs to a superyacht it follows that you're not going to scrimp on your choice of a rigid hull inflatable to fulfil the all-important role of tender. It follows too that your criteria for the perfect tender will include aesthetics, style, safety, performance and quality. If you are buying that tender in New Zealand there is a good chance your search will begin and end in industrial Henderson where Smuggler Marine builds what is arguably NZ's most versatile and sought-after RIB.
The Smuggler Strata series of RIBs are highly regarded in superyacht circles where the requirement for quality, safety and performance leave manufacturers no place to hide. For these reasons the Strata has also become desirable overseas with export consignments contributing in no small way to Smuggler Marine's business.
Lightweight, easily driven and providing high levels of safety inherent in multi-chamber inflatable construction, RIBs are an ideal solution for downsizing without giving anything away in performance or function. And while it is true that RIBs lack a certain comfort compared to hardtop and cuddy cabin cruisers, today's RIB is a lot more sophisticated in its design and features, and this is resulting in a drier and more pleasant on-the-water experience.
Smuggler Marine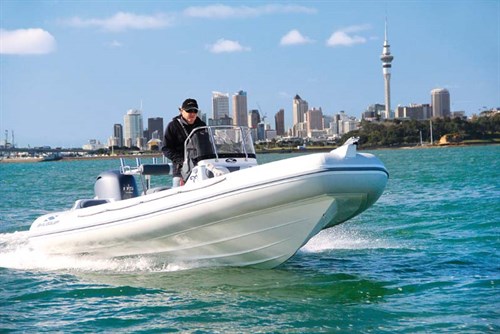 Headed by business partners David and Pauline Pringle, Smuggler Marine has developed a comprehensive range of RIBs from 4.5 to 13m, and at last count had sold something in the order of 200 Strata RIBs throughout NZ and the rest of the world.
This year Smuggler is on target to eclipse all previous manufacturing records with RIBs accounting for about 90 per cent of annual production. Pringle says the growth in RIBs is spearheaded by buyers choosing the convenience and manageability that RIBs offer over heavier aluminium and GRP trailerboats.     
"What we're seeing is buyers coming out of conventional trailerboats, because they're over the hassle of towing, launching and retrieving heavy boats. Foot-for-foot, RIBs are about 25 per cent lighter than conventional boats and require less horsepower for equivalent performance. They're also cheaper to maintain and operate.
"For these reasons owners tend to use their RIBs a lot more often. But above all else, RIBs are a hell of a lot of fun and have a big performance edge over hardtop and cuddy designs. This appeals to a new generation of boatie that just wants to get out there and back as quickly and as safely as possible without any hassles."
A key driver behind Smuggler's growth is the quality and style of its Strata designs and a willingness to customise and configure the range for specific applications, commercial or otherwise. An area of Smuggler expertise is the power options it can now offer. These range from conventional outboards to diesel-powered sterndrives and jet units for shallow-water applications.
Strata 600 RIB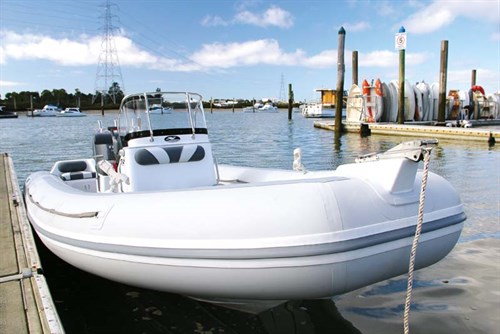 The Strata 600 is the smallest of the six-metre Strata range and second only to the 550 in sales. It is also the smallest Strata built on the highly-regarded Bonito deep-vee hull designed by Scot Robson. This is the same hull that Smuggler uses for its Stealth and Profisher models and why Strata RIBs have a reputation for sublime handing and performance in challenging conditions.
Like the Strata 630 and 670, the 600 features the same solid GRP laminate hull with internal one-piece GRP liner and solid timber-glassed lattice hull construction. The Strata's rigidity and strength comes from four full-length bearers and four thwart ship bulkheads 'glassed into the GRP hull. 
Pringle says the Strata 600 is immensely strong – minimum hull thickness is 5mm but almost doubled at the ends and in high-stress and impact areas. Vinylester resin is also utilised in the outer hull lay-up if owner's plan to keep their RIB on the water for extended periods.
Smuggler has also developed a unique flange in the hull that increases the bond strength between the hull and the inflatable pontoons, while creating a channel that is more effective in channelling wash down and away from the RIB.
"The faster the boat goes the more effective this channel becomes," explains Pringle. "We've also recently changed the profile on the rubber rubbing strake on each pontoon to turn wash down. This makes a really notable difference in choppy conditions and at speed."
Internal layout options vary according to the RIB's intended use, with inboard-powered RIBs providing additional scope for Smuggler's innovative full-width transom and integrated boarding platform for convenient stern access.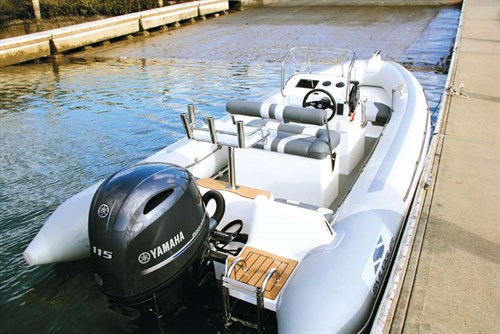 Pringle is passionate about quality and having served his time as a boatbuilder with Salthouse Marine he knows that quality is more than skin deep.
"Quality starts at the design stage and it is here that we believe the Strata range is a step up on our competitors," he says.
"Our mid-sized RIBs are built on the same proven hull and share a 23.5-degree transom deadrise. This ensures the boats are capable, safe and predictable in offshore conditions.
"While deep-vee hulls are great offshore the trade-off is they tend to be less stable at rest. This isn't an issue with RIBs because of the inflatable pontoons. Their stability is excellent and this is the key for users that value safety above everything else."
Pringle says the Strata range is built to CE export certification and commercial survey requirements. Each Strata RIB carries a five-year hull warranty, while the PVC (optional Hypalon) pontoons are backed by their NZ manufacturer for six-years. This together adds up to peace of mind and one of the best new-boat warranties on the market today.
Fitout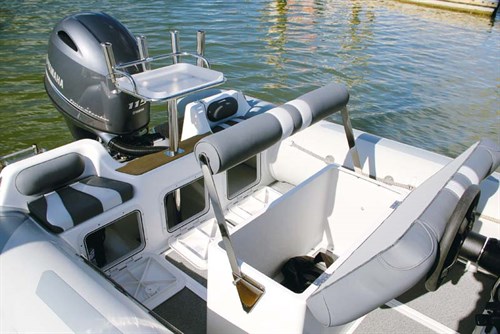 Equipped as standard with 500mm tubes for easy container transportation, the Smuggler Strata 600 can be fitted with optional 600mm tubes in PVC or Hypalon. Pringle says the bigger tubes offer no real advantage and tend to make the smaller RIBs look bulbous.
Setup as a demonstrator for the upcoming Auckland On Water Boat Show, the Smuggler Strata 600 reviewed here is optimised for general purpose boating with seating for eight and an optional forward seating console with an enclosed anchor locker beneath. This creates a layout similar in some respects to a conventional bowrider and includes an insulated icebox built into the base of the forward-facing jump seat. This is integral to the GRP-moulded centre console helm unit. The helm station is configured with a double bench seat with reversible backrest and a half-height acrylic windscreen with stainless steel support rail.
Dry storage is essential on an open RIB and the Strata 600 has acres of it within the console and under the helm seat. There is additional storage in a small under-floor locker in the forward section and a much larger locker aft designed to carry dive bottles.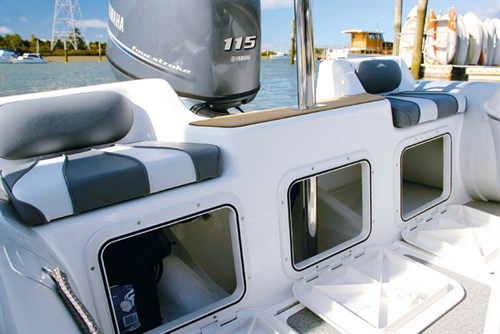 Being outboard-powered the RIB has a pair of forward-facing jump seats in the transom on each side of the outboard pod and a useful split boarding platform with stainless steel boarding ladder and handholds on the starboard side.
A newly designed baitboard with four rodholders slots neatly into a robust stainless steel tube that passes through the transom and securely fixed to the sole. This fits like a glove and can be easily swapped out for a solid stainless steel ski pole. Unlike many centre console designs the Strata's start battery is located in one of three sealed transom lockers instead of within the main console.
Smuggler's attention to detail and finish is exacting with perfect mouldings, quality hardware and superb colour-matched vinyl upholstery. The use of synthetic teak decking on the boarding platforms and colour-matched pontoons and graphics all befit a superyacht tender.
Handling and ride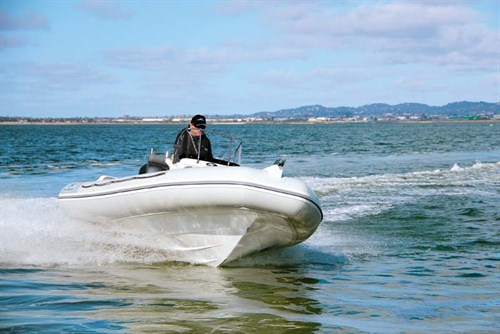 Fitted with Yamaha's latest F-series 115hp four-stroke outboard motor, the power-to-weight ratio leans towards the excessive but ensures those with an appetite for blistering performance won't be left wanting. While some might consider a 115 on the small side for a 6m boat, Pringle says experience has determined that this is the ultimate size.
"We've fitted 130s and 150s to the 600 but that borders on the boat becoming unmanageable in the wrong hands and we've had to chop down on prop size to better manage the power," said Pringle. "The 115 is perfectly weighted to this boat and provides all the power you'd ever want." 
I couldn't argue with that. The 600 as fitted is quick – very quick – and topped out just over 39.1kts at 6000rpm in less than ideal conditions. But what is really impressive about the 600-115 combination is the way it gets there. It is silky smooth and super responsive to throttle throughout the rev range, while mid-range torque is excellent. It is unlikely you'll ever find yourself wanting for more.
The RIB's SeaStar hydraulic steering is so light that you'll want to keep one hand firmly on the wheel and the other clasped securely around the windscreen rail if you're pushing the hull hard because it will hang on longer than you. The 600's deep-vee transom, fine entry and broad chine ensure the RIB has impeccable manners, but it is not what I would consider idiot proof. Its willingness to perform could be its very downfall in the wrong hands.
The Trade-a-Boat verdict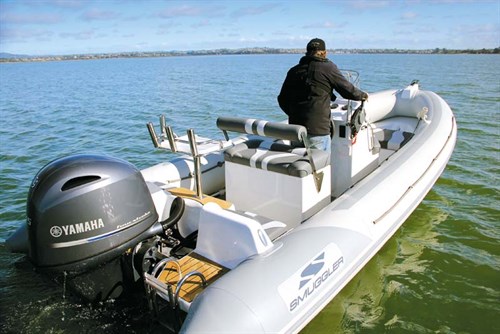 The Smuggler Strata 600 serves up a hell of a ride and it is a rig worthy of respect. It meets its brief for safety, style and passenger comfort, while providing the sorts of practicalities required of a larger tender. It is a delight to trailer, launch and retrieve and will retain its good looks with minimal requirement for ongoing maintenance.
The Smuggler Strata 600 will comfortably accommodate parties of four for fishing and diving, and larger crews for gunkholing around the harbour. While RIBs might not be for everyone they're hard to steer past for pure adrenalin and the Strata 600 packs it in spades.
Smuggler Strata 600 sea trials
Single 115hp Yamaha four-stroke outboard motor
| | |
| --- | --- |
| RPM | SPEED (KTS) |
| 500 | 3.1 |
| 1000 | 4.3 |
| 2000 | 6.7 |
| 3000 | 16.2 |
| 3500 | 20.5 |
| 4000 | 24.3 |
| 4500 | 26.5 |
| 5000 | 29.7 |
| 6000 | 39.7 |
* Sea-trial data supplied by the author.
Smuggler Strata 600 specs
Smuggler Strata 600 price: $71,324
Price as tested
PRICED FROM
$59,500 w/ 90hp Evinrude E-TEC outboard motor
GENERAL
MATERIAL GRP hull; PVC pontoons (Hypalon optional)
TYPE Rigid inflatable boat
LENGTH 5.9m
BEAM 2.4m
WEIGHT From 1050kg (BMT)
DEADRISE 23°
CAPACITIES
REC. HP RANGE 115 to 220
FUEL 150lt
ENGINE
MAKE/MODEL Yamaha F115 outboard motor
TYPE Four-stroke petrol outboard motor
RATED HP 115
PROP Apollo 13 x 17in three-blade stainless steel
SUPPLIED BY
Smuggler Marine
7 Enterprise Drive,
Henderson, 0612, Auckland
Phone (09) 838 9024
Email smuggler@smuggler.co.nz
Web smuggler.co.nz
See the full version of this review in Trade-A-Boat #257, September 2015. Why not subscribe today?
Keep up to date with news from Trade-A-boat or like us on Facebook!