Review: Axopar 28 T-Top
---
The dashing Axopar 28 T-Top from Finland looks the part, but there's a lot more going on under its skin.
The Axopar 28 T-Top is a breath of fresh air in the locally-made and US-centric import market we live in now. It offers European style with substance both above and below the waterline that impressed us no end.
Axopar's Finnish boats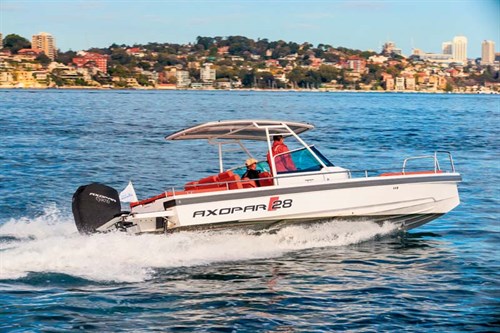 From the team behind the award-winning Aquador, Paragon Yachts and XO boat brands come these new Finnish boats: Axopar. Business partners Sakari Mattila and Jan-Erik Viitala have experience in high-performance, offshore orientated hulls in both aluminium and GRP. Axopar Boats aims to create recognisable, walkaround hulls that redefine the driving experience while offering exceptional economy. Although visually similar in design to XO boats, the Axopar boats hull design is unique, with a concerted effort going into modular design to drive building costs down.
Currently, Axopar Boats produces three hull lengths, with a massive range of topside options. Continuing on with its desire for cost-effective manufacturing, a modular design theme is prominent throughout the range. Axopar starts with a step-down centre console, with options for an aft-cabin, a full T-top and/or aft cabin. Each of the five listed variants of the 28 is a combination of the modules. The O (open) model is a bare console, the OC an open with aft cabin, the TT (T-Top) tested here has a robust bimini frame with sail cover, the C a fully enclosed cabin, and lastly the AC is a cabin with, you guessed it, the aft cabin.
Local importer eyachts has bought in and sold a number of Axopar 28 hulls (arriving early 2016) with the Cabin version proving popular. Among the Australasian distributor's next batch of Axopar 28 boats are also the first pair of Axopar 37s, including a Cabin and TT.
Layout and design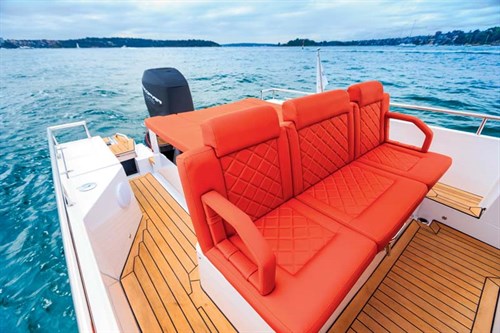 It's not just the topside look of the Finnish Axopar boats that get attention. Get the hull out of the water and anyone with salt in their veins will stop to stare at what's going on underneath. The 22-degree deadrise at the transom is modest but the 65-degree axe-bow and twin-stepped hull will get you wondering.
The axe bow allows a longer bow sheer, which could be interesting in a following sea but in the slop of Sydney Harbour played a great part in keeping the strakes and keel guiding the boat's direction. The steps (or reliefs to some) aerate the water, effectively stripping it of its ability to suction the hull and lowering the power needed to keep it planing efficiently.
A low driving position and centre of gravity give the 28 a sportsboat feel, and the wide hull with multiple strakes and defined chines grips in turns at all speeds. The 28 TT was probably the most fun I've had in a boat of its size.
On the dry side, the helm's step-down layout allows for a sleek, low T-top, without sacrificing headroom even to my 2m frame. Seat fabric is a heavy-duty canvas-like material beautifully detailed with exposed stitching and diamond patterns in the bases. The helm seats are reversible swivelling to face three passenger seats sharing the same quality fabric and feel.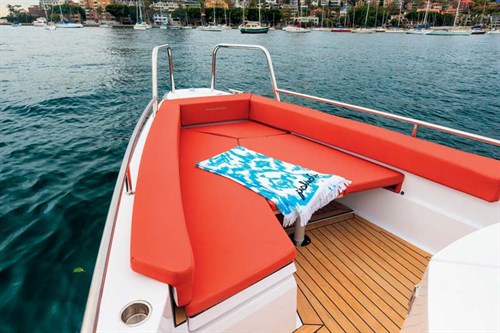 Behind the passenger seats is the aft-cab. It may look like an enginebox, but its position and compact size hides its real purpose. Opened by gas assisted strut hatch that makes up the centre passenger seat, the space below is cavernous and well-lit and airy thanks to multiple hatches.
Out in front of the console is another example of underfloor space well-used, with a recessed head featuring optional toilet with holding tank. The space here is again impressive with room enough for additional storage and small vanity.
Contemporary looks deserve high-end finishes and Axopar delivers. Flexiteek 2G flooring is optional but a great investment for any buyer, being hard-wearing and stain resistant.
Handling and ride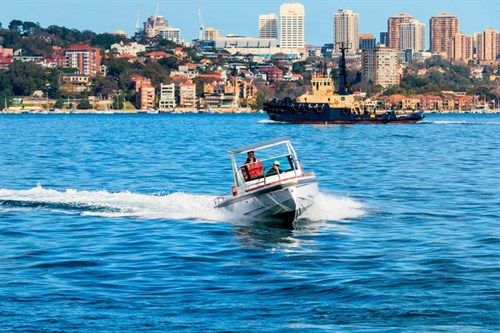 The demonstrator we tested had been setup with a VesselView 4, Mercury's multifunction LCD screen that allows up to two motors to be fully monitored and a Garmin Bluetooth stereo receiver. The VesselView is one of my favourite gauges on sale now; it allows easy monitoring of the most vital engine diagnostics plus control of cruise control, Smart Tow, troll control and more. Being able to pick which key diagnostics I want to be displayed is a highlight for me.
Our review Axopar 28 boat had trim tabs with joystick steering fitted. Although I hadn't used joystick control of tabs before, the system worked intuitively. You simply move the stick to lift the bow or roll the hull port or starboard. Although they worked well, they were hardly needed; a positive sign of the hull balance and design.
Down the back was a familiar engine by way of a 300hp Mercury Verado outboard motor. The 2.6lt inline six may seem light on cubes but makes up for it by way of a supercharger. The smoothness is second to none, the howl of the supercharger addictive and fuel burn to speed as good as it gets in four-stroke world.
At 4000rpm the engine performs best, which may seem a touch high but then we were six-up on a sloppy sea and it was near those revs that the hull felt most keen to free itself of the water's grip. It was nimble and punchy gunning the throttle from a rolling speed even from as high as 5500rpm.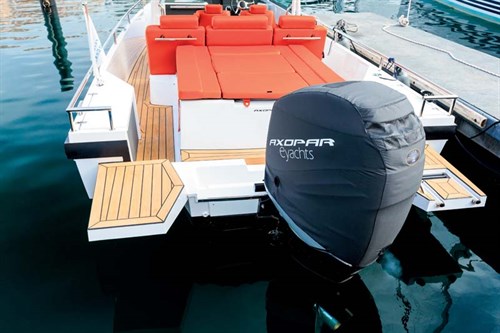 Mercury's own Hydraulic Power Steering is employed and up front was an optional 2.2kW bowthruster that worked well and although probably not needed on the Open or TT, would be preferred on the Cabin or larger hulls.
As mentioned, the hull turned progressively and easily at all speeds. It never banged even when looking for trouble around the many Sydney ferries. It remained dry even when consciously trimming the hull poorly in an effort to see how the bow would react pushing into waves. No doubt the strakes and chines play their part here too. Using the bowthruster made light work of tight manoeuvres. In gear and turned with the thruster the Axopar 28 could spin in its own length, and when using the Mercury against the thruster the hull could be walked sideways. A novice will find the Axopar 28 easy to control.
The Trade-a-Boat verdict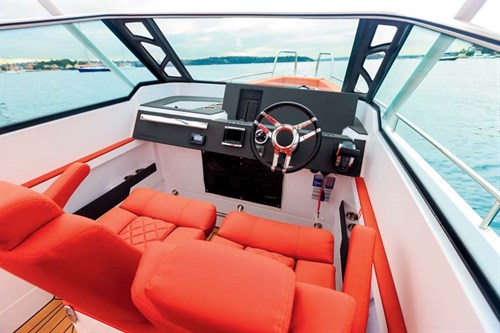 Although the price may seem steep, this is a one-of-a-kind boat with no peer. My most trusted testers and I talked long and hard about its value, but I kept coming back to the sheer fact it has no competition. Perhaps some RIBs could be considered but then the more robust bump rail used by Axopar sets it apart again.
To me it's a toy and talking point; a plaything for the buyer that isn't looking for the same as his neighbour. It appeals to the aesthetically minded, as well as the technically focused. It's got me hooked.   
Axopar 28 T-Top sea trials
Single 300hp Mercury Verado with Enertia ECO 17in three-blade propeller, six people, 75 per cent fuel.
| | | | |
| --- | --- | --- | --- |
| RPM | SPEED (KTS) | FUEL BURN (LT/H) | RANGE (NM) |
| 1200 | 4.3 | 4.25 | 236.7 |
| 1500 | 5 | 6.74 | 173.6 |
| 2000 | 6.5 | 10.6 | 143.5 |
| 2500 | 7.8 | 15.7 | 116.2 |
| 3000 | 10.8 | 25 | 101.1 |
| 3500 | 16.2 | 31 | 122.3 |
| 4000 | 21.6 | 36 | 140.4 |
| 4500 | 27.8 | 51 | 127.5 |
| 5000 | 32 | 64.5 | 116.1 |
| 5500 | 36 | 80 | 105.3 |
| 6000 | 39.1 | 103 | 88.8 |
| 6200 (WOT) | 40 | 112 | 83.6 |
* Range calculated on 10 per cent fuel reserve. Sea-trial data supplied by the author.
HIGHS
• Sublime ride
• More space than expected
• Quality of finish and fabrics
• Looks
• Love the sail canvas bimini
LOWS
• Low internal freeboard
• Open stern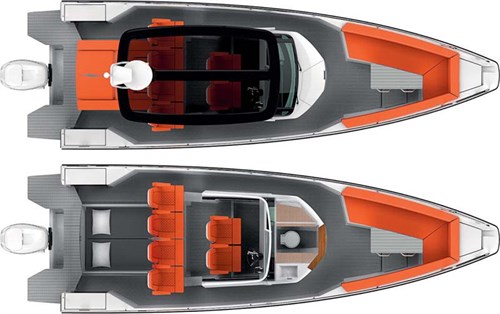 Axopar 28 T-Top specs
Axopar 28 T-Top price: $POA
Price as tested
OPTIONS FITTED
Premium Package (bow table, foredeck cushions and sunbed, flagpole and mooring kit), Toilet Package, Flexiteek 2G Package, Day Cruiser Cabin plus upgrade and sunbed upgrade, bowthruster, LED lighting, pulpit rails, frigde, trim tabs, Norths Sail bimini, Bluetooth stereo, antifoul, and 300hp Mercury Verado
PRICED FROM
$124,226 (without outboard)
GENERAL
MATERIAL GRP w/ vinylester coat
TYPE Twin-stepped monohull
LENGTH 8.99m overall
BEAM 2.85m
DRAFT 750mm
WEIGHT 1690kg (hull only)
DEADRISE 65° bow, 22° aft
CAPACITIES
PEOPLE (NIGHT) 2
PEOPLE (DAY) 8
FUEL 260lt
WATER 45lt
HOLDING TANK 45lt
ENGINE
MAKE/MODEL Mercury Verado 300 outboard motor
TYPE Supercharged inline six-cylinder four-stroke outboard motor
RATED HP 300
DISPLACEMENT 2.6lt
WEIGHT 288kg
GEAR RATIO 1.75:1 or 1.85:1
PROPELLER Enertia ECO 17in 3-blade
MORE INFORMATION
Axopar/eYachts
1 Westhaven Drive,
Westhaven, Auckland, 1010
Phone (09) 413 9465
See the full version of this review in Trade-A-Boat #260, on sale November 26, 2015. Why not subscribe today?
Keep up to date with news from Trade-A-boat or like us on Facebook!