Review: Back Cove 41
---
The new Back Cove 41 motor yacht, with its simplicity and ease of handling, will be appreciated by couples looking for a practical long-distance cruiser. Its mix of traditional and contemporary works well and the boat has timeless appeal that will keep it looking fresh for years.
If ever there was a vessel that gathered together the traditional and the modern, the laidback and the vibrant, then Back Cove Yachts would be that boat. Lines of the Maine lobster boat or Down East cruiser define the time-honoured look, while the latest tech makes driving easy and brings economical ownership. Construction is equally up to date; all fibreglass parts formed by vacuum infusing resin into the 'glass with a mix of Corecell and Coosa board for optimum wet-to-dry ratios and strength.
Typical of its genre, the sheer line arcs back smoothly from the spoon bow to a reversed transom and subtle tumblehome. Underneath is a tunnel protecting the shaft and keeping the draft to 1.14m under the prop, while deadrise is measured at 16 degrees for a stable planing hull that also performs well in displacement mode.
Back Cove Yachts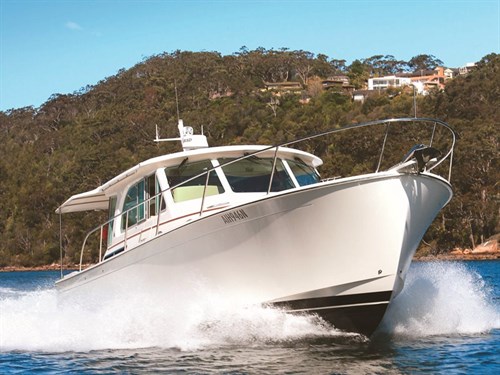 Some 500 Back Coves have been built during the production run and their popularity locally has seen nearly 50 delivered to Australia. Local importer Jed Elderkin spent his youth around Maine and still carries a smooth Down East accent and obliging manner.
Under Jed's direction the Back Cove 41 was smooth and obliging too, as we manoeuvred our way out of the tricky pen with bow and stern thrusters working with the single prop for an uneventful exit. The thrusters negate one of the advantages of a twin-engine setup in offering an easy solution to moving the boat around a tricky pen.
Our destination was offshore of Sydney Heads to get a feel for the 41 in the ocean, and although we didn't venture far out Jed assured me there are plenty of Back Cove owners who escape to the Whitsundays for winter.
Calling the boat a 41 is a bit misleading. Waterline length is 41ft7in (12.7m) but add in the bowsprit and swimplatform and the boat takes up 46ft4in (14.1m) of dock space. And the new Back Cove makes the most of the room available by offering two cabins, two heads and a well-designed saloon with galley serving inside and out.
Layout and design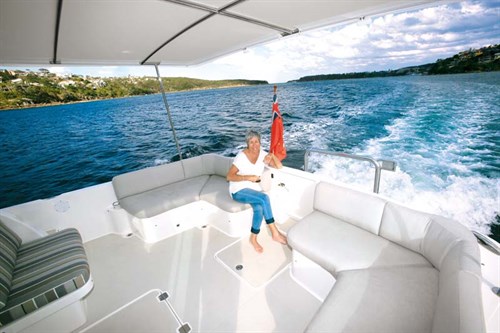 Entry is through a central transom door to a friendly cockpit fully covered by a locally supplied awning and fitted with U-shaped corner lounges. There's another large rear-facing lounge against the cabin to starboard making the outdoor space an inviting entertaining area with a shower and a barbecue on the swimplatform.
Hatches open to a decent sized lazarette where poly fuel and water tanks let you know levels at a glance. A 9kVa Onan generator lives here and you can easily reach the engine for daily maintenance. (But for full engine access the rear section of the saloon sole lifts on hydraulic rams).
A wide stacker door gives the saloon an open-air feel that is supported by panels of opening windows, twin roof hatches and a Dutch door at the helm. Cherry timberwork and a teak-style laminate flooring mix with white moulded walls, cream roof inserts and cream Ultraleather upholstery for an enduring interior.
But for my money the outstanding feature on first glance inside the saloon are the twin Stidd chairs at the helm that just stab you in the eye with their serious presence. This is a boat for long voyages, not a homebound pretender.
A long U-shaped lounge surrounding a table is set to starboard and converts to a double bed. The galley opposite is built into a long Corian countertop and is handy to both the saloon and outside dining. Twin ceramic burners sit on top and a large Contour convection microwave is set below, while farther back is a big two-drawer Isotherm fridge, with more refrigeration in a freezer below the helm seats.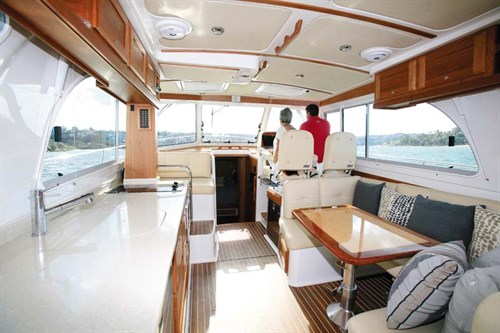 The raised mate's lounge has great views with room for two and across the companionway are those Stidd chairs beckoning for a full tank of fuel and a clear weather window. A brow shades two 16in Simrad NSS screens that can display engine information from the VesselView system, the GPS, sounder and a Simrad 49HT 24-mile radar as well as settings for the autopilot and sound system. A lower panel houses switches and trim tab controls along with a VesselView 7 screen that also feeds engine information from the 600hp Cummins QSC 8.3.
Stainless steel cupholders, a sturdy grab bar, a lockable glove box and heavy-duty flip-up footrests are conveniently located, and the EPIRB and fire extinguisher fixed to the side wall are in easy reach of the helm. A hatch in the helm floor lifts for walk-in access to a service area that doubles as a giant storage space and a great place for provisions on an extended trip.
The Dutch door opens out to the sidedeck where high siderails secure you on board. The non-slip decks are wide and handholds concealed under the hardtop are well-placed. Up front is seating on the cabin roof for a secluded spot at anchor or some fresh air underway, but you need to take a cushion. Twin hatches could store an impressive amount of chain and rope and the bowsprit has two rollers and a spot for the self-locating Ultra Anchor.
Cabins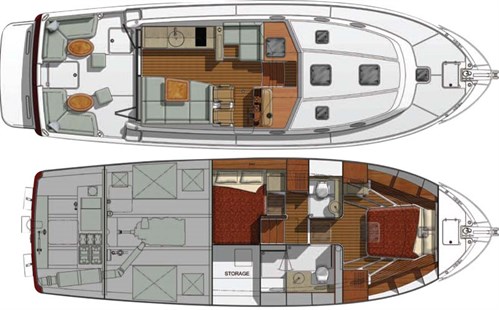 Tucked into the bow, the master cabin positions the raised queen bed over the centreline, with easy access via steps both sides and good headroom all-round. Strip cherry timber along the sides, a jaunty striped bedcover and nautically themed cushions create a boatie feel. Two big Lewmar hatches overhead and opening ports along the sides beam in plenty of light to prevent the cabin feeling too enclosed.
A cedar lined hanging locker is a nice touch and storage space is also found beneath the bed, in side tables, side lockers and a chest of drawers. This master cabin also has its own roomy en suite with separate shower, vanity with sink and great ventilation through a roof hatch as well as a side port.
Because the guest cabin is partly located under the saloon its roof has some unusual shapes where it takes on the form of the sidedeck, the mate's lounge and the saloon sole. The queen berth runs east-west, with maximum headroom against the hull. While this maximises space in the cabin it limits bed access to one side but allows storage options including a hanging locker and a table with large drawers.
On the water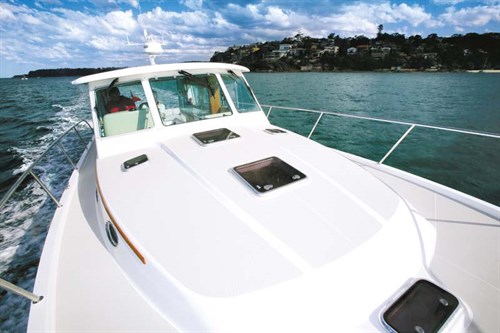 Before heading offshore with we navigated the Back Cove 41 upriver for photography around Bantry Bay and speed trials along the upper reaches of Middle Harbour. It was easy to get comfortable behind the wheel with the adjustable seating, while the raised position offers all-round vision.
Noise levels from the Cummins were surprisingly low and as we idled along in the no-wake zone one of the attributes of taking things easy became apparent. At 6kts we were consuming less than 4lt/h, which would have given a safe range of well over 2000nm from the 1500lt tank. At 1500rpm speed increased to 10kts in displacement mode with a range of more than 750nm and it wasn't until we hit planing speed at 13kts that fuel usage jumped to 40lt/h where destinations within 450nm were in reach. That's Sydney to the Gold Coast in one go.
WOT saw 26kts on the GPS and 3000rpm on the tacho but everything felt more pleasant at around 21kts where fuel burn is just under 100lt/h.
Pointing our nose through the heads we found a 1.5m swell and short 1m seas, which the Back Cove handled with ease. It was enough to put the Lectrotab automatic trim tabs to the test and they worked perfectly to keep us on an even keel with minimum roll even across the wind direction.
Back in port the thrusters locked us close into the dock as we tied off, proving that technology can make anyone look like an old hand.
Back Cove 41 price
Pricing for the Back Cove 41 starts at $895,000, or as tested with options it's $965,000.
HIGHS
• Conservative looks are enduring, not fashion conscious
• High-quality build and design
• Seaworthy ability
• Economical diesel engine and shaftdrive
LOWS
• Bed access in guest cabin may be annoying to some
Back Cove 41 sea trials
Single 600hp Cummins QSC8.3 marine diesel engines, with three people and half fuel and water.
| | | | |
| --- | --- | --- | --- |
| RPM | SPEED (KTS) | FUEL BURN (Lt/H) | RANGE (NM) |
| 800 | 6.3 | 4 | 2146 |
| 1000 | 9 | 8 | 1532 |
| 1500 | 10 | 18 | 756 |
| 2000 (planing) | 13 | 40 | 442 |
| 2250 | 16 | 55 | 396 |
| 2500 | 18.8 | 71 | 360 |
| 2750 | 22 | 100 | 299 |
| 3000 (WOT) | 26 | 120 | 295 |
* Range based on 10 per cent reserve. Sea-trial data supplied by the author
Back Cove 41 specs
PRICE AS TESTED
$POA
OPTIONS FITTED
Electronics, trim tabs, Ultraleather, radar and mast, awning and rail, bowthruster upgrade, and more
PRICED FROM
$1.1 million
GENERAL
MATERIAL GRP
TYPE Monohull
LENGTH 14.1m (overall)
BEAM 4.27m
DRAFT 1.14mm
WEIGHT 13,410kg
CAPACITIES
PEOPLE (NIGHT) 6
PEOPLE (DAY) 16
FUEL 1514lt
WATER 600lt
HOLDING TANK 206lt
ENGINE
MAKE/MODEL Cummins QSC8.3 marine diesel engine
TYPE Inline six-cylinder marine turbo-diesel engine
RATED HP 600
DISPLACEMENT 8.3lt
WEIGHT 896kg
GEAR RATIO 2.39:1
PROPELLER 28 x 31in four-blade
MORE INFORMATION
Back Cove New Zealand
1st floor, 121 Trafalgar Street,
Nelson, 7010
Phone +64 21 274 1850
Email james@backcove.co.nz
See the full version of this review in Trade-A-Boat #260, on sale November 26, 2015. Why not subscribe today?
Keep up to date with news from Trade-A-boat or like us on Facebook!