Reporting from the Malibu Boats 2016 launch
---
Malibu team rider Parker Siegele flying high.
The 2016 Malibu vessels were unveiled in a Pilatus Jets hangar, surrounded by luxury bling.
Tonnes of storage all around the 2016 Malibu 23 LSV. It has room for 14 friends.
Redesigned dash, new hull and fresh layout on the 2016 Axis A20.
Check out the new 12in electronics display on the Malibu Wakesetter 20 VTX.
Rear-facing camera on the MAlibu 23 LSV lets the driver know what's happening and adds safety when in reverse.
Check out what Malibu Boats revealed for Australia at its 2016 new-model launch.
Where skiboats and wakeboats were once a niche product, Malibu Boats has seen its market share grow in line with the popularity of watersports in Australasia.
This Australian skiboat manufacturer has led the charge Down Under and in New Zealand, courtesy of its local production facility in Albury, near the border of New South Wales. and the new-season range of Malibu ski and wake boats unveiled at this year's product launch seemed right at home among the collection of high-performance toys hidden in an aircraft hangar.
Front and centre in Albury was a stunning Malibu Wakesetter 23 LSV in lime green paint that was packed with all the latest options and later proved to be a helluva lot of fun on Lake Hume.
A new crossover model — the Malibu Wakesetter 20 VTX — was no less impressive in smart navy and white graphics and this model effortlessly straddles all three tow disciplines: ski, wake and surf.
For those with an eye for a more budget-orientated wakeboat, Malibu's Axis Wake A20 brings the bulk of the functionality at a reduced price, but with a fully redesigned hull, new layout and fresh dash to increase the appeal for buyers in 2016.
Malibu Boats in Australia
Before we looked over the new boats, Malibu's business operations manager Simon Hill walked the assembled dealers and media pack through the Albury production facility.
From a starting point of around four vessels per week when it opened in 1995, Malibu's weekly factory output peaked at 10 boats pre-GFC, but that number now sits around seven coming out the door every week. But, as you'll learn later, these modern boats are increasingly complex.
Without going into the full rundown from hull-glassing to water-testing, what stood out most was probably the exhaustive checking process undertaken as each boat moves along the production line. Most vessels are built to order, so few are exactly the same, with every buyer ticking different options. But seven independent Quality Control inspections from go-to-whoa ensures every Malibu owner receives the boat they were expecting.
New for Malibu Boats in 2016
There are a number of pretty cool innovations to look out for on the 2016-model Malibu boats, but the best is a 12in touchscreen that provides an easy-to-use graphic interface for controlling vessel systems.
A larger, more versatile Power Wedge II promises to pour out enormous wakes and waves to ride in combination with the Surf Gate and these can now be controlled by the rider, via the amazing Surf Band. Wait, what? Oh yeah – remote-controlled surf. The future has arrived!
Other clever tweaks include a horn to alert the rider when the driver is about to switch their wave to the other side of the boat; electronic sensors on the removable bungs so you always know if they're in or not; and a rear-facing camera to complement the overhead mirror (more on that later).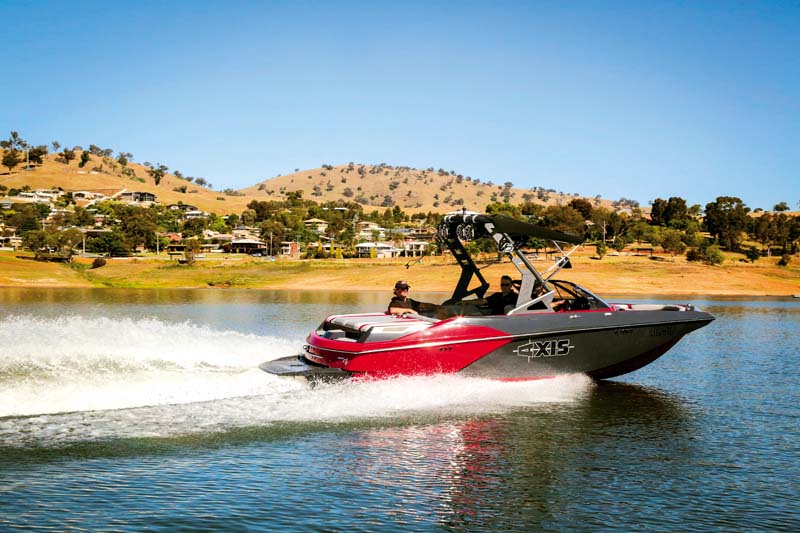 2016 Axis Wake A20 specs
Malibu Command centre
At the dash of the new-season Malibu 23 LSV and 20 VTX Wakesetters was Malibu's massive 12in control screen, alongside the slightly smaller 7in touchscreen.
All major operations can be accessed from the larger screen, with the smaller one likely to be used for navigation, lighting systems or stereo, depending on your preferences.
Sub-screens titled 'Depth', 'Ballast', 'Presets' and 'Media' give a good indication of the different ways this screen can be utilised. A rear-facing camera mounted just above the aft platform allows the driver to view the action easily and also check their surroundings while reversing.
To the left of the new touchscreen is an expandable phone cradle, dry-storage box with USB charger, and a clever analog control dial for fine-tuning the Surf Gate, Power Wedge II, boat speed and stereo. It's a smart safety feature that allows the skipper to control vital functions with one hand, without taking their eyes off the water.
Malibu Power Wedge II
The 2016 Power Wedge II is a hydraulic foil that boasts a 21 percent increase in surface area – equating to an additional 135kg of simulated ballast. This is in addition to the 600kg of available ballast housed in four hard-sided tanks within the hull. The Power Wedge II also gains a new upward angle that increases lift and gets a loaded boat onto the plane more quickly, while achieving its aim of pumping out a taller, longer wake.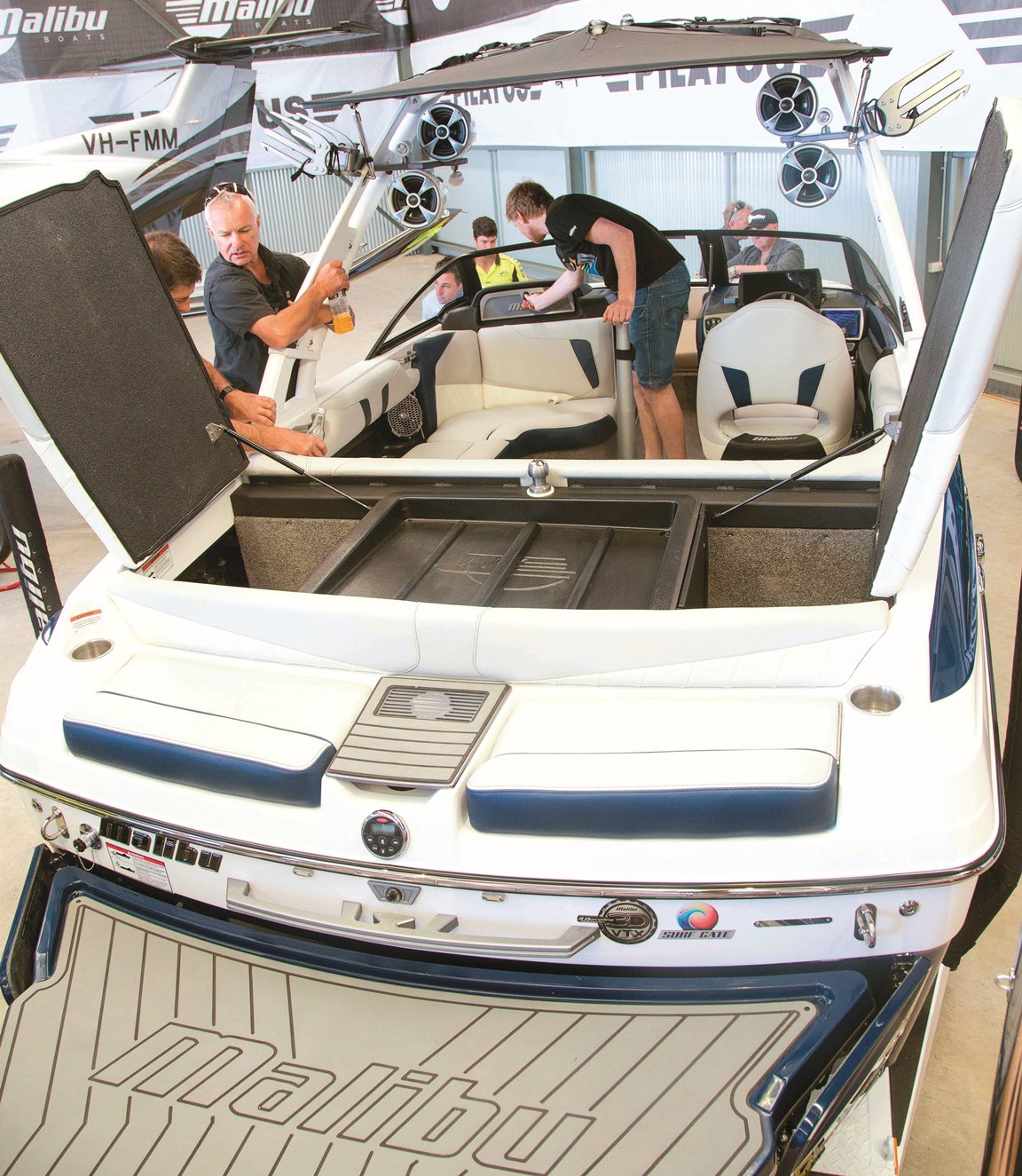 2016 Wakesetter 20 VTX
Surf Band
While not quite in the realm of hoverboards, the Surf Band is still some out-there tech. Change your wave, while you're surfing it? Heck yeh. The range is not far enough to suit wakeboarding (yet…) but for wakesurfers, yep – amazing.
The ability to adjust the Power Wedge, boat speed and which side you're riding on is no gimmick – it's genuinely revolutionary. Strap the buoyant, hi-viz Surf Band to your wrist and dial in every aspect of your wave, while Command Centre informs the driver what you're up to.
See the full version of this review in Trade-A-Boat #260, on sale November 26, 2015. Why not subscribe today?
Keep up to date with news from Trade-A-boat or like us on Facebook!