Review: Seafox 286 Commander
---
No expense was spared on this Sea Fox Boats 286 Commander, an imported American boat that embodies the very best there is in American centre consoles.
The imported American Seafox boats are making a fast name in Australia. It's not surprising, given they are a superbly designed fibreglass fishing boats in all areas. A prime example is the Seafox 286 Commander centre console which, after a full and serious day offshore of Mooloolaba on the Sunshine Coast, had it ranking high in five best centre consoles for the year.
Seafox centre console
It's as simple as this: you get centre consoles … and then you get the Seafox 286 Commander. This is a no-b******t, big boys' sportsfishing weapon loaded with the latest twin 300hp Evinrude E-TEC G2 outboard motors and fitted out with a top-of-the-range Simrad marine electronics package.
Named appropriately, the Seafox 286 Commander is a colossal sized 28.7-foot, 2.9m beam centre console designed to conquer and command the oceans. Sporting typical American boat lines, colours and layouts, the Seafox 286 Commander is a stunning looking boat from afar and up close, the type that gets a second and third look. Big beefy bow with smooth flowing sheer line adds to classic and refined aesthetics, along with a meticulously proportioned interior layout to please serious fisherman and family boaters alike.
Looks aside, the Seafox 286 Commander is all about game fishing and long offshore runs, while at the same time maintaining style and creature comforts to keep crew and family happy on board. It's by no means a small centre console and crammed with all sorts of innovative features it doesn't come across as a colossal-sized beast that's going to be difficult to manage on and off the water.
Layout and design
In typical American fashion the internal layout looks stylish and well-suited to sportsfishing, as well as boasting some really good design and placement of the numerous features — something that's not always that easy to achieve. Although sports gamefishing automatically comes to mind, I particularly liked the blend of seating aboard the 286: comfortable stern seats, captain and passenger seating, dual console seats up front, and adaptable bowrider styled seating which is always a win when family and friends are on board. On top of that, the flushable head built into the console will also appeal to mom or those spending long days on the water.
The Seafox 286 Commander is not short on features or sizeable ones at that either. A central high-volume livewell in the stern and another built into the bait station will have the livebaits sorted for the day – along with large dual flush-mount killtanks ready to be loaded with a feed of fish.
Tackle storage can be an issue on centre consoles but due to the size of the 286 and layout there is heaps of rod storage throughout, as well as some good tackle drawers mounted into the bait station behind the console, and plenty of space within the console itself.
---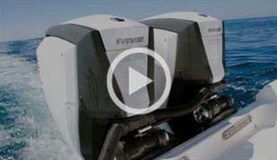 It's got twin 300hp E-TEC G2 outboards.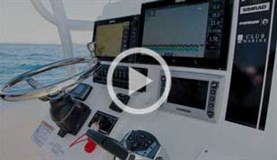 See this boat's killer Simrad setup.
---
Centre console setup
One of the top features for me was the console setup and how comfortable it was to drive standing or seated. With gamefishing the priority on the Seafox the dash is designed accordingly considering the abundance of space to spread electronics around – and this owner sure has with one of the biggest Simrad setups I've ever seen on a centre console.
The hardtop is also far from standard being well-insulated, and having a light blue underside it kept glare away and added to a cooler feel. It was also loaded with a bit of storage space, speaker mouldings and LED lighting, and even with the flick of a switch a cooling system through micro sprays.
Handling and ride
Getting down to performance business, well a twin setup of new Evinrude E-TEC G2 outboard motors quite obviously spells out some serious gumption and adrenalin rushes ahead. Not having tested the G2s yet, I had heard a few rumours from fellow journos about this boat and its performance, and man were they right. As for the Evinrude G2 300 outboard engines, well, unrivalled performance is their game and when knocking the digital throttle down on this beast, the Seafox 286 Commander bolts onto the plane and produces a top end of around 55 to 56kts.
The amazing thing is that the Seafox 286 Commander handles the speed ever so confidently, but you would need the equivalent flow of cash to match the fuel burn at that speed. Back down where civilised people drive, the Evinrude G2 marine engines purr at just over 4000rpm but still cruise effortlessly around the 30 to 35kt mark.
Obviously consumption is a concern to everyone nowadays, but realistically 600hp of any brand is going to add to the fuel bill. The Evinrude G2 outboard motors are rated as the most economical in their class of combustion outboards and driven at standard cruise speeds and low down on the troll, they are quite impressive when it comes to fuel burn.
The Trade-a-Boat verdict
The Seafox 286 Commander most certainly blows the scoreboard away in all areas. Designed and presented as a serious offshore gamefisher – it sure does that with ease. Designed as a high performer – it sure does that and more. The ride is quiet, soft, dry and easily handles rough conditions.
The finishes are impeccable, its combined layout suited to fishability and entertaining is well thought out, presented and ergonomic. As tested, the Seafox 286 Commander price is $265,000. It might sound a lot, but considering the package and what it can do I think it's plenty of boat with truckloads of features that make it good value for money, compared it to similar sized and styled imports that could knock you back double that.
HIGHS
• Quality finishes throughout
• Sportsfishing layout
• Long-range capability
• Superb performance
LOWS
• When it has so many highs it's difficult to find a low
Seafox 286 Commander specs
Seafox 286 Commander price: $A265,000
Price as tested
OPTIONS FITTED
Twin 300hp Evinrude E-TEC G2 outboard motors, Ultima hardtop, rocket launcher, spreader lights, Taco outriggers, electric toilet with holding tank, clip-in bow backrests and infill cushions, LED light package, gas shocks on fishbox lids, back-up battery pre-rigging, Simrad electronics, and US-built Magic Tilt trailer
PRICED FROM
$A200,686 w/ twin 250hp Yamaha four-stroke outboard engines
GENERAL
MATERIAL Vinylester resin fibreglass
TYPE Centre Console
LENGTH 8.75m
BEAM 2.9m
WEIGHT 2267kg (dry)
DEADRISE 21°
CAPACITIES
PEOPLE 12
REC. HP 400
REC. MAX HP 600
FUEL 757lt
WATER 65lt
ENGINE
MAKE/MODEL 2 x Evinrude G2 300 outboard motors
TYPE Direct injection V6 two-stroke outboard motors
RATED HP 300 (each)
DISPLACEMENT 3.4lt
WEIGHT 253kg
GEAR RATIO 1:85:1
PROPELLER 22 x 15in Viper
SUPPLIED BY
JSW Powersports
3 Ereton Drive,
Arundel, QLD, 4214, Australia
Phone +617 55 29 2616
Email sales@seafoxboats.com.au
See the full version of this review in Trade-A-Boat #260, on sale November 26, 2015. Why not subscribe today?
Keep up to date with news from Trade-A-boat or like us on Facebook!