Amazing Simrad electronics package + American Seafox 286 centre console
---
Check out this amazing Simrad marine electronics package worth almost $A30,000, fitted to a Seafox 286 Commander centre console that we recently tested.
We recently reviewed a 286 Commander centre console from American manufacturer, Seafox Boats. An imported American boat, the package was delivered by JSW Powersports, from Arundel, on the Gold Coast.
Our review Seafox 286 Commander centre console was more than just a show boat — it's made for serious sportfishing — and so the JSW Powersports crew put some serious thought into the boat's electronics package.
Premium Simrad electronics
The JSW Powersports crew know their stuff. They're big into offshore gamefishing, so the Seafox 286 Commander was meticulously loading the boat up with a Simrad package to suit off-the-shelf fishing and long-range offshore trips.
The Simrad marine electronics package looks like a professional pieces of gear, having a nice slimline and large flatscreen design. To suit sportsfishing the Seafox 286 Commander was loaded with a Simrad NSS12 combo unit, featuring a 12in chartplotter multifunction display with inbuilt marine GPS positioning, StructureScan fishfinder, CHIRP-enabled broadband sonar for deeper and higher definition sounding, and powerful expansion capabilities.
---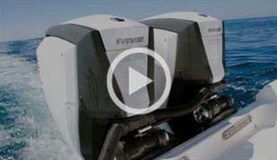 It's got twin 300hp E-TEC G2 outboards.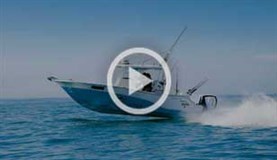 See the Sea Fox 286 Commander in action.
---
The main unit on the Seafox 286 Commander is the larger top-of-the-range Simrad MO16-T, a massive 15.6in-wide touchscreen that maximises view while minimising dash space. Functions include a 1000nits sunlight viewable screen, HDMI, DVI and Composite inputs allowing for a variety of installations and applications, designed for use in NSO evo2 installations and equally suited for third party monitoring applications, on-glass menu keys for easy set-up and configuration, and more when connected to the NSO evo2 marine processor.
To boost the system and functionality they added the Simrad NSO evo2 Marine Processor Unit which changes the operation, functionality and speed of the units significantly – offering a distributed MFD system for integrated charting, sounding, radar, Simrad autopilot, and entertainment. As well the NSO evo2 offers dual high-definition video outputs, a lightning-fast quad-core processor, and provides a faster response in both single and dual-display installations.
An interesting and smart add-on to this system is the OP40 Wired Remote. This was positioned on a ram-mount between the seats and enabled full control of the units and vessel. While setting the spread for marlin, the skipper has full control of the vessel and all electronics without having to keep going back to the console to change or check data.
To enhance the Seafox 286 Commander further, a Simrad 4G Broadband Radar was added, as well as broadband Sounder Module (BSM-3) with Airmar 20-degree Low CHIRP, B175H-W/20 bronze 20-degree, a StructureScan HD skimmer transom mount transducer, autopilot, GoFree WIFI-1 wireless module, VHF radio and it's all networked together to give you one hell of a system that takes care of navigational safety and totally takes sounding and finding fish to a new level.
As technical and scary as it may sound, all these fancy add-ons not only enhance the operating functions of the system in deeper water, but also make it quite the user-friendly system. For deep water high-quality sounding and resolution, as well as long range over the horizon, this is a system that takes care of that with ease.
Simrad electronics specs
Simrad marine electronics price: $A28,165.55
NSO evo2 Marine Processor $A5795.45
MO16-T Monitor $A4499.09
NSS12 evo2 Multifunction Display $A4090
OP40 Wired Remote Controller $A549
4G Broadband Simrad Radar $A2271.82
BSM-3 Broadband Sounder Module $A2271.82
StructureScan HD Skimmer Transom Mount Transducer $A271.82
Airmar 20 degree Low CHIRP B175L-20 $A1519.80
B175H-W/20 Bronze 20 degree $A1648.90
VRF Autopilot Pack $A1852.50
RPU80 Hydraulic Steering Pump $A1034.55
RS35 Simrad VHF Marine Radio $A454
GoFree WIFI-1 Wireless Module $A226.36
GS25 marine GPS Antenna $A271.82
NEP-2 Network Expansion Port $A354
Ethernet cable yellow 5-pin 1.8m $A72.72
Micro-C female to SimNet 1m NMEA 2000 cable $A432
NSO evo2 HDMI monitor video cable 3m $A21.90
Navico 1770 VHF antenna $A132
Navico 1815 VHF antenna mount $A72
RS35 sun cover $A25
SimNet Starter Kit-1 $A182
SimNet cable 0.3m $A52
SimNet 7-prong multi-joiner $A65
MORE INFORMATION
JSW Powersports
3 Ereton Drive,
Arundel, QLD, 4214, Australia
Phone +617 55 29 2616
Email sales@seafoxboats.com.au
See the full version of this review in Trade-A-Boat #260, on sale November 26, 2015. Why not subscribe today?
Keep up to date with news from Trade-A-boat or like us on Facebook!