Review: Twin 300hp Evinrude E-TEC G2 outboard motors
---
Check out the twin 300hp Evinrude E-TEC G2 outboard motors powering this amazing American Seafox 286 Commander centre console.
I recently reviewed an American Seafox 286 Commander centre console. A premium gamefishing boat, it was powered by a twin 300hp Evinrude E-TEC G2 outboard motor setup.
Twin 300hp Evinrude E-TEC G2 engines
It's no surprise that BRP has produced an outboard (the new-generation Evinrude E-TEC G2) that's lightyears ahead of the competition. I've had the privilege of seeing it all firsthand – visiting the design centre in Valcourt (Quebec) and learning how technical and amazing BRP Evinrdue outboard motors actually are.
The latest editions to this futuristic outboard brand are the E-TEC G2 marine engines, from 200 to 300hp. Our review boat, a Seafox 286 Commander centre console, was matched with a twin setup of G2 300s — and well-matched is an understatement.
---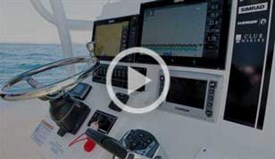 See this boat's killer Simrad setup.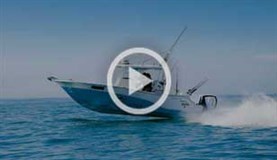 See the Sea Fox 286 Commander in action.
---
New look cowling
The big hype with the new Evinrude G2 engines are the looks to start with — you either love them or not. I would call the design space age, with some interesting lines to the cowling that I don't mind at all. Unlike standard outboard motors, the Evinrdue E-TEC G2 come in a very cool assortment of colour and graphic choices to customise the bling of your boat even more. In this instance, it was white with black to suit the Seafox 286 Commander.
Dual Axis Rigging (DAR)
A noticeable change to the E-TEC outboards is the clean rigging on the transom. There are no visible hydraulic lines or twisted cables and cable-ties hold everything together. Rather, it has a compact, centred rigging that's slimline and ever so neat.
BRP's innovation with the new Dual Axis Rigging (DAR) combines it all into one, with an integrated hydraulic steering and trim system – the dynamic power steering uses hydraulic actuators instead of a ram and drag link system. This system provides electronic speed-sensitive steering with three levels of adjustment to customise boat steering performance – and it makes a massive difference to the ease and smoothness at the wheel.
DAR also controls the boats trim system and offers a nifty feature called i-Trim. This automatically trims the engine based on rpm in order to optimise the experience for the boater, creating a better ride and better economy.
Digital throttles
A decent control system is in place to suit the outboard motors with integrated digital shift and throttle controls. Twin throttles that snugly fit into the palm of your hands along with synchronised single or dual-throttle select options, make operating so easy and responsive and just a pleasure to drive.
Gearbox
The new gearbox legs are designed to be more streamlined in the water, with BRP Evinrude managing to also incorporate a larger gear set and electronic shift mechanism. Larger gears and bearings give increased durability and allow for larger props, and of course more thrust out of the hole.
ICON Touch digital display
The Evinrude G2 outboards now have an amazing digital engine management gauge called the ICON Touch. Available in 4.3 or 7in full colour, it looks the part, is user-friendly and has a heap of innovative and advanced engine functions to keep you in the know when it comes to anything to do with the motors and controls.
Outboard performance
The new Evinrude E-TEC G2s are a force to be reckoned with when it comes to performance. Unlike other manufacturers following and keeping up with four-stroke trends, BRP has stuck with its advanced and reliable two-stroke outboard motor technology — and has once again produced an outboard masterpiece.
By reconfiguring the block, BRP has managed to maximise combustion, reduce fuel consumption and lower emissions even further in the 3.4lt V6 outboard.
This normally aspirated 300hp outboard revs to 6000 and turns a reduction gear-case at 1.85:1 ratio that not only produces some lightning holeshot but also some gale-force top end. Around 55kts WOT on a 28-foot Seafox with twin 300s says it all.
Servicing & warranty
From new, the Evinrude G2 runs for 500 hours straight before the scheduled dealer maintenance — if that isn't confidence then I don't what is. Only thing you change is the easy to get to spin-off fuel filter, and top up the oil. The warranty is five-year non-declining / five-year corrosion.
The Trade-a-Boat verdict
Better performance, better design, better lifetime value and better for the environment having the lowest reportable emissions and best fuel efficiency of any combustion outboard is claimed on the new Evinrude E-TEC G2 motors. After a full day testing offshore I can personally claim that they do have unrivalled performance, and the efficiency is pretty impressive at troll speeds and on the long-range hauls – considering it was twin 300hp marine engines.
Yes they are a bit louder than four-strokes but definitely nothing close to the old technology from yesteryear that's still out there, and even at high revs I still found it more of a pleasant sound than annoyance. Weighing in at 253 to 265kg depending on leg size, they are definitely not mammoths on the transom and are overall well-suited to trailer and non-trailer boats of various sizes.
Sea trials: twin 300hp Evinrude E-TEC G2 outboards
Twin 300hp Evinrude E-TEC G2 outboards (range calculated leaving 10% fuel remaining).
| | | | |
| --- | --- | --- | --- |
| RPM | SPEED (KTS) | FUEL BURN (LT/H) | RANGE (NM) |
| 2000 | 10.9 | n/a | n/a |
| 3000 | 26 | n/a | n/a |
| 3250 | 31.5 | 52 | 412.7 |
| 4000 | 40 | 78 | 349.4 |
| 5700 | 44 | n/a | n/a |
| 5800 (WOT) | 56 | n/a | n/a |
* Fuel-burn combined for both engines. Sea-trial data supplied by the author.
See the full version of this review in Trade-A-Boat #260, on sale November 26, 2015. Why not subscribe today?
Keep up to date with news from Trade-A-boat or like us on Facebook!