Review: Cresta 70
---
The comeback boat for Cresta Motor Yachts is no sportsfisher, but fans will nonetheless note that some key elements remain on the Cresta 70.
Wandering through Marina Mirage on the Gold Coast, it was no surprise to find the luxurious Cresta 70 motoryacht parked up right in the middle of the action.
This little slice of the good life is where Queensland's glamour set enjoy a waterside showcase of all that glitters, amid imported sports cars and designer boutiques. So the sleek new Cresta with its look-at-me red hull and commanding presence seemed a natural fit among the harbourside opulence.
Cresta 70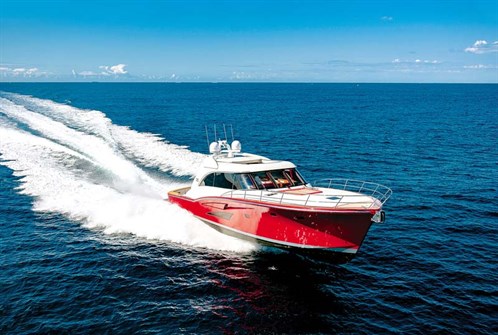 If the Cresta 70's bright red hull wasn't already polarising enough (personally I think it's terrific), then get ready for another shock. Underneath this smooth stunner, there are three, count 'em – three – marine diesel engines. And they're Volvo IPS drives. Pods!
Notably though, they're not the first or second-generation IPS (Integrated Propulsion System) that were beset with teething issues. These are latest version – Volvo Penta IPS-3 1200s, packing 900hp. And that would be 900hp each, so we're talking 2700hp of unadulterated oomph here.
The triple engine installation was a significant leap of faith. There are currently only a handful of vessels boasting that same powerplant and none in the southern hemisphere, so it was a gamble on both the parts of the boatbuilder and engine company to go with triple IPS on the Cresta.
Now, the installation of Volvo IPS systems on any new yacht will surely scare off a few shaftdrive diehards, but the Cresta team has its sights set firmly on the future. And it was this mindset that fuelled the final decision regarding propulsion.
Handling and ride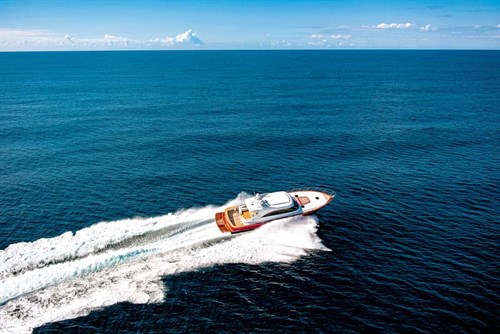 The 5000lt fuel tanks on the Cresta 70 give a range of over 400nm at a speedy 20kts, including a 10 per cent safety reserve. But boating isn't all about economy.
This was made evident on our sea trial, as captain Joe Akacich eased the Cresta out of her tight berth with inches to spare – no bowthruster required, even on a 22m yacht.
Volvo's IPS also delivers scorching top speeds approaching 40kts, reduced engine noise and unmatched dockside manoeuvrability.
As we rolled through the Broadwater restricted speed zone, I wandered to the bow and admired the stunning level of finish. Gleaming teak caprails lead forward from amidships along wide side decks to dual sunpads at the bow – perfect for relaxing on anchor.
The Gold Coast delivered one of those perfect spring days that make you question living in Victoria, but which is not necessarily ideal for testing the limits of boats. So we did what we could.
After Joe demonstrated a few high-speed turns at Wide Open Throttle, I was intrigued, and took the wheel myself. But something wasn't right. It didn't feel like it should.
As I ploughed 50-odd-tons of yacht into a full lock turn at 36kts, the Cresta simply did not behave as a 70ft boat ought to. There was a bit of heel, but not even enough to warrant grabbing a handhold. Any G-force exerted on passengers seemed to thrust downward through the keel, rather than throwing you onto the nearest couch.
Most impressively, there was barely any reduction in speed, the Cresta easing back to 32kts and holding it throughout our extended arc.
Out of the turn, back up to speed and the Cresta continued her effortless march toward the horizon. To paraphrase one James Bond, I was stirred, but not shaken.
So why was this so? How is it that a prototype yacht can deliver such exacting (and thrilling) performance in just its first edition?
Much of this answer lies with the Cresta team and their obsessive quest for perfection on this relaunch into the market.
More so than shaftdrive boats, vessels employing IPS propulsion are incredibly sensitive to weight distribution, which is why Cresta chose to build their comeback boat on compression load cells.
These help survey the vessel's changing centre of gravity during the build. The result? Volvo's confidence in the project increased, but more importantly, they were able to track the progress of this unusual mission from start to finish.
This isn't to say a Cresta with "traditional" propulsion is completely off the table. The spec sheet lists various twin shaftdrive configurations as options, employing engines such as MAN V8 marine diesel engines through to CAT 23 ACERTS (1935hp each).
Cresta 70 layout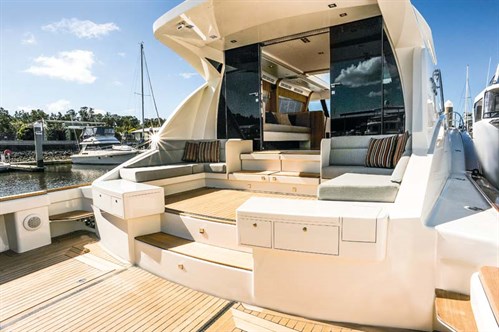 Looking around the aft cockpit of the Cresta 70, it's easy to imagine how different clients might option up their Cresta 70. For some, the wide lower deck will surely scream "game chair" but it's also a great space for hosting lively gatherings. Dancefloor, perhaps?
The sportsfishing heritage of these boats is evident in the relatively low freeboard and wide, unclutterered gunwales, but on this vessel it simply translates to neat, minimal design.
Early Cresta boats such as the 56ft Classic were chiefly gamefishing boats and featured a high, pronounced bow – the classic Carolina flare – for a dry, chop-busting ride.
As the years went by, this pronounced sheerline arc became something of a Cresta trademark and they were one of the few Aussie builders incorporating this tried-and-tested Carolina flare into motoryachts over 40ft.
Forward 50 years and it's still there. Or rather, the flare has returned. Looking at the Cresta 70, it's plain to see the legacy of this proud Aussie brand, albeit in a very modern package.
Saloon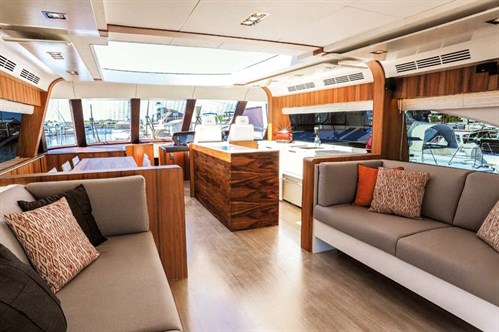 The saloon and galley is a fabulously long, inviting space reached through the rear sliding doors.
The use of Tasmanian blackwood timber is outstanding and works to set this yacht apart from the crowd with its unique mix of dark and light grain. Most spectacular is the chunky dining table to port which can comfortably sit eight for a long lunch.
Cabinetry and fittings are all square, modern angles with enough curves slotted in overhead and at the helm to soften the look.
Slick white leather helm chairs by Navigator also contribute to a very modern feel. That beautiful Tassie timber continues downstairs in the accommodation, where it contrasts attractively with textured fabrics behind the master bed and elsewhere.
Cabins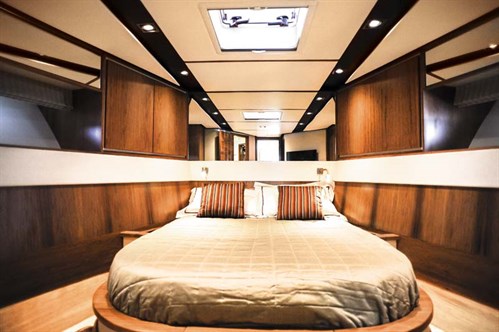 The master itself stretches across the yacht's full beam as you'd expect, but what you might not have seen before is a full-beam bathroom.
Twin doors grant access from either side of the cabin and the bathroom unveils not just his-n-hers basins, but two toilets as well. The large central shower with its arresting mosaic tiles can be accessed from either side – a really clever piece of design.
Forward from the master (and past the wine fridge in the stairwell) is plenty of guest accommodation.
On port is a large single which could also serve as crew accommodation, although this cabin does share a shower with the starboard twin. Depends how well you know your captain, I suppose…
The twin beds can be joined to create another double and this cabin has its own ensuite.
Right in the bow is the VIP suite, with island bed, hatch overhead and twin portlights, plus another roomy ensuite. It's a lot of sleeping space for a 70-footer, especially when you add on the dedicated crew cabin down aft.
The Trade-a-Boat verdict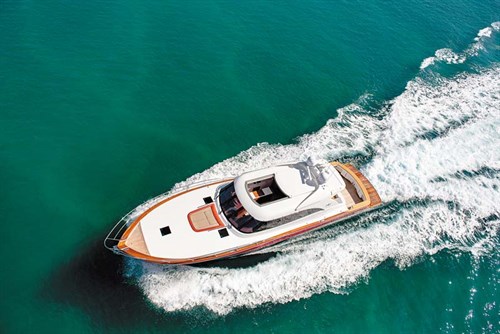 Is the Cresta 70 any good? Or is it just a shiny toy for showing off in?
I'd say it's both. This is a super high-end product that will appeal to a limited, very-affluent sector of the Aussie market, but for those with the cash, it's one helluva luxury yacht.
The sleek looks and blistering top speeds are probably more likely to appeal in markets like the Middle East or Asia where bluewater capability takes a backseat to appeal.
But that's not to diminish the Cresta's build quality. Through painstaking design, Cresta yachts has delivered a stunning product that looks great and rides incredibly well, and done it using an unorthodox propulsion system.
HIGHS
• That ride!
• Innovative engine setup
• Firey hull colour
• Tassie blackwood interior
• Skylight
LOWS
•Lazarette storage is reduced if you opt for a crew cabin
Cresta 70 sea trials
Triple 900hp Volvo IPS-3 1200 marien diesel engines with five people on board and 60% tankage.
| | | | |
| --- | --- | --- | --- |
| RPM | SPEED (kts) | fuel burn (lt/hr) | RANGE (nm) |
| 1400 | 15 | 165 | 409 |
| 1500 | 17.7 | 190 | 419 |
| 1600 | 20 | 217 | 414 |
| 1800 | 25 | 300 | 375 |
| 2000 | 27.5 | 373 | 331 |
| 2300 | 36 (WOT) | 500 | 324 |
* Range based on 10 per cent reserve. Fuel burn figures are combined for all three engines. Fuel figures supplied by author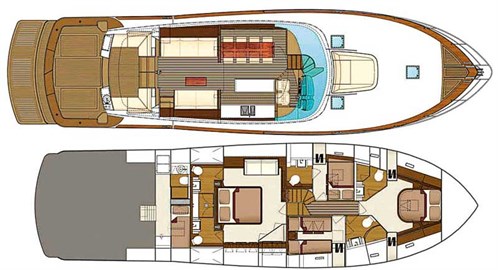 Cresta 70 specs
Cresta 70 price: $A3.95 million
Priced from
GENERAL
MATERIAL Fibreglass
TYPE Planing monohull luxury motor yacht
LENGTH 22.3m
BEAM 5.76m
DRAFT 1.69m
WEIGHT 42,551kg (dry)
CAPACITIES
PEOPLE (NIGHT) 8
FUEL 5000lt
WATER 800lt
ENGINE
MAKE/MODEL 3x Volvo Penta IPS-3
TYPE Six cylinder turbo-diesel pod drive marine engine
RATED HP 900 (each)
DISPLACEMENT 12.8lt
PROPELLERS Counter-rotating Q5 propellers
MANUFACTURED BY
Cresta Motoryachts
1 Boatworks Dr, Coomera, QLD
Phone +61 7 5573 0174
Email info@crestamotoryachts.com
See the full version of this review in Trade-A-Boat #261, on sale December 28, 2015. Why not subscribe today?
Keep up to date with news from Trade-A-boat or like us on Facebook!