Review: Fish City FC 675HT
---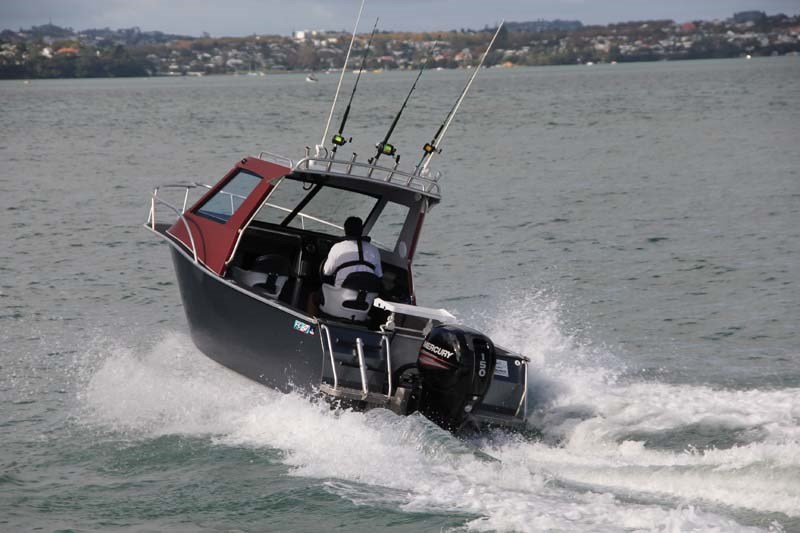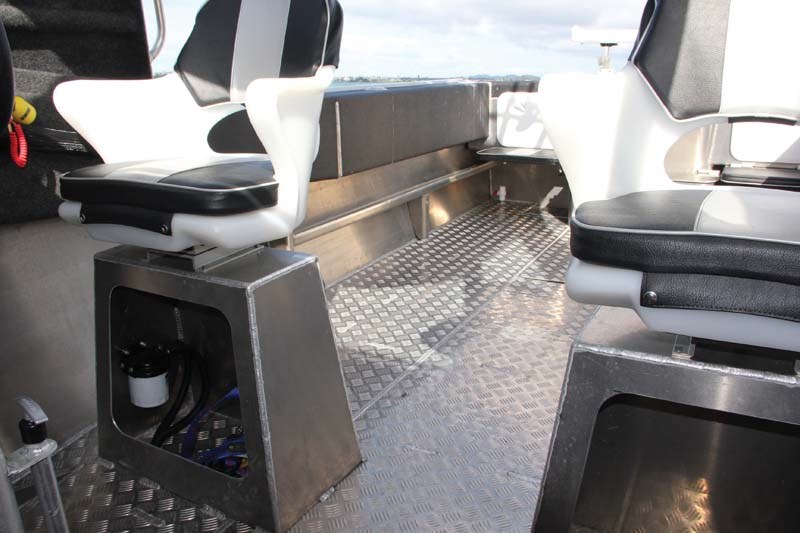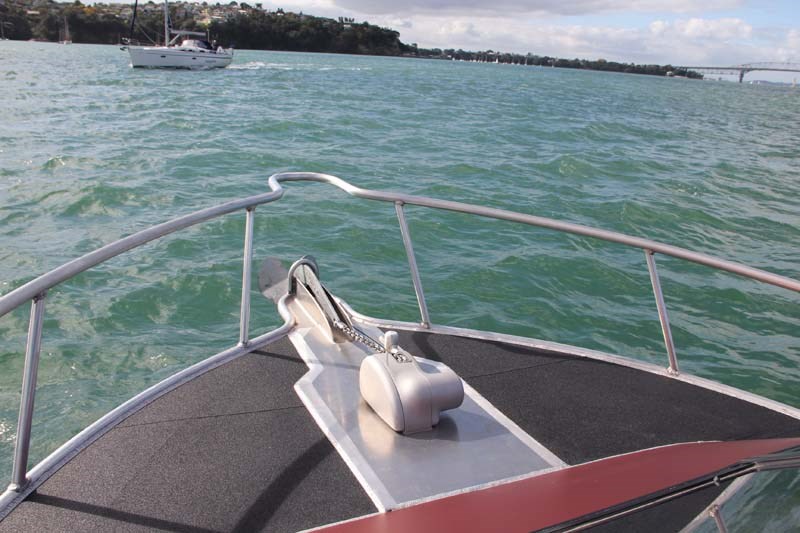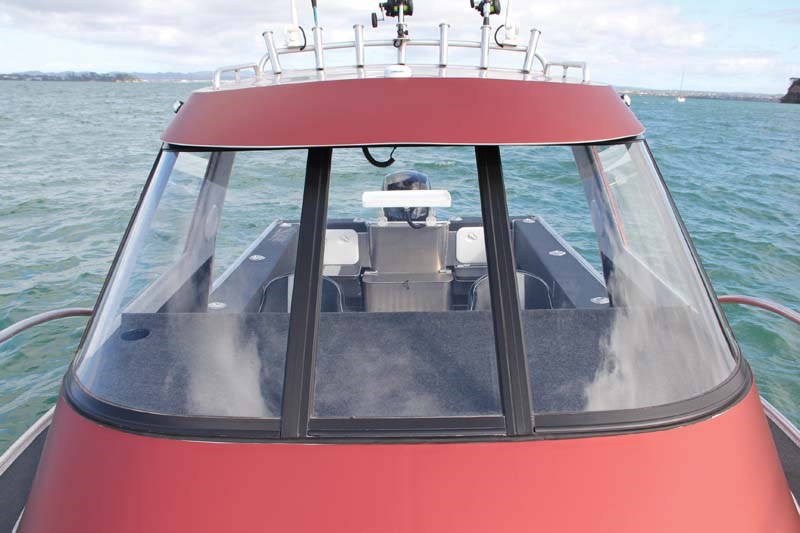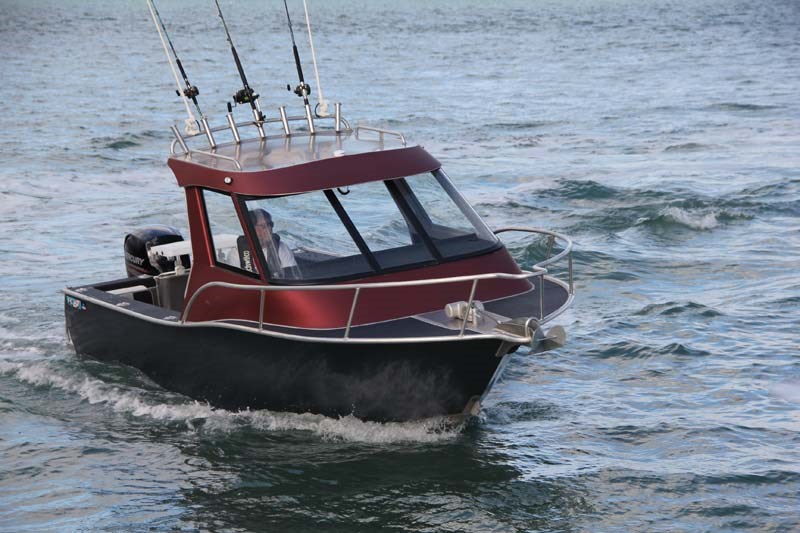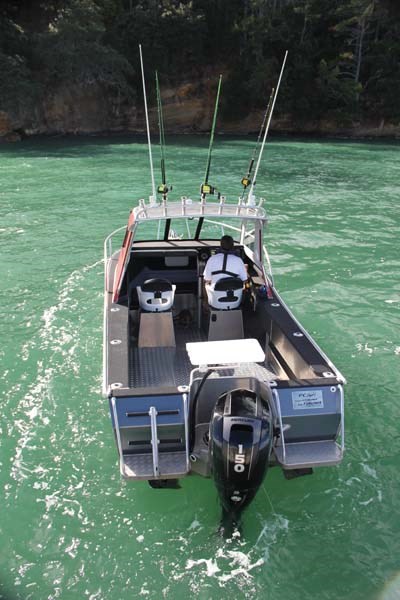 Fish City began with small fishing boats built to a price. Now the Fish City boats range is growing and lengths are increasing. The Fish City FC 675HT represents the latest development and provides everything the aspiring fisherman or family runabout needs in basic form and to a competitive price.
The Fish City FC 675HT is the latest in the expanding Fish City Boats line-up of hardtop designs. It is a pragmatic design solution that draws on the respective skills and experiences of the boat's co-developers.
Fish City Boats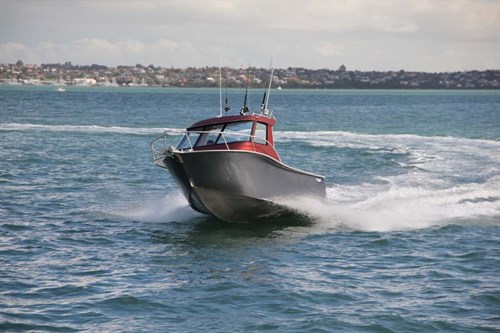 The concept for the new Fish City FC 675HT (Hardtop) is that of Fish City managing director Ross Christensen and reflects his 20 years of experience in offshore powerboat racing and career in retail aluminium boat sales.
Christensen's ideas have been refined and blueprinted by Tauranga's Alloy Cats principal designer Kim Bertelsen who is well regarded for his Kingfisher-branded trailerboat designs. The outcome is a hardtop design that introduces a number of unique and innovative features, albeit in a largely conventional hull shape that has been carefully scrutinised and signed off as fit-for-purpose by one of New Zealand's foremost aluminium boat designers.
The most notable features of the new Fish City FC 675HT are the exaggerated gunwales up forward, creating what Fish City Boats describes as a 'casting deck' and a hybrid build process that utilises both pontoon and conventional alloy hull construction methods.
The result is a boat that carries additional reserve buoyancy in sealed pontoon-style cockpit coamings within a conventional deep-vee hull with turned-down running surfaces culminating in a moderate 19° transom deadrise.
The Fish City FC 675HT's aesthetics are not dissimilar to a small planing launch and share the launch-like characteristics of topside flare, full forward sections and a variable sheer that steps up amidships to increase hardtop and cuddy volume. While the FC 675HT won't appeal to everyone's eye, the design has practical attributes, and these will become apparent when running before steep seas where topsides flare and increased buoyancy can greatly reduce the risk of broaching.
The new Fish City FC 675HT was only released at last month's Hutchwilco New Zealand Boat Show but it signals Fish City Boats' intention to continue developing its model range to meet the competing requirements of the recreational market.
Less than four years in production, Fish City Boats' aggressive pricing and initial focus on entry-level models has been highly successful and created a solid platform and reputation on which to build.
Christensen says the new model is a step up on the Fish City FC 597 and FC 610 hardtop models and encapsulates a number of incremental design changes driven by customer feedback over the last few years.
"We've taken this feedback onboard. Some of the changes are subtle, but collectively they add up to a better boat and we're confident the new FC 675HT will establish itself as a robust and proven offshore performer," he said.
Ballast tank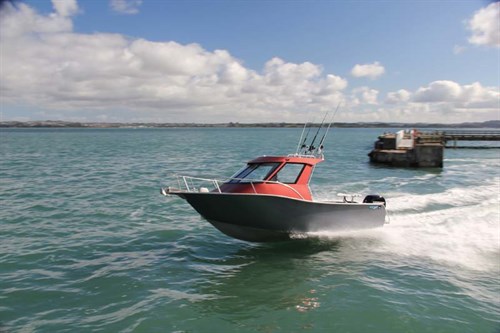 At 2000kg the FC 675HT is not excessively heavy yet the boat is solidly constructed from 5mm hull and 4mm topside aluminium plate, and like its predecessors carries the external flooding keel and Fish City's unique internal ballast tank system.
While I'm yet to be convinced of the value of flooding keels in trailerboats, they're now pretty much a standard feature. However Fish City's development of an internal ballast tank is a first in trailerboat design, as far as I'm aware. The concept of water ballast is well proved, and depending on weight and location it can be an effective method for dampening pitch and roll and generally helping to settle a boat down in boisterous conditions.
Fish City Boats locates the ballast tank under the cockpit sole, forward of amidships and well away from the ends where additional weight can create instability. By placing the tank in the central forward section of the sole it effectively dampens the hull's propensity to lift or roll excessively.
In difficult conditions running with a full ballast tank will improve handling and inspire confidence, but knowing when and how much ballast to take on board and then how best to trim the boat for the additional weight will require practice. Remember, the ballast tank is not principally designed to improve stability at rest though it might do so in some conditions. This is the job of the self-flooding keel cavity.
Operation of the ballast system is as simple as activating a manual plunge rod that seals the tank and there is a small sight glass in the cockpit sole to indicate the ballast level within the tank. A breather is plumbed into the anchor locker to ensure the tank fills and empties rapidly.
Christensen says ballast is successfully used in offshore power boat racing.
"The FC's ballast system is not a gimmick. They're very effective and our customers use them in a variety of conditions. The design of our system has evolved to a point that we're now satisfied we've got it right," he said.
Fishability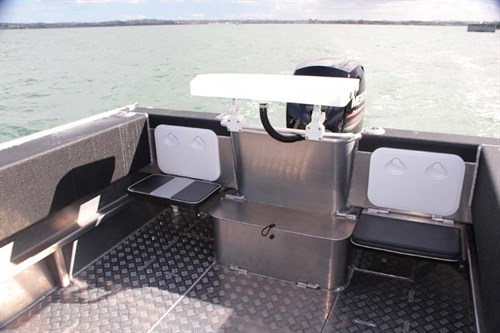 The Fish City FC 675HT is first and foremost a fishing platform but not to the point of excluding general family boating. As the first of the new model, the demonstrator is basic, but has everything you need to get started.
As a fishing boat there's no shortage of rodholders between the eight welded into the coamings and the seven in the overhead rocket launcher. The cockpit is equipped with a pair of deep well-braced cockpit shelves each side. These provide adequate toe-kick while the solid checkerplate cockpit sole provides a solid working platform underfoot. Tubular rubber matting is an option.
The foam-filled and sealed box coamings are a secure 750mm off the sole and are wide and comfortable. The coaming's non-skid surface provides plenty of grip and a safe passage forward and when getting on and off the boat.
While you won't find a transom walk-through, you will appreciate the solid aluminium jump seats in the aft corners that fold down to create additional seating while underway. The boat's batteries and switches are well secured and located high off the sole in separate sealed transom lockers. Across the back of the transom is a small but useful split boarding platform with a fold down T-shape boarding ladder on the port side. This is flanked with useful handholds on both sides.
There is a reasonably large 'passive' livebait tank centrally mounted in the rear of the cockpit. This is fitted with a simple, hinged aluminium lid. In standard trim the tank fills from a pickup below the waterline and is fitted with a removable bung.
Above the tank you'll find a simple plastic baitboard mounted on a single aluminium rail. The baitboard's location requires it to be folded inboard when raising the outboard but the chances are you'll want to fit something larger and a bit more robust for serious fishing.
The Fish City FC 675HT has two electric bilge pumps mounted either side of the bait tank and these in turn are covered with aluminium plate to prevent debris clogging the pumps. Forward of this is the under-floor killtank. This is suitably large for the boat and will easily accommodate dive tanks and gear.
Fish City has intentionally kept the demo boat spec to a minimum but the FC 675HT's options list is extensive. If your primary application is fishing you'll want a circulating pump for the bait tank, tuna tubes and a washdown pump – all tick-box factory selections.
Cabin and interior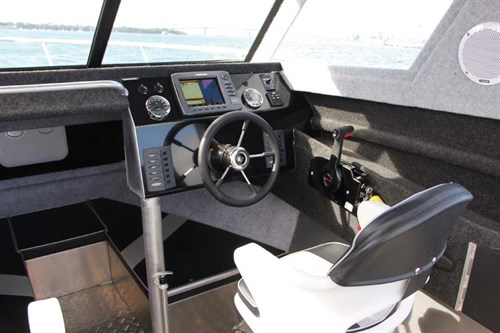 Moving under the hardtop you'll be impressed by the simple yet effective ergonomic layout of this boat. There's no clutter and nothing to rattle free. The aluminium box seats provide a useful amount of dry storage without taking up a disproportionate amount of cockpit space.
The helm station is set into a quarter bulkhead with just enough surface area to accommodate an 8in plotter. Additional large-screen instruments could be mounted on the carpeted dash. Cuddy access is open and the cabin itself is small yet functional. While you wouldn't look to overnight on this boat, there's plenty of room for personal gear up front.
The standard of finish and trim is good and all hardtop surfaces are lined to create a cosy semi-enclosed environment. The curved glass windscreen and acrylic side windows offer good visibility and protection, and importantly are solid welded hand and foot rails where you need them.Overhead you'll find the VHF radio and stereo head unit enclosed in a roof cavity and there's space for additional instruments if required.
The cuddy is not fitted with an overhead deck hatch, which means having to walk around the deck to get to the anchor but this is no real hardship given the boat's broad gunwales and wide, flat foredeck. And, of course, the Maxwell windlass is remotely operated from the cockpit.
The standard electronics fitted to the demonstrator include a Lowrance HDS-8 sounder-plotter, dual 12V socket outlets, remote up/down Maxwell windlass control, digital/analogue Mercury engine instruments and a double gang of six contoured 12V breakers.
Handling and ride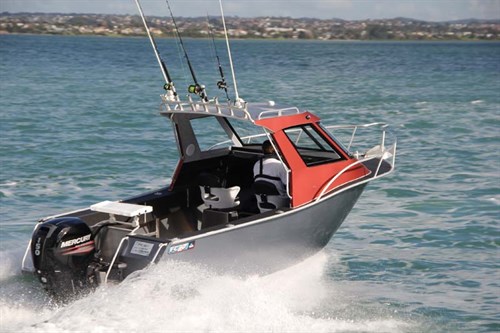 While rated for up to 200hp, the 150hp Mercury four-stroke outboard fitted to the demonstrator is a very comfortable fit, delivering ample thrust to get the boat out of the hole and onto the plane while delivering a spirited top-end performance.
Fitted with a 15in four-blade stainless prop the FC 675HT is good for about 34kts at WOT, but importantly it's economical and comfortable at mid-range revs which will have you skipping along at 25kts.
It will take some practice getting to grips with the trim tabs, and being a hardtop the 675 is sensitive to trim,
but when everything is dialled in the boat is well mannered and a willing performer.
Onboard, the ride is acceptably quiet with no sign of annoying harmonics and the hull feels well bonded to the sea. The hydraulic steering is positive and firm and the outboard remote is comfortably located.
I did note a tendency for the 675HT to ride a little bow-up at trolling speed with reduced visibility forward, but this comes right with power on and trim down. This might suggest the outboard setup needs some tweaking. But regardless the FC 675HT has all the hallmarks of a willing and capable boat and one that fits its primary brief as an affordable all-seasons fishing platform.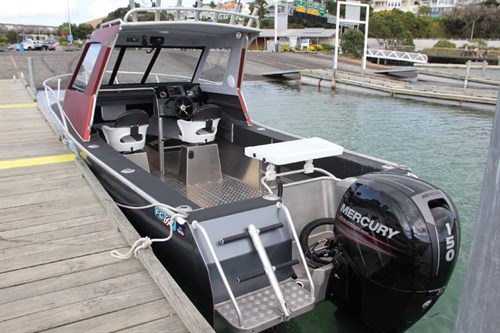 The Fish City FC 675HT is smart and stylish on the exterior with its wrapped hull and hardtop, and it's comfortable and practical on the inside. It is big enough to fish out wide and yet light enough to be manageable and easily towed from tournament to tournament with a standard four-wheel drive.
Bottom line – would I want one? You bet! 
HIGHS
• Innovative design and features
• Ergonomic layout and good fishibility
• Robust construction
• Ease of towing
LOWS
• Few frills
• No transom walk-through
Fish City FC 675HT specs
Fish City FC 675HT price: $89,995
Price as tested
PRICED FROM
$74,995
GENERAL
MATERIAL Aluminium: 5mm hull, 4mm topsides
TYPE Monohull
LENGTH 6.75m
BEAM 2.5m
DRAFT 550mm
WEIGHT 1988kg (BMT)
DEADRISE 19°
CAPACITIES
PEOPLE TBA
REC. HP RANGE 150 to 200
FUEL 200lt
ENGINE
MAKE/MODEL Mercury 150
TYPE Four-stroke outboard motor
RATED HP 150
SUPPLIED BY
Fish City Boats
Cnr Rosedale Road and Triton Drive, Albany, Auckland
Phone 09 476 4282
Web fishcity.co.nz
See the full version of this review in Trade-A-Boat #254, June / July 2015. Why not subscribe today?
Keep up to date with news from Trade-A-boat or like us on Facebook!