Review: Fish City FC465
---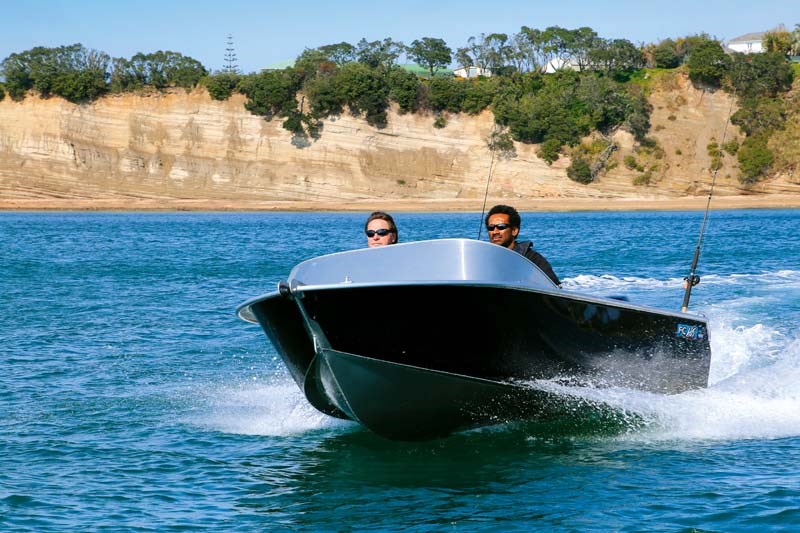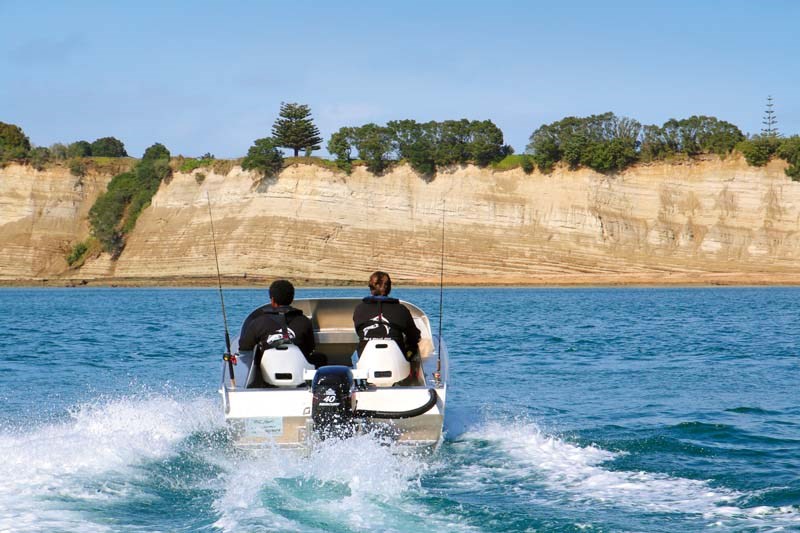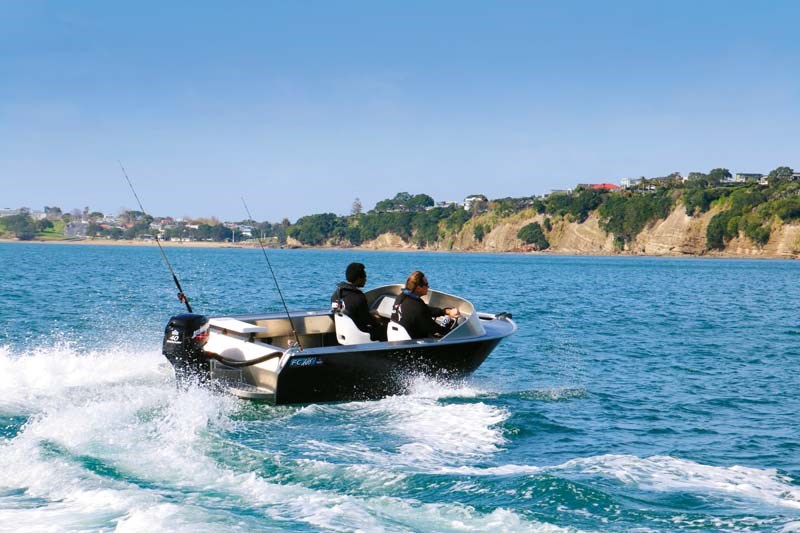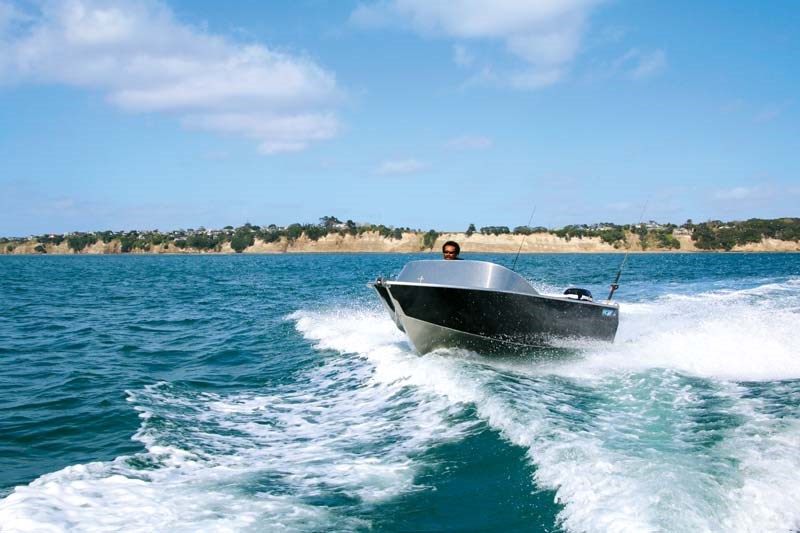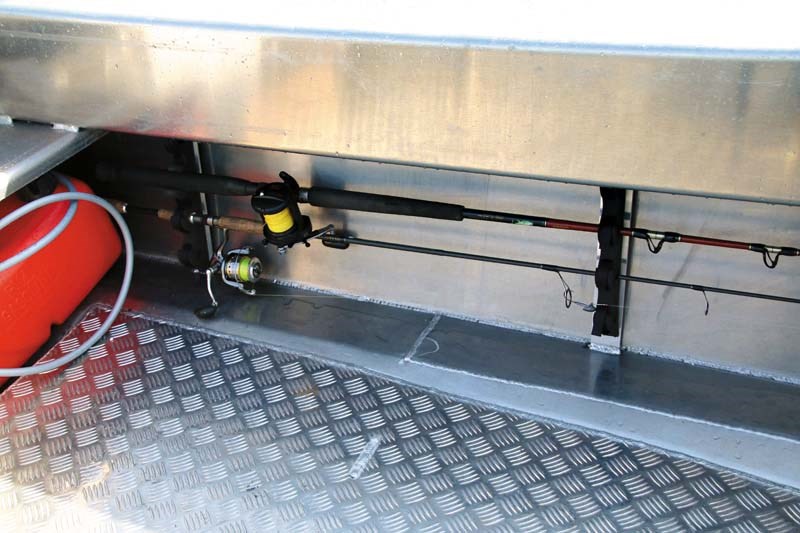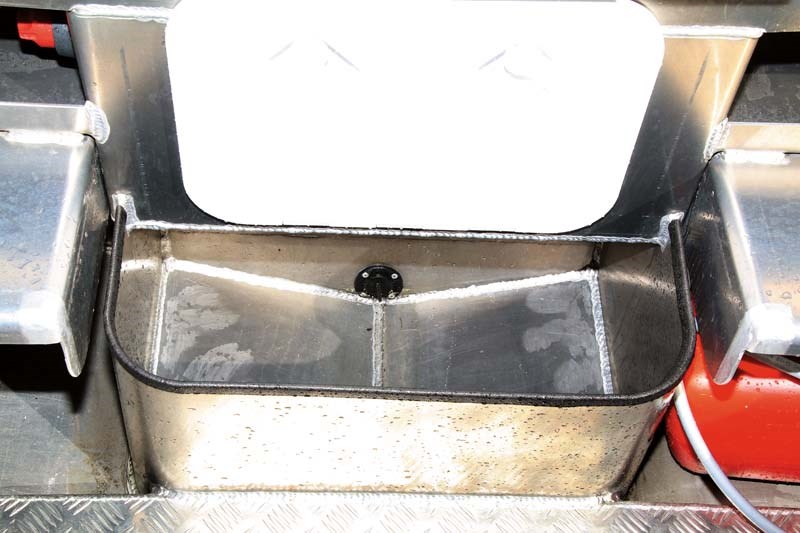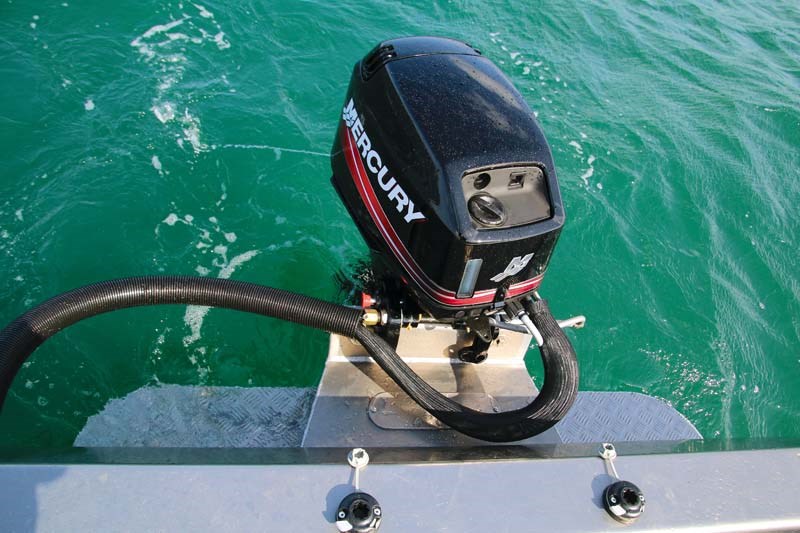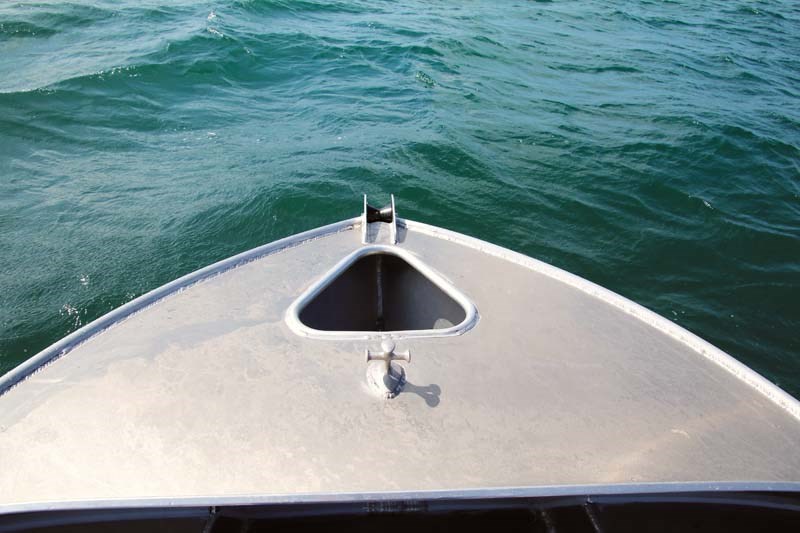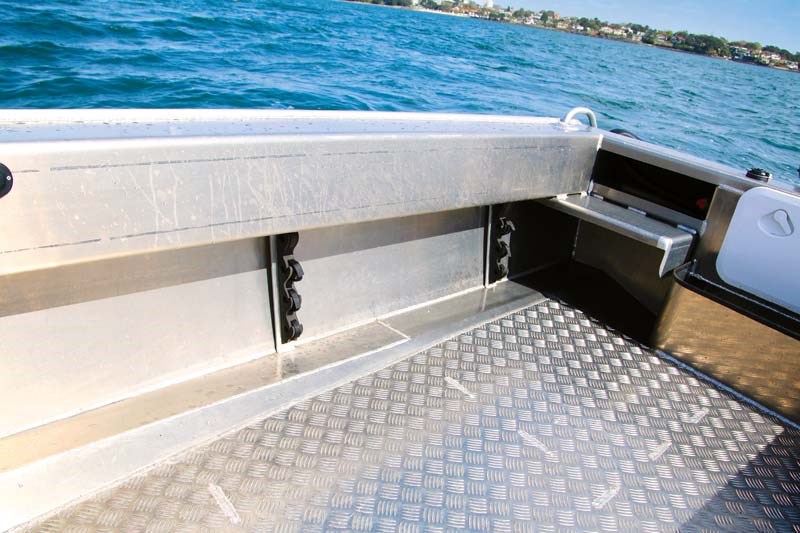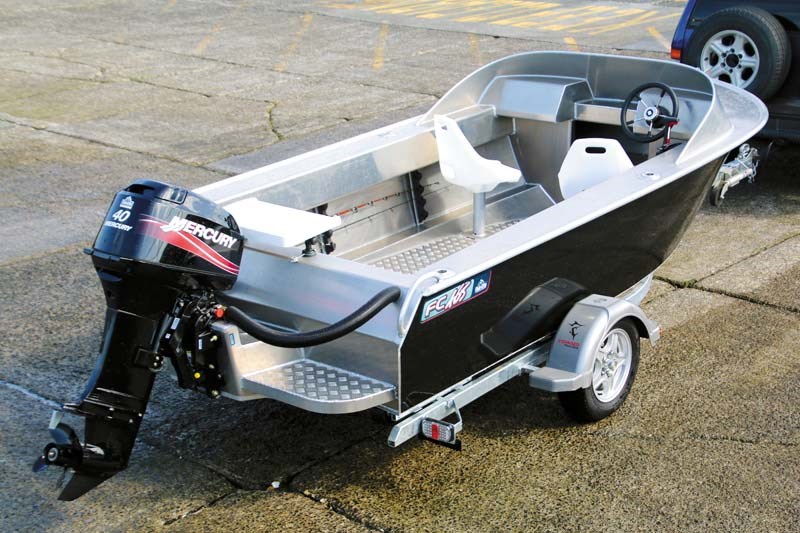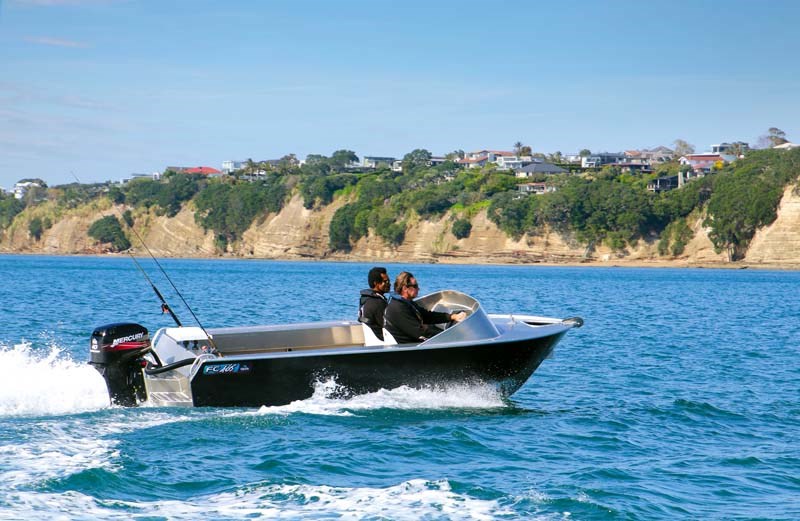 Fish City may have only been building boats for three years, but has more than two decades of experience selling and rigging boats. So when this company designs a fishing boat like the Fish City FC465 you know that it will have everything a 'fisho' could want. This 15-footer ticks all the boxes.
The small tinny has become a part of New Zealand folklore, with many of these boats stored in backyards and baches around the country. The 4.65m length of the new Fish City FC465 is a good compromise of size and space, being easy to manage, economical to buy and run, and no stress to tow with even a modest car.
In the past, small aluminium boats suffered from several drawbacks. Cockpit space was usually limited, stability was marginal and safety in the form of positive flotation was often non-existent. When Fish City aimed to re-invent the small fishing boat they addressed all these issues in a package that is smart, spacious and capable.
Fish City FC465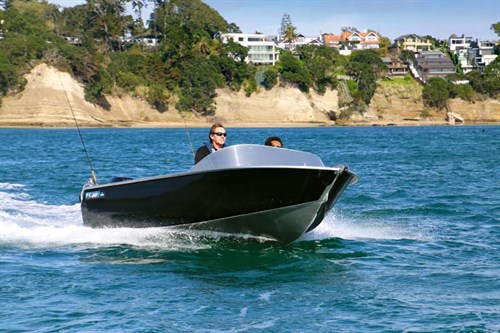 The first design consideration was to make the boat safe. Smaller boats have a higher chance of being swamped by waves and this meant the boat needed not only sufficient buoyancy but it needed to be positive buoyancy so the boat would remain upright even if swamped. A foam-filled collar under the full-length of both gunwales plus a sealed underfloor compartment combines to provide unsinkability and peace of mind.
The second consideration for a small boat is comfort, especially while fishing. Many smaller alloy designs have suffered from narrow gunwales that are uncomfortable for sitting upon. The FC465 instead has a wide gunwale platform that extends out wider than the sheer side of the hull. This not only gives a great seat but also helps to keep the boat dry in choppy conditions by preventing waves and spray from splashing up the sides.
This overhang extends all the way around the forward deck, creating the impression of a wide bow without the handling disadvantages which this would cause. The resulting broad forward deck has a welded anchor bollard just behind the self-draining anchor well, and an anchor, warp and chain come as a standard feature with every boat package.
Plenty of cockpit room is another must-have for fishing, and placing the helm further forward has opened up more space in the rear. This also improves the handling, since many smaller boats tend to have too much weight aft and hence lift their bow when accelerating. Having the helm position forward of the boat's centre of gravity negates this, while also leaving the wide open cockpit space.
Helm seating is by way of two standard plastic seats on pedestals, which swivel and are reasonably comfortable. The dash is split, with a modest amount of room on the skipper's side for installing the purchaser's choice of instrumentation. A wide sheltered storage shelf is tucked under the front deck. Although this is the only real dry storage area on the boat it provides an extensive area suitable for gear and bags.
Layout and design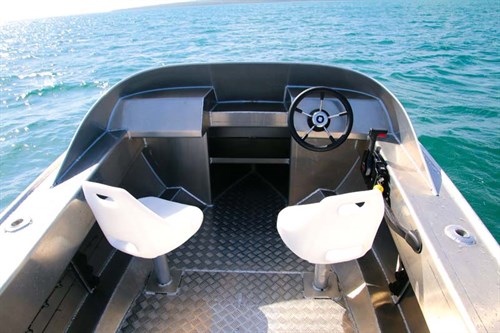 Tucked under the gunwale along each side is a four-way rod holder, with Velcro strips to hold rods securely. A checkerplate floor provides a non-slip surface, although a tube mat option is also available. The solid stitch-through welding is visible across on the floor, showing how the underfloor ribs and stringers help ensure an extremely rigid hull. The battery box in the transom is lifted well clear of the floor, ensuring no problems with the battery getting wet.
Of course fishing is best done with a few mates, so Fish City has welded a pair of rigid seats in each corner of the transom, giving a safe carrying capacity of four adults. Padded squabs are available as options for all seats on the boat. A tote tank tucks neatly away under each corner seat, giving a total fuel capacity of 50lt. Nestled in the stern between the seats and under the battery compartment is a passive livebait tank, with the fill/drain plug accessible from the inside.
The latter is a small but brilliant innovation on the FC465. Fish City has installed the drain plugs on the inside of the boat. Every boat owner has at some point forgotten to put the bung in before launching (and if you have not yet, you will do one day!). On the FC465 such an oversight is easily rectified from the inside of the boat, without having to return to shore. There is no bilge pump but any water that does get on board can be eliminated by using the venturi effect – temporarily opening the bung while the boat is underway, and any water will get sucked out.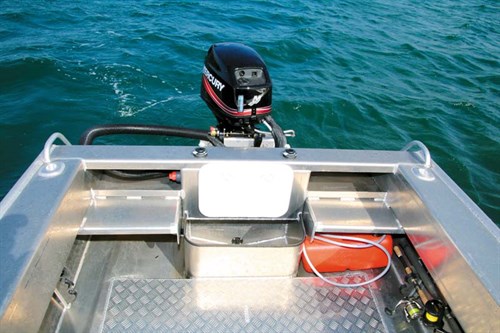 The boat does not have a clear windscreen, but an aluminium wind guard deflects wind and spray up over the seated skipper and passenger. This is surprisingly effective, together with the deck and gunwale overhang, as we discovered while out on the water. Of course a fold-down canopy and even additional clears could be fitted, but we were testing the entry-level boat with only limited options fitted. The weld quality is rock solid, with the welds left unground for maximum strength.
The boarding platform out the back is surprisingly generous for a boat this size, and is extremely robust. Sitting on the transom with your feet on the boarding platform could be the favourite fishing position.
Since we were testing the entry-level boat, a new 40hp Mercury two-stroke motor was hanging off the back, with electric start, trim and tilt and oil injection. Steering is by a conventional cable unit. There is no boarding ladder installed, although this would be easy to add if required.
Handling and ride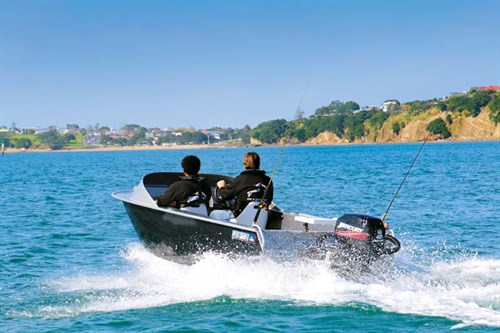 We slipped the Fish City FC465 off its single-axle Voyager trailer into the water on a fairly windy day, and started the little Mercury. Although this is the smallest power option, it provided adequate grunt for the boat with two adults on board. Various other configurations are available up to the maximum recommended 60hp four-stroke, and if you plan to regularly have more people or gear on board then a bigger engine might be considered. However the two-stroke ran well and we were soon zipping along at just over 20kts in the stiff breeze and resultant chop.
Obviously in an open boat of this size you would not venture out into huge seas, but the boat seemed capable of handling a fair bit of rough stuff. The chop was no problem, with the combination of the chine and the deck overhang keeping spray away from the interior. The hull is extremely rigid, which is a pleasure on a boat this size as it makes for a more comfortable and quieter ride.
We hit wakes at high speed and the strakeless hull simply ploughed through them, with far less air time than may be expected of a boat this size. In fact we struggled to get pictures of the boat airborne, as it tended to go through the wake of the photo boat rather than jumping over it, resulting in a smoother ride but less spectacular photos.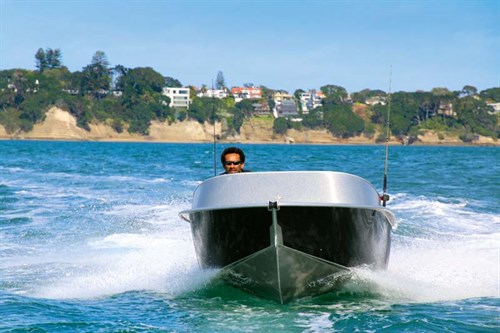 Turning the boat hard at moderate speed produced some sideslip – as can be anticipated due to the lack of strakes and when the hull is not heeling quite enough for the chines to grip; this is nothing unexpected on most boats. That said, at all times it felt safe and comfortable.
 Acceleration from rest was certainly adequate despite the relatively modest 40hp motor and we easily reached a comfortable cruising speed. Conditions did not allow us to explore wide-open throttle but we were comfortable at about 18kts. The only time we took any water over the bow was when we throttled back suddenly just before we hit a wake, and a small amount of water slopped up due to the nose dipping down just as we hit the wave. This was a bit of user-error, and hitting the wake a second time at a higher speed was both drier and more comfortable.
Fish City has the hull and decks built at a facility in Tauranga, and has set up its own finishing facility at the Hamilton workshop. Fittings are welded on to suit the purchaser's option list, and all extras are installed.
Another point of difference for these boats is that Fish City uses 5083 high-tensile Lloyds certified marine grade alloy for the entire boat, whereas many other manufacturers use this more expensive material for the hull only. This translates into a safer, stronger boat that will also last longer
The Trade-a-Boat verdict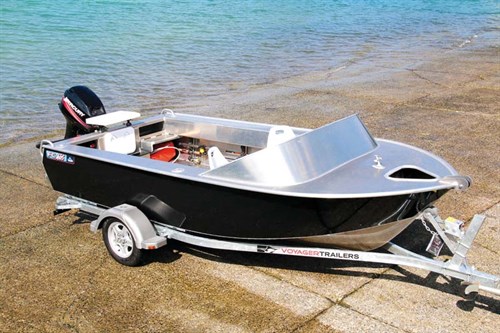 It is somewhat unusual for a retailer to also be the manufacturer of a boat, but this is working well for Fish City and the various models have been selling well from their branches in the North Island.
Overall, this is a fun, simple and economical boat. It is light and tough enough to launch just about anywhere, even off the beach, but offers a level of safety to rival a pontoon boat or inflatable. It can be towed by a modest-sized car and easily fits into a garage.
Fish City FC465 price: $25,745
Price as tested
Fish City FC465 specs
PRICED FROM
$24,995
GENERAL
TYPE Monohull
MATERIAL Aluminium   
HULL THICKNESS Bottom 4mm, sides 3mm
LENGTH 4.65m 
BEAM 2m
WEIGHT 590kg (towing)
DEADRISE 13°
CAPACITIES
PEOPLE 2
REC. HP 40 to 60
FUEL 80lt             
ENGINE
MAKE/MODELMercury 40
TYPE Two-cylinder, two-stroke outboard motor
RATED HP 40
DISPLACEMENT 644cc
MORE INFORMATION
Fish City Auckland
Cnr Rosedale Road and Triton Drive, Albany, Auckland
Phone 09 476 4282
Web fishcity.co.nz
Fish City Hamilton
Cnr Kahikatea Dr and Latham Court, Frankton
Phone 07 846 6675
Web fishcity.co.nz
See the full version of this review in Trade-A-Boat #246, October / November 2014. Why not subscribe today?
Keep up to date with news from Trade-A-boat or like us on Facebook!