Review: Fish City FC597 HT
---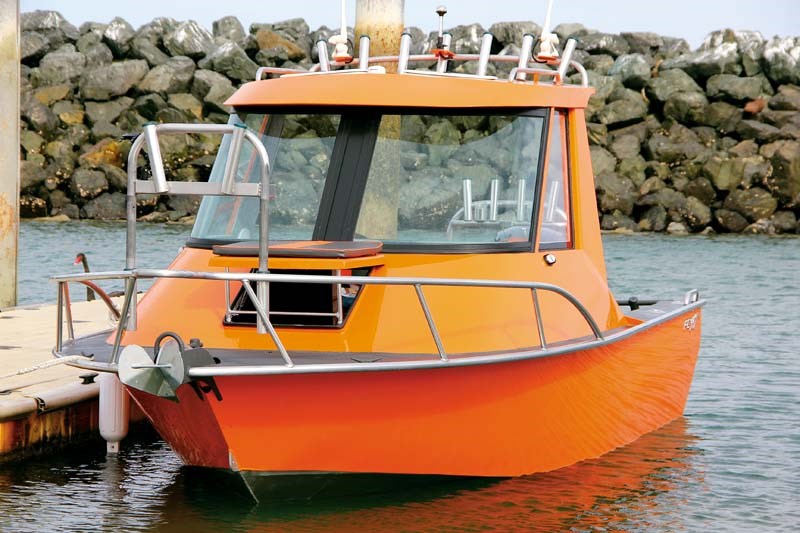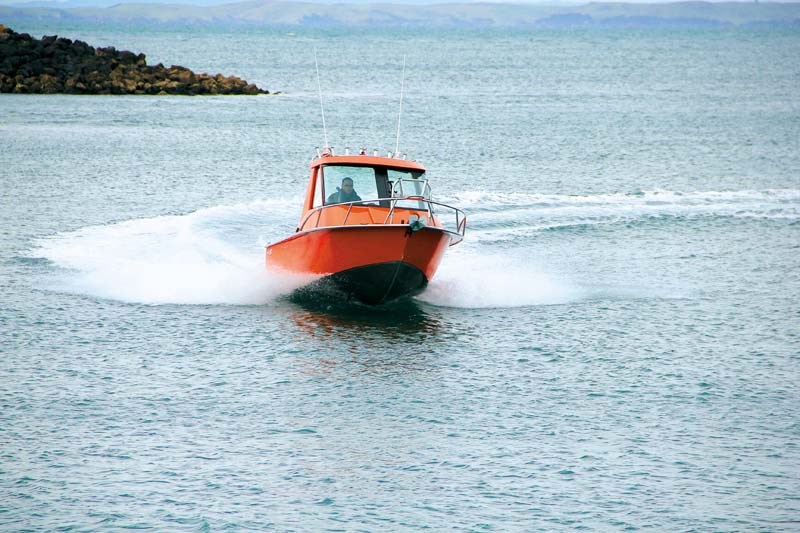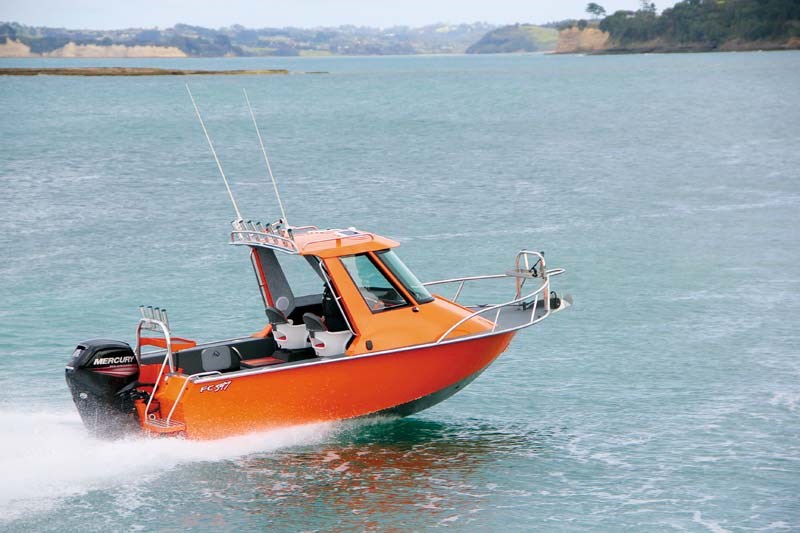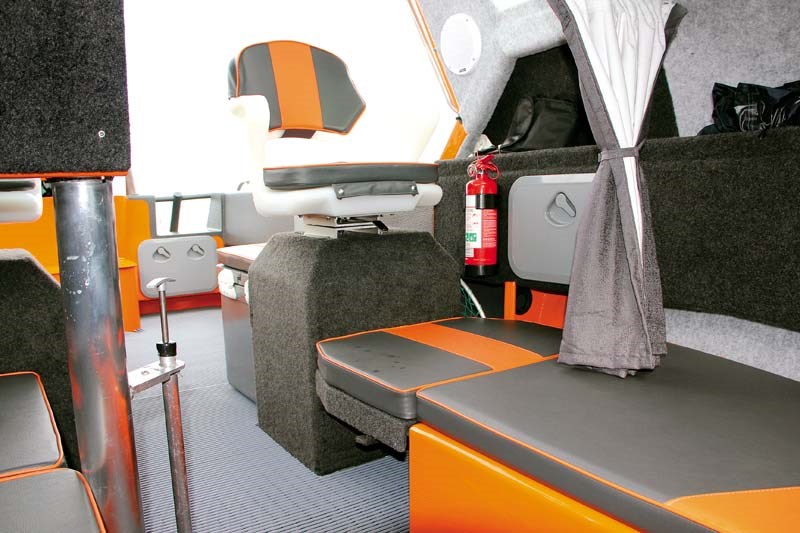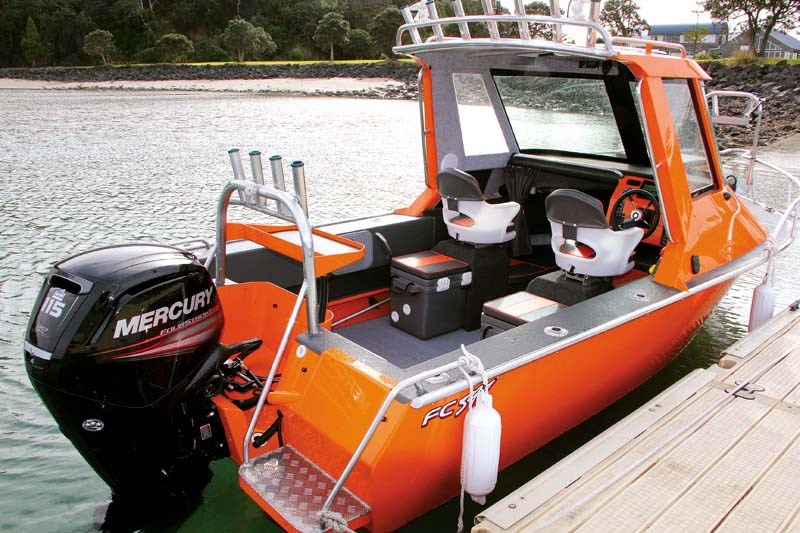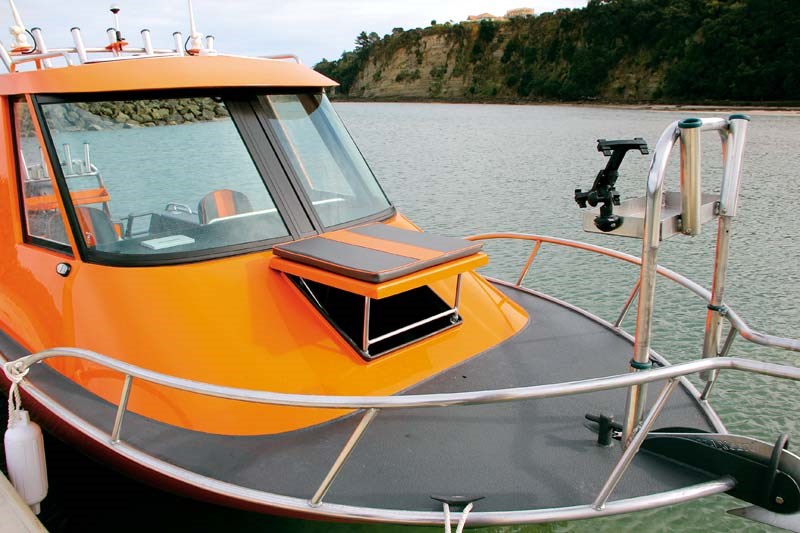 The Fish City FC597 Hard Top is an impressive little boat with the wherewithal to mix it up in much larger company. It delivers on many fronts; performance, economy, manageability, practicality and functionality.
As orange as an orange thing, there is nothing inconspicuous about the new FC597 HT. It's an in-your-face boat that screams: "look at me …"
Curiously, the 'Rescue Me' livery of this sub-six-metre hardtop is more aesthetically pleasing than it has any right to be given that the Fish City FC597 HT is damn near as tall as it is long.
Ordinarily, hardtop designs less than seven metres tend to be proportionally challenged, taking on the appearance of a small block of flats rather than the stylish raked-back look achieved when you've got a generous hull length to play with. In this instance, however, the builder's bold choice of palate has softened the look of the hardtop and effectively blended it into the boat's voluminous cabin top structure. The outcome is a great looking boat from every angle.
A display model at this year's Hutchwilco New Zealand Boat Show, the crew at Fish City Boats have clearly thrown the budget out the window in dressing this demonstrator to impress. It's also a boat that ushers in some smart thinking and new ideas that will filter down and out through the FC Boats model range.
Fish City boats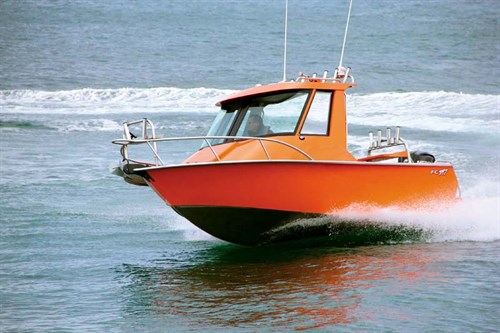 The new Fish City FC597 HT fits comfortably between the Fish City FC595 cuddy and the FC600 centre console but it is a substantially different animal to its closest stablemates.
There is no ambiguity as to the Fish City FC597 HT's purpose. It is a dedicated fishing platform from stem to stern and a rig that has been designed to deliver the seakeeping qualities of a larger vessel while retaining the conveniences inherent in a sub six-metre footprint.
Relatively light weight, easy to tow and fuel efficient thanks to the 115hp four-stroke Mercury outboard motor, much of the FC597 HT's appeal lies in its manageability. Buyer interest may well come in equal part from those looking to upsize or downsize.
The beauty of the Fish City FC597 HT lies in its offshore potential, tempered only by its 110lt fuel range. Add to this genuine overnight capability courtesy of the boat's V-berth bunk extensions and what we have is something considerably more practical than a one-trick day boat.
There is no question that Fish City's Ross Christiansen and his builders set out to make a statement with the new Fish City FC597 HT and it's visible in the boat's finer detail and finish.
First up, this boat has been professionally painted as opposed to the vinyl wrap more commonly applied. Secondly, the Taylor-made curved glass windscreen tucked in under the hardtop eyebrow lifts the Fish City FC597 HT's appeal.
And then there is trademark FC Boats forward casting deck which has been further developed with the addition of a forward bait station and forward-facing rodholders and an ingenious bracket mounted inside the foredeck hatch that effectively transforms the hatch into a casting seat.
Ordinarily the foredeck area on most sub-six-metre boats is largely taken up with an anchor winch and flush-mounted foredeck hatch. Not so here. FC Boats has cleared the deck by mounting the electric windless within the anchor locker and running ground tackle through a half-pipe hawser immediately aft of the stem fitting.
This is an ingenious solution and it transforms the casting deck from something of a novelty to a practical and workable casting option. In calmer conditions an angler could happily take himself up forward, clip an iPad into the Railblaza mount on the forward bait station and flick lures all day long.
Another additional feature of the Fish City FC597 HT is the application of a non-skid coating on the foredeck, deck and coaming tops. The name and type of coating is secret to Fish City Boats but it has the consistency and look of an industrial polymer product. It is highly effective as a non-skid solution and obviously hard wearing but it would be a stretch to describe it as adding any real aesthetic value. It has also been applied a little too liberally, covering the anchor roller cheeks and the foredeck bollards.
Cabin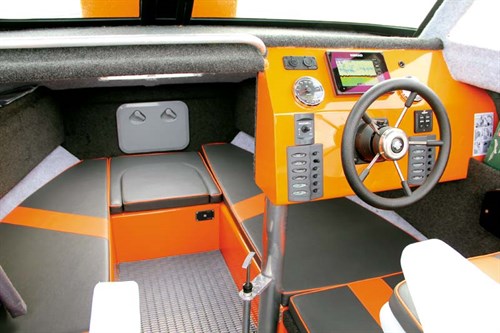 Back in the cab and behind the wheel, the Fish City FC597 HT imparts a strong sense of purpose offset with a level of comfort and understated style that some might consider incongruous with the boat's primary application.
If this were a fibreglass boat we wouldn't be surprised to find well-fitted cabin linings and colour-matched squabs, internal LED lighting or even a pair of overhead hatches in the hardtop. We might even expect to find an electric toilet secreted away under the forward V-berth with a contrasting privacy curtain from Bed, Bath and Beyond. But these are exactly the features you'll find on the new FC597 HT and while many of these items are clearly tick-box options, it provides a glimpse into the direction FC Boats is headed and a maturing of the FC brand.
The value inherent in such a high level of fitout is open to conjecture but it serves to demonstrate that comfort in no way compromises practicality and only enhances a boat's functionality, especially where there may be competing family interests.
Layout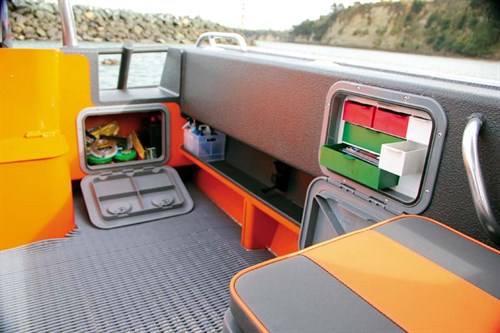 To this end the Fish City FC597 HT's internal layout and seating plan excels, providing users with a myriad of options. Chief among these is the clever forward seating arrangement that effectively transforms side-by-side box mount seats into king/queen combos with the simple addition of a pair of Icey Tek chilly bins. Fitted with dome down colour-matched squabs, the bins simply slide into the aft end of the seat bases to create comfortable and secure seating for two when required. On such occasions your passengers will appreciate the carefully placed handholds mounted on the inside coaming walls.
Further back you'll find a fold-down utility jump seat in the starboard aft quarter, taking to five the number of dedicated seats. This is pretty impressive given that it robs the cockpit of nothing and effectively doubles the boat's secure stowage options for catch, bait and ice.
Back up front you'll be impressed by the overall volume and headroom within the 597 HT cab and the easy open access to the cabin and foredeck hatch. Already providing ample sitting headroom, the accommodation plan is further enhanced with simple squab extensions that drop in place to create two full-length sleeping berths. These sorts of arrangements are often too finicky to be of any practical value but in this instance the builders' have got it right. Remember too we've got an electric toilet in the sharp end so overnighting suddenly becomes very do-able.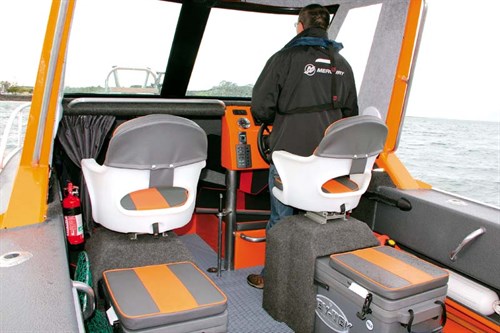 The helm fascia is necessarily small to create open access to the cuddy but it's perfectly adequate and easily accommodates the boat's Simrad touch screen GPS-sounder, 12V switch panels and the pair of Mercury digital/analogue engine instruments. The dash provides additional instrument mounting options while above the stereo and VHF head units tuck nicely away into the hardtop roof lining and are flanked by LED night lights and a rear-facing LED spotlight.
The roto-moulded plastic seats are not height adjustable but do slide fore and aft to allow for plenty of kick forward of the helm when standing. Handrails are strategically placed throughout the cab but there is no foot brace to speak of when the squab extensions are in place. Ordinarily this shouldn't be a problem. Nice touches include a secure dry storage locker on the passenger side, a securely mounted fire extinguisher, sealed access to the anchor locker and windlass and a shallow parcel shelf within the cuddy.
The curved glass windscreen adds a touch of class but the central pillar is inexplicably wide and a touch annoying. The acrylic side windows are non-opening but the overhead hatches in the hard top create ample ventilation when underway.
Cockpit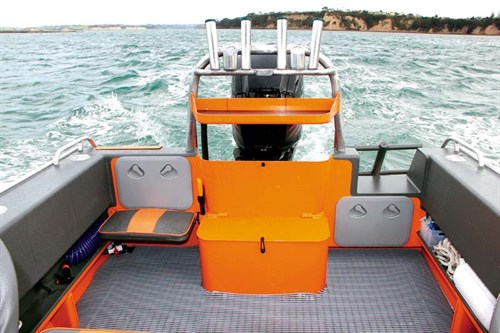 The cockpit setup is vintage Fish City Boats and provides a practical no-fuss fishing platform with the familiar self-filling livebait tank on the centreline aft, a central under-floor fish bin and a drop-in transom-mounted bait station with four rodholders and a pair of sinker cups.
The port side transom provides a useful walk-thru from the stern platform and is well supported with solid handrails that come up and over the stern. The coamings are wide and comfortable and carry three welded rodholders each side. Below, you'll find a solid cockpit utility shelf each side and a pair of recessed and enclosed coaming lockers, one on the port side with a tackle organiser and the second on the inside transom below the step-thru.
A standard design feature worth noting is the excellent toe kick provided at sole level. This makes working the cockpit a lot more comfortable and secure when lying beam on at anchor. While the non-skid coaming surface is undoubtedly effective, I suspect it might also be something of a magnet for guts and a challenge to clean off. Fortunately, this demonstrator is equipped with a salt water washdown.
With a fan of seven rodholders spread across the hardtop rocket launcher, the new FC597 HT looks the business. It is an impressive boat from several aspects – its ability to cater for mixed use without compromising its true calling and the obvious attention to detail and finish.
Handling and ride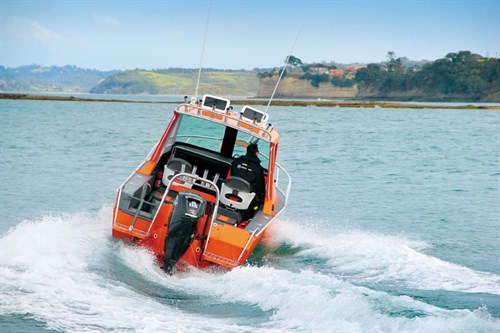 Of course an FC wouldn't be an FC if it didn't have the self-flooding keel cavity and internal ballast tank common across the Fish City range. Much has been written about the benefits of these features in terms of stability at rest and ride and handling in difficult conditions.
Difficult sums up the conditions experienced during our short run off the Whangaporoa coast in a 35kt north-easterly gale. While good sense prevailed, we did poke our nose out into the Tiri Channel just long enough to work out that this was not a good place to be.
With a steep and sometimes breaking sea and plenty of pot holes, the little Fish City FC597 HT proved more willing and able than her cargo and showed no duress clambering up and over a three-metre sea. With its long fine entry and exaggerated deck flare, the Fish City FC597 HT kept the worst of the greenies from climbing onto the foredeck.
At the risk of exaggeration the Fish City FC597 HT's ride was all class and there was a certain sense of wonderment as to how this boat – an essential lightweight – could turn in such a gutsy performance and make light of doing so. While there was plenty of water to be taken and water we did take, the hardtop proved its mettle with barely a drip rolling round and under the roof. This was something, given that the cockpit was dripping wet.
With the helm down and the seas now behind us, the FC597 revelled in the mayhem, lifting its skirts on the back of each swell and surfing off at 31kts with not a hint of tendency to bury or steer off by the bow.
The Trade-a-Boat verdict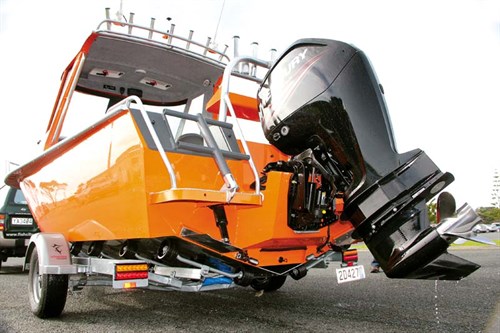 What a trooper. This is a genuinely impressive little boat with the wherewithal to mix it up in much larger company. It delivers on many fronts; performance, economy, manageability, practicality and functionality.
Whether it is necessary to equip the boat to such a high spec will depend on individual circumstances but in standard 'turn-key' trim you're getting a very capable and well put together boat that won't break your knees, your back or the bank!  
HIGHS
• Excellent finish and detail
• Superb rough water handling
• Functional layout and setup
• Mercury's brilliant 115hp four-stroke outboard
• Innovative casting deck / seating plan
LOWS
• Windscreen piller
• Excessive use of non-skid coating
• Under-sized bollards
Fish City FC597 HT specs
Fish City FC597 HT price: $59,995 turn-key
Priced from
GENERAL
MATERIAL Aluminium (hull 5mm, topsides 4mm)
TYPE Monohull
LENGTH 5.95m
BEAM 2.40m
DRAFT 550mm
DEADRISE 18°
TRAILER Voyager single axle braked
TOW WEIGHT 1350kg
CAPACITIES
REC. HP 90 to 135
FUEL 110lt (underfloor)
ENGINE
MAKE/MODEL Mercury 115
TYPE Four-stroke outboard motor
RATED HP 115
SUPPLIED BY
Fish City Boats
Cnr Rosedale Road and Triton Drive, Albany, Auckland
Phone 09 476 4282
Web fishcity.co.nz
See the full version of this review in Trade-A-Boat #256, August / September 2015. Why not subscribe today?
Keep up to date with news from Trade-A-boat or like us on Facebook!