Review: Rayglass Legend 2350HT Diesel
---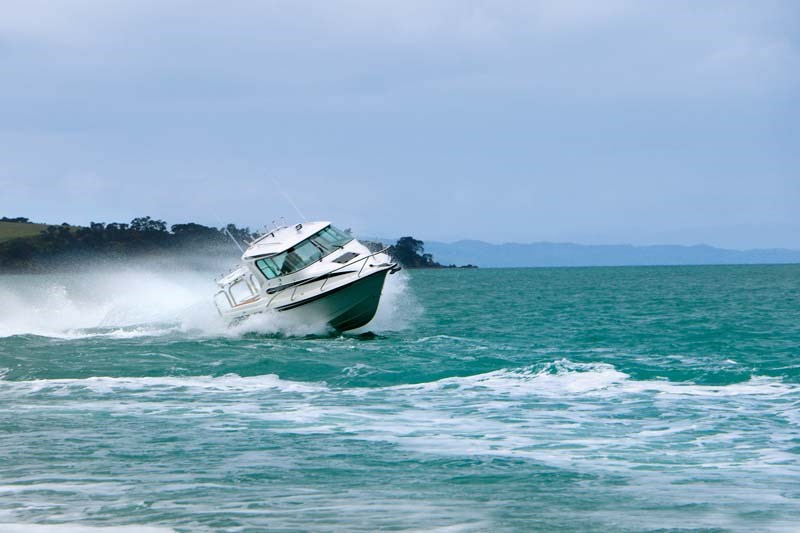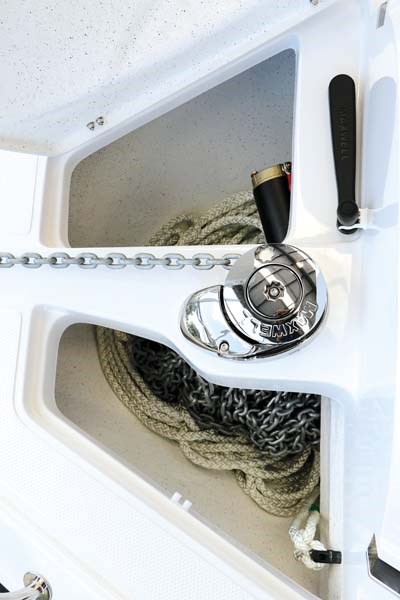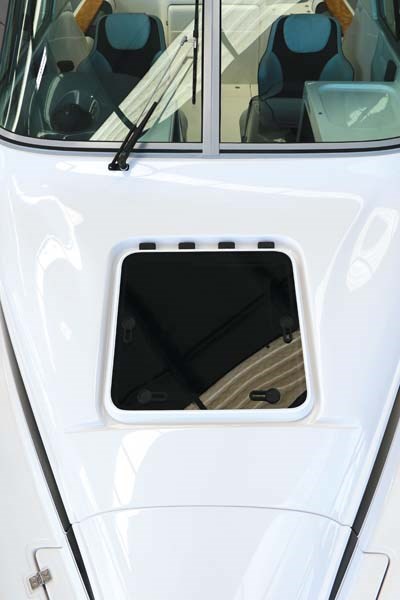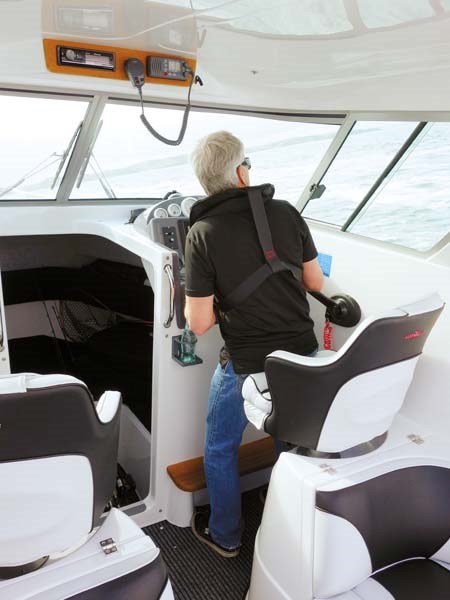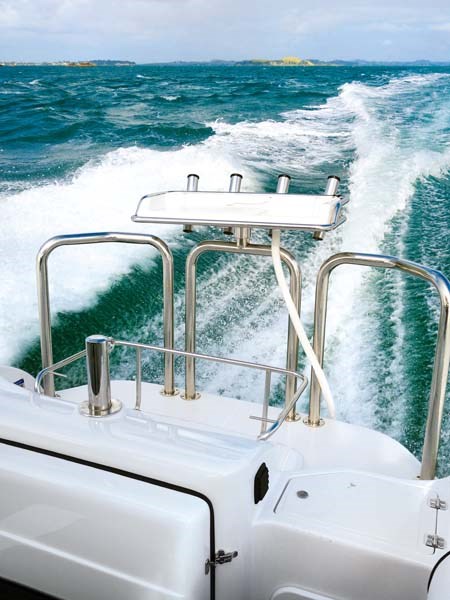 The Rayglass 2350 HT (Hardtop) Diesel is ready to tackle epic offshore fishing adventures while coming home gleaming.
There's a moment that comes in nearly every excursion on the water when you look up and start to breathe like you've forgotten how to for weeks. It is invariably accompanied by a sigh, then a widening grin and a burgeoning sense of wellbeing. The eyes brighten, the cap is adjusted and one looks about anew. You mentally reaffirm your affinity for your companions (even brand-new ones) and you set your sights for the horizon. After that it really doesn't matter about the weather, wind or water state. It's a universal rule: every problem while out on the water is halved, or seriously diminished.
And that's why we go boating.
Rayglass Legend 2350 Hard Top Diesel sterndrive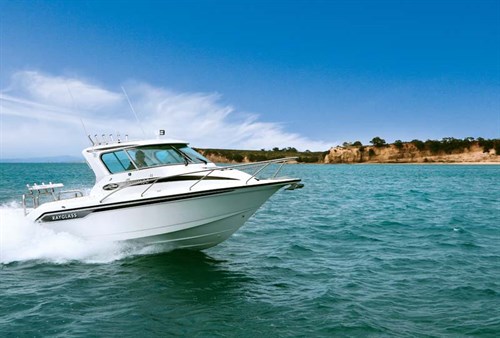 When the vessel you are standing on also happens to please your soul from the feet up, you have the makings of a truly great day on the water. So why wouldn't you own the boat that gives you that thrill every time? I cannot think of a single sensible reason. Almost everything about the Rayglass Legend 2350 Hard Top Diesel sterndrive is going to tick the box for grinning like an ass.
It looks terrific in its nautical white, navy and black with gleaming teak. It fairly bounds out of the hole and snorts its way to 40kts in moments. It is dry, with good protection from sun, wind and spray, while the snarling Mercury Diesel TDi engine sips that cheaper fuel with all the gentility of your ageing maiden aunt. The Garmin electrics deliver uncompromising accuracy and detail clearly to view, the visibility is terrific and most of the people you pass are going to look up and gaze in appreciation of some very pretty lines. Those that aren't consumed with envy, that is.
Rayglass Legend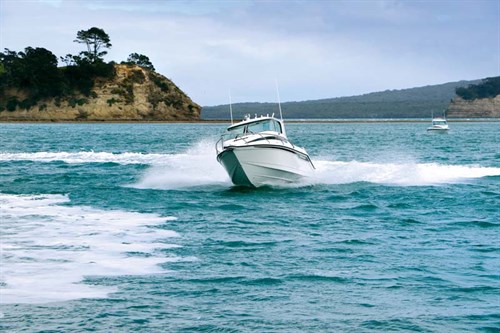 What a magnificent treasure Auckland has in the Hauraki Gulf, with islands, peninsulas and sheltered waters offering fabulous boating habitat and environs. Heading off to play with a fleet of Rayglass boats in a brief spring weather window, we knew it wasn't going to be blue, flat and sparkling but the gulf still beckoned us like a siren.
There's something about seven-metre boats on the Waitemata Harbour – where we put this baby through her paces – it seems that particular length is the most desirable trailerboat waterline for straddling the short chop that invariably develops in the channels. Of course the 23-degree rock-solid hull helps with softening out the lumps too. A few years back Rayglass made a change to the hull and introduced a harder turned-down chine, it has greatly improved turning handling and reduced following-sea wandering, while turning spray away from the high sides quite effectively. So we had a dry day even when coming home in 27kts of headwind.
The Rayglass hull is beefy strong and incorporates a full fibreglass internal liner system, with foam filling the layers in between. This is a boat for taking on the outer gulf, while still able to be towed by a mid-sized vehicle. With 250lt of fuel aboard the area of daily exploration can be extensive.
Layout and design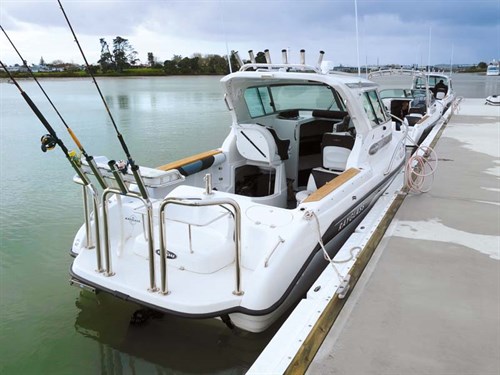 Your partner is going to feel very comfortable aboard as well, the cabin and interior layout is at the top of the class. And the Rayglass upholstery is among the best in the business, as is the renowned lustre and finish of the hull itself. Coming aboard after a swim or dive session will be a breeze too, the boarding platform could hold a dance party. The platform on the 2350 sterndrive is extended by around 250mm to incorporate Mercury's 260hp 3lt V6 TDi diesel engine, made in partnership with Volkswagen, and this extension increases waterline length without altering the hull.
The motor is housed inside a double-opening pod, giving entry from both the cockpit and through a hinged top-opening cowling at the stern, with access to the fuel filter and for engine maintenance being greatly eased. The engine sits low and snug, making the hull stiffer and flatter in the water. The combined forces of reduced weight and lowered centre of gravity mean this boat performs like a sports car. I liked the profile – without the ubiquitous black lump hanging off the rear – very much indeed.
Mercury Diesel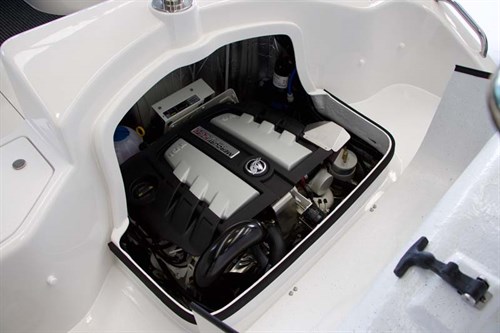 Propulsion is delivered via the Mercury Bravo Three stern leg connected to a counter-rotating stainless steel duoprop with four and three blades. There is little discernible twist when the hammer falls, instead the thrust is straight and fiercely effective. Under full power this is delightful to helm and needs very little trim input to perfect fuel usage and speed ratios. While reversing, this unit is highly effective too with little of the drift and overreaction common to outboards, something which will almost certainly reduce stress at a windy, crowded ramp.
I found the diesel engine noisier than a four-stroke outboard and conversation was raised in volume to compensate as we cruised down the long track from the Panmure Basin to the gulf and out to the testing grounds. Once at speed it was less of a problem but the hardtop offers a strongly reflective surface to sound echoing up from the deck and amplifying it slightly. To be fair, although it is louder than an outboard it is the quietest diesel engine in its class.
Cockpit
In a truly excellent design, the cockpit has no theft of space from the protrusion of an engine coaming as the panel hatch swings up standing proud by only 100mm or so from the transom. This means the whole fishing area of the cockpit is wide, open and unobstructed.
Underfloor there's a large storage bin beneath a hinged lid and in the sides are hideaway and lockable rod tubes for storing rods out of the weather and safe from damage or from prying eyes at a mooring. Above these rodholders are upholstered, padded coaming bolsters to lean against (when fishing one assumes) and in my view are probably a little bit of overkill but undoubtedly offer safety for children and lurching passenger protection.
A baitboard and rod tube combo slots onto a stern-mounted stainless steel D-rail giving an excellent fishing position and all associated angler's mess kept safely out of the carpeted inner cockpit. Externally on the hinged engine coaming is an Icey Tek chillybin held within stainless steel surrounds and atop that a great seating position. In the walkthrough transom are the washdown hose and lidded storage compartments. The hose can be configured to run into the bin for a livebait tank.
The deck is self-draining with two ports, one either side of the transom with threaded bungs. Low cockpit lights are excellent for night use and won't blind the user, as easily happens when set above head height. Nice touch.
Helm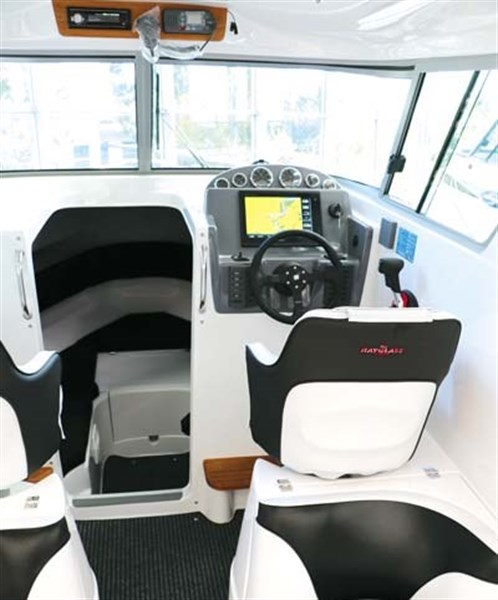 Inside the hardtop the usual hydraulic struts lift the passenger seats to reveal cavernous storage and the helm seats swivel 360 degrees. As expected the helm station is comfortable and has terrific visibility fore and aft and to the sides. The curved, toughened glass windscreen is home to two formidable wipers that ensure clarity. The Garmin 12in touchscreen gives excellent information and is simplicity itself to navigate through. In bright sunshine the readout is still good.
I found the digital throttle light and accurate, with the grunty Mercury Diesel mill deliciously responsive to command. Pushed very hard in cornering there was no cavitation and the G-forces exerted were considerable, but the Legend 2350HT held and tracked accurately without foible or quirk. The Maxwell winch system was nicely to hand as were the switches for radio and stereo, navigation and anchor lights, and bilge pump. Good ergonomic access is standard in every Rayglass offering and a binnacle compass from Plastimo is provided and ensures another level of safety should the electrics unexpectedly take a day off. (In my opinion every capable skipper should have charts onboard and know how to use them for safe navigation).
Cabin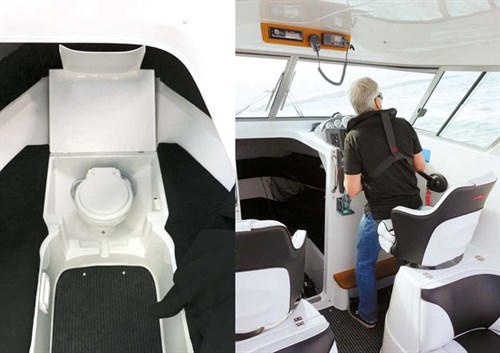 Up forward the lined and carpeted cabin is large enough to actually sleep in with infills and contains a very good electric macerating head hidden beneath a central hatch. This will be appreciated by female boaties and is rare as a standard offering in a boat of this size. Above is good light from a sturdy toughened-glass hatch. Storage above and below the cabin seating is roomy and useful.
The rope and chain anchoring system runs through a double-roller bowsprit that stops anchor-swing and damage. The bowrail and grabrails are solid and of large diameter, well anchored and sturdy to hand.
The hardtop design has been modified in recent years, the old 730 used to have a rounded protrusion that brained me every time I cast a softbait rod, and often the victim of blistering expletive-laden abuse, so I'm glad to see that has long gone. The six-pot rocket launcher atop the cabin is reachable and powerfully built. This boat in fact has up to 14 rodholders and storage capacity in the gunwales for carrying more.
The Trade-a-Boat verdict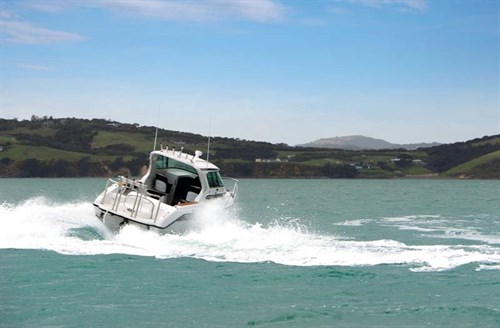 The Rayglass Legend 2350 HT is truly a multipurpose boat. Configured for a fishing trip, this is a fast, capable and well-laid-out weapon of war aimed directly at the fish populace. Apart from fishing, the boat is ideal for cruising with family and friends providing a comfortable and deluxe interior, for diving and picnics, and watersports from the beach. It certainly looks the goods with "hot factor" and also delivers a blistering turn of speed.
The Rayglass 2350 HT Diesel is a boat for the vigorous achiever, ready to tackle an ocean with a hardcore crew of fishos, while coming home still gleaming and prized. It is beautifully finished and will look good for many years to come, while maintaining its value and usefulness. Your kids will grow up with this boat like it is another family member. But perhaps most importantly, every day aboard is likely to give you a thrill, and these are the days we all talk about as boaties and the ones we will remember in a life well-lived. 
Rayglass 2350 HT Diesel sea trials
Rayglass 2350 HT Diesel with single 260hp Mercury Diesel TDI 260 marine diesel engine.
| | | |
| --- | --- | --- |
| RPM | SPEED (KTS) | FUEL BURN (LT/H) |
| 500 | 4.4 | 1.1 |
| 1000 | 5.5 | 2.5 |
| 1500 | 7.4 | 7.9 |
| 2000 | 10 | 15.3 |
| 2500 | 18 | 22.5 |
| 3000 | 25 | 27.7 |
| 3500 | 32 | 39.2 |
| 4000 | 40.5 | 55 |
* Sea-trial data supplied by the author.
Rayglass Legend 2350HT Diesel specs
PRICED FROM
$POA
GENERAL
MATERIAL Fibreglass
TYPE Monohull
LENGTH 7m
BEAM 2.45m
DRAFT 500mm
DEADRISE 23°
WEIGHT 2480kg (BMT)
CAPACITIES
PEOPLE (DAY) 8
FUEL 250lt
WATER 70lt (optional)
ENGINE
MAKE Mercury Diesel TDI 260 w/ Bravo Three leg
TYPE V6 turbo-diesel sterndrive
RATED HP 260
DISPLACEMENT 3lt
WEIGHT 380kg
PROPELLER Stainless steel counter-rotating duoprop
SUPPLIED BY
Rayglass Boats
7 Paisley Place,
Mt Wellington, Auckland
Phone (09) 573 7979
Email sales@rayglass.co.nz
Web rayglass.co.nz
See the full version of this review in Trade-A-Boat #261, January 2016. Why not subscribe today?
Keep up to date with news from Trade-A-boat or like us on Facebook!