Review: Surtees 495 Workmate
---
What started as a simple 4.7m work boat to entertain the Surtees staff back in 2009 evolved into one of the most successful plate-alloy hulls on either side of the Tasman. Welcome to the latest generation Surtees 495 Workmate.
This is how the Surtees 485 began. Despite its lightweight dimensions, when we tested the Surtees 485 at the Australia's Greatest Boats 2011 in and offshore at Port Stephens, NSW, this boat challenged muscle machines twice its size, and three times its weight and price. In the demanding conditions, it simply blew the pants off its bigger competitors.
Surtees 495 Workmate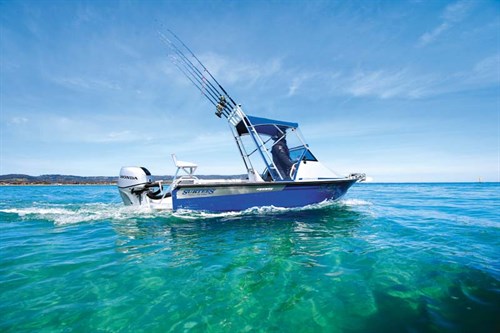 When Surtees announced the update, bringing the 485 to 495 spec, Trade-a-Boat editor Tim thought the only way to avoid NZ bias towards what is arguably New Zealand's favourite aluminium boat brand was to get me on board for a truly Aussie test. So Surtees did it again with the mighty little 495 Workmate. The new model is an upgrade of the original, with the key objective this time to provide its owners with more space for fishing.
Like the entire Surtees boats range, the new 495 Workamte features the famous non-pounding Super Deep V Hull, Stabilising Ballast Technology, and Surtees' Ultra-strong Deck System.
It's a strong boat and while much has been made of Surtees and its Aussie challengers, I have never once heard of a manufacturing fault, a split weld or any form of structural defect in many, many years of strong local sales.
Deep-vee hull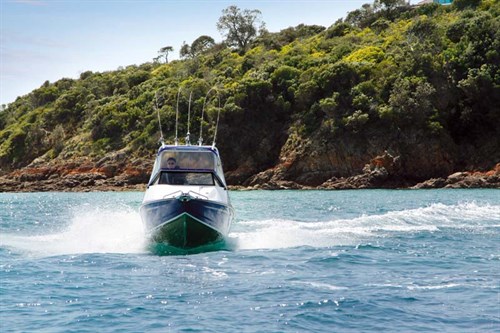 All Surtees aluminium boats come with an impressive six-year structural warranty but really, I doubt you will ever need it.
Its deep 15° deadrise hull slices through the slop like a razor-edged battle axe, and its predictable tenacity gives you the confidence to push it harder which in turn keeps you fishing further and longer.
She has 4mm 5083 marine grade aluminium armour plating throughout the hull, with 3mm sides and cabin, plus the construction strength of six fully welded stringers. She feels even wider than her considerable two-metre beam due the functional internal design where every inch has been maximised.
Surtees was one of the first plate-alloy hull manufacturers to incorporate a flooding ballast system into its hulls, which certainly aids the stability at rest. However, if you close the shut-off gate to trap the water it allows more displacement, thus further aiding the soft deep-V ride.
There are two underfloor buoyancy chambers and an Ultra Strengthened Deck System that, with its fully welded chequer-plate floor, makes cleaning and maintenance a breeze. The Surtees range meets international CE safety standards for assured quality.
Layout and design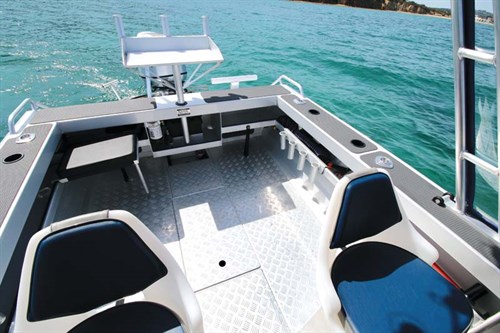 From bow to stern, the Surtees 495 is a practical little workmate with a design that simply worksy. The packaging has gone back to basics with Surtees' standard specifications allowing each customer a full range of options and accessories to custom-build their dream machine from the keel up.
Our demonstration Surtees 495 Workmate was due for delivery to its lucky new owner and came fitted with all of the options that I would have chosen in my own boat.
Up front it featured a Lonestar cotton reel-style winch neatly fitted into the large anchor well. The plough anchor sits out on the bowsprit, centred between the short bow rails. If you don't want the added expense of an electric winch, don't despair as the cabin hatch is big enough for even us bigger-built fellas to reach the bow comfortably.
The cuddy affords plenty of weather protection and also allows you to operate the boat at a comfortable height. The first Surtees 485s offered little in the way of internal storage, other than side pockets with bungee cord hangers for life jackets. However, this new design adds optional single or dual short bunks and storage; our example had a single on the driver's side.
I love the tough little safety glass windscreen and the versatile dashboard where messy fishos like me can store all their bits and pieces. This package had Garmin EchoMap 70DV marine electronics fitted neatly as a dashboard mount.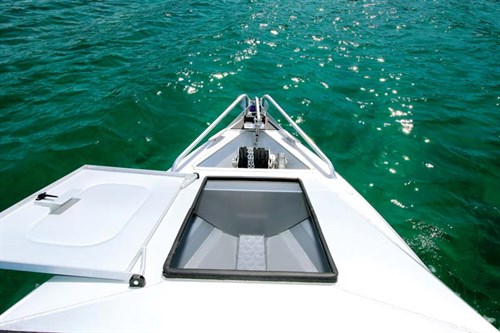 Another terrific addition is the optional 65-litre underfloor fuel tank that eliminates the need to carry portables in the transom. The portable tank retainers are still fitted should you want greater capacity for a long-range voyage in a remote wilderness. Some will like the convenience of the underfloor tank, while others will prefer to stay with the cheaper option of the portables.
Other important options include Nyalic coating that seals the aluminium against external corrosion, as well as the detachable rear baitboard that can be lifted out and replaced with a ski pole.
There are combing mounts and seats that simply clip onto the full-length side pockets to further customise your ride, and the dealer had fitted a nice set of bimini canopies to this example, with front and side clears supported by the aluminium rocket launcher that drops down for storage.
What else is new?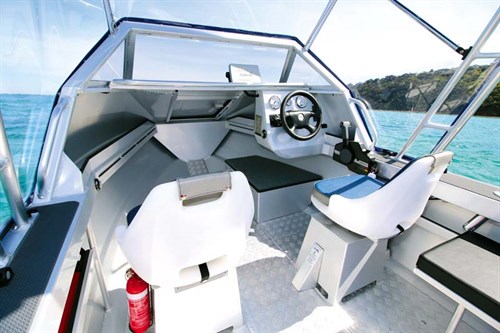 While the new Surtees 495 looks very much the same as its predecessor, there is actually an added 100mm in the overall length, giving even more work space. The seat boxes have been improved but otherwise the Surtees 495 Workmate retains all the features we loved in her predecessor, including a very workable transom with twin boarding platforms and a good dive ladder, a flooding under-floor kill tank, sump recess with bilge pump, raised battery, isolator and storage compartments, fully adjustable seats, big wide gunwales with non-skid grip, welded alloy rod holders, drink holders, plus side and stern rails. On top of all that, Surtees has sealed the outboard pod for added buoyancy.
I have tested the little Workmates with 60 and 70hp engines in both two and four-stroke outboard motor guises and I must say that the 60hp Honda engine as fitted to our demo wins outright. It's smooth, clean, quiet and gutsy, comfortably pushing the little ripper 495 along at a speedy 60km/h at 5800rpm. It may not sound all that fast but I guarantee you the performance of the package will thrill you.
The Trade-a-Boat verdict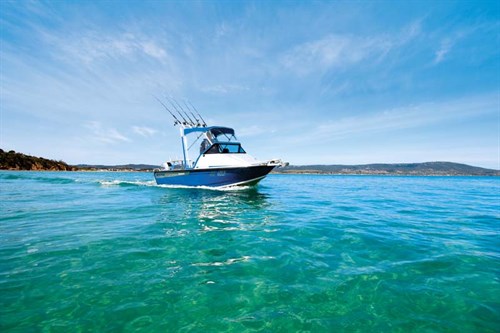 The Surtees 495 Workmate starts with all the basics and you can add accessories thanks to an extensive list of options supplied through a terrific dealership network. Pricing can be as varied as your budget allows, but remember that this is a high-quality plate aluminium boat with a ton of construction quality and integral design features – it's not just another stamped-out tinnie. If you want a little mate for life, this tough little Kiwi warrior just could be the one.
HIGHS
• Handling
• Low HP requirement
• Good bow access
• Low towing weight
LOWS
• It's a long wait in line to get one­ — best order it now!
Surtees 495 Workmate price: $39,500
Price as tested
Surtees 495 Workmate specs
OPTIONS FITTED
Bimini with front and side clears, alloy rocket launcher, Garmin EchoMap 70DV, Lonestar anchor winch, removable combing racks, removable seat, underfloor fuel tank, painted sides and Nyalic
PRICED FROM
$34,000 (w/ Honda BF40 outboard motor)
GENERAL
TYPE Plate aluminium deep-vee cuddy cabin
MATERIAL Bottom 4mm, sides 3mm plate aluminium
LENGTH 4.95 metres
BEAM 2.01 metres
WEIGHT approx. 735kg BMT
DEADRISE 15°
CAPACITIES
PEOPLE 5
REC. HP 60
REC. MAX HP 75
FUEL 65L (optional underfloor tank)
ENGINE
MAKE/MODEL Honda BF60 outboard motor
TYPE Four-stroke, Inline three-cylinder/12 valves, programmed fuel injection
RATED MPH 60
DISPLACEMENT 998cc
WEIGHT 110kg
GEAR RATIO 2.07:1
PROPELLER Alloy (Honda supplied)
MANUFACTURED BY
Surtees Boats
2909 State Highway 30
RD2 Whakatane
New Zealand
Tel 07 322 8461
Web surteesboats.com
See the full version of this review in Trade-A-Boat #262, on sale January 28, 2016. Why not subscribe today?
Keep up to date with news from Trade-A-boat or like us on Facebook!