Extreme 700 Game King review
---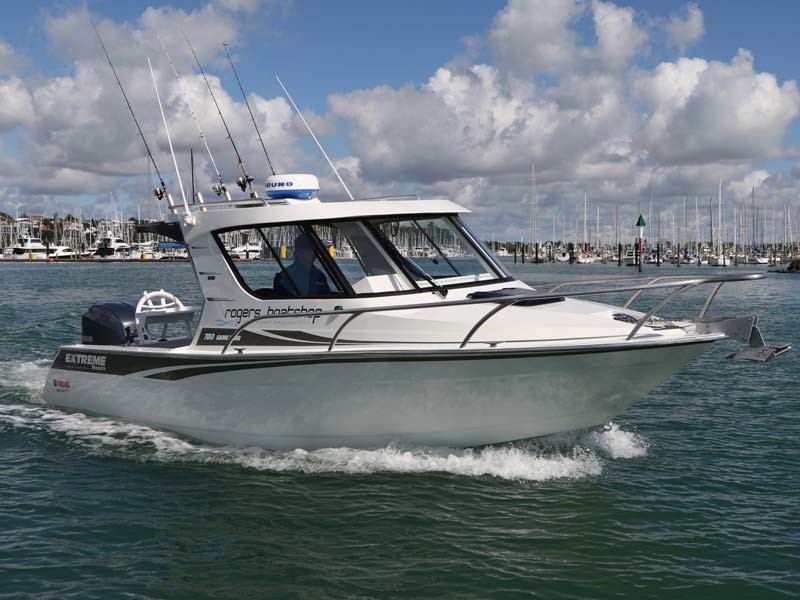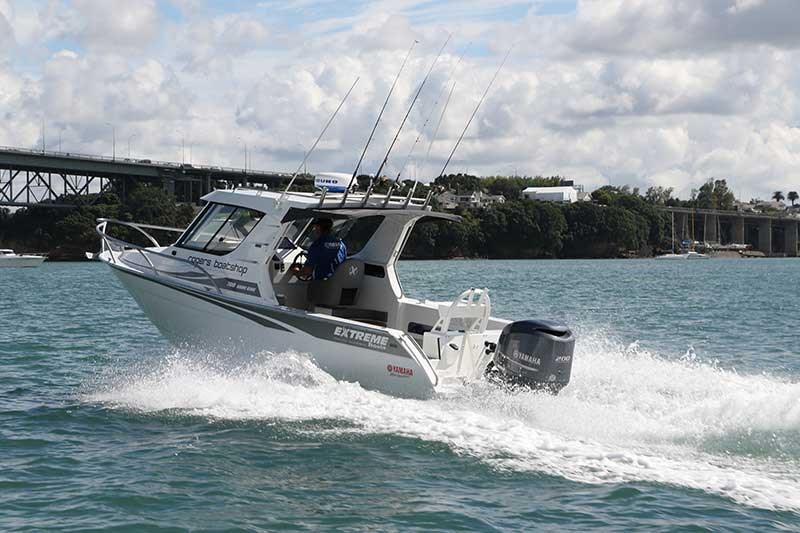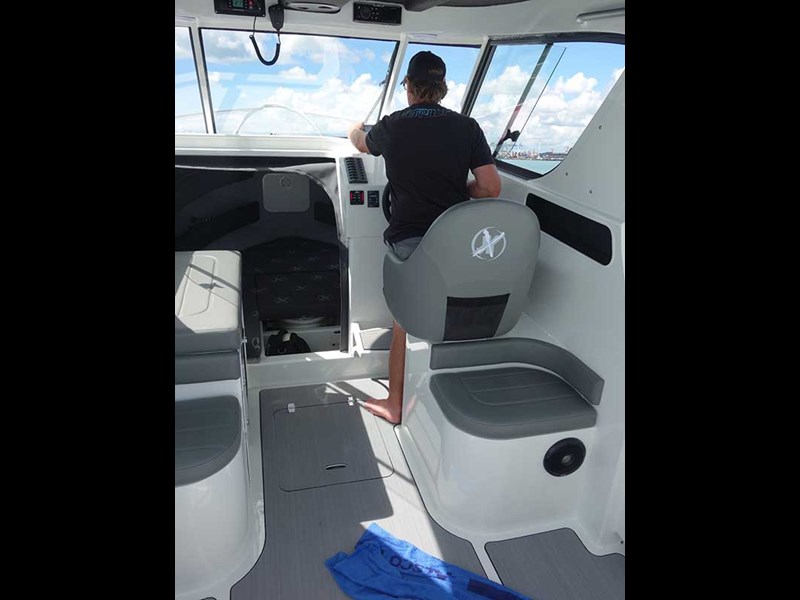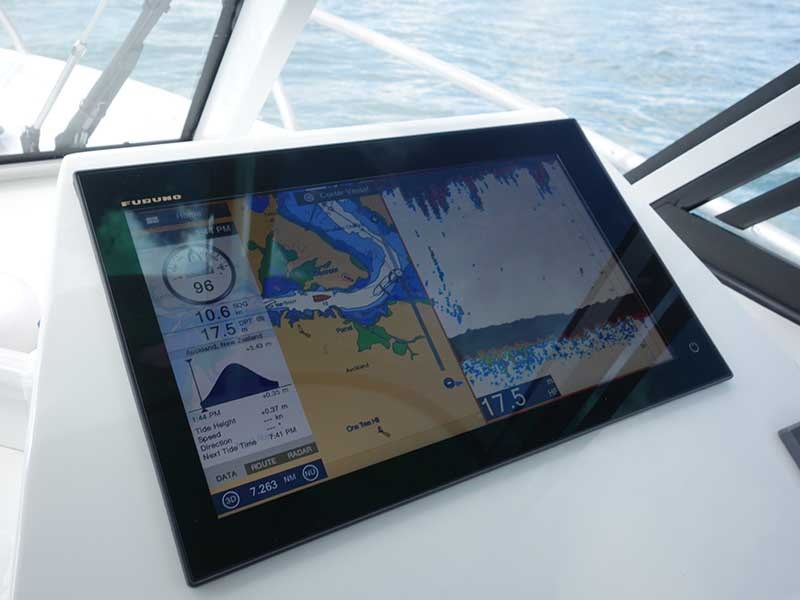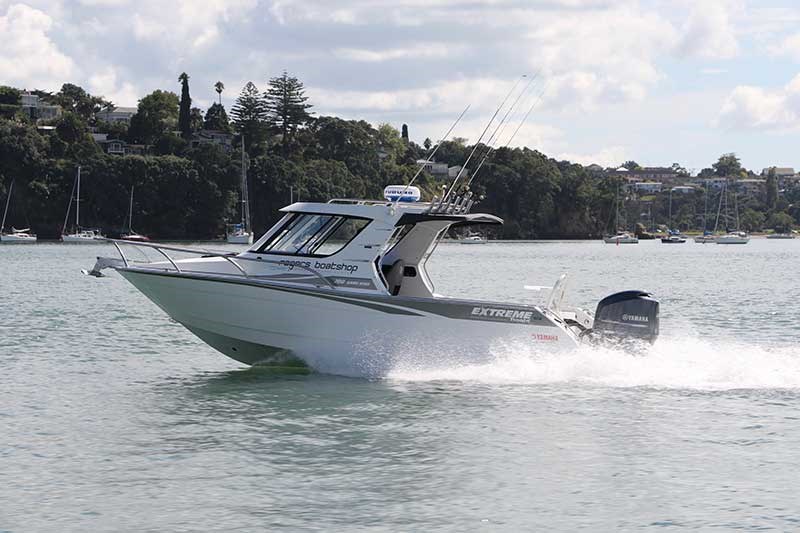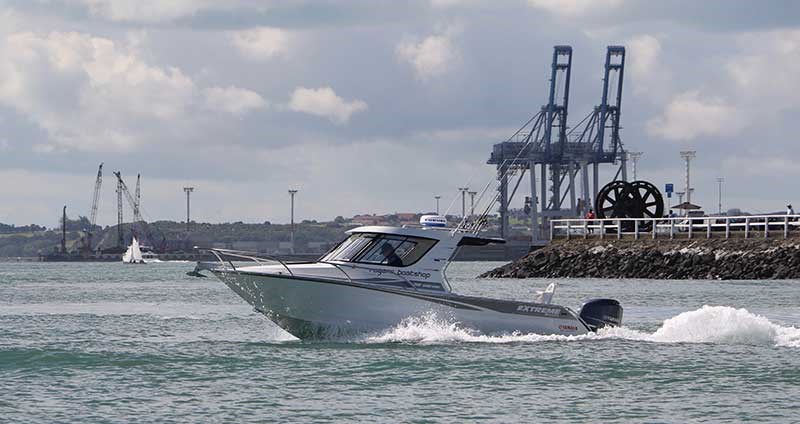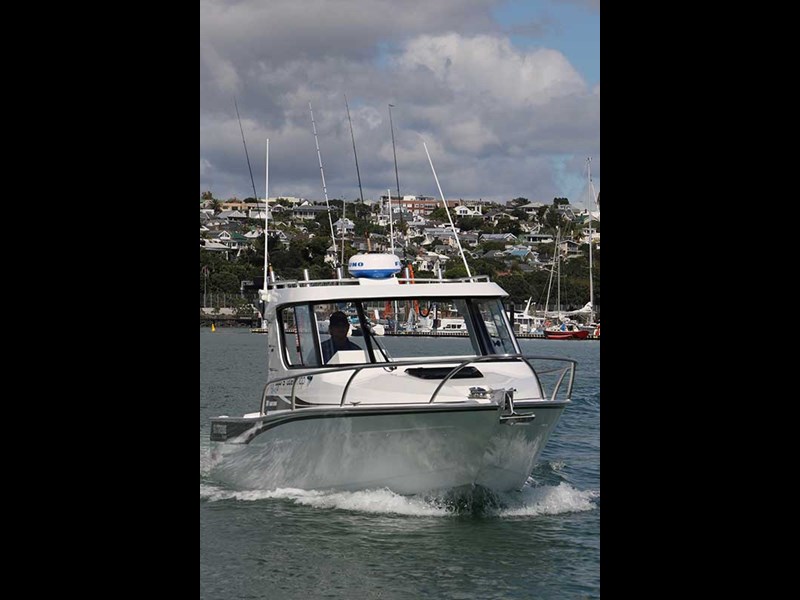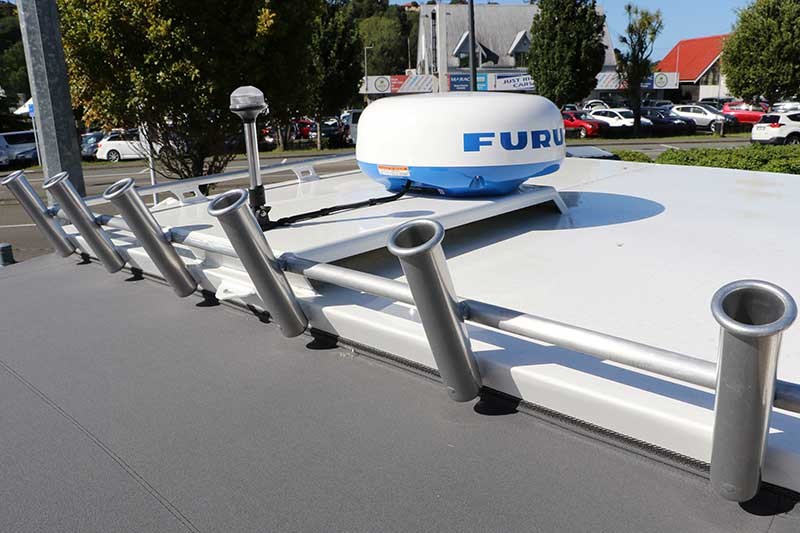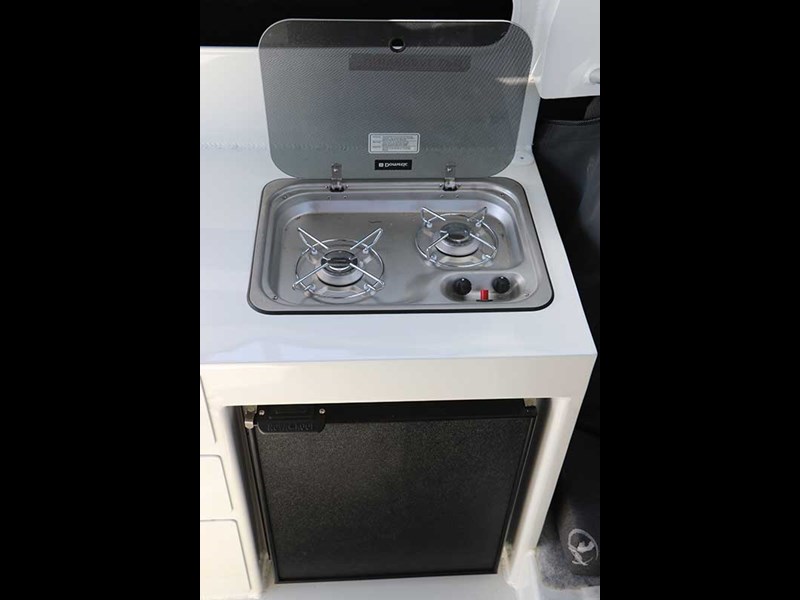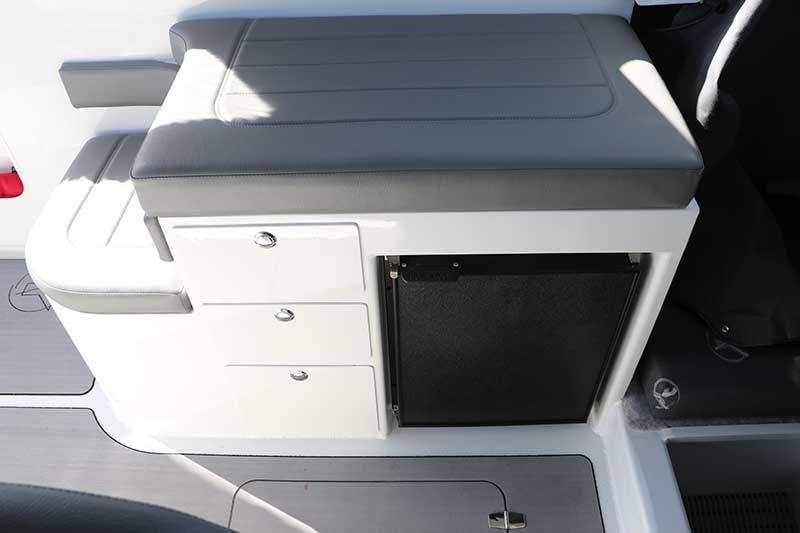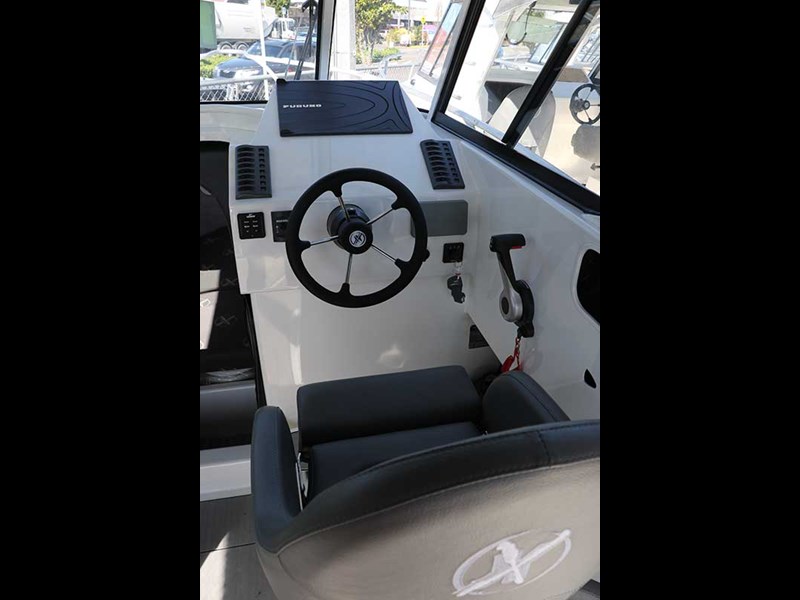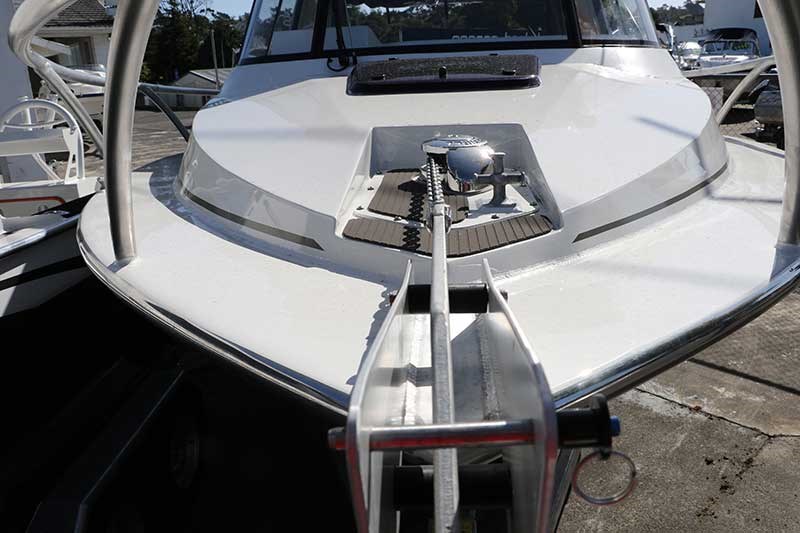 Peter Elliott tests the new Extreme 700 Game King, which is a trailer boat that he says has both fishing and family applications.
I have spent some time aboard earlier-model Extreme trailer boats. In particular, we used the 610 Centre Console in a match fishing format for television, with two three-man angling teams pitched against each other in identical boats. These boats coped brilliantly with serious seas and an astonishing load of fishing and camera equipment.
So there was a lot to live up to when I stepped aboard the Extreme 700 Game King.
Design and build quality
The first thing to notice is the build quality of the Extreme 700 Game King. Being aluminium, it is welded. No surprises there, but art abounds in the smooth semicircular waves of the 700's joins; it's a class act. The Extreme 700 Game King itself has a dignified capability about every inch.
Boarding, the duckboards are large and and a lidded, live bait tank is set into the transom, through the portofino. The Big Yamaha 200 lurks astern in thundercloud blue; it's the heaviest 200 they make, but it fits the ship perfectly, and on the water the 700's hull lines are straight, poised, and balanced.
Inside, the floor is covered with grey-green grip-tread rubber, with chamfered edges in black. It feels fantastic to the foot and removes the end-of-day ache that comes from standing long hours on pitching alloy. It also acts a sound deadener and the ship is remarkably quiet under way.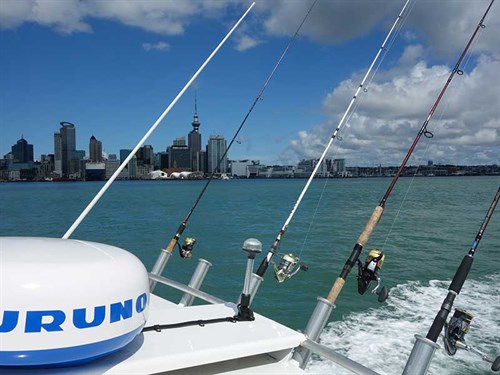 Fishing and family boat
This is a true trailer boat – useful for both fishers and for families. Yes, it is a Game King, but this one is configured for family use as well.
Where the usual passenger seat would be is a console bench with upholstered top for sitting and leaning against; beneath it is housed a fridge; three locking, push button, deep drawers; and a two-burner Dometic Cooktop under a toughened glass lid. There's an upholstered rear facing seat as part of it with the gas bottle storage beneath.
The cockpit would accommodate four anglers with ease, although rod storage was a bit light with two 2m-long shelves let in to the gunwales. Two rod holders are welded in to each gunwale, and, in my opinion, there could be more. And I also believe a discerning buyer would require some sort of protection on the gunwale tops. Grip tread perhaps?
The rear mounted baitboard and drainage system has only two rod holders and the rocket launcher has places for six. Frankly, that's a bit light for a full on game fishing trip, BUT these boats are highly configurable from the Whakatane factory.
Up forward, the cabin is lined, warm and serviceable with two deep ledges on either side for storage. It was too short for me to sleep in comfortably, but useful for kids and storage. And another item of great appreciation will be the electric toilet beneath the infill seating.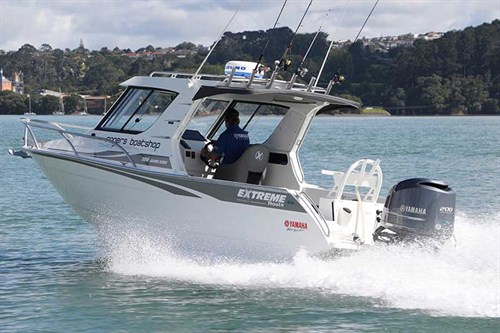 Handling and ride
The helm itself is a good position with an adjustable seat and a rollaway bolster front, so that leaning while at the wheel is exceptionally comfortable. The vision through the strongly partitioned windscreen is exemplary, and sliding windows either side allow instructions forward, and viewing down the sides.
The big central windscreen is made from toughened glass and is home to a large two speed parallax wiper, with a windscreen washer nozzle mounted to the arm it ensures excellent visibilty from the helm no matter the weather. The curved windscreen edges are perspex and may dim with time and sun; I would personally prefer that they too were toughened glass.
Navigation GPS, sounder, weather, radar and all manner of technical wizardry is delivered via the Furuno Navnet TZT 16" touchscreen, and the Yamaha engine management system is clear to read and easy to understand. Given the bulk of the workings behind this unit, it is mounted a trifle further up the dash plane than usual; as a result, it cops a bit of glare.
Overhead, in the hard top, music is well handled by a six speaker Fusion Stereo system, and GME takes care of the VHF. Lenco Trim Tabs are easy to hand and are deliciously effective and quick to use. Switches for ship management are also on the top of the binnacle and easy to read while helming.
Steering is hydraulic and firm but light to the touch, especially at speed. The 700 is easy and inuitive on the trim tabs – it's simplicity itself to set the Extreme 700 Game King up at its optimum.
The boat has superb power out of the hole and tracks dead straight due to its deep V, reverse chines and long waterline length. The shoulders of the hull muscle the chop and churn away cleanly, and the ride is magically dry. I spun the wheel trying to make it give up or cavitate in the tight, but no such behaviour could be induced.
Rocking through the usual Auckland washing-machine of ferry wakes, the Extreme 700 Game King behaved without foible, staying level and true. That hefty 5mm hull plate delivers a frigate-like solidity. Confidence in the ship arrives quickly in a following sea too, with no hint of broach. We cruised home at a shade over 4000rpm and 50kph, talking without raised voices the whole way.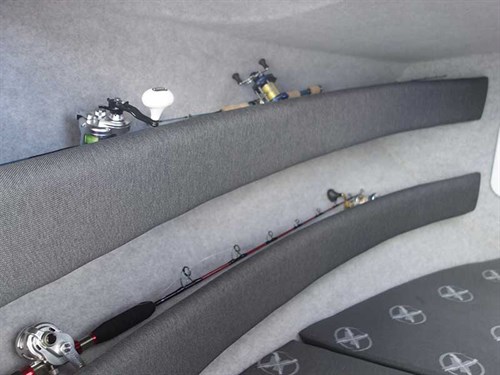 Other features
There is a wealth of hand holds aboard the Extreme 700 Game King, which makes good use of space for storage of what-have-you. However, few boats have ever found a good way to protect and house fishing gear on board properly. The Extreme's lined drawers would be useful for reels – but for rigged rods there isn't much. This is a conundrum that needs to be addressed by the whole boating industry.
Up top, there's a big Furuno radar dome, two aerials, and also a weather and sun shade that extends from the rear of the hard top. It's not too useful when fishing, although this provides good cover for family and passengers.
There's also deck wash system that really works, 250 litres of fuel beneath the floor and even a 40 litre fresh water tank. At the rear, the transom has two fibreglass hatches behind which lie the dual batteries, relays and fuses, well up out of any splashing zone and easy to hand.
The boarding ladder is sturdy and allows for diver and swimmer access. Down below are bait lights, and the usual good stability at rest is gained from the flooding keel.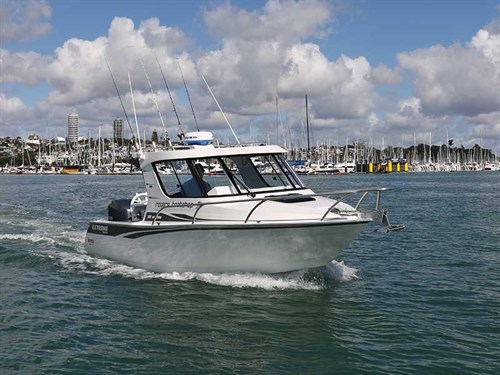 The Trade-a-Boat verdict
Perhaps the greatest thing about the Extreme 700 Game King is its's calm, confident, capable, feel. It imparts a sense of strength and solidity with attractiveness, and is a credit to the builders and designers.
Yes, there are some issues with it, but these are largely confined to the configuration. Were it mine, I would dispense with the galley fittings, up the rod quotient, work out some storage for rods and reels pre-rigged, increase the number of rod holders, and not much else. But it is customisable, so you can order it the way you like, if you are prepared to wait. Rigged just as it is, though, the Extreme 700 Game King would do brilliantly.
Highs
Exceptional finish
Handling and ride
Attractive on the water
Tracking
Feel and Presence
Lows
Rod storage
Windscreen and window rubber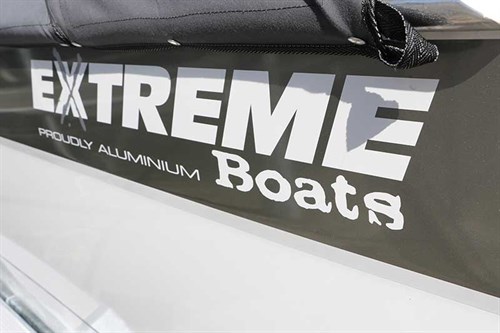 Extreme 700 Game King specs
Priced from $120,000; price as tested $149,995
General
Material Aluminium
Type Trailerboat
Length 7200mm
Beam 2490mm
Deadrise 20.5 degrees
Height O/T 3100mm
Tow length 8400mm
Weight 2300kg (approx.)
Hull transom 5mm
Deck and sides 4mm
Capacities
People 7
Fuel 250 litres
Water 40 litres
Engine
Recommended 175 -250
Make Yamaha
Model 4 Stroke Saltwater V6 3.2ltr
HP 200
Propeller Yamaha Reliance 13.75 x 19
Supplied by
Rogers Boat Shop
www.rogersboatshop.co.nz
245 Dairy Flat Highway, Albany 0755, Auckland
Manufactured by
Extreme Boats Ltd
www.extremeboats.nz
84 Thornton Road
Whakatane, NZ
See the full version of this review in an upcoming issue of Trade-A-Boat. Don't miss it – subscribe today.
Keep up to date with news from Trade-A-boat or like us on Facebook!