Review: Phoenix 721 ProXP bass boat
---
Bass boats like the Phoenix 721 ProXP give the advantage to frontrunners in the competitive world of bass and bream fishing competitions — especially when fitted with a monster 300hp Evinrude E-TEC G2 outboard motor.
From its origin some 15 years ago, Phoenix Bass Boats has shouldered its way to the upper echelons of boating chic by hand-building fully composite bass boat construction hulls from the best quality resin and close-weave mat, and then leaving the mix in the mould for four days to cure. Although Phoenix Bass Boats may not be a household name, the brand is well-established in America where it sits in the premium category of bass boats, some of which can achieve speeds in excess of 100mph to be first to the best fishing locations in competitions that have monster prizemoney.
Phoenix bass boat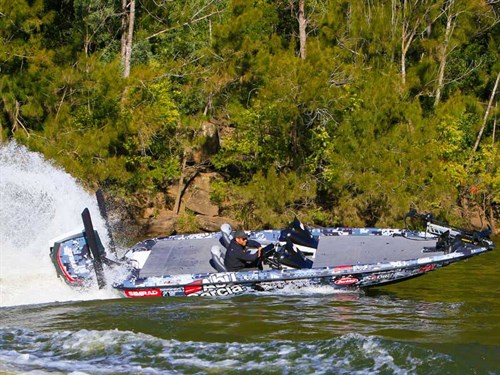 Driving the Phoenix 721 ProXP bass boat reminded me of my first encounter with a motorcycle many years ago as an impressionable 14-year-old. It was on a 650 BSA on the footy oval behind the local school and the memory of the shot of adrenalin that surged through my every fibre still lives with me today. Speed is good.
My guess is that Ross Cannizzaro was imbued with the same addiction from an early age. His old man raced drag cars and he has followed the same interest with passion. These days his fix is satisfied behind the wheel this low-slung 300hp Phoenix bass boat that can hurtle him across the water at 68kts (78.25mph).
Layout and design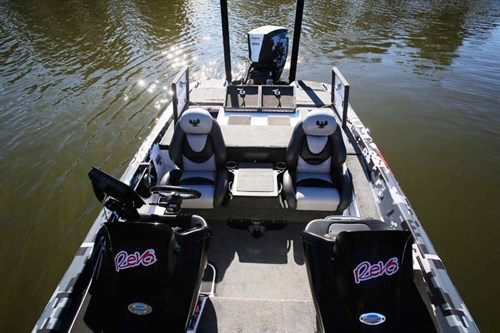 Ross's boat, ute and engine are kitted out in high-tech black, white and grey wraps for a striking image on the road. At the ramp the big 300hp E-TEC G2 outboard motor towers over the Phoenix, so there is no mistaking this thing is a rocket.
Underwater features include small reverse chines outside three subtle planing strakes each side and a flat profile at the transom, which runs to amidships where the centreline rises to an extremely sharp entry. It's aerodynamic, hydrodynamic and just plain dynamic.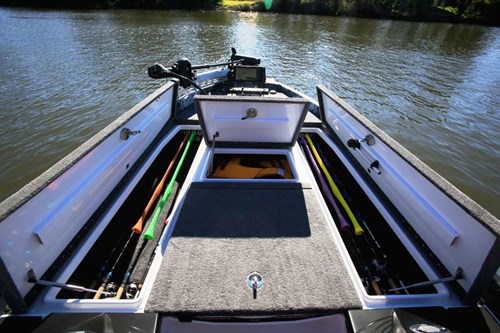 It might be rated to carry six people but there are only seats for two on comfortable buckets at floor level behind twin consoles, the passenger one of which is removable to add fishing room. Forward and rear of this low central seating area are carpet-covered decks, flush with the gunwales.
From the 112lb Minn Kota in the bow to the 14.5 x 28in Raker 2 stainless steel prop, everything is dedicated to fishing-finding and catching fish and then storing them for the weigh-in. The layout of the boat is designed to keep everything needed for the task easily accessible, without impairing movement around the boat by creating a clutter-free environment.
Photo gallery: see a detailed Phoenix 721 ProXP bass boat photo gallery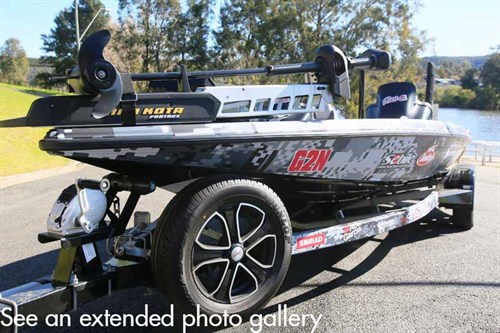 Casting deck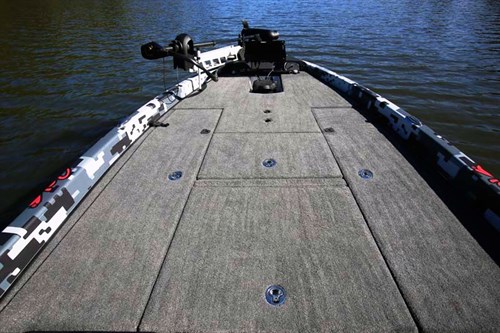 The casting deck has lockable hatches and various thoughtful storage options including two side lockers, each with 12 slots for rods up to 9ft, a central fully dry storage bin and a dedicated locker capable of holding eight Plano 3700 plastic tackle trays. Hatches have reinforced aluminium lids and are either carpet lined or neatly moulded, plus have LED snake lights to tell the minnows from the poppers at night.
Another rod locker alongside the passenger seat holds four 7ft rods, there's a small tool locker, a central dry bin and a nifty net storage slot under the seat. An aerated livewell with separate compartments and even more hatches are found under the rear casting deck, and at the transom are non-skid boarding steps with grab handles.
Either side of the engine is a pair of 8ft Power Pole Blade Series stabilisers used to keep the boat in place in wind and current. They're more direct and quieter than an anchor but Ross conceded they took 4kts off the top-end speed.
Evinrude E-TEC G2 300
Mounted on an 11in manual-lift jacking plate is, as mentioned, one of the new Evinrude E-TEC G2 300 outboard engines. These motors were introduced early in 2015 and deliver smooth, efficient power, and plenty of it. The latest two-stroke technology and direct injection into a 3441cc V6 block gives efficient fuel use and its 239kg compares well against similarly-powered four-strokes.
On the clean lines of a big bass boat the simple electronic Evinrude controls leave the transom looking equally neat, and while the E-TEC G2 300 outboard package comes with power steering and automatic trim these are both features that Ross would rather override when driving as he likes to feel more in touch with what's happening through the wheel.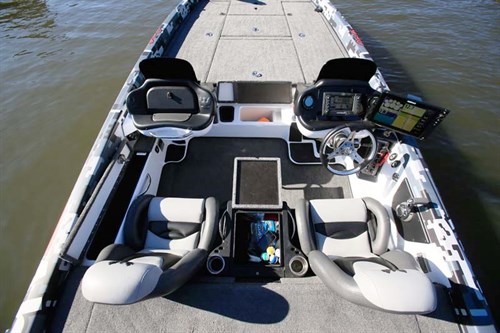 Getting in behind the helm got the heart rate ticking over a bit more quickly. Seating is a real feet-forward experience that puts you very close to the water and tucked into a well-contoured bucket with lots of grip. To the right is a pod mounted 12in screen that shows sounder and GPS information. Right in front is a 7in I-Command screen for all engine readouts, with extra digital dials either side.
There's a padded footrest for your left foot and an accelerator pedal to the right that is switchable to the side mounted hand control for docking. Trim is adjusted by a long stork on the steering column (similar to blinkers in a car) and readout on the I-Command screen lets you know where you're at – down for down and up for up. Should remember that.
Handling and ride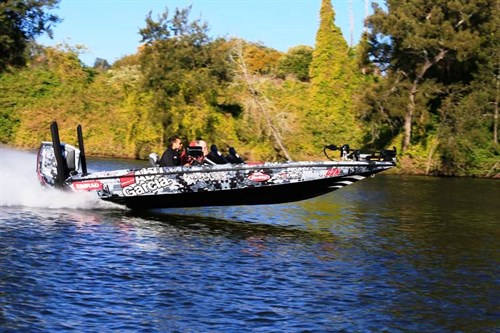 Some words of advice from Ross before we left the dock included that the boat takes some getting used to, that you have to really drive it and NEVER, NEVER back off at speed – if the boat feels like it's not right, then trim in real quick. Of course all this would be par for the course for you drivers of ballsy ski and racing boats, so forgive me for feeling a little bit apprehensive.
Getting out of the hole had the bow momentarily about 15ft in the air like a rearing horse, but it settled down quickly and we were instantly planing at 15kts then miraculously transported to nearly 40kts on the ripple-smooth water of the Nepean Gorge, west of Sydney. At that speed the boat turned predictably and smoothly, banking just enough to settle us into our seats a bit. Over bumps from wake it felt stable and fuss-free and at no stage was there any vibration or rattles from the hull or fittings.
Gradually, we increased speed so that anything up to around 60kts felt comfortable. Comfortable? It felt sensational being welded to the water with the cliffs flying past. Faster turns gave more and more confidence in the boat and after a few more runs it was time to open the throttles fully and hope for the best.
Every time I got to 65kts with the motor trimmed way out the boat would start chine walking and bouncing in a manner I could best describe as disconcerting. Gritting my teeth I was determined to get to the 68kts Ross said he could squeeze out of the hull, but each time I had to admit I didn't feel in control.
Meanwhile Ross was laughing gleefully in the passenger seat. He then admitted I was the first person he had let drive the boat and he was having a great time seeing how difficult it was to extract the last bit of performance. "It's just a matter of time," he assured me, but with the sun disappearing over the mountains it was time to let him at the wheel.
68kts came up in the blink of an eye. No wobble, no fuss, just a deft hand at the wheel and a happy glint in his eye. We toured effortlessly back down the river at full noise enjoying every moment.
The Trade-a-Boat verdict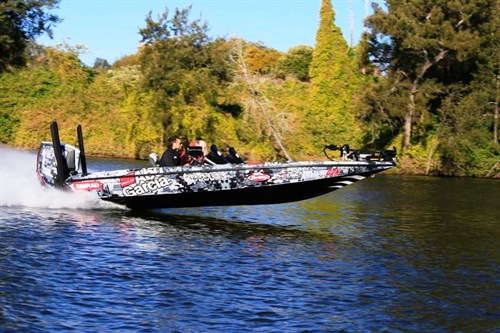 There's something like $20,000 worth of marine electronics and engine upgrade on the test boat, but even so a standard package will trim $100,000 from your savings. That's a lot in anyone's language for a one-dimensional fishing platform. But getting to the fish first? Priceless.
HIGHS
Immaculately finished
Speed, speed, and more speed
Handling and ride are sensational
Looks fantastic
LOWS
Phoenix 721 ProXP sea trials
Single 300hp Evinrude E-TEC G2 outboard motor
| | |
| --- | --- |
| RPM | SPEED (KTS) |
| 1000 | 4.2 |
| 1500 | 6 |
| 2000 | 6.3 |
| 2500 | 7.3 |
| 2650 | 15 (on the plane) |
| 3000 | 27 |
| 3500 | 33 |
| 4000 | 39 |
| 4500 | 47 |
| 5000 | 53 |
| 5500 | 65 |
| 5800 (WOT) | 68 |
* Sea-trial data supplied by the author.
Phoenix 721 ProXP price: $A120,000
Price as tested
Phoenix 721 ProXP specs
GENERAL
MATERIAL GRP
TYPE Planing monohull
LENGTH 6.4m
BEAM 2.44m
WEIGHT 840kg hull
CAPACITIES
PEOPLE 5
REC. HP RANGE 200 to 250
REC. MAX HP 300
FUEL 189lt
ENGINE
MAKE/MODEL Evinrude E-TEC G2 300 outboard motor
TYPE Direct injection V6 two-stroke outboard motor
RATED HP 300
DISPLACEMENT 3441cc
WEIGHT 239kg
PROP 14.4 x 26in
SUPPLIED BY
Skeeter Boats
2/21 Peachtree Road,
Penrith, NSW, 2750
Phone +61 408 621426
Email josh@skeeterboats.com.au
See the full version of this review in Trade-A-Boat #263, on sale March 2016. Why not subscribe today?
Keep up to date with news from Trade-A-boat or like us on Facebook!