Review: Sealine S330
---
How does the Sealine S330 luxury motoryacht rate? With the S330, Sealine Boats hasn't reinvented the wheel - but it sure has put a fresh spin on it.
Europe has stamped its undeniable flair on the worldwide boating industry, with its designers seemingly intent on outdoing each other with modern marvels.
So your very first glimpse of the Sealine S330 probably gave away its origins; it's manufactured by Hanse Yachts in its Greifswald yard in Germany. On the edge of the Baltic Sea, it's part of the bold maritime capital of Europe that's bordered by Denmark and the Netherlands to the west, with the growing manufacturing base of Poland to the east.
However, the design of this Sealine yacht is pure Bill Dixon, a long-standing and highly innovative marine architect based in Southampton, UK. His company, Dixon Yacht Design, opened some 27 years ago, and has grown over the years to become one of the world's leading yacht design studios.
Sealine yachts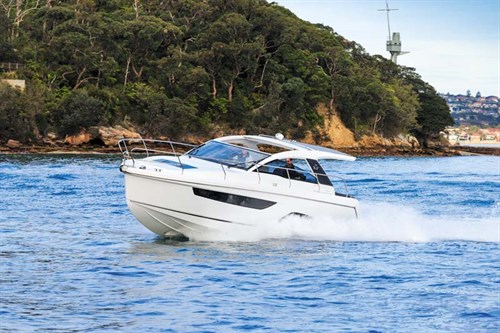 No matter how you look at the Sealine boats range, it has a distinctive flair. It constantly amazes me how modern trends take a rounded hull, give it a square attitude and present a chic and functional form. The Sealine S330 is a boat to impress. It speaks of fashion, composition, elegance and flair, combining modern pizzazz with traditional accomplishments. Furthermore, it follows the current trend towards the safety, reliability and longevity of diesel power; the most sensible move in recreational boating in our lifetime – at least in my opinion!
Peter Hrones, MD of local importers and agents eyachts, made quite a splash with the Sealine C330 and S330 models at last year's Sydney Boat Show, dressing the Sealine C330 in a magnificent metallic gold wrap. It was a simple move yet it made a very bold statement.
The Sealine C330 is the Cruiser version with enclosed saloon. The Sealine S330 is – fairly obviously – the Sports model, with an open cockpit and helm, and an airy entertaining feel from bow to stern.
Layout and design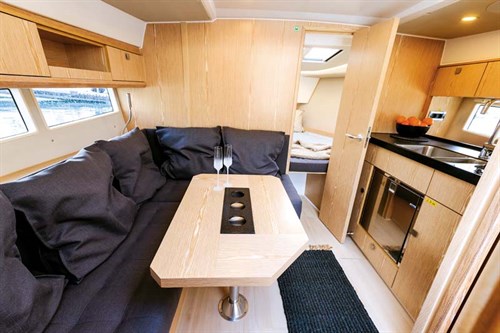 At 10.31 metres OA (33ft 10in), with 3.5-metre beam and a ton of freeboard there are plenty of features to admire on the Sealine S330 in a quite voluptuous presentation. There's a genuine feel of something old and something new with its square-cut bow setting up a hull shape almost reminiscent of the highly efficient Polynesian longboats but then becoming flat, almost slab-like above the chines, broken up by some simple mouldings and topped off with attractive tinted cabin windows.
At 5800kg overall, this hull is quite weighty for its size, a total that includes twin 220hp Volvo Penta D3 turbo-diesel marine engines with Duoprop stern drives that power the shapely vessel along beautifully to a top speed around 30kt. The weight indicates that there is some real construction integrity to the package.
Sealine yachts has combined plenty of creature comforts into the S330. This boat will appeal to a wide range of the sporty day-boat fraternity but it's equally viable as a fancy family cruiser.
Downstairs we have twin cabins; a forward V-berth and a mid-section transverse bunk. However, whilst the beds are both quite generous the fit-out is minimalist, with little storage space for nick-knacks. There is a cabinet/wardrobe in each area and the trim is light and fresh, with good headroom. The doorways are a bit of a squeeze for this rotund boatie, yet the manufacturer claims some of the highest head height in its class helps with the sense of internal space.
As you enter the cabin through the lockable sliding moulded Perspex hatch and down three stairs (that house the switchgear) from the cockpit, you find a thickly upholstered L-shaped convertible dinette on the port side, with the shared bathroom and galley to starboard.
Galley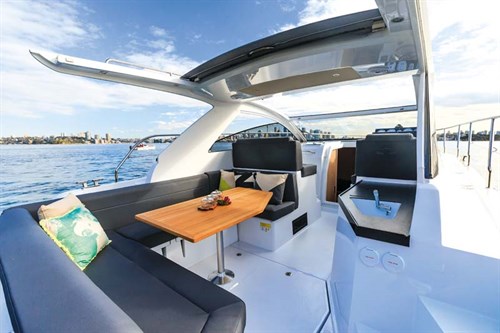 The galley features a single stainless steel sink with hot/cold mixer, attractive stone-look bench top, a two-burner gas stove and an Isotherm compressor bar fridge all set in some neat timber cabinetry with matt finish. Hot water is from either the engine manifolds or shore power, and the electric macerator toilet empties to a 60L holding tank. It is a combined 'wet' bathroom, with shower and toilet in one, and though a bit squeezy it's not bad – but it could use a vanity mirror, particularly for the ladies.
Whilst teak decks are available as an option our demo boat had simple non-skid gelcoat finish and to be honest I never missed the timber. Overhead is a unique combination of a huge automatic retracting sunroof over the helm and a shapely Targa with extended frame for yet another retractable soft roof to the rear, this one manual.
I must give top points for design and innovation allowing a highly functional and sporty outdoor living space. There is an easy stairway to starboard from the boarding platform leading to an open L-shaped rear lounge and timber table where the party begins – or ends! You don't have to go downstairs for refreshments either, with a small galley featuring another Isotherm fridge and sink behind the driver's position.
Volvo Penta D3 marine diesel engine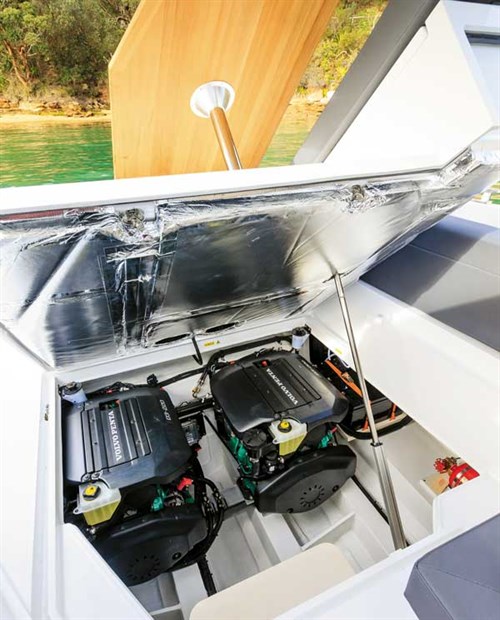 Diesel engines have always been the choice for commercial operators but their weight, cost and performance placed them second to petrol engines for recreational boaties – until recently! There's quite a revolution happening in marine engines: four-stroke outboards are becoming lighter and the same is true of diesel engines for smaller cruisers.
Diesel offers greater longevity, fuel economy, less servicing, high torque, is less prone to fuel contamination and is inherently safer than petrol.
Engines like the Volvo Penta D3 are rewriting the rules and bringing lighter weight performance to a much broader range of applications. This engine block is available in high-torque, low-rev 110 and 150hp versions for displacement and semi-planing hulls, or up to 220hp for higher performance hulls.
Interestingly, the 2.4L D3 220 with Duoprop drive weighs 363kg with full drive, props etc. That isn't much more than the 343kg of a new Mercruiser 200-250hp 4.5L marine petrol engine – without drive!
Volvo Penta's D3 meets stringent US EPA Tier 3 regs and claims 40 per cent lower emissions, with 20 per cent lower NOx and hydrocarbons than old models.
The 2.4-litre five-cylinder four-stroke marine diesel has direct injection, a turbocharger and after-cooling. Common-rail piezo-electric injectors allow multiple injections per cycle, for precise fuel delivery to increase efficiency and power. The Variable Geometry Turbo is claimed to deliver "effective supercharging from very low rpm up to maximum rpm ... for rapid acceleration up to planing speed."
Quoting a maximum of 46L/hr at WOT (4000rpm) and peak torque right in the high-demand range at 2350rpm, Volvo Penta is certainly onto a winner.
The proof of the pudding is in the eating and we have noticed distinctly higher acceleration and much lower induction noise from the latest offerings.
On the water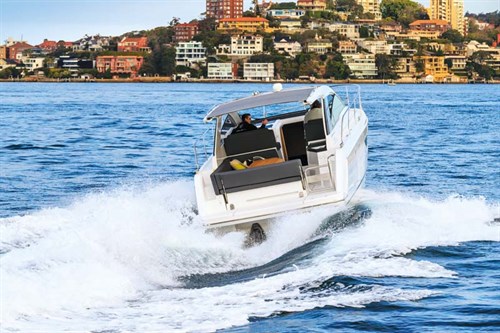 The helm features high bench seating for driver and passenger, and all instruments and controls are within easy operating reach and view. However, visibility from the helm is quite restricted, particularly at lower speeds and during acceleration as she points her nose somewhat skyward as she powers onto the plane. You can tilt down a timber floor panel for extra elevation and stick your head over the windscreen through the large sunroof but I have to say that this isn't always convenient or comfortable.
Once up, the hull is nimble and surprisingly sporty, with trim tabs giving attitude control in varying weight distribution and sea conditions. The twin Duoprops feel confident, with positive power and control at all speeds, including low-speed manoeuvring. If you prefer the lower cost of a single engine, a Volvo Penta D6 330 or 400 is available as an option.
I love the convenience of automated engine room access, with the cockpit floor and rear lounge pivoting to the rear. The massive engine room provides excellent access for servicing, with neat plumbing and electricals.
The Trade-a-Boat verdict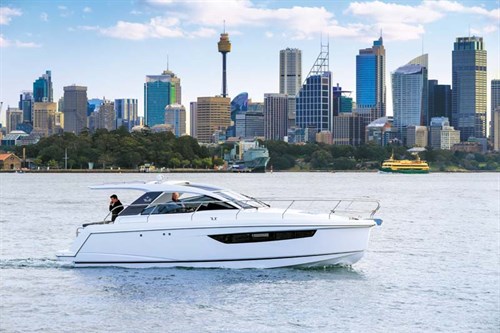 There is plenty to admire in the fresh design and enticing facility of the sporty Sealine S330. Some will love the distinctive Euro styling and minimalist attitude of the chic fit-out, though others may not. It is undoubtedly innovative and definitely cosmopolitan yet has the seagoing ability for extended cruising up the coast. It will appeal both as a family weekender and a thrilling sports machine with a sophisticated allure for entertaining. Sealine has certainly set a new standard in design and manufacture, boldly stamping its mark on boating. 
HIGHS
Gutsy twin diesels
Chic appeal
Twin doubles plus convertibles
Targa and opening sunroofs
LOWS
Cabin doorways narrow
Vision from helm
Minimalist interior
Sealine S330 sea trials
Twin 220hp Volvo Penta D3 turbo-diesel marine engines.
| | |
| --- | --- |
| RPM | SPEED |
| 1000 | 4kts |
| 1500 | 7kts |
| 2000 | 9kts |
| 2500 | 11kts |
| 2700 (plane) | 13kts |
| 3000 | 18kts |
| 3500 | 25kts |
| 3800 | 30kts |
* Sea-trial data supplied by John Ford. Note that the actual speed and efficiency figures for the review boat were unavailable on the day. The figures above were produced by the sistership Sealine C330 running the same engine fit-out. There is little weight difference and the same hull and superstructure, so we anticipate these figures will prove representative. Test with two people on board and light fuel load.
Sealine S330 specs
Sealine S330 price: $415,000
Priced from
PRICE AS TESTED
$490,000
GENERAL
MATERIAL GRP
TYPE Monohull luxury cruiser
LENGTH 10.31m w/ platform
BEAM 3.5m
WEIGHT 5800kg
CAPACITIES
PEOPLE (NIGHT) 4 (DAY) 8
FUEL 570L
WATER 220L
ENGINE
MAKE/MODEL Twin 220hp Volvo Penta D3 turbo-diesel marine engines with Duoprop sterndrives
TYPE Five-cylinder, four-stroke direct-injected, aftercooled common-rail diesel with piezo-electric injectors and variable geometry turbocharger
RATED HP 220
DISPLACEMENT 2.4 litres
WEIGHT 363kg (each) including Duoprop sterndrives
PROPELLER AND DRIVE Volvo Duoprop
MORE INFORMATION
Eyachts
1 Westhaven Drive
Westhaven 1010,
Auckland
Phone +64 (9) 413 9465
See the full version of this review in Trade-A-Boat #263, on sale February 25, 2016. Why not subscribe today?
Keep up to date with news from Trade-A-boat or like us on Facebook!