Review: Arvor 855 Weekender
---
Arvor Boats has found a way to make a hugely flexible boat affordable and good looking. The ease of use, trustworthy brand and known safety make the 855 Arvor Weekender a solid option for the adventurous and those looking for the quiet life alike.
I first saw this Arvor Weekender – briefly – at the 2015 Sydney International Boat Show where it quickly sold. I was impressed with its value for money, considering the allure of what appeared to be powerboat luxury with a smaller boat's ease of use.
Its vital measurements make the 855 Weekender legally towable, with restrictions, opening the possibilities for moving the boat from one location to another. It also means dry-stacking is an easy prospect for most storage facilities, reducing ownership costs dramatically. This boat now lives outside the lucky owner's house, taking pride of place as the family's escape from suburban Sydney.
Arvor boats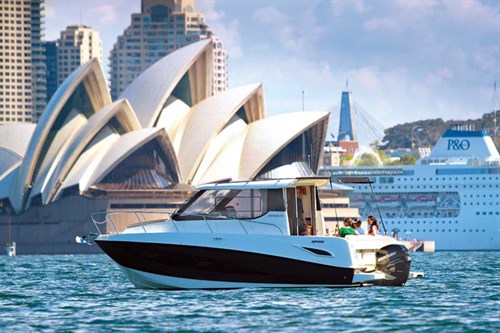 There is likely not a single seaside marina without Arvor boats, and for good reason – the brand has grown off a solid reputation for seaworthiness, reliability and ease of ownership.
More commonly shaft-driven but always featuring a wide beam and low centre of gravity, Arvor boats tend to work with the water predictably and comfortably. That makes them popular with those doing long hours on the water in rough locations. Reliability comes from the company's high quality standards from its modern European factory, as well as a long history of feedback going into design and engineering.
The Arvor boats range runs from smaller vessels suiting day fishers through to small game-boats and weekenders like this, the largest of the range currently available.
Inside the Arvor Weekender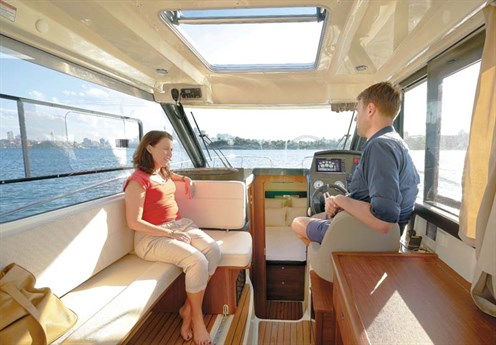 The interior of the Arvor 855 Weekender offers more than expected for the size of the boat. This is a 9m boat with two dedicated berths able to sleep two each, plus room in the main cabin by way of fold-down seats opposite the dinette. The guest room is small and really only suitable for adventurous adults or the young. Would I slide my two-metre frame in? If I was invited yes, but I suspect I'd find myself upstairs after a night or two.
The main, however, comes complete with double bed, storage by way of cabinets and under-bed access, decent lighting and excellent ventilation through the roof hatch. I could see myself here for longer – possibly week-long adventures.
Accompanying the living quarters downstairs is the shared bathroom. The separate shower and toilet are well thought-out and welcome where much of the segment uses over-toilet showers that tend to be messy and uncomfortable.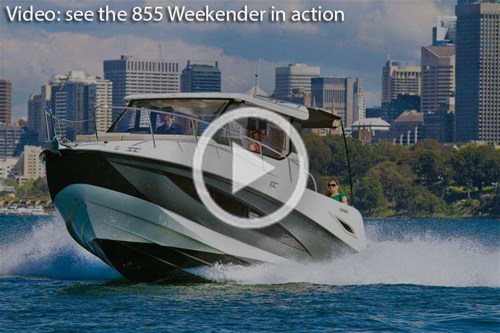 Upstairs, the galley is well appointed with the summer essentials – a decent-sized fridge/freezer, gas stove, sink and microwave, plus plenty of storage and a family-sized hi-low table.
Nice touches include the placement of circuit breakers inside the cabinets, in an easy-to-reach spot where they're safe from being unintentionally knocked, and the use of a cupboard door to hide the microwave. Panelling is dark wood veneer and works well against the light colour of the exposed gelcoat and tan seat squabs.
The helm is airy and well laid-out with all important switchgear falling nicely to hand. The dash has ample room for the optional Simrad nine-inch monitor that comes as part of the Electronics Package with ordered boats. The pack includes the Simrad and transducer, overhead Simrad VHF plus an excellent FUSION stereo and speakers. Throttle position is good and was clearly part of the design process, with its moulded space in the dash able to take twin binnacles if needed.
Layout and design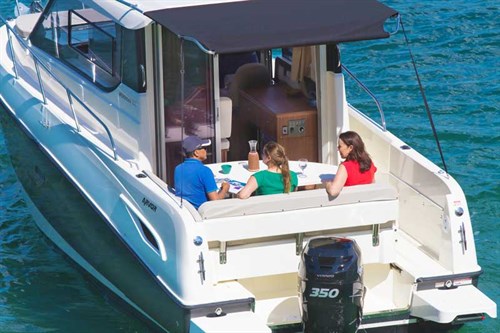 Parallel lines on the Arvor 855 Weekender slope back from the focal point created by the cabin and bow. They lend a sense of movement that helps hide the girth and tall nature of the design; something not although new to Arvor boats, though uncommon among the older and more commonly seen models. The striking grey accent of our test boat masks the window lines and helps break up the wall of white while adding a contemporary feel. I welcome the lines and use of colour; hopefully we see it trickle down the family tree.
Up on the bow, a sunbed is easily assembled, improving the total useable space on board and offering a welcome retreat from other passengers, should the need arise. Roof-mounted grab rails and the tall wrap-around bow rails make the trip forward safe though the wide walk-around.
Down back, the Arvor Weekender features another table for entertaining, and an ingenious rear bench –slide it forward when the motor is tilted up and back when underway to maximise available space. Storage is good, with under-seat space and a cavernous in-floor area suitable for wet gear, mooring lines, fenders and more. An awning and outside speakers complete the rear entertainment area.
350hp Mercury Verado
Powered by Mercury's Verado 350hp outboard, this Arvor Weekender is capable of reaching close to 38kts and should reach into the mid-30s with as little as 300hp. It's an inline six-cylinder outboard motor, like the 300hp Verado, and again uses forced induction by way of a supercharger. At only 2600cc it may seem down on displacement but the supercharger's effect on performance is immense. The inherent smoothness of inline sixes is something special.
Steering is electro-hydraulic, meaning the helm is similar to a typical hydraulic set-up with a powered pump at the engine helping tame the torque. The system works well and helps the 855 feel more agile than a boat its size should.
Outboard engine weight is low – as little as 303kg for a short shaft – and fuel burn tops out at 124L/h (maximum injector capacity) which is lower than the competition, though we weren't able to get proper fuel burn and speed results during our test as the set-up hadn't been fully finalised.
Handling and ride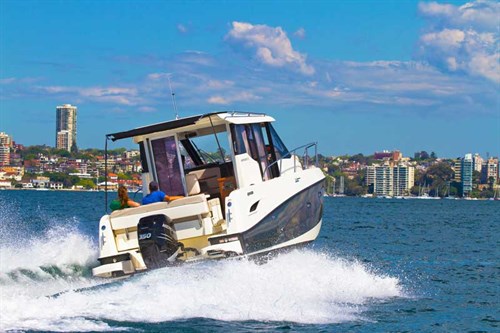 If you've watch the video review of the 855 Arvor Weekender (above), you'll see my co-host, Lucy, handle the Arvor 855 as if it were an extension of her mind, it was that easy. Put that down to the factory-fitted 1.5kW bow thruster as well as that visibility through the starboard helm door and the wide windows.
Underway the Arvor 855 Weekender's straked hull grips the water well, leaning into turns like a sports boat. The big chines and modest 17° deadrise combine to mean there's some harshness when you're really pushing the hull but its design never called for outright performance; it just happens to inspire confidence and asks to be pushed.
Quality Lenco trim tabs come as standard and make a strong difference to bow attitude, something that – after some practice – will help drivers find the best attitude for the conditions. I found lifting the bow worked well in softening the ride when encountering Sydney harbour's famous ferries.
Down the back of the boat, under the cockpit floor, is a safety feature not seen often enough in modern boats: a clear fuel tank. All Arvor boats I've had the pleasure of inspecting have this feature and I was happy to see it again in the 855. Fuel senders fail all too often so a simple visual inspection always sets the mind at ease.
The Trade-a-Boat verdict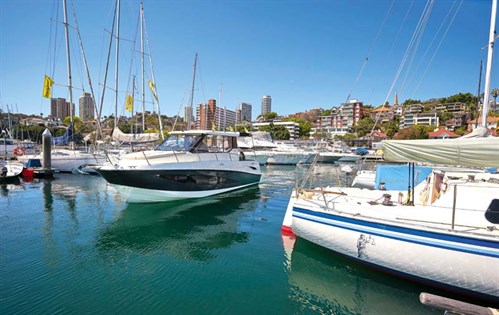 At 38kt or thereabouts, the 855 Weekender is quick enough to call sporty but that's not its strongest suit. It appeals as a take-life-slowly option for those wanting to see coastal bays and explore the far reaches of local harbours. With room to sleep six and the amenities to look after them all, it has the capacity to take the family yet its size, cost of ownership and ease of use make it a spontaneous option, something many powerboat owners will envy the lucky Arvor owners for.
HIGHS
Value for money
Contemporary styling
Flexible entertainment areas
Safety in design
LOWS
Ride slightly compromised
Some rattles at specs
Arvor 855 Weekender specs
Arvor 855 Weekender price: $235,500
Priced from
OPTIONS FITTED
350hp Mercury Verado outboard motor upgrade, marine electronics package, coloured hull, grey water tank
PRICED AS TESTED
$POA
GENERAL
MATERIAL Fibreglass
TYPE Planing monohull
LENGTH 8.91m
BEAM 2.98m
WEIGHT 2713kg (dry/excluding engine)
CAPACITIES
PEOPLE 10
FUEL 400lt
WATER 100lt
ENGINE
MAKE/MODEL Mercury Verado 350hp outboard motor
TYPE Six-cylinder supercharged FourStroke
RATED HP 350
PROPELLER Enertia stainless steel 15.3x14RH
MORE INFORMATION
Bailey Marine
Waipu, Northland 0545
Phone (09) 432 1663
Email terry@baileymarine.co.nz
See the full version of this review in Trade-A-Boat #263, on sale March 24, 2016. Why not subscribe today?
Keep up to date with news from Trade-A-boat or like us on Facebook!