Video: Arvor 855 Weekender
---
The Arvor 855 Weekender occupies that sweet spot between trailerboats and large luxury craft. For this video we spend a day on Sydney's waterways, where the 855 Weekender did what it does best in its natural environment.
The Arvor 855 Weekender is 9m long, has a 3m beam, and is 3 tonnes wet. This means it's big enough to have the same features expected on a luxurious powerboat, yet it can be easily handled, moored, and loaded in a drystack.
Handling and ride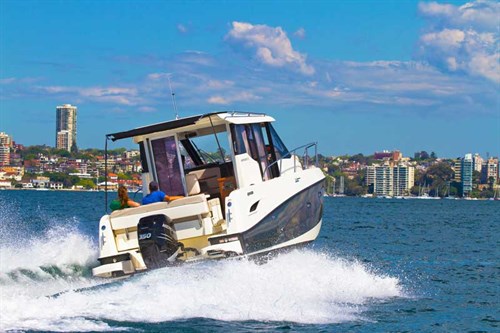 For our Arvor 855 Weekender review we joined owner Lucy for a day around Sydney. Here, the bowthrusters proved to be particularly handy in confined waterways. Indeed, thanks to those bowthrusters, the Arvor 855 Weekender was easier to dock and manoeuvre than a trailerboat.
Our Arvor 855 Weekender review boat was powered by a 350hp Mercury Verado outboard motor, which turned out to be a good match.
"The performance was good. Better than I expected given the size and weight of the boat," said Trade-a-Boat editor Tim van Duyl.
"We saw around 35kts (65kmh) and I hear that with a 300hp outboard motor, the hull will still get into the 30s. Not bad," he said.
"Trim was good, with the tabs playing their part to raise and lower the bow easily and smoothly. Noise inside the cabin is acceptable. With the doors and windows shut, the super-charged Mercury outboard is only just noticeable.
"In tight turns, the wide chines bite well for a progressive turn with little slippage or excessive lean. The Arvor 855 Weekender really was very predictable and hides its size very well.
"With a modest 17° deadrise and full bow, the boat did feel a touch tender at rest and when pushing hard, it didn't cut through the waves like some other boats in its class — but it's not built for that. The Arvor 855 Weekender is built for comfort and cruising — and what's important there? Manoeuvrability."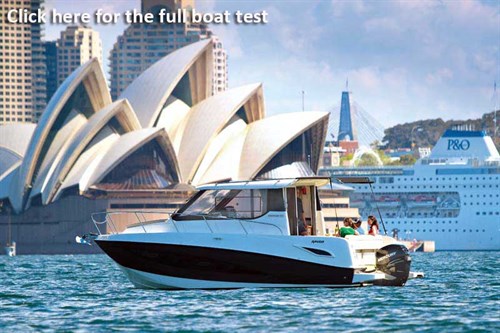 855 Weekender cabin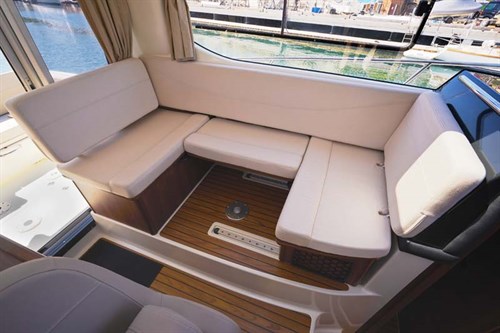 In the cabin is a modest but wonderfully functional kitchenette area. Tea (or dinner) is easily on hand with a two-burner stove, situated next to a generously sized sink. Nearby is a Waeco fridge, again of modest size, but perfectly adequate for longish days on the water and cruises, along with a microwave.
Several nice features add to the comforts and cruisy nature of the Arvor 855 Weekender. For example, a 12V charger built below the skipper's drink holders means a mobile phone can be charged on the go.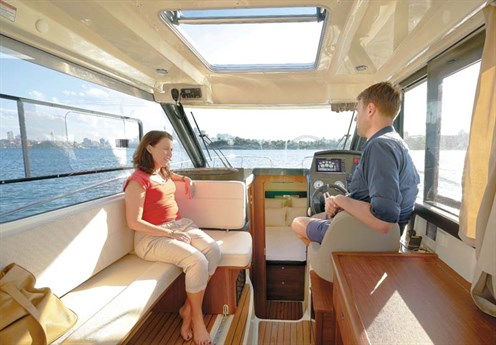 Curtains cover all the cabin windows to give owners some privacy, handy for when cabin table is removed, creating a two-person daybed inside the helm.
A master bedroom with a generously-sized fold-out bed, plus bathroom, sink and toilet round out the package.
Mouldings and the general finish throughout are excellent, with rounded edges and soft padding the order of the day.
---
---
The Trade-a-Boat verdict
The Arvor 855 Weekender is a quality boat, with lots of amenities, a spacious design, and a tremendous amount of storage. It is a very good choice for people looking to overnight and escape for the weekend. Hence, the name: Arvor 855 Weekender.
Keep up to date with news from Trade-A-boat or like us on Facebook!