Review: CaraBoat 7500
---
It's a caravan, boat and houseboat in one. Check out the CaraBoat 7500.
After years building custom sailing catamarans to clients' designs, Rob and Andrew from Composite Cats in Port Stephens decided it was time to turn their skills to their own project. They chose a road less travelled with their innovative and transportable houseboat. And in using this term for the CaraBoat — a caravan boat — I am mindful there are some pretty unattractive bland boxes littering backwaters everywhere.
Houseboat... caravan... boat...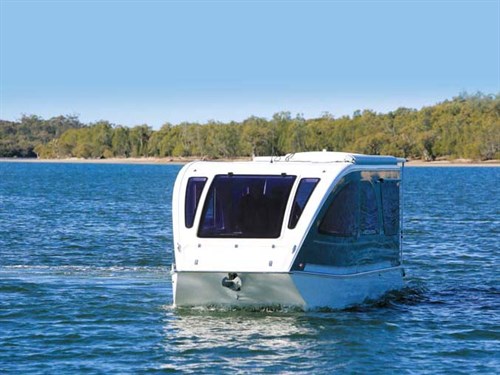 By delivering on style, practicality and versatility the CaraBoat transcends its field, creating a whole new category of crossover recreational vehicle. I was gobsmacked at how good it looked and, as I followed it down to the ramp, so was everyone we passed. It has the size and aerodynamic design of a modern caravan but the outboard motors hanging off the back give the game away.
The hull shape references the team's catamaran background, combining a punt's flat shape with gull wings each side. It promises efficient performance in flat water along with a stable platform at rest.
The hull on the CaraBoat 7500 is 7mm solid glass with an extra 2mm along the keel and outer edges (constructed to survey specification). Cabin walls and roof are lightweight composite honeycombs.
Launching is easy; using gas struts, lift the aft awning (this covers the rear of the saloon when under way) and remove the moulded mudguards from either side. The hull then slides smoothly from its custom trailer. We boarded from the dock across a narrow rear platform. A large window over the bow opens wide, providing access there as well – that would be particularly handy when pulling in to a beach.
Layout and design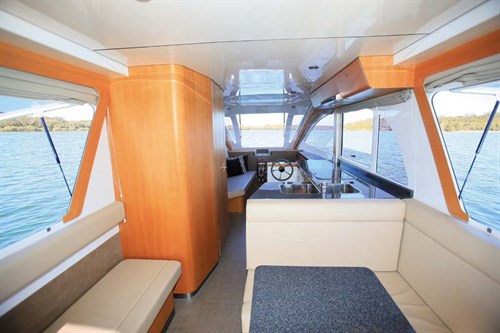 Once on board the CaraBoat 7500 it's immediately obvious that the 'Cara' personality holds sway over the 'Boat' in the layout. Apart from a small platform extending aft between the engines, the space is all interior. There's no real cockpit and therefore no outdoors living area, though later models will have the option of a detachable large rear deck that will live under the CaraBoat, in a bracket on the trailer, when not required in 'van' mode.
Addressing this issue in the current model are windows along the sides plus those large openings at each end, which combine to give a more open impression. Breezes flow freely through the saloon, views are vast, and natural light streams in. Custom roman blinds all around grant shade or complete privacy as desired.
Our review CaraBoat 7500 was the first into production and its layout features a combination bathroom and pantry module to port, whereas the later versions have it on the other side for better access to the galley servery when camping.
Deep storage lockers in the bow include a hatch for the electric anchor winch. The anchor can be easily deployed through the large bow opening and with extra windows either side, forward vision is good. Little touches like folding cleats show good attention to detail.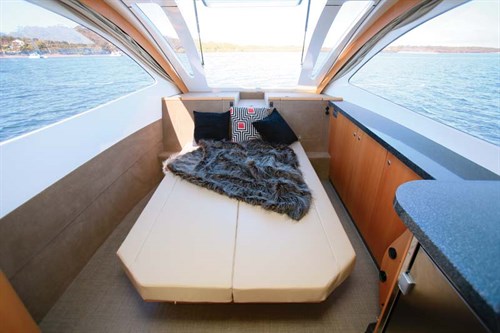 A lounge to port converts to a double bed that can be set against the wall or slid on tracks into the middle of the saloon to allow access from either side. Large storage cupboards are set into the front bulkhead and there's a cabinet along the starboard wall that expands into a wider bench amidships as part of the galley layout.
A 120L Vitrifrigo fridge freezer is set under the bench, with an optional 70L freezer or fridge at the rear entry. The Smev three-burner cooktop has a lid to increase bench space and an oven/grille below, while overhead cupboards include a Camec rangehood with light.
Twin stainless steel sinks are set into a return that becomes the back of the rear L-shaped lounge. Under the bench I found cutlery drawers and a large pot holder as well as a handy slide-out bin.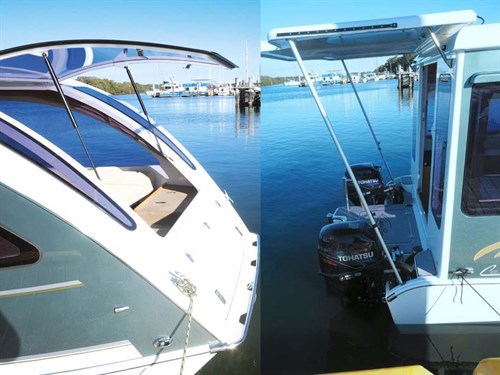 In the rear of the saloon, and adjacent to the opening doors, is the main entertaining space where a convertible lounge faces a port-side settee, offering seating for six. The lounge has a removable table and can convert to a second double bed.
With a large picture window, the bathroom really is a loo with a view. Inside it's all cleanly moulded white fibreglass; outside it's elegant floor-to-ceiling timber. The compact combination shower and toilet includes a Dometic cassette toilet, vanity unit with mirror, retractable showerhead, Seadeck non-skid floor and a 75-litre grey water tank.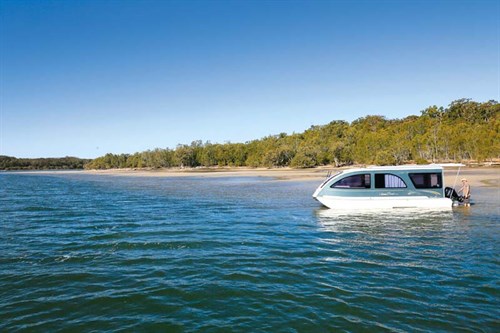 Forward of the head, the module becomes a full-height storage unit with slide-out hanging locker and pantry. There's more storage beneath the lounges and in a hatch under the rear deck, with the twin plastic fuel tanks.
To create more space at rest, the helm folds into a slot in the bench and lifts out to waist height for action. Twin controls are placed to the left of a soft-touch wheel with stainless steel spokes and that's about it, apart from simple digital rev gauges.
Engines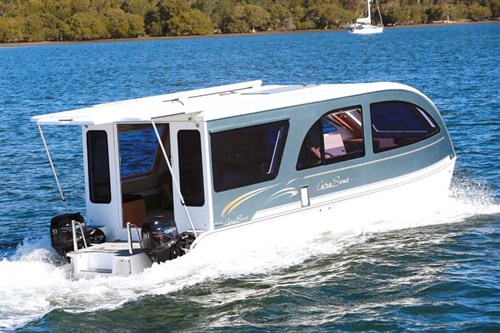 Twin four-stroke Tohatsu 30hp outboard motors engines efficiently manoeuvred us away from the dock and into the lake's main channel. Out on the water, a slight breeze created a small chop that the hull stepped over without fuss at a planing speed of 12kt.
At wide-open throttle we saw an average of 16kt but the engines became a bit rowdy, suggesting a more sedate speed is preferable. Handling was predictable if not overly sporty, turning at speed without much body roll as you might expect from the hull design.
The boat only draws 200mm, so it can be nudged onto a beach for exploring or setting up for a picnic, while access over the back after a cooling dip is a breeze.
The 200L fresh water supply means you can stay out on the water for longer, and with solar power feeding a 150ah deep-cycle battery and the outboards adding 30ah charging, you'll be able to party while you're out there.
In caravan mode there's an optional 3.7m Fiamma F65 annex that deploys along the port side – the passenger side in van speak. Entry from the ground is through the rear door via a set of stairs. Some camp chairs, a picnic table and maybe an outdoor BBQ would set you up for the road.
Talking of which, the tandem-axle galvanised trailer looks to be sturdily constructed and is supported on leaf springs, while four-wheel discs take care of braking.
Caraboat price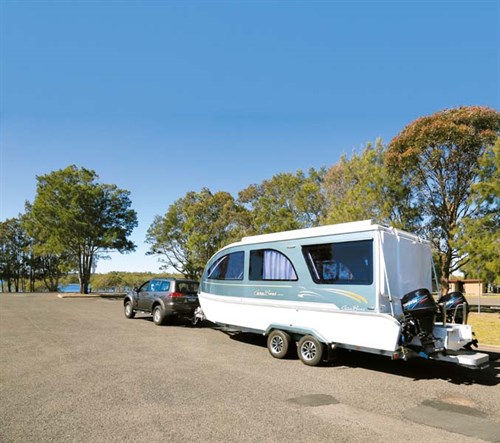 With pricing around A$139,000 depending on options, this isn't for everyone and it competes against caravans in the high end of the market. But try floating a regular van on Lake Taupo for a few days of spring sunshine when the fish are jumping aboard. 
CaraBoat 7500 sea trials
Twin 30hp Tohatsu three-cylinder fuel-injected four-stroke outboard motors*.
| | |
| --- | --- |
| RPM | SPEED (KT) |
| 1000 | 2 |
| 1500 | 4 |
| 2000 | 5 |
| 2500 | 6 |
| 3000 | 7 |
| 3500 | 8 |
| 4000 | 9 |
| 4500 (plane) | 12 |
| 5000 | 14 |
| 5500 | 15 |
| 5800 (WOT) | 16 |
* Sea-trial data supplied by the author.
CaraBoat 7500 specs
CaraBoat 7500 price: $A139,000
Price as tested
GENERAL
Type Transportable houseboat
Material fibreglass
Length 7.5m
Beam 2.5m
Weight 1700kg (2500kg on trailer)
Draft 0.2m
CAPACITIES
People 7
Rec. HP 2x30hp
Fuel 2x25L
Water 200L
ENGINE
Make/model Tohatsu 30hp outboard motor
Type Three-cylinder fuel-injected four-stroke outboard motor
Weight 71.5kg
Displacement 526cc
Gear ratio 2.17:1
Propellers Solas 10inx10in
SUPPLIED AND MANUFACTURED BY
Composite Cats Pty Ltd
Lemon Tree Passage,
Port Stephens, NSW, 2319, Australia
Phone +61 2 4982 4858
Web caraboat.com.au
Email info@caraboat.com.au
See the full version of this review in Trade-A-Boat #263, March 2016. Why not subscribe today?
Keep up to date with news from Trade-A-boat or like us on Facebook!