Review: CSB Huntsman Sotalia
---
If style was the sole criteria for judging a sub-6m sports boat, it would be difficult to look past the CSB Huntsman Sotalia.
Manufactured in Christchurch, the CSB Huntsman Sotalia has the sort of aesthetics that generate pure excitement and hold the promise of something special.
Released more than five years ago, the CSB Huntsman Sotalia is also a sport boat of some considerable substance; it's the melding of performance and style that makes the 5.8m CSB Huntsman Sotalia a modern classic in the sports boat genre.
Huntsman Sotalia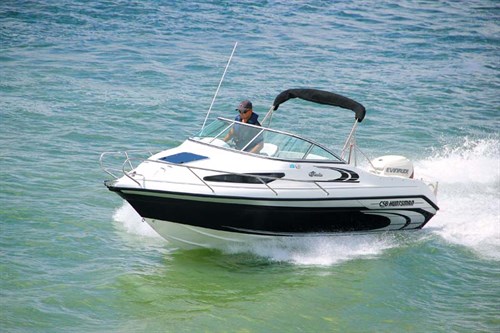 Developed to bridge a gap in the CSB Huntsman range between the popular entry-level 5.5m Dorado and the 6.2m 6000 Series, the CSB Huntsman Sotalia has aged well and continues to be at the cutting edge of sport boat design.
But beyond the CSB Huntsman Sotalia's curvaceous hull and sharp-chiseled superstructure is a design blueprint that is as noteworthy today as it was when the model made its splash back in 2010.
A key feature of the CSB Huntsman Sotalia is its class-leading 2.25m beam. This is a considerable 200mm increase on the 5.5m Dorado, and it's also the same beam the much larger 7m CSB Huntsman Crusader uses.
This is significant, because despite an overall increase in length and beam over the smaller Dorado, improved construction methods introduced with the CSB Huntsman Sotalia resulted in a hull that weighs less than the 5.5m Dorado.
This was equally significant because it provided owners with the option to equip their CSB Huntsman Sotalia with bigger, more powerful, four-stroke outboards, without paying an excess penalty in towing weight.
In essence, the design brief focused on giving owners more for less. And in this instance, the brief was truly met.
CSB Huntsman principal designer and company founder Geoff Robinson wanted to create a boat that performed well and was capable of travelling farther offshore in safety and comfort.
To this end the CSB Huntsman Sotalia inherited the same underwater profile as the 7m Crusader, with multiple tapered planing strakes and opposed chines to the keel to promote low-speed planing and stability at rest.
For rough water handling and comfort, Robinson transplanted the Crusader's proven 21.5deg deep-V transom to the CSB Huntsman Sotalia. The result is an unflappable and very capable mid-range sport boat that handles very well.
With a recommended rating for outboards in the 115hp to 200hp range, the CSB Huntsman Sotalia has the versatility to fulfil a variety of applications, whether it be a competition-level 40kt ski boat or an economical family-fun boat.
Canterbury Superior Boats (CSB)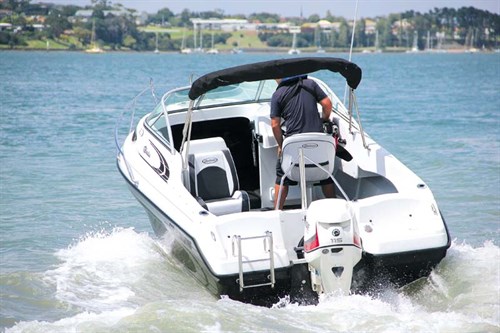 Canterbury Superior Boats (CSB) was formed in 1992 by Geoff Robinson, who initially operated on a part-time basis producing Stingray Ski Boats and fibreglass repairs.
In late 1992 design work began on the first Huntsman, and in August the following year the Huntsman 525 Executive cuddy was launched. The Executive was a runaway success and within six months CSB commenced full-time boat production.
Development work for future designs followed and the business grew exponentially. Models introduced since the 525 Executive included La Plata, first and second-generation Series 6000, three generations of the Dorado, 7m offshore Huntsman Crusader and the Explorer Hardtop.
In 1998 the company changed its name to CSB Huntsman Boats. More recently the business diversified into manufacturing performance rowing skiffs, including elite all-carbon skiffs that compete globally.
With dealer networks in Christchurch, Invercargill, Timaru, Auckland and Southport in Queensland, CSB Huntsman Boats is well represented and respected for its build quality, design, superior finish and legacy.
Handling and ride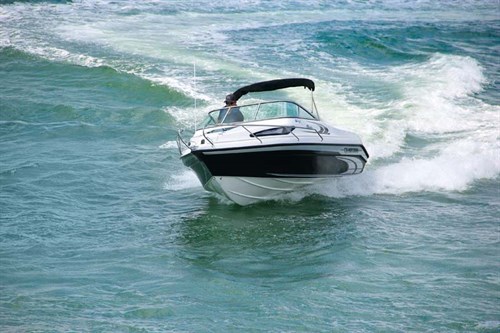 Rekindling its dealership of CSB Huntsman Boats after a five-year hiatus, Auckland's Woodbine Marine was keen for Trade a Boat to review the CSB Huntsman Sotalia given the Huntsman model is currently attracting the lion's share
of attention.
Woodbine Marine dealer principal Sam Harvey says GRP sports boats are enjoying a renascence in Auckland, with young families more prepared to invest in a boat at a time of record low interest rates and economic stability.
"Aluminium boats have been dominant sellers for many years, but the pendulum is swinging back and demand for low maintenance mid-range GRP sports boats is ramping up a lot. The Sotalia is ideal for Auckland's conditions, and it's a popular choice."
Fitted with a first-gen 115hp two-stroke Evinrude E-TEC outboard motor, the demonstrator is perhaps a little conservative on the power side, but it will no doubt be economical and deliver plenty of range from the 100-litre under-floor fuel tank.
Tapping out at a shade over 31kt at 6000rpm, the 115 still has reasonable legs and will cruise comfortably at 23 to 25kt all day at about 4500rpm. In previous reviews the Sotalia has returned performance figures of 35.6kt with an E-TEC 130 and 42.6kt with an E-TEC 150.
The CSB Huntsman Sotalia's fine entry, pronounced strakes and reverse chine combine to give the boat excellent lift and hole shot, lifting onto the plane at a shade over 8kt at 2500rpm. Bow lift is negligible and the transition from hull speed to wide open throttle is rapid.
Layout and design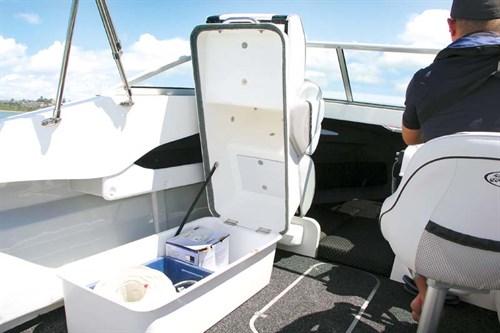 The CSB Huntsman Sotalia's wide beam creates more usable space inboard and benefits stability at rest, but it really comes into play when throwing the boat around. The hull has a devil's grip on the water and turns flat and tight, ideal attributes for what is ostensibly a ski boat.
As such, the factory-spec seating plan accommodates five with a single pedestal at the helm, back-to-back seating on port with stowage under and two rear jump seats scalloped into the aft quarters.
Alternative seating options provide for a second king/queen seat combo at the helm or twin hi-rise pedestals to de-clutter the cockpit if your primary application is fishing. As supplied, the CSB Huntsman Sotalia will need a bit more investment to make it fisher-friendly for serious anglers, but the casual soft baiter will find everything required for a successful day on the water.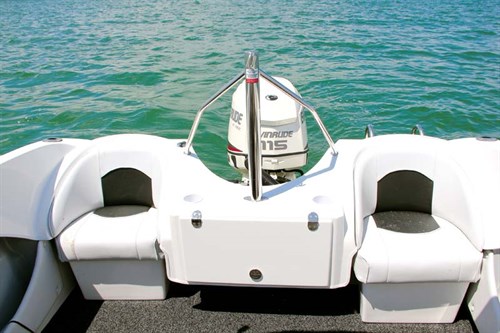 The CSB Huntsman Sotalia's rear jump seats can be put to use as fish bins, or they can slide under the transom overhang to create additional cockpit space. The boat's stability at rest and relative combing height should allow the boat to be fished safely – similarly sized sports boats would be running for home.
Stowage options serve both skiers and anglers well with a large central under-floor bin that will easily gobble up skis, ropes, fenders, spare fuel and the other necessities of family boating. For anglers, this bin could be utilised as a kill tank or large ice hold. Bulkier items will find a home under the back-to-back seating on the port side or within the jump-seat bins.
You'll find only a single rod holder built into each combing, but rods up to 2.2m can be securely stowed in the twin cockpit parcel shelves that run the full length of the cockpit. These are supplemented with smaller pockets for personal items. Overnight bags, camping gear and sleeping bags will disappear in what is a generous and very nicely appointed cuddy.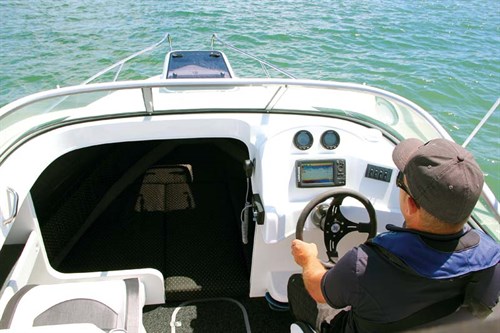 Equipped with a central infill squab and large overhead hatch, the option to overnight adds to the Sotalia's cruising appeal, especially if you chose to fit the optional stainless bimini top that clips to the windscreen surround to create something of a weatherproof oasis.
The CSB Huntsman Sotalia's helm station and dash is small but caters for the E-TEC's double digital displays, optional flush mounted 7in sounder/plotter and small switch cluster. A VHF radio is mounted into the side of the helm station at the cuddy entrance.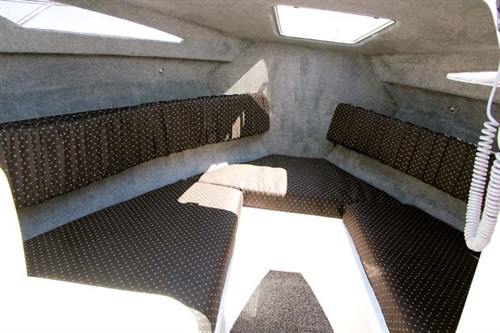 Driver position and comfort has been well thought-out, with ample leg room beneath the dash and a moulded foot brace to push against. The E-TEC remote is a comfortable reach and angle but somewhat compromised by the bimini frame. The optional hydraulic steering is light and precise and the sports wheel well placed.
Fitted with optional safety glass, the windscreen is sturdy and does a useful job of deflecting wind overhead without affecting the driver's line of sight when standing at the wheel, which, I suspect, will be the preferred option for many.
The Trade-a-Boat verdict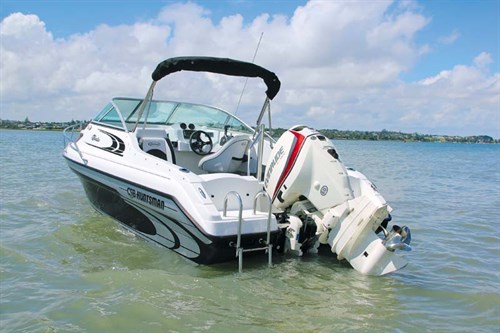 Sports boats are largely about style, and the CSB Huntsman Sotalia has it in spades. The moulding work is faultless, the upholstery is racy and the graphics package is among the best in the market. But beneath all of this is a substantial foam-filled GRP hull that is designed to perform.
The CSB Huntsman Sotalia is a family ski boat and it meets the brief well. But importantly, it also offers a high degree of flexibility in its fit-out options, allowing owners to configure the boat in a way that best suits their needs.
The CSB Huntsman Sotalia is safe, easily-driven (economical), adaptable and, depending on your chosen spec, very affordable. It is delivered on a simple single-axle multi-roller trailer for easy launching and retrieval and is easily towed behind the family wagon. In a nutshell, this is the quintessential Kiwi sport boat – capable, practical and
very smart.
HIGHS
• Stylish yet practical layout and design
• Overnight potential
• E-TEC two-stroke performance and silky steering
• Sports boat handling
• Class-leading aesthetics
LOWS
• E-TEC outboard grey-scale digital instruments small and hard to read in sunlight
• Bimini frame location impact on engine remote
• No facility for transom bait board and limited rod stowage
CSB Huntsman Sotalia specs
CSB Huntsman Sotalia price: $72,495
Priced as tested
OPTIONS FITTED
Glass windscreen; black gelcoat; split bow rail; fixed s/s ski pole; hydraulic steering, 115hp E-TEC; Lowrance Elite 7in plotter/sounder; trailer mags and road cover
PRICED FROM
$55,000
GENERAL
TYPE Monohull deep-vee trailerboat
MATERIAL GRP
LENGTH 5.85m
BEAM 2.35m
WEIGHT 1300kg approx. (BMT)
DEADRISE 21.5°
CAPACITIES
PEOPLE 7
REC. HP 115
REC. MAX HP 200
FUEL 100L
ENGINE
MAKE/MODEL Evinrude G1 E-TEC 115hp outboard motor
TYPE Two-stroke, direct injection V-4 outboard motor
RATED HP 115
DISPLACEMENT 1726CC
WEIGHT 117kg
SHAFT LENGTH 25in
GEAR RATIO 2.25:1
SUPPLIED BY
Woodbine Marine
245 Ti Rakau Dr, East Tamaki Auckland
Phone (09) 265 1623
See the full version of this review in Trade-A-Boat #263, on sale February 25, 2016. Why not subscribe today?
Keep up to date with news from Trade-A-boat or like us on Facebook!