Review: Cummins QSB 6.7 marine diesel
---
We recently reviewed an Integrity 460 Grand Sedan motor yacht, powered by a Cummins QSB 6.7 marine diesel engine.
Cummins QSB 6.7 marine diesel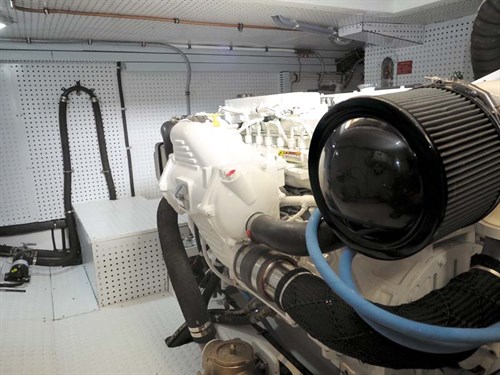 Engine access aboard the Integrity 460 Grand Sedan was through a hatch in the saloon floor and down an easily accessed ladder. With only a single engine in the beamy and clean enclosure you have acres of space for maintenance. Head height is limited but the non-skid rubber mat means you have a soft floor to move on.
Introduced in 2012, the Cummins QSB 6.7 marine diesel brought higher capacity and high-pressure common rail diesel technology to the inline six-cylinder marine range. Depending on computer mapping, these engines deliver 250 to 550hp; our review marine engine makes 480hp (353kW) at 3300rpm.
A 24-valve head and turbocharger boost performance while SmartCraft electronics supply real-time readouts of engine performance and condition. Another modern must-have is the digital throttle and shift ease operation which worked perfectly, without any clunks when engaging gear and no resetting the throttle while cruising.
Emissions meet current US EPA Tier 3 and International Emissions Standards (IMO), which means virtually no smell or smoke – this was borne out during our boat review, both below and from the exhaust.
The common rail technology reduces noise levels by injecting small bursts of diesel prior to the main dose, reducing engine rattles, especially at idle.
Driving the boat revealed a silky smooth engine with none of the annoying vibration through the hull and fittings. At wide-open throttle, noise increased but not to the point of being annoying or limiting conversation.
How does it perform?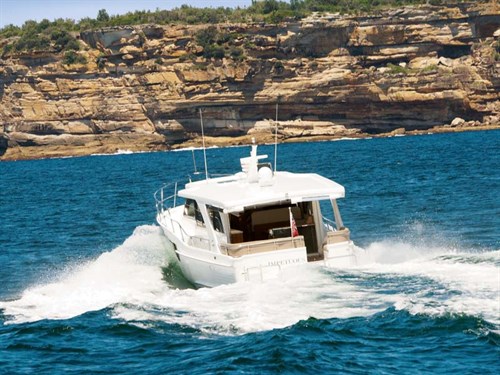 Manoeuvring at low speed is a cinch, with wireless remote 9hp thrusters at each end and the gentle output of the 480hp Cummins getting us out of the dock without incident.
At around 1500rpm we maintained a leisurely 6.6kt down Sydney Harbour but as we opened the throttle there was a gradual increase in speed until the bow started to lift out of the water, the GPS showing 12kt at 3000rpm. Wide-open throttle delivered 14.8kt at 3300rpm, which is a marked improvement on the capability of the displacement models.
Fuel burn during the original sea trials was 38L/h at 14kt, so you could expect a range of 663nm with 10 per cent in reserve, and more at lower revs.
Into turns at full power, the boat retains a very flat stance through a wide arc, with no adverse reactions even in offshore conditions.
In a two-metre swell off Sydney Heads the boat was stable and soft-riding right through the rev range. It has the feel of a steady mile-cruncher without any jolting over sharp waves and with good noise suppression.
We had the owner – with 25 years' experience – on board and he related the experience of his first offshore trip, from Pittwater to Sydney in a very steep three-metre swell that the 460 handled superbly, convincing him he had made the right choice.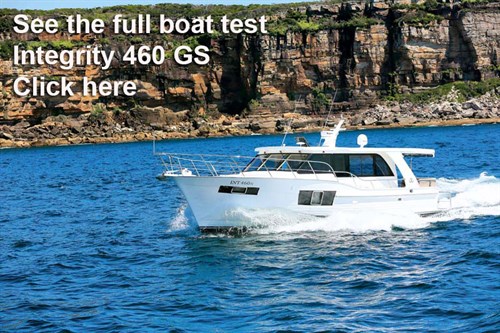 See the full boat test: Integrity 460 Sedan GS review.
Cummins QSB 6.7 marine diesel specs
RATED HP 480
DISPLACEMENT 6700cc
WEIGHT 658kg
GEAR RATIO 1:2.5
PROPELLER Five-blade bronze
Cummins QSB 6.7 sea trials
Three on board Integrity 460 Grand Sedan, with 70 per cent fuel load and water.
| | |
| --- | --- |
| RPM | SPEED (KTS) |
| 600 | 4 |
| 1000 | 5 |
| 1500 | 6.6 |
| 2000 | 8.6 |
| 2500 | 10 |
| 3000 | 12 |
| 3300 | 14.1 |
* Sea-trial data supplied by the author.
See the full version of this review in Trade-A-Boat #265, on sale April 21, 2016. Why not subscribe today?
Keep up to date with news from Trade-A-boat or like us on Facebook!