Review: Enduro Boats 4100
---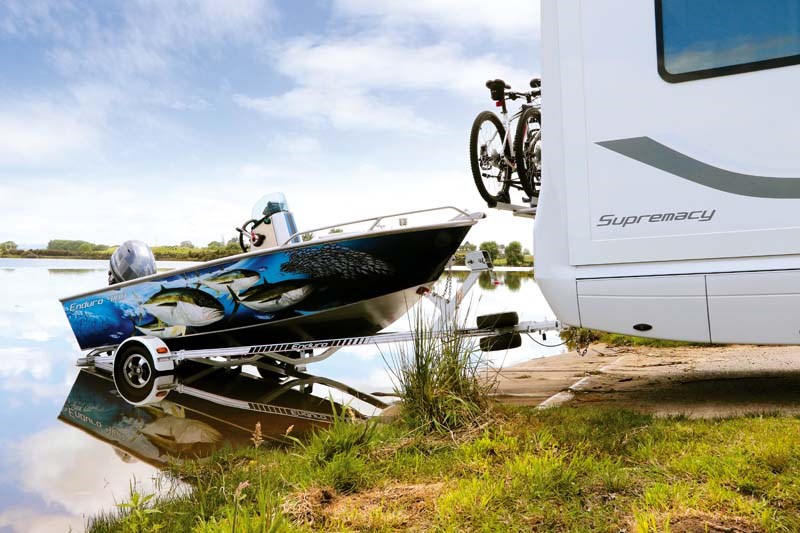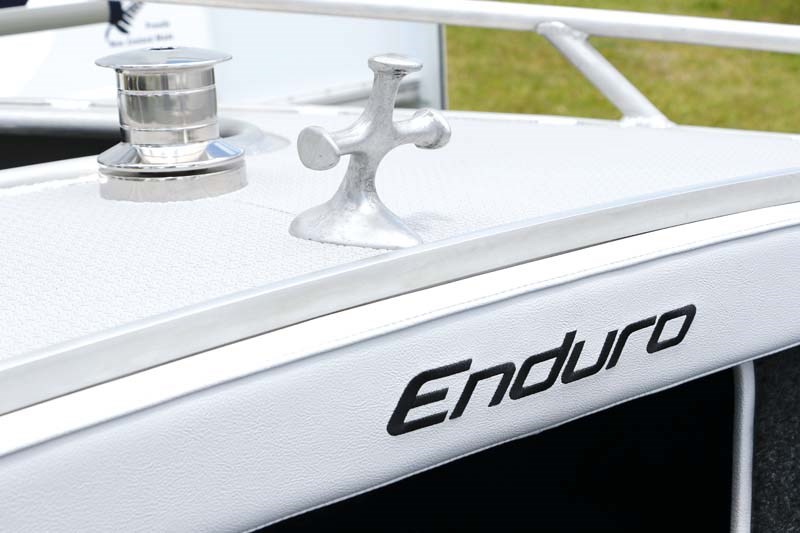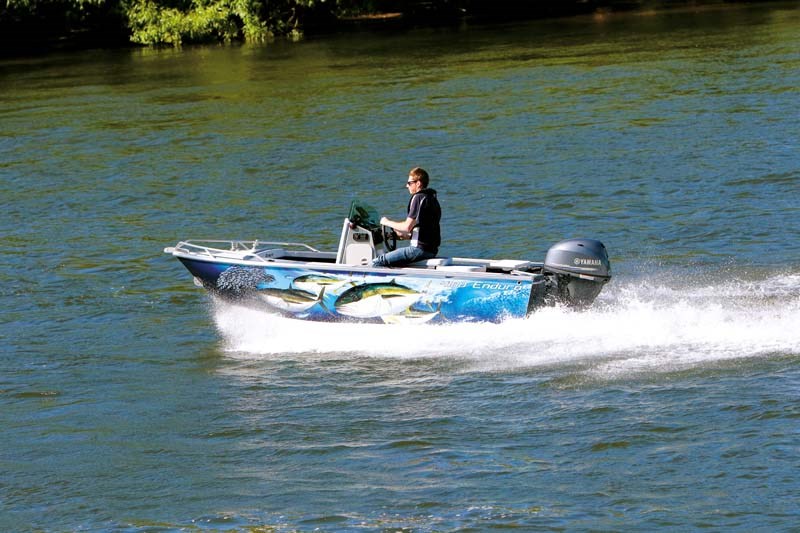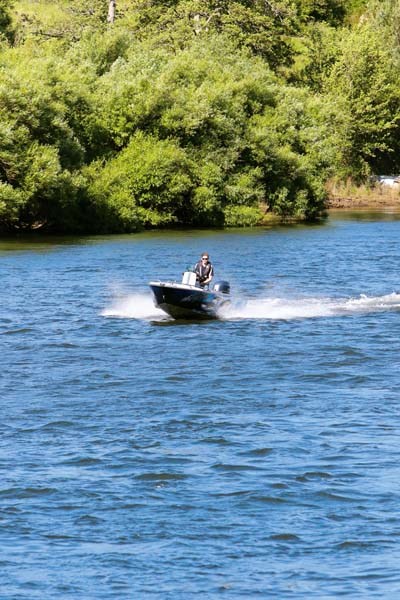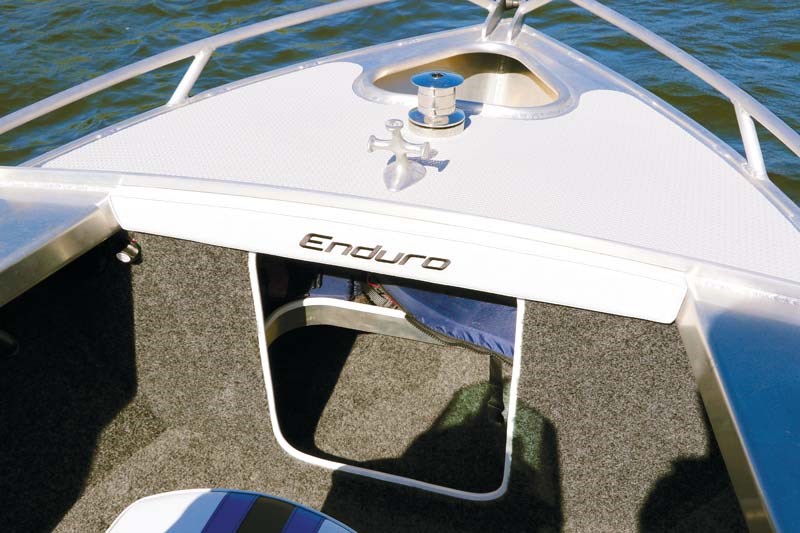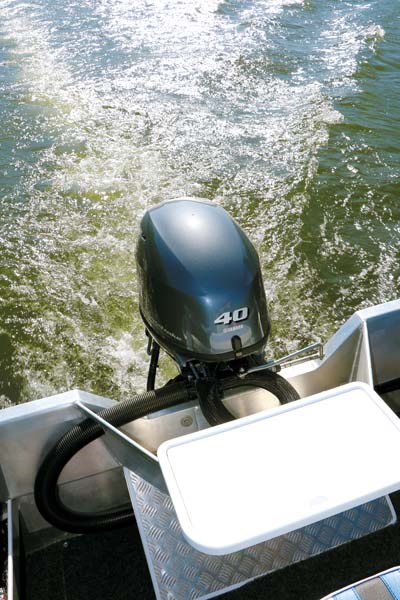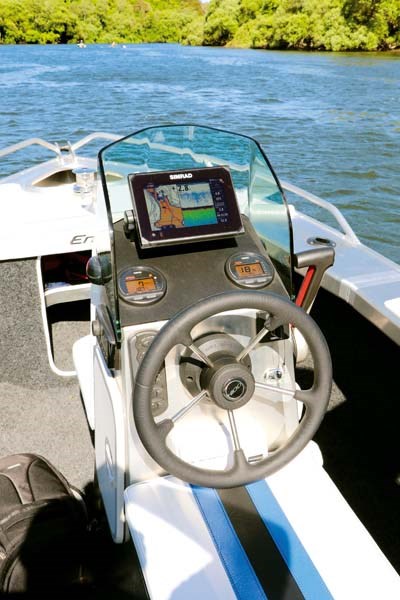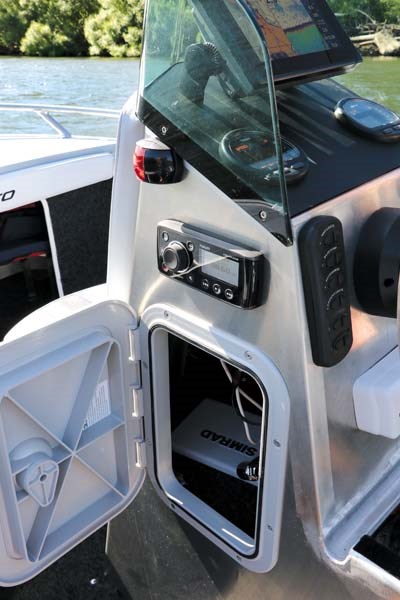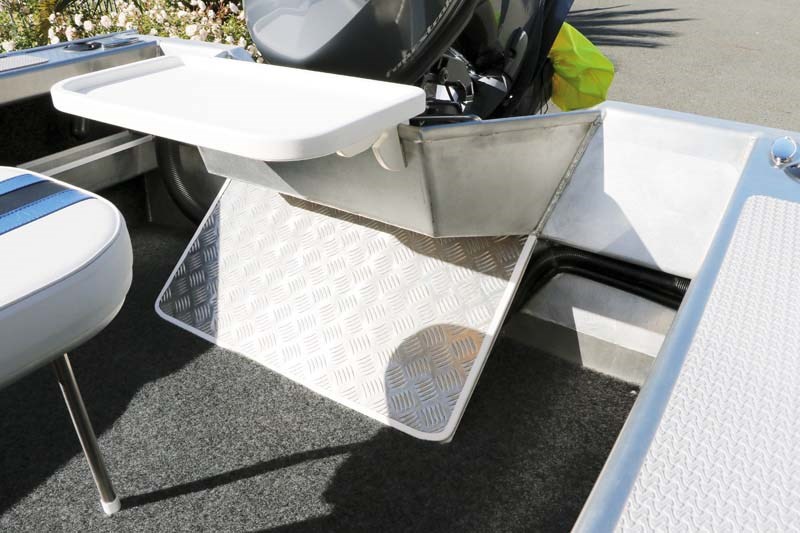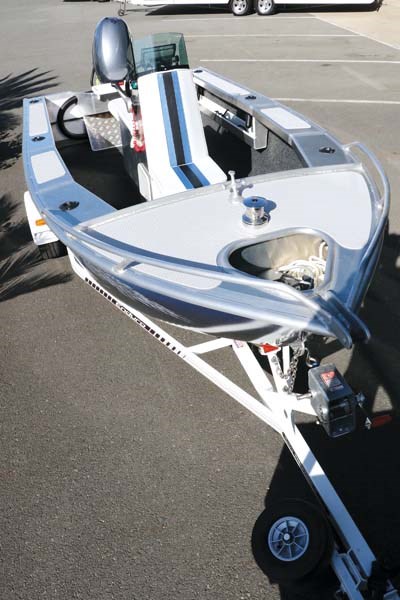 Is this Enduro 4100 and Allisee Supremacy Autohome the ultimate adventure package?
There's something pretty interesting happening south of the Bombay Hills and it's time that the rest of New Zealand took notice.
It may have escaped the attentions of many over the past few years, but the city that housed the V8s for a few short years has grown up. Now the fourth largest city in the country, Hamilton is expanding at a phenomenal rate.
In every direction new subdivisions spring out of rolling hills surrounding the Waikato River and the air of prosperity is palpable.
Some of the strongest names in Hamilton have been there for decades, simply getting on with the job and doing it well. Two of the best – known for excellence, integrity, attention to detail, and customer service – are brothers Andrew and Lance Fink.
Perfect boats?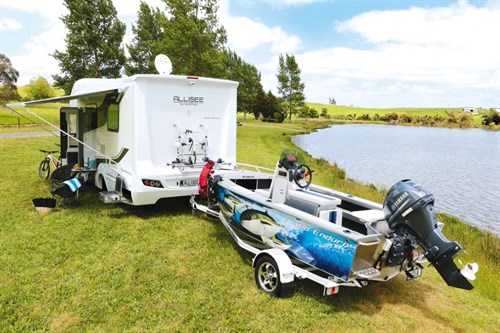 Ray Fink began building boats in 1960 and now sons Andrew and Lance have created their own brands that reflect tremendously well on themselves and their heritage.
Lance and wife Bronwyn have ensured the Tristram name is among the very top tier of boats in New Zealand – plus there's increasing demand from offshore.
Their ideal of "perfection with passion" means the Tristram factory reflects that example and never wavers. Just across the street and with similarly lofty standards is Andrew Fink Marine and parent company Auto Leisure and Marine Group. Here too, a drive for customer satisfaction and peerless values deliver quality craftsmanship and finish.
Andrew and his wife Fleur deliver a range of purpose built products under the banners of Enduro Boats and Trailers, Jurgens Caravans, and Allisee and Avida Motorhomes.
Andrew is perhaps the only RV manufacturer who has taken learnings from the high-end marine industry, and applied them in innovative and attractive ways to his on-road creations. These expandable luxury apartments on wheels are astonishing.
Andrew also designs and manufactures Enduro trailers. Ordinarily boat trailers are pretty basic, but these are ingenious products that deliver some extraordinary solutions for customers. More on those later…
Small 'big boat'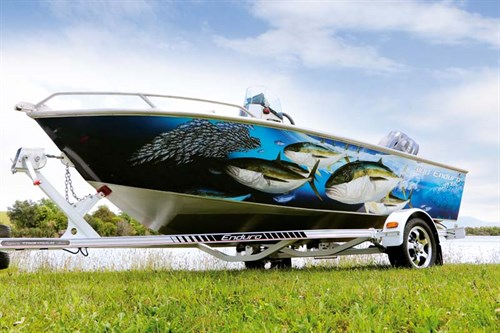 I was in Hamilton to test the new 4100 Enduro aluminium centre-console runabout built for a local businessman. This customer is an absolute stickler for "getting it right", and in that attitude, Andrew and he are like peas in a pod.
This boat had a long gestation period and was designed from scratch based on Andrew's own use, with Fleur and his young family.
It needed to ride softly; be as dry as possible; have ease of handling, launch and retrieval; and have sides that ensured the kids felt safe – to be "inside the boat" and not "on it".
The 4100 also had to look good, handle well in some sea, and feel comfortable, stable and safe. This took a few iterations, but the result is a superb sheltered-waters boat, great for a quick zip out to the heads for a fish, or towing the kids on a biscuit.
There is surprising room in the cockpit and up forward for casting lures and poppers, with several options for internal layout.
The console can be configured in a number of ways; either with a jockey seat for sitting astride, or an open cockpit version with demountable seats, ingeniously movable within the hull. The test boat's central console had a small windscreen, an 8in Simrad sounder/GPS, Icom radio beneath the helm, and a FUSION stereo with hidden speakers.
Battery, switching and storage were under the seat and forward of the console, a small hinged and upholstered seat offered a great riding position for passengers. Hatches on the console create weathertight storage. The options fitted to this boat make everything easy and comfortable – ideas developed from larger craft.
Another hinged seat swings up behind the helm seat on a leg, offering a handy spot to sit while accessing the baitboard. Beneath the transom is a bilge and pump, covered by removable aluminium checkerplate.
The hull and transom are 4mm marine grade alloy, with 3mm topsides, deck and floor. The gunwales are generous and give excellent support for leaning and seated fishing. Rubber decktread lines the gunwales for extra grip while stepping to or from a dock and beneath there are lined tackle shelves.
As standard for a 4m boat, there is no full-length rod storage and I think this issue could do with the application of some Fink ingenuity. There are however six sturdy rod holders mounted through the gunwales for trolling.
Hull wrap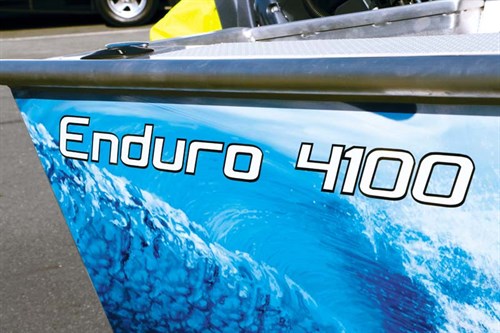 The Hamilton buyer has customised his Enduro with a terrific-looking hull wrap featuring kingies and baitfish – in hope of future fishing missions perhaps?
Internally, the floor and cockpit sides, forward storage cabin, underseat stowage, and even the battery box is fitted with removable black carpeting.
This is pleasant underfoot, and can be easily removed for washdown before or after fishing.
The other extraordinary side effect of this carpeting is dampening sound from the hull and motor – it's a stealth vessel.
Everywhere you look there are useful and well-finished touches that other boat manufacturers should think about emulating.
For example, where the aluminium gunwale rubrails end at the transom, they are rounded off, sanded and smooth to the hand. Up front the edges of the bow locker are wrapped with nylon and there's an embroidered bolster for a bit of cushioning when anchoring.
There are no sharp edges anywhere on this boat, and there will be no cuts or nicks to little fingers, ever.
Trailer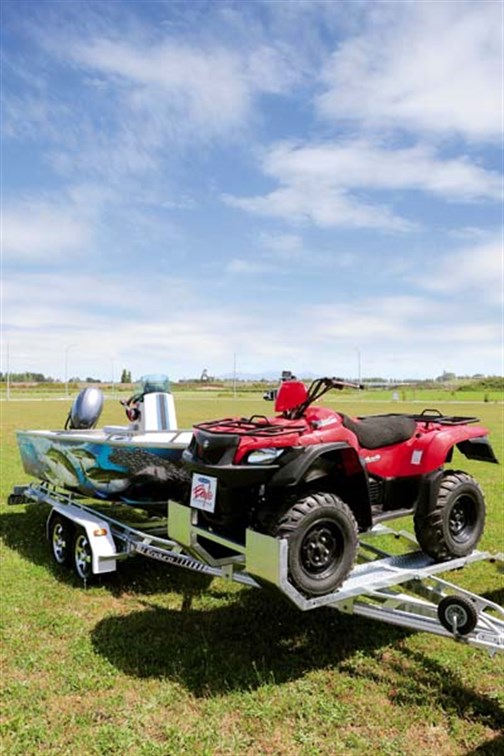 We tested this boat on the Waikato River where it proved light to the helm. Large turned-down chines, in combination with a 14-degree deadrise and a wide beam, gave astounding stability and arrow sharp tracking.
The spray is turned crisply aside as the 4100 rises to the plane very quickly. Hopping across wakes there was barely discernible movement.
Climbing on board at the water's edge showed remarkable stability at rest with minimal tipping, neither side-to-side, or fore and aft.
Andrew explained that his design parameters for the Enduro came down to a simple mantra: Build a "small big boat", not a "big small boat". And he has.
I should also mention the Maxwell anchor winch system on the front of the Enduro 4100. Normally I would consider this overkill, but having hauled anchors at the end of a long day, it falls under the "bloody-nice-to-have" category. There's also another practical application. This trailer has an extendable drawbar that ensures the motorhome does not have to enter the water when launching at a ramp and includes a sturdy double jockey-wheel.
During retrieval, the boat can be winched onto the trailer in the normal manner, but then – if required – the anchor line can be run to a tree or post, or the anchor dug into the sand.
The Maxwell capstan can then haul the boat and trailer clear of any sand or mud – genius if you don't want to bring the Allisee too close to the water's edge.
Holiday package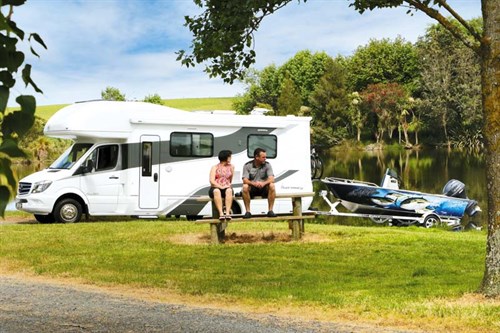 This lucky owner ordered his Enduro 4100 as part of a "full holiday package" – the boat, on a smart painted trailer, towed behind an Allisee Supremacy motorhome.
The shiny mags show off the classy white and black trailer, and it's all beautifully matched, but Andrew has also come up with yet another way to make this whole package more capable and even more and fun. In designing a convertible trailer, he has configured it so a quadbike can be carried and launched from the same trailer as the boat.
Using a movable hitching post, the trailer is set up to tow either tow the boat alone, or with the added quadbike in front. As a total package with boat, quadbike and motorhome, there is almost nowhere you can't go. And stay there for months!
This is what Andrew and Fleur mean when they say they are in the business of providing solutions. Helping people to have the time of their lives is no bad thing, either.
Luxury Allisee motorhome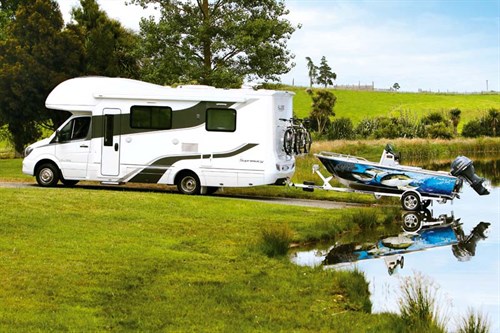 The Allisee Supremacy motorhome utilises a Mercedes Sprinter 519 – coupled to a powerful 3.0lt V6 turbo-diesel, this is a superb driving package.
Unashamedly luxurious, the entire unit is built and finished at a dedicated facility in Te Rapa. With a slide-out side, the interior converts to the size and quality of a stylish inner-city Auckland apartment, offering ambience, decor, furnishing and fitments equal to anything in a five-star resort.
I found this vehicle highly covetable; I was struck by its size, luxury and versatility. At considerably less than a holiday home – even when coupled with a highly specc'd Enduro and with vastly more options for location – I think this combination defines the perfect choice for both retirees and explorers.
Coupled with your choice of quadbike on its clever trailer, the world is your oyster. The only limit is going to be your own imagination.
I wasn't going to leave it at that though. So I asked Allisee owners, Carol and Don from Hawera, how they found it.At 80, Don still loves the stock-cars, and they follow the action round the country, in comfort and luxury.
Coming to the Allisee from another well-known brand, they told me there was no comparison. Don drove up for our photo shoot, but around halfway, Carol couldn't stand it anymore – she wanted to get her hands on the wheel!
She took a rough gorge route, famous for dumping trucks on their side. But in her words: "Oh, Peter! It just went rip, rip, over the rough stuff and that was it. The other truck used to bounce, and roll and sway and wobble. But this one? Nothing. Perfect"
As a package I think it would be very difficult to emulate the level of finish, of quality fittings and design, and the overall satisfaction afforded by this innovative Allisee-Enduro combo.
It is said that money may not buy happiness, but it can certainly afford you some choice. The choice of freedom, comfort, recreation, quality family time and pleasure.
And that is close enough to happiness in my book.
Enduro 4100 specs
Enduro 4100 price: $43,000
Price as tested
OPTIONS FITTED
40hp outboard upgrade; painted trailer with dual jockey wheel, alloy wheels; extendable draw bar; centre console with bow seat; engine well; bow rails; hull wrap; carpet; bilge pump; nav lights; baitboard; Simrad electronics; FUSION stereo and speakers; Maxwell capstan; cockpit lighting
PRICED FROM
$16,500 (open layout, 30hp and trailer)
GENERAL
MATERIAL Aluminium
TYPE Centre console
LENGTH 4.2m
BEAM 1.88m
DRAFT 200mm
DEADRISE 14°
WEIGHT 200kg
TOW WEIGHT 550kg (BMT)
CAPACITIES
PEOPLE 4
FUEL 20lt (tote tanks)
ENGINE
MAKE/MODEL Yamaha
TYPE Four-stroke petrol outboard motor
RATED HP 40
PROPELLER 12in pitch x 10 3/8in diameter
MANUFACTURED BY
Auto Leisure and Marine Group
10 Udy Place, Te Rapa, Hamilton
Email andrew@almgroup.co.nz
Web almgroup.co.nz
Phone 07 850 5512
Allisee Supremacy Autohome specs
Allisee Supremacy Autohome price: $300,000
Priced from
GENERAL
VEHICLE CHASSIS Mercedes Benz Sprinter 519
ENGINE Six cylinder turbo-diesel
TRANSMISSION Automatic seven-speed
LICENCE REQUIREMENT Class 1 standard driver's licence
BODY Engineered-insulated wall panels; double glazed windows with insect screens; fully galvanised sub frame
GVM 5300kg
CAPACITIES
BERTHS 2 + 2 over cab
FUEL 100lt
FRESH WATER 250lt
GREY WATER 230lt
MAX. TOW WEIGHT 1700kg
MORE INFORMATION
Auto Leisure and Marine Group
Web almgroup.co.nz
See the full version of this review in Trade-A-Boat #261, January 2016. Why not subscribe today?
Keep up to date with news from Trade-A-boat or like us on Facebook!