Review: Fish City FC390 Tiller and Side Steer
---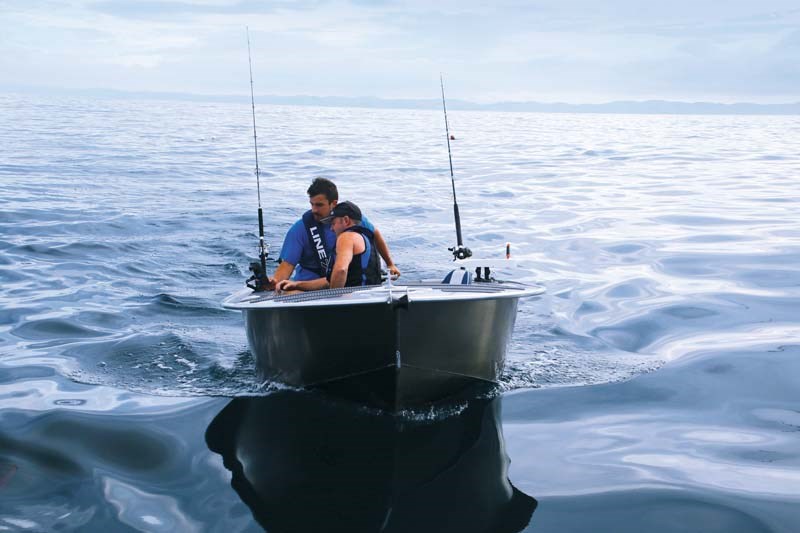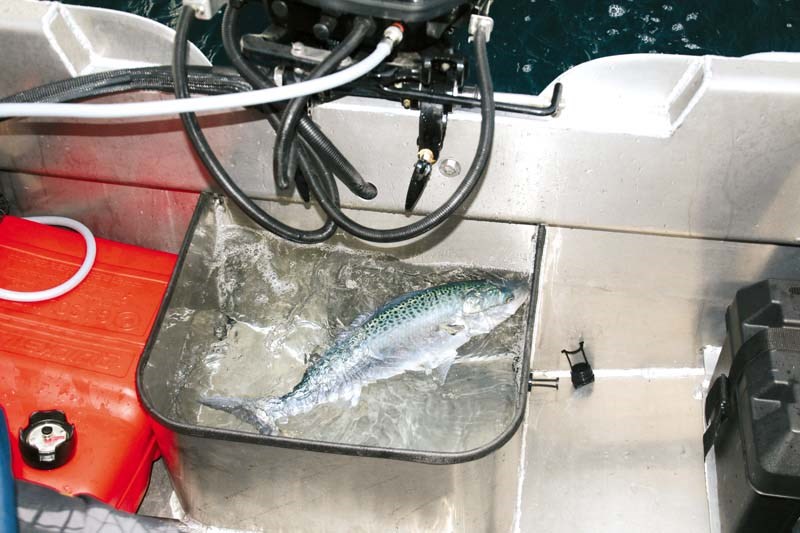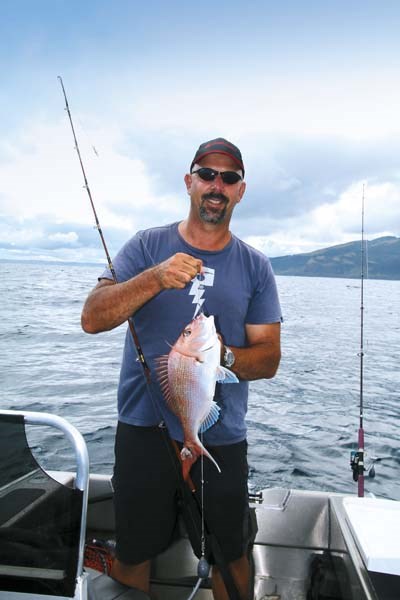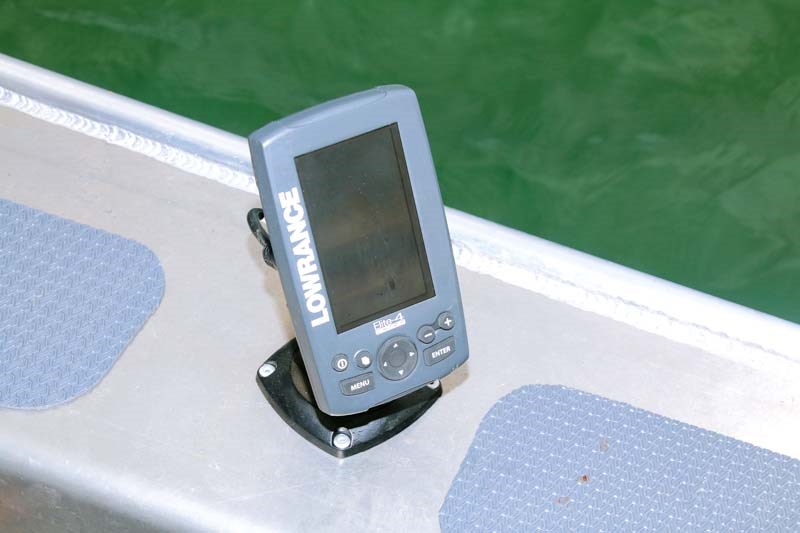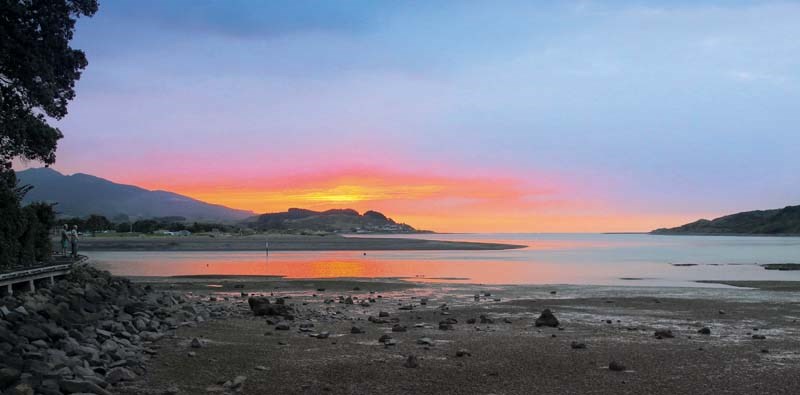 Stunning Raglan.

The Fish City FC390 redefines the classic Kiwi tinnie, with a broad beam, flat cockpit sole, extended gunwales and built-in floatation
When Fish City started building its own Fish City boats four years ago, owner Ross Christenson's aim was to make the best fishing boats available, at a price that suited the average Kiwi fisherman. The Fish City FC390 is all this and more.
At a glance, this boat looks much bigger than its 3.95m (13ft) length, helped mainly by the 1.83m (6ft) beam. The boat is almost half as wide as it is long, providing a massive gunwale for sitting on, fitting accessories to and acting as a spray dodger. The hull and sides are built of 3mm alloy, thick enough to take some rough handling.
This width isn't at the expense of ride, however, a fine-entry bow section easing the boat through the water. The waterline beam is slightly narrower than the extended gunwale, meaning the boat can be efficiently propelled by a modest 15 to 30hp motor.
Fish City FC390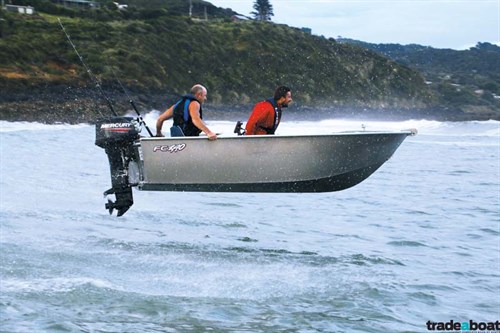 There are two Fish City FC390 layouts available: the simple Fish City FC390 tiller-steered open cockpit; or the Fish City FC390 side-steer version, with helm console, electric start and cable steering. Seating in either version is on bucket seats mounted to pedestals, though other options are available.
Originally intended as a 12-footer, length was added to accommodate a few more features – the separate anchor well in the bow, for example, eliminating the danger of the anchor and chain bouncing around the bilge. Just behind that is a really useful storage locker that, despite lacking a closing hatch, is well protected from rain or spray. A robust bollard and fairlead assist with anchoring, while the forward deck is wide enough to stand on when conditions allow.
The welded treadplate floor with optional tube mat makes moving around the boat easy. The transom features a self-filling live-bait tank that we put to good use with a sizeable kahawai. This tank is also self-draining, by removing the bung while under way.
FC390 buoyancy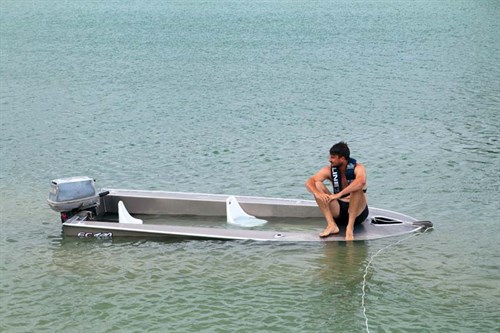 An important safety feature on the Fish City FC390 is a collar of buoyancy under the gunwales along with a sealed chamber under the floor. These keep the boat safely afloat and upright even swamped. That collar is filled with foam, but instead of blown foam, which can retain water, Christensen has filled the chamber with separate foam chips. This enables small drain holes to be placed under the gunwales, preventing water from pooling and causing corrosion. A secondary benefit is that additional items can be installed into the gunwale later on without impinging on the integrity of the buoyancy chamber.
To prove his point, Christensen brought along a completely standard hull, complete with outboard motor, and we performed a swamp test. We pulled the bungs out and ran an auxiliary pump to help fill the boat with water. Without anyone on board it got to about four inches of freeboard and refused to sink any lower. Even with two people on board it still floated completely level, with the gunwales just clear of the water, demonstrating that this boat will remain on the surface and be visible to rescuers even if completely swamped. Plus, remaining level means occupants can bail water out and restore full stability.
Handling and ride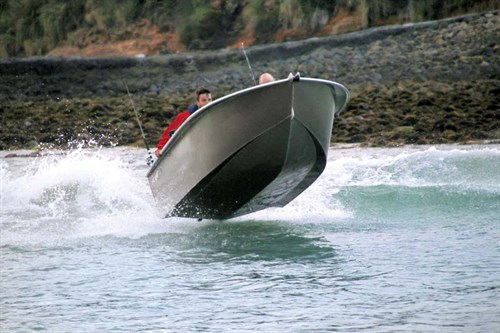 The call to test these boats off the wild west coast at Raglan was brave. Renowned for massive swells and surf, the west coast isn't the normal playground for small boats. Yet so confidence was Christensen in his design that we loaded a couple up and headed out to Manu Bay.
We started the day by playing about in the surf, getting the boats completely airborne a few times. Not exactly recommended behaviour in this size boat but they handled it well, the extended gunwales keeping the resulting spray well outside the boat. In fact, apart from a few drops of rain later in the day we got absolutely no water in the boats during our trip.
With the photos done, we headed to Jackson's Reef, just over 8nm out. Thanks to the compact Lowrance Elite 4 fishfinder/chartplotter we were able to find the reef, spot some signs on the bottom and start a drift. It wasn't long before we had the first fish on board, a feisty kahawai. The boats proved stable enough to move around on without any danger of broaching, even when netting a fish had us both hanging over the same side as the side-console helm.
This started off a great morning's fishing. Christensen proved his claim to be a fisherman by catching most of the snapper, all of a size that meant measuring wasn't required. A number of other species came on board, although only the gurnard and snapper went home with us. A big kingfish was hooked at one point and gave us about 15 minutes of fun before it sadly bust off close to the boat.
30hp Mercury two-stroke outboards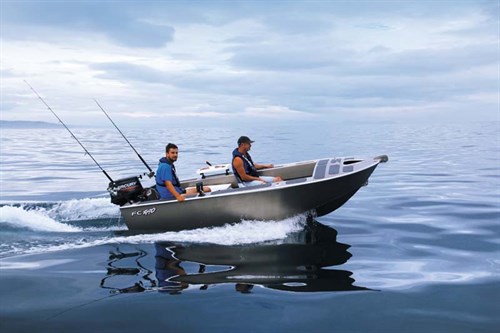 Both review boats had Mercury 30hp long-shaft two-stroke motors fitted, although the hull is rated for as little as 15hp. A 20hp four-stroke option with electric trim is also available. The 30hp proved to be perfectly matched to the hulls, and we achieved 24kt on the tiller-steered version with a knot or so less on the slightly heavier side-steer.
Fuel consumption was excellent – we travelled just over 16 nautical miles in total, and used slightly less than 10 litres of fuel for each boat. At the current fuel price, that means the morning's fishing cost about $10 per fisherman. With this sort of consumption, the higher upfront cost of a four-stroke is hard to justify and a single tote tank should give a range comfortably greater than 40 nautical miles with a 20 per cent safety margin.
These motors are the ultimate in simplicity – straightforward start-and-go. The side-steer model had the optional electric start with manual tilt, while the tiller version was pull start and manual tilt. Apart from tickling the choke on a cold morning there's nothing to worry about – the motors don't even have instrumentation.
The Trade-a-Boat verdict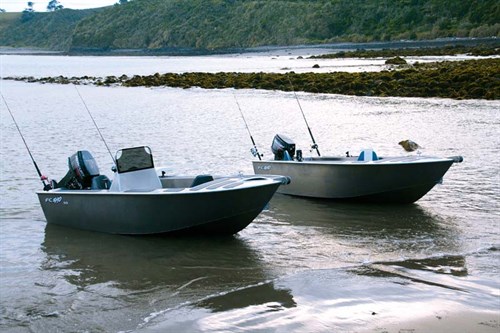 We caught half a bin in a couple of hours and would have filled it if we'd kept everything. Despite the swell building to a metre we were completely comfortable and never worried that we were 8nm from shore. The boats were comfortable; thier ride as smooth as any I've experienced in this size range, there's plenty of space in the cockpit, and the extended gunwale kept us dry.
Would I buy one? The answer is an unequivocal yes. If I were after a reasonably priced and easily managed fishing boat that would keep us safe if conditions turned nasty, the FC390 would be top of my list. 
HIGHS
• Extremely stable for such a small boat
• Very dry – no boat-generated spray came on board
LOWS
• Extra rod holders needed for forward position
• Large chilly bin may not fit
Fish City FC390 specs
Fish City FC390 price: $12,495
Priced from
PRICE AS TESTED
$19,347
OPTIONS FITTED
Lowrance Elite 4 fishfinder/chartplotter marine electronics, Railblaza baitboard, 2 x seat squabs, Deck tread fitted to deck and gunwales, FC console rail and windshield (SS), Self-adhesive deck-tread to gunnels, Switch panel (SS)
GENERAL
TYPE trailer boat
MATERIAL alloy, 3mm hull and sides
LENGTH 3.90m
BEAM 1.83m
DEADRISE 11°
WEIGHT 390kg tiller steer / 420kg side steer
CAPACITIES
PEOPLE 4
FUEL 25-litre tote tanks
ENGINE
MAKE/MODEL Mercury 30hp two-stroke outboard motor
TYPE Two-stroke outboard motor
RATED HP 30
DISPLACEMENT 430cc
WEIGHT 51kg
GEAR RATIO 1.92:1
PROPELLER Three-blade aluminium
MORE INFORMATION
Fish City Boats
91 Duke Street, Frankton, Hamilton
Phone Albany (09) 476 4282; Hamilton (07) 846 6675
Web fishcity.co.nz, fcboats.co.nz
See the full version of this review in Trade-A-Boat #263, on sale February 25, 2016. Why not subscribe today?
Keep up to date with news from Trade-A-boat or like us on Facebook!