Review: Image 8.25m Fishfinder
---
Image Boats has done it again with the 8.25m Fishfinder, producing an aluminium fishing boat that has the size and space to head offshore for several days, yet is small enough to be a realistic towing proposition. The finish is superb, and there are enough options installed to make it suitable for all styles of fishing.
Dean Wilkes, owner and designer of Invercargill-based Image Boats, knows the secret of a good recipe is not to change the basics. Tweak around the edges, garnish as required, but stick with the tried-and-true ingredients that make a superb aluminium boat.
And so the 825 Fishfinder has been built on Image Boats' proven rock-solid 6mm hull with a 2.5m beam. And some 15 years after Wilkes designed and built the first Image Fishfinder, this new-model fishing boat keeps to the same overall hull design and interior layout.
New Image boat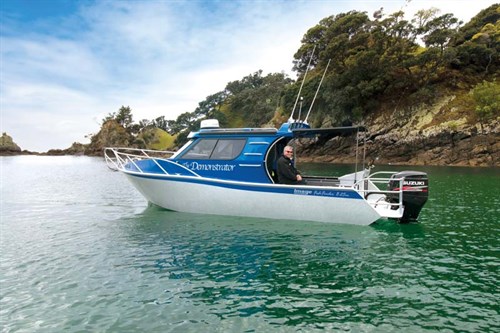 The differences between this model and an Image 840 we tested in 2015 are the slightly shorter overall hull length, the 2.5m beam for restriction-free towing, and single outboard motor rather than the twins we tested previously. Importantly, this translates to an almost $50,000 saving on the bottom line, with simplified wiring and electronics from the single-engine configuration making up the difference.
Unchanged are the 400-litre fuel tank, extended lockable hardtop cabin, space heater, shower cubicle with gas califont for hot and cold running water, forward cabin with double bunk and additional drop-in bunks, eye-catching paint job and plush upholstery.
The well-engineered Image factory trailer with hydraulic breakaway brakes is included in the package, with its float-off skids ensuring the boat remains secure and well supported on even the roughest roads.
Handling and ride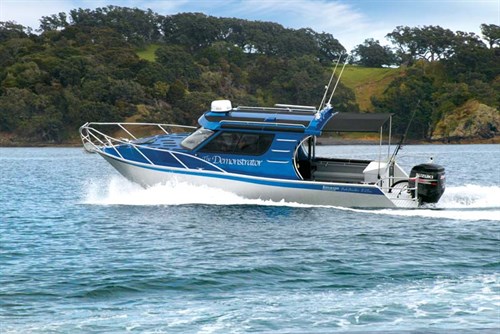 The strakeless hull of the Image 825 Fishfinder is – as with all the Image boat models we have reviewed to date – smooth riding. The 17-degree deadrise and fine entry in the bow, combined with the weight that comes from the 6mm hull bottom, means it cleaves effortlessly through big chop and waves. Yet the wide chines, which get progressively wider towards the stern, do a superb job of turning the spray down and away from the boat, as can be seen in the photos.
That same design ensures the hull is stable at rest, settling down into the water where the chines come into play. During the fishing part of the review we sat for several hours in a building swell yet felt completely comfortable throughout. Standing on the rear platform proved to be the choice spot, comfortable and stable, although by mid-afternoon a snooze in the cabin would have been equally pleasant.
Performance
Despite its weight, this is no slouch thanks to the gleaming black Suzuki DF250TX outboard motor hanging off the stern. This normally aspirated engine relies on cubic inches for its power, rather than the turbo or supercharging of its a smaller-block competitors, delivering 220hp from 3.6 litres. Combined with multi-point sequential electronic fuel injection this V6 has the performance and fuel economy to equal the best in market, while the torque exceeds many smaller engines. It also maxes out at lower revs than most smaller alternatives, meaning it's less stressed which should result in better reliability and longer life.
This Image 8.25m Fishfinder hull is rated for 200 to 300hp, so the Suzuki DF250 outboard motor sits right in the middle and certainly produced great performance, with the boat getting rapidly off the mark when the throttle was opened, despite the weight of the hull. We got to 34kt at wide-open throttle, the boat absorbing the chop and swell so it felt like we were travelling at a much slower pace. The hull tracks well, holding a dead straight line, and when turned hard the chines bite down and swing the hull round easily.
Looking at the fuel consumption figures, the sweet spot is between 3000rpm and 4000rpm (translating to 14-24kt) where the engine delivers a very flat consumption curve. This means speed can be adjusted to suit the conditions without severely affecting overall economy, so the 400-litre tank gives an effective range of around 240 nautical miles – allowing a 10 per cent safety margin – with a maximum range at displacement speed of almost 600nm.
Layout and design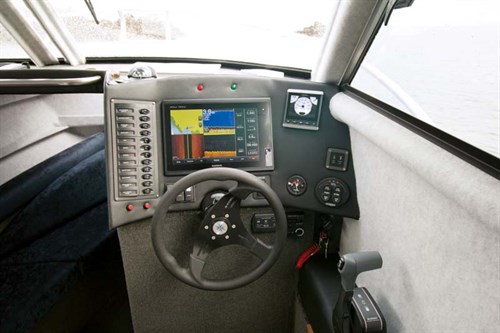 The finish on Image boats is invariably good and this was no exception. The welds are neat, the cabinetry inside is impeccable and the upholstery is stylish. This model takes all this to a new level, with a beautiful blue paint job inside the cockpit down to deck level and on the exterior of the hardtop and decks, while the plush blue upholstery is practical and comfortable.
The helm position is well set-up, featuring a skipper seat with movable flip-up bolster that serves equally well for sitting on or leaning against. The padded dashboard is dominated by a large Garmin 7412 integrated touchscreen display with chartplotter, fishfinder (with side-view scanning), Garmin GMR-18 radar and integrated engine controls.
Controls for the freefall anchor windlass, trim tabs, windscreen wiper with freshwater rinse, and the interior LPG heater occupy much of the remaining space, with a large switch panel and integrated circuit breakers controlling all the electrical devices.
Cockpit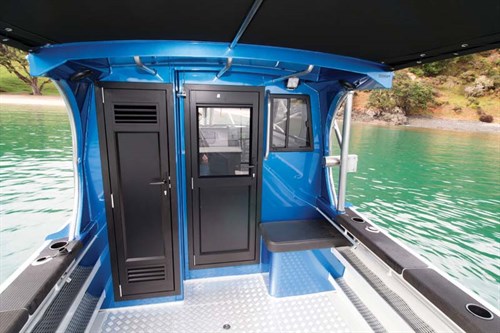 The cockpit and stern platform of this boat are 100 per cent geared towards fishing and diving. Parcel shelves lined with tube mat run the full length of both gunwales, without any bulkheads getting in the way of long objects. The deck is similarly free of encumbrances all the way to the stern, where there's enough space under the transom for tackle boxes or scuba tanks.
The broad gunwales have a non-slip rubber coating and are dotted with rod holders. Cleverly, each is matched with a drink/utility holder which can hold a can or cup but also acts as a convenient place to safely hold a sinker or jig when lines are out. A boom and davit installed on the starboard side are there to haul craypots – a common requirement down south but perhaps less important for sports fishermen.
The island in the rear of the cockpit has a massive nylon baitboard on top and is accessible from either the cockpit or the stern platform. Under this, a forward-facing hatch hides the batteries, fuel filter, pumps and switches. The top of the unit hinges outwards to reveal a washdown sink with running water. A large lip on the rear of the board ensures that lifting it up doesn't dump your bait and associated mess all over the stern.
And that is where the fishing action really happens, with space for up to four anglers. Raised sufficiently above the water to ensure dry feet in most conditions, the stern platform has a safety rail all around. A section of this in the starboard side unlatches and swings down to form a wide boarding ladder. The big Suzuki DF250TX only slightly intrudes into the platform, leaving ample room to walk around, and several rod holders are welded to the rail and bait board.
The Trade-a-Boat verdict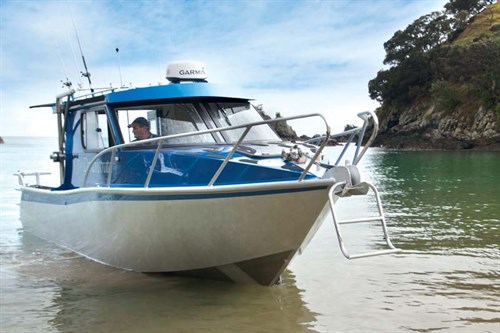 The weather forecast on our review day was good and by mutual agreement we decided not to waste the opportunity to wet a line. We set off from Westhaven in calm water with almost no wind, although both wind and swell built up during the course of the day. After getting the necessary photos we set out for the important part of the day – fishing! And the boat certainly lived up to its name – we had a full fish bin within a couple of hours. We bottom-fished, jigged and trolled lures until we realised we couldn't take any more home with us and reluctantly called it a day. Sadly, not all fishing day are like this, but certainly it proved the heritage of the Image 8.25m Fishfinder. 
Image Fishfinder 8.25 sea trials
Single 250hp Suzuki DF250TX four-stroke outboard motor (three people on board, half tank of fuel)
| | | | |
| --- | --- | --- | --- |
| RPM | SPEED (KTS) | FUEL BURN (LT/H) | RANGE (NM) |
| 600 | 0 | 1.7 | 0 |
| 1000 | 6.1 | 3.7 | 592 |
| 2000 | 8.2 | 9.3 | 319 |
| 3000 | 13.4 | 20.5 | 235 |
| 3600 | 19.9 | 30.2 | 237 |
| 4000 | 24 | 36.7 | 235 |
| 5000 | 31.2 | 62 | 181 |
| 5400 (WOT) | 34.1 | 70.8 | 173 |
* Sea-trial data as measured by author. Range is calculated leaving 10% in reserve
Image Fishfinder 8.25 specs
Image Fishfinder 8.25 price: $204,705
Price as tested
OPTIONS FITTED
Lock-up stretched wheelhouse; custom paint job; cray boom and winch; window wipers with freshwater wash; extended sun roof; electronics package including radar
GENERAL
MATERIAL Alloy
TYPE Hardtop lock-up
LENGTH 8.5m w/ platform
BEAM 2.5m
WEIbGHT 2400kg
HULL 6mm hull, 4mm sides and 3mm topsides
DEADRISE 17°
CAPACITIES
PEOPLE (NIGHT) 4 (DAY) 7
FUEL 400L
WATER 100L
ENGINE
MAKE/MODEL Suzuki DF250TX outboard motor
TYPE Four-stroke V6 petrol, normally aspirated direct-injection outboard motor
RATED HP 250
DISPLACEMENT 3600cc
WEIGHT 264kg
GEAR RATIO 2.08:1
PROPELLER Four-blade stainless
MORE INFORMATION
Image Boats
24 Bay Road
Invercargill, New Zealand
Phone (03) 214 4573
Web imageboats.co.nz
See the full version of this review in Trade-A-Boat #264, on sale March 24, 2016. Why not subscribe today?
Keep up to date with news from Trade-A-boat or like us on Facebook!