Review: Image 8.75m Fishmaster
---
This angler is so passionate about his Image 8.75m Fishmaster he towed it 1640km to the Auckland On Water show. He was also nice enough to let us go for a fish on it.
Once again Image Boats has produced a beautifully crafted vessel in the new Image 8.75m Fishmaster – one that looks good, but also has the layout, features and performance to satisfy the most critical customer.
Image Boats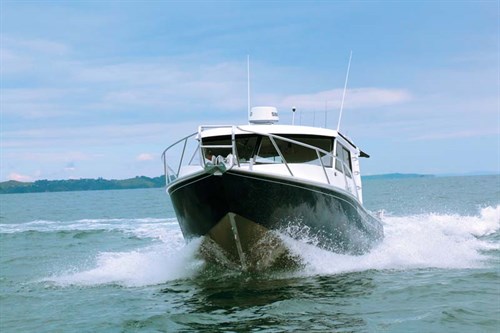 A steady stream of visitors at the 2015 Auckland On Water Boat Show made it clear that this boat has hit the nail on the head again, and catching Wilkes when he was not talking to a potential customer was a challenge. Eventually, we managed to make arrangements for the following Monday, and it was a sunny and calm day when we dropped the midnight blue and white painted Image 8.75m Fishmaster into the water.
This 8.75m extends the Image Fishmaster boats range and follows the same general layout as models we tested earlier in the year. It has an extended and lockable hardtop cabin, large cockpit with canvas roof extension and big "fighting platform" on the stern that holds the motors while creating an ideal fishing spot. That said, every Image is custom-built and individual features and layout can be changed to suit the purchaser.
Twin 150hp Suzuki outboards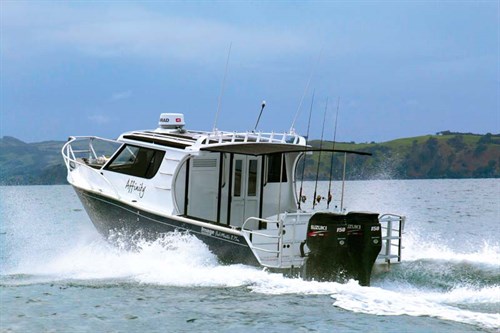 Twin-motor setups are popular in the wild waters down south and the Image 8.75m Fishmaster comes with two of the latest Suzuki DF150 outboard motors hanging off the back.
These four-cylinder marine engine powerplants have a naturally-aspirated 2.9lt block, providing power and torque in a unit that is less stressed than the competitors' smaller displacement motors that have a turbo or supercharger bolted on top. It is no coincidence that many commercial operators choose Suzukis to run up the huge number of hours they typically put on their motors.
The stern platform containing the motors is also the fishing spot of choice, with a sturdy cage created by the safety rails and twin boarding ladders which can lock in a vertical position. There is plenty of room to walk around the twin motors, and numerous rodholders, plus the baitboard mounted on the transom makes this a true fisho's delight.
Layout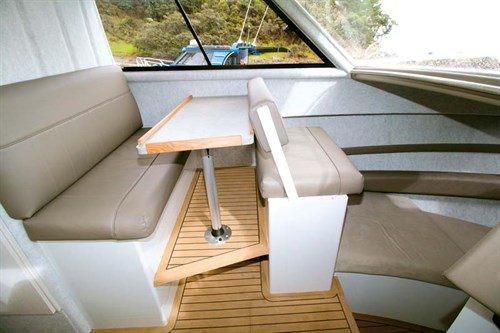 Twin transom step-throughs with drop-in doors provide access to the main cockpit on the Image 8.75m Fishmaster. The checkerplate floor is covered with tube matting to provide sure footing when wet and an extended canvas cover provides shelter from sun and rain. The gunwales are beautifully finished, with curved surfaces covered in foam for a comfortable perch. Two parcel shelves along each side hold a ton of gear, and rod and drink holders abound.
The transom has a wide locker equipped with waterproof drawers, ideal for keeping fishing gear and lures organised and safely out of the way. A second level keeps batteries, fuel filters and a fire extinguisher all safe and dry. A livebait tank and a washdown hose are installed on either side of the transom.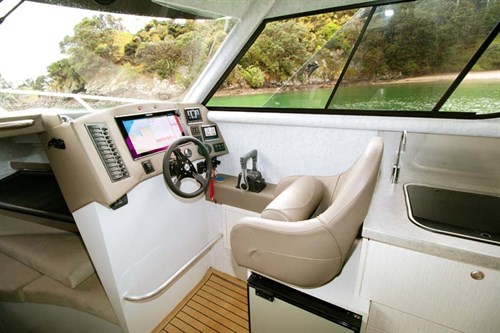 Up against the Image 8.75m Fishmaster's cabin, a separate toilet and shower compartment on port holds a set of rod racks – a clever touch that simplifies freshwater rinsing of fishing gear simply by using the onboard shower. Stepping through the bi-fold doors, the bright and stylish cabin interior features white paint with light beige vinyl on the seats and fabric of the same colour on the bunks.
The forward cabin provides up to four berths via two drop-in hammocks, while the dining area has two double bench seats with a table in between. The forward backrest flips to allow the occupants to face forward while travelling, or vice versa. A gas stove and oven, sink and a fridge under the skipper's seat provide the amenities for an extended trip. A gas califont in the shower provides hot running water for both the shower and sink.
Marine electronics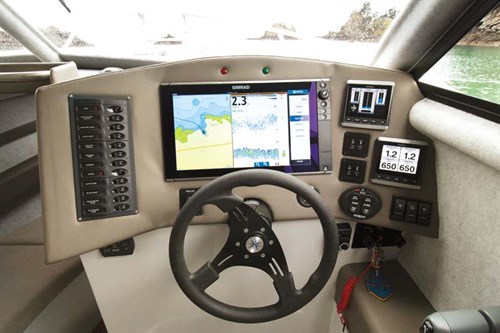 The Image 8.75m Fishmaster test boat was fully kitted out for the new owner, and the electronics package is extensive. A massive Simrad 16in touchscreen provides the interface to 3D fishfinder, chartplotter and 4G radar modules, with the radar dome mounted on the roof. Two Garmin digital displays replace the conventional analogue gauges for the twin motors, while also interfacing to the big Simrad screen. VHF radio, trim tabs, controls for the Lewmar freefall anchor winch, windscreen wipers (with freshwater rinse) and a FUSION stereo system complete the package.
Solar panels on the cabin roof keep the batteries charged even when the boat is not being used for an extended period. A GoFree Wi-Fi module is also fitted, enabling the electronics display to be mirrored on a smartphone app or tablet anywhere on the boat.
We took the Image 8.75m Fishmaster into the beautiful Garden Cove on Waiheke for the initial photos and made use of the bow ladder to drop onto the beach. This clever feature, part of the safety rail, swings down over the bowsprit and anchor enabling easy boarding directly up onto the bow, while keeping the stern and props safely clear of beach or rocks.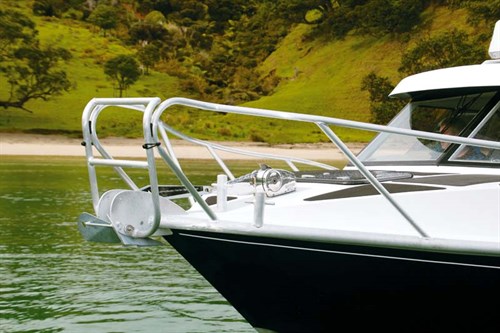 Handling and ride
Once the close-up shots were done, we headed out for a bit of a spin. The Image 8.75m Fishmaster handles much as expected for a big boat with this much power, which is to say solid and controlled but also responsive and able to get up and move when required. Top speed was around 30kts with three adults and the massive 500lt fuel tank about half-full.
The twin motors make low-speed manoeuvring a breeze, while the counter-rotating props mean that prop walk is virtually eliminated. The hydraulic steering was easy to handle, despite the weight of the twin motors, and gave positive feedback to the skipper at all speeds.
A boat this size can be deceptive and travelling at 25kts hardly feels fast, especially in the good conditions we had on the day. Pushing harder gives a real sensation of speed, but at the expense of greater thirst. But that 500lt tank will give a comfortable 200nm-plus range at cruising speed. Extended voyages are supported by the freshwater capacity of 150lt, making long-range fishing or cruising trips a pleasure.
Fishability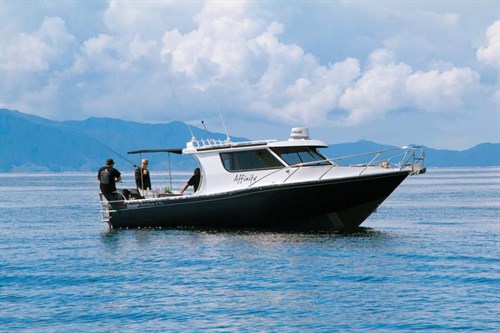 Once the serious work was done, it was time to head out wide to look for some fish. Many boat tests conclude at this point with "sadly the fish were not biting today" but not this time! We followed the gannets and found a massive workup featuring birds, dolphins and huge kahawai smashing the surface. What followed was an awesome fishing experience. After more than two hours of nonstop action we had to stop fishing because everyone on board had reached their legal quota of snapper. Oh yeah!
These are the type of days that keep fishermen excited, when the combination of right boat, right time, right place, right gear, right weather and right conditions all come together.
It was Wilkes' first experience of Auckland fishing and he caught not just his first-ever snapper, but a binful. And these were good fish too, mostly around 40cm with half a dozen which ran to 50cm-plus size and would have been 4-5kg.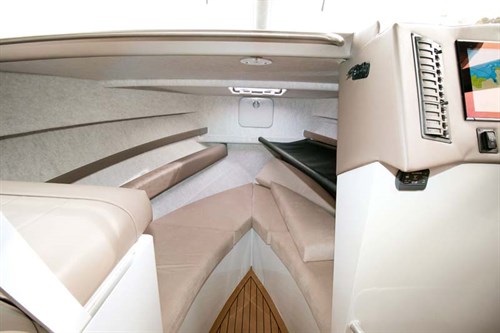 Of course, the fun had a serious element as we used it to test the stability of the boat at rest, which was as expected, superb. By mid-afternoon it was time to head home to conclude a stunning day. We had burned around 80lt of fuel for the day, getting from Westhaven to a bit beyond the bottom end of Waiheke for a total trip of just less than 40nm. When shared between a couple of mates, this makes a very economical day out, as well as being a fantastic experience when the fishing turns on like this.
The Image 8.75m Fishmaster review boat was fully spec'd up for her new owner, including the extensive electronics package that pushes the total price up. However, this Fishmaster is an extremely capable boat that provides a great experience out on the water, no matter the conditions. 
HIGHS
• Massive space
• Perfect fishing platform
• Beautifully fitted out
LOWS
• Twin motors add to costs
• This is a serious towing proposition
Image 8.75m Fishmaster sea trials
Twin 150hp Suzuki outboard motors, three adults, 50% fuel on board.
| | | | |
| --- | --- | --- | --- |
| RPM | SPEED (KTS) | FUEL BURN (LT/H) | LT/NM |
| 1000 | 3.8 | 3.8 | 1 |
| 2000 | 7.1 | 11 | 1.5 |
| 3000 | 11.2 | 26 | 2.3 |
| 4000 | 19 | 40 | 2.1 |
| 5000 | 26.1 | 78 | 3 |
| 5700 | 29.9 | 122 | 4.1 |
*Sea-trial data supplied by the author. Fuel burn figures are for both motors combined.
Image 8.75m Fishmaster specs
Image 8.75m Fishmaster price: $252,716
Price as tested
GENERAL
MATERIAL Aluminium (6mm hull, 4mm sides, and 3mm top)
LENGTH 9m overall; 8.15m waterline
BEAM 2.7m
WEIGHT 2900kg (BMT)
DEADRISE 18°
CAPACITIES
FUEL 500lt
WATER 150lt
REC. HP RANGE 250 to 400
ENGINE
MAKE/MODEL 2 x Suzuki DF150TX outboard motors
TYPE Inline four-cylinder four-stroke petrol outboard motors
RATED HP 150 (each)
DISPLACEMENT 2867cc (each)
WOT RANGE 5000 to 6000rpm
GEAR RATIO 2.5:1
MORE INFORMATION
Image Boats
24 Bay Road,
Grasmere, 9810, Invercargill
Phone 03 214 4573; 027 436 8055
Web imageboats.co.nz
See the full version of this review in Trade-A-Boat #261, January 2016. Why not subscribe today?
Keep up to date with news from Trade-A-boat or like us on Facebook!