Review: Integrity 460 Grand Sedan
---
The Integrity 460 Grand Sedan luxury motor yacht has an all-new hull and a fuel-efficient engine, ideal for coastal cruising.
The success of Integrity Motoryachts was built on producing strong seagoing displacement boats for a mature market that embraces the slow and steady lifestyle. However, owner Brett Flanagan says customers were asking for more speed than the 9kt average his boats were delivering. Owners were setting their sights on more distant horizons and a few extra knots make a big difference over a day's steaming.
So Integrity went back to the drawing board and the result is a hull with a more exposed prop, a gullwing shape to the hull and a flatter running surface at the transom. The new hull offers better lift and speed while retaining the bulletproof keel, which aids stability and offers protection to the shaft and prop.
Integrity 460 Grand Sedan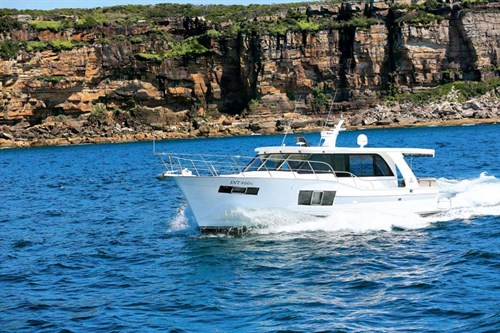 Along with the hull modifications, the Integrity 460 Grand Sedan includes subtle interior design tweaks. A wider helm seat allows the skipper some company at the wheel and a new side door fitting flush with the wall gives access to the wide side-deck for easy docking or a faster approach to the bow when needed.
The Grand Sedan retains the classic looks the brand has displayed since its introduction, a sharp entry and flared bow leading to a beamy body where a stepped sheerline runs under a flat roof that extends to the transom. The longer length of the 460 and the low profile saloon layout add to the lithe impression while big windows in the sides are a new feature allowing light in and views out from below.
Layout and design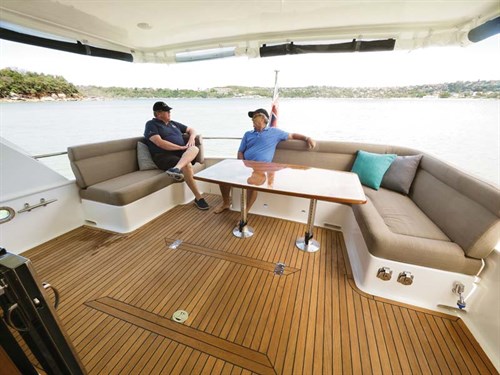 A wide rear platform invites you aboard and a removable gate protects the entry but can be removed for swimming. Step up into the cockpit and there's a profusion of teak and comfortable seating, all covered by the fibreglass roof extension, making a great outdoors entertainment area.
The whole rear window/door combination lifts out of the way and can be secured under the roof overhang to open the saloon up as an uninterrupted living space right through to the helm. It looks impressive and inviting with elegant modern timberwork and a roomy open-air quality.
Wrap-around windows flood the saloon with light, illuminating a bright interior of cream Ultraleather furnishings with white walls and ceiling. Extending along the port side is fully loaded galley, while the dining table opposite has an inlaid gloss teak finish for a very glamorous impression.
This layout leaves a wide central walkway and ample room for working in the galley as well as space to bring in more chairs for entertaining.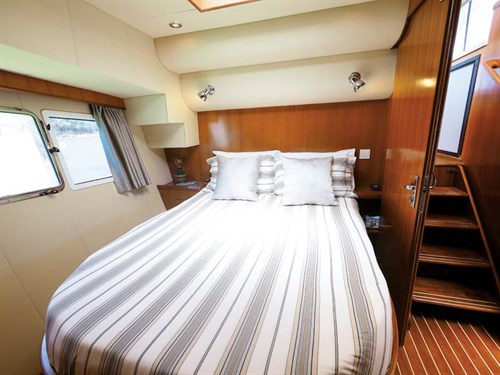 The galley bench has loads of space for food preparation and is big enough to lay out a generous buffet. It includes twin stainless steel sinks, two-burner cooktop and convection microwave, with covers over the sinks and cooker to keep things tidy when not in use.
Storage is impressive, with bench and overhead cupboards at the galley as well as room under the dinette and cockpit lounges and in a pantry in the passageway below decks. But all this pales when you open the cockpit lazarette where there's room for all sorts of water toys and extra equipment for extended voyaging.
Couples who want to stay on board beyond an occasional overnighter will truly be impressed by the cabin layout. The master is amidships, to starboard of a central passageway that leads to a guest cabin in the bow. It is accessed through double sliding doors that can be left open for a feeling of greater space or closed for privacy when guests are on board.
When I first inspected the en suite opposite the master I was impressed by the quality fit-out and panoramic views but it was only on reflection that I wondered where the shower might be. Good point – it's hidden behind the door and is one of the biggest and best designed showers you'll find on a boat this size. With its own moulded seat and storage shelves there is plenty of room to move and lots of fresh water on tap from the twin 1000L tanks.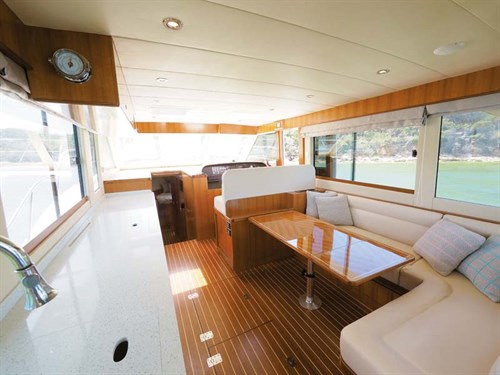 A well-insulated Kohler 9kva generator takes care of power but if you'd like complete silence, switch over to a pair of 250ah batteries and a 3000W inverter.
At the helm, the raised seat has room for three and the extra height means better vision all around. Our test boat came with a vast array of electronics easily accommodated on the wide dash – there's a single Raymarine E165 16in screen but there could easily have been a second, along with a Raymarine wireless autopilot, VHF, 48nm radar and remote chain counter, as well as a satellite TV, so it's a boat set up for serious travel.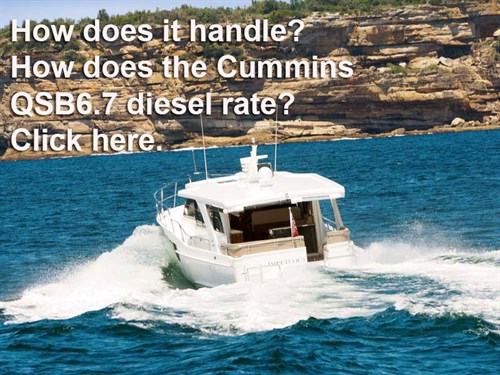 How does it perform? See how we rated the Cummins QSB 6.7 marine diesel.
The Trade-a-Boat verdict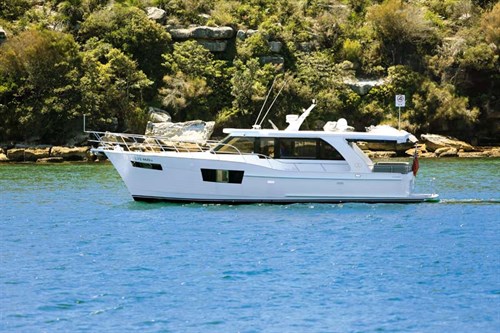 This latest Integrity takes the brand to new levels of luxury while still offering comfortable and practical cruising. Starting at $890,000 it truly is the expression of the company's charter to offer world-class boating with an Aussie price tag. 
HIGHS
• Top quality finish in a stylish design
• Superior sea handling with a soft, purposeful ride
• Long-distance ability with good fuel load and efficient engine
LOWS
• Forward vision reduces as speed rises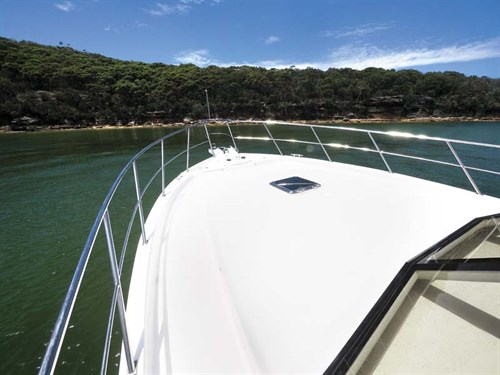 Integrity 460 Grand Sedan specs
Integrity 460 Grand Sedan price: $A890,000
Priced from
GENERAL
MATERIAL GRP
TYPE Semi-displacement cruiser monohull
LENGTH 14.5m
BEAM 4.3m
WEIGHT 12000kg
CAPACITIES
People 6 (night)
Fuel 2000L
Water 1500L
Holding tank 120L
ENGINE
MAKE/MODEL Cummins QSB 6.7 marine diesel engine
TYPE Diesel
RATED HP 480
DISPLACEMENT 6700cc
WEIGHT 658kg
GEAR RATIO 1:2.5
PROPELLER Five-blade bronze
MANUFACTURED BY
Integrity Motor Yachts
Quay St. F Pier, Sanctuary Cove, Qld 4212
SUPPLIED BY
Performance Boating Sales
Gibson Marina, 1710 Pittwater Rd Bayview, 2104
Phone +61 2 9979 9755
Email brett@integrityboats.com.au
See the full version of this review in Trade-A-Boat #265, on sale April 21, 2016. Why not subscribe today?
Keep up to date with news from Trade-A-boat or like us on Facebook!