Review: McLay Premier Hardtop 801
---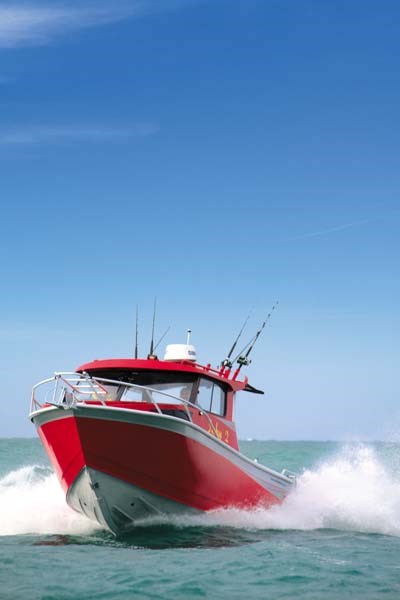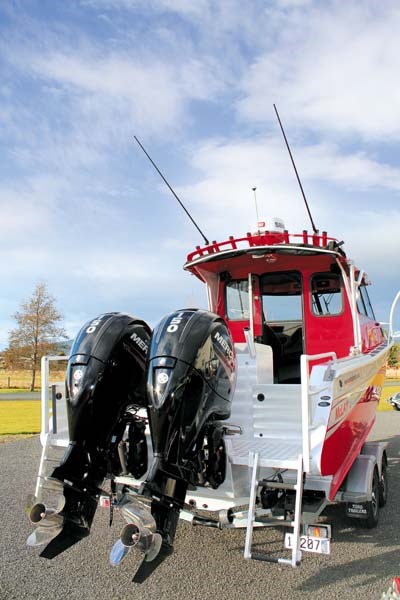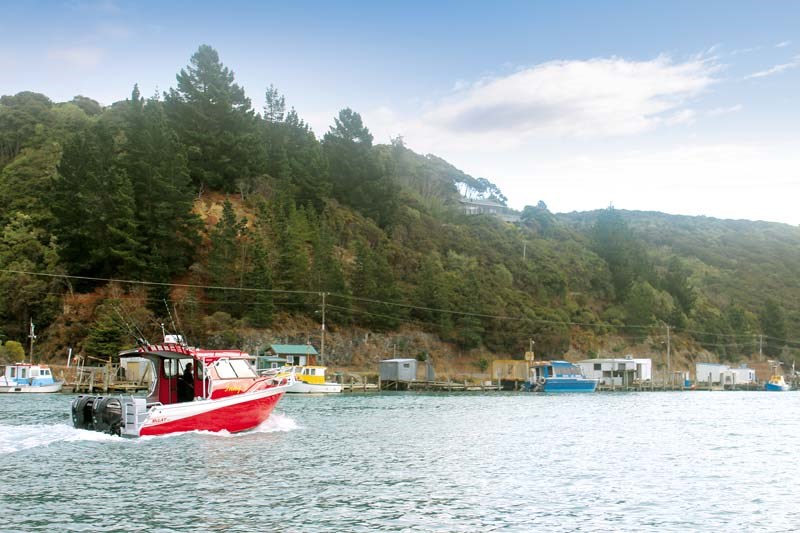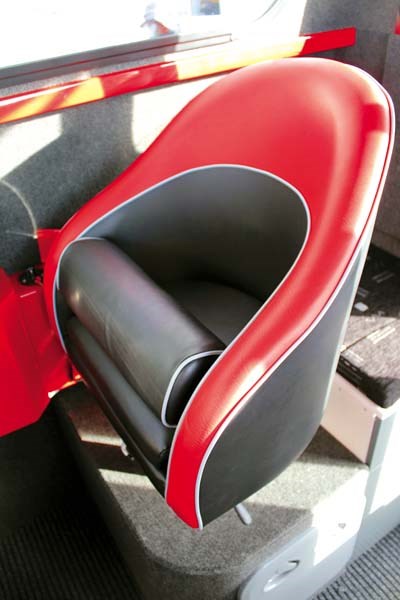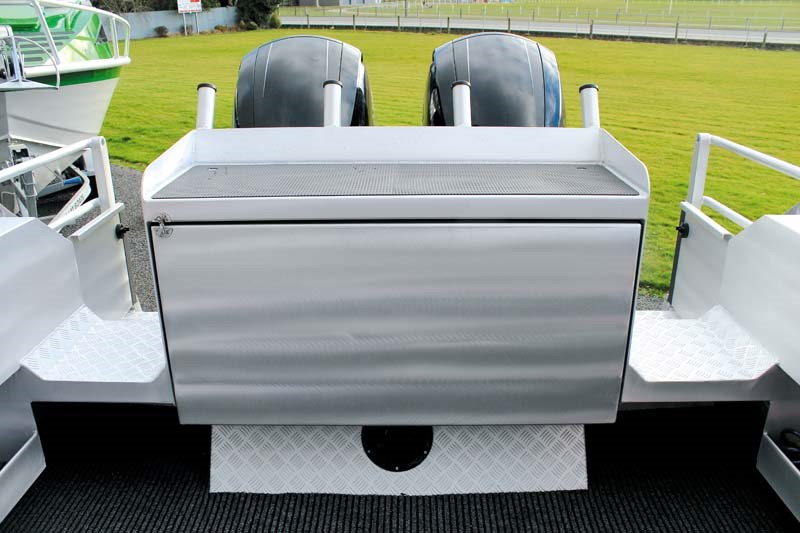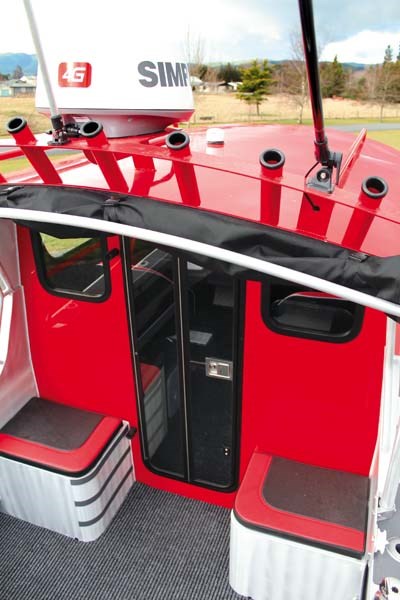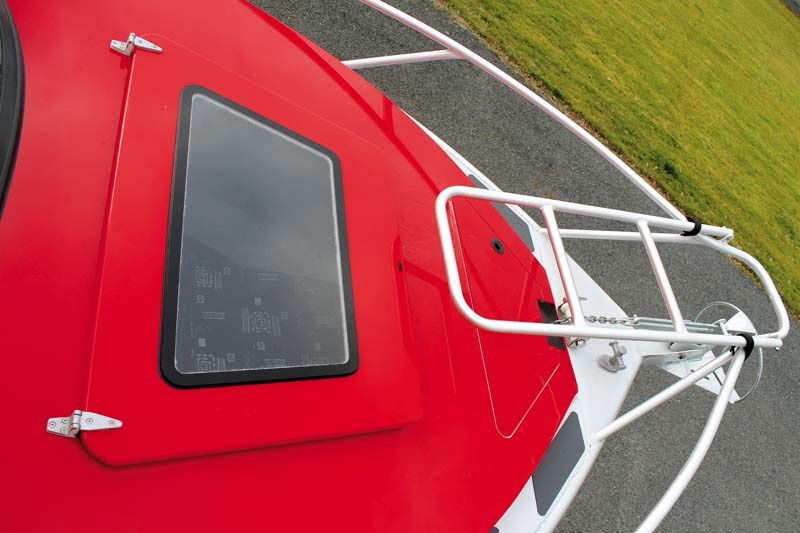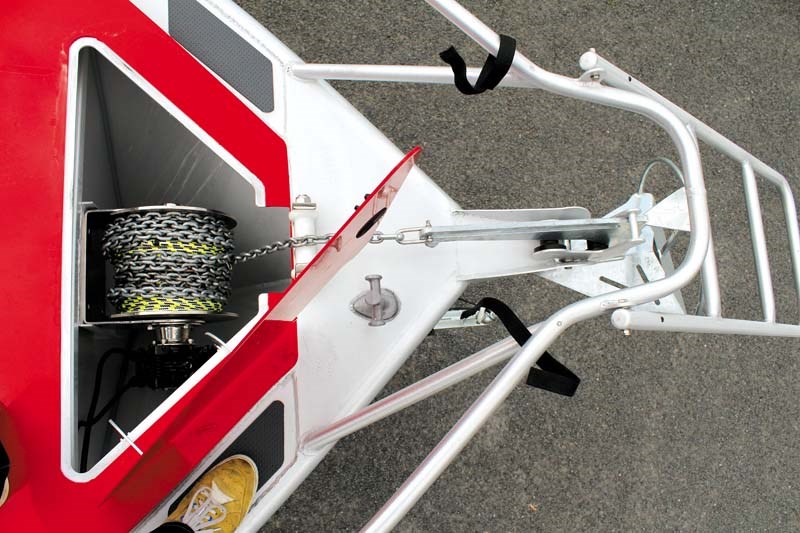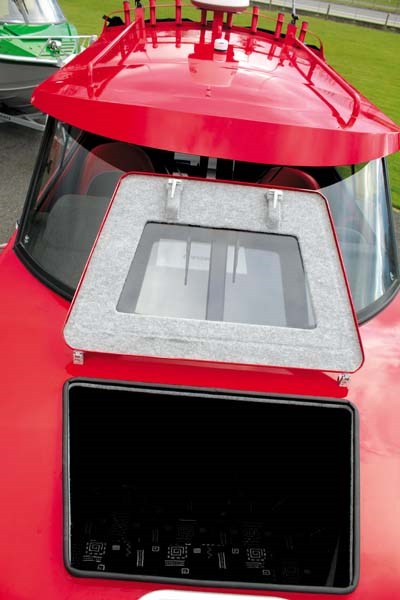 The McLay Premier Hardtop 801 is a magnificent aluminium fishing boat and weekender. It comes at a price, but you'll want for nothing.
The big new 8m aluminium McLay Premier Hardtop 801 offering has been planned out, from drawing to final delivery, as a one-stop turnkey quality-marque operation for the customer.
"I wanted people to be able to buy a quality boat in the same way that you buy a quality car; after all, you don't go to the Mercedes dealer and add air-conditioning, leather seats and electronics aftermarket," says Steve McLay, founder of McLay Boats. "It's all there, up front, ready for you in
one quality package on the day you pick it up.
"Place your order; drive away happy. That's the intention with these top-end boats," he adds.
Steve is not mucking around when he says this, the list of quality additions and accessories in the McLay Premier Hardtop 801 is lengthy and reflects the considerable thought that has been put into the final product. Of course dreams come at a premium and for those clients who want the best Steve believes it's the correct approach. Time will tell whether this idea has merit but with Inky 2 he has certainly delivered on the premium plan.
McLay Hardtop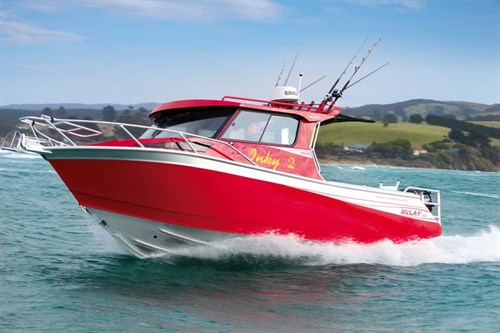 With her distinctive red livery Inky 2 was the first boat noticed in front of the purpose-built boat factory; she gleamed and sparkled in rare southern winter sunshine. On the dual-axle trailer the 801 looked both imposing and vibrant, and I couldn't wait to get aboard and flick some life into those two black 150hp EFI Mercury outboard motor coupled at the stern.
Walking around this McLay Premier Hardtop 801 I was reminded of the powerboater's lament, "too big on the trailer, too small on the water", and wondered if it was going to prove accurate. That said, the hull is made of heavy-duty 6mm plate and six full-length stringers and thwarts. A full-length keel strip protects the bottom from knocks and scrapes, while the sides and decks are fashioned from 4mm plate.
At the stern the McLay Premier Hardtop 801 has two ladders cleverly let down out of the boarding platform cage with a hinge and snap-lock system. Swung back, the ladder doubles as railing for the boarding platform, securing the area for kids and fishos.
Weekender boat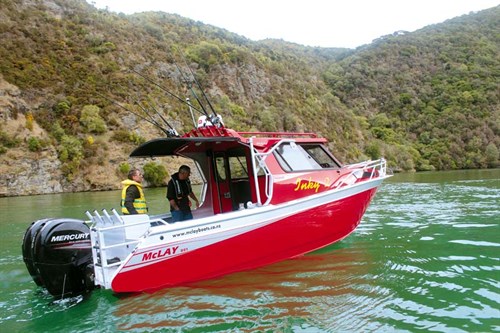 McLay Boats refers to this boat as a weekender and it is obvious it's designed to keep people happy and comfortable aboard no matter the weather. Hinged doors on both sides of the portofino transom access the roomy cockpit with seating and storage either side of the glazed bi-fold doors that open into the wheelhouse. Also mounted into the hardtop's rear bulkhead, above each upholstered seating/storage box, is a sliding window allowing air and conversation to flow freely back and forth between deck and cabin.
There is a generous roof overhang into the cockpit, with an overhead light and spotlight for working the rear deck. A feature of the hardtop is a canopy that slides out on two solid rails and gives complete cover to the deck should you need it; a great addition that clears out of the way easily for casting. On the starboard gunwale is a foot-switch operated winch for the davit and pulley system neatly tucked away against the cabin side. In operation this swings out 90 degrees and locks into place, ensuring raised pots don't damage the shiny finish.
Below the wide transom baitboard (with rubber matting, drains and four rodholders) is a large, solid aluminium panel that lowers to reveal a generous and upholstered two-person seat, as well as access to the hatches housing the switches, isolators and batteries. Beneath the floor is a 300lt fuel tank and bilge with a 2000gal/h bilge pump.
The cockpit features the usual gunwale rodholders and well-finished sidepockets lined with carpet, although I'd like to see a more secure rod storage system in the cockpit if this boat is being used as a fisher. A good deckwash pump and hose comes standard. On top of the hardtop overhang is a colour-coordinated eight-pot rocket launcher, the two aerials, and moving forward long handrails and holding points.
Up front an excellent Savwinch keeps anchoring easy and ensures that no steel chain will react against the aluminium sides of the anchor well with a roller and fairlead securing a Sarca anchor on rope and chain. A forward flip-over boarding ladder is mounted to the 801's solid bowrail for nose-to landings on the beach.
Interior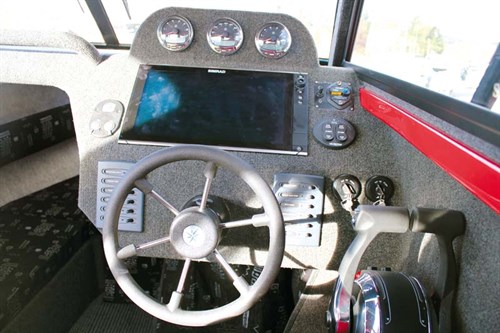 The wheelhouse is well-laid-out with a fridge on the port side as you enter and in front of that a softrider pedestal seat atop a hatched storage box alongside a similar setup for the skipper. The seats are a fine piece of work, the bolsters rise and roll back and become a comfortable leaning point when standing, as well as a safe place to secure my camera gear during a bar crossing. Set behind the starboard helm against the cockpit bulkhead is a useful three-drawer storage cabinet.
The cabin and wheelhouse are nicely lined and painted, the lighting is good, while a VHF radio and Fusion stereo system are mounted flush into the overhead windscreen bulkhead. I liked the lined cabin grabrails which are well-placed and comfortable to use. The dashboard had two shelves and cubbyholes, again all lined, for charts and binoculars and the like.
Visibility through the curved safety glass windscreens is exceptional, and even in wild spray and salt grime the two big pantograph wipers kept the view pristine. Sliding windows either side of the cabin allow good air and the double windows provide excellent natural light and all-round views.
Cabin and helm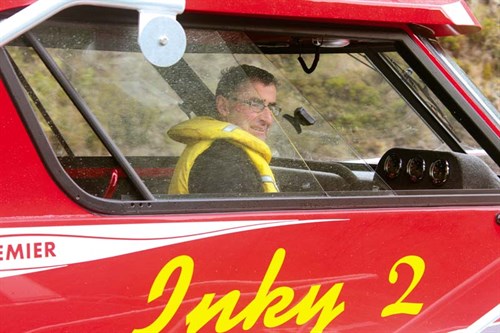 The front cabin has infill squabs that fit very well and my 183cm could stretch out full-length on the vee-berth, luxuriating in the expanse above my head and below my feet, never touching the ends either. Bliss!
Toilet needs are catered for here too, a comfortable fully plumbed head situated in the double-berth's vee below the forward hatch. It is completely private, particularly with the full-length curtains secured that mum and the girls are really going to thank you for.
The front cabin hatch is glazed and strong but easy to fold back against the windscreen and should not cause a problem for dicky backs.
At the helm the dashboard is simple and uncluttered with three digital DTS gauges displaying revs, gas consumption, tilt and more. Centrally located is an intelligent 16in GPS-sounder and radar touchscreen system from Simrad. The screen is large and easy to read in bright light and was clear and instinctive to use. The twin Mercury's are governed by linked throttles that operate as smoothly and easily as expected. To the right and in easy reach are the trim tabs, anchor winch and ignition switches.
Handling and ride
The Taieri bar was working well when we arrived, a few days' weather and wind had kicked up a little swell and the seas were confused and difficult, coupled with the occasional sudden roller. The stability imparted instant confidence as we tripped back and forth through waves and wakes, the weight and 18-degree deadrise hull ensured arrow-straight tracking and unflappable behavior.
The boat is capable of handling harsher conditions than we saw and offered a fairly stable platform for photography. After the first trip out over the bar we ran back inside, and in calmer water I jumped aboard the camera boat to get some shots of Inky 2 doing her thing in the open ocean. That was quite a different experience getting photos, stability wise!
I have to say the grins on board Inky 2 were testament to how well she handles these conditions, and provided a wealth of confidence in her ability as a big-water boat. Those twin engines felt perfectly matched and delivered effortless unflappable power with plenty in reserve – I'd feel confident tackling those North Island bar harbours I've crossed in the past, like Kaipara, Manukau or Raglan.
The Trade-a-Boat verdict
If you looked at owning this ship instead of a holiday home of say $400K to $500K, you'd be spending less than half of that. You'd never have to mow the lawns or paint the roof, and the view out those huge windows would be constantly changing and interesting.
To facilitate the weekender theme the boat comes with a portable barbecue stored under the port deckbin seat. It's easy to lift out and place on the baitboard for cooking duties and is ready for picnic trips ashore, with the deckwash pump and plastic bucket taking care of washing needs.
As a towable 8m boat the Premier Hardtop 801 is a big offering from McLay; nimble, strong as an ox, very sea-capable, well-equipped and excellently finished. It is certainly the right boat to test the quality of Steve McLay's marketing theory.
As a weekend/pleasure/fishing powerboat combo the McLay Premier Hardtop 801 has the Goldilocks factor, and it effectively silences the powerboater's lament: "Not too big, not too small. Just right, damn right." 
HIGHS
• High-quality finish in and out
• Handling
• Strongly built
• Excellent fitout and extras
• Complete package
LOWS
• Rod care and storage
McLay Premier Hardtop 801 sea trials
Twin 150hp Mercury four-stroke outboard motors (range calculated with 10% fuel reserve).
| | | | |
| --- | --- | --- | --- |
| RPM | SPEED (KTS) | FUEL BURN (LT/H) | RANGE (NM) |
| 500 | 2.5 | 4.6 | 147 |
| 1000 | 3.8 | 5.9 | 174 |
| 1500 | 5.8 | 12 | 130 |
| 2000 | 7.2 | 13 | 149 |
| 2500 | 11.4 | 26 | 118 |
| 3000 (planing) | 16 | 30 | 144 |
| 3500 | 22 | 37 | 160 |
| 4000 | 26 | 48 | 146 |
| 4500 | 30.8 | 63 | 145 |
| 5000 | 33.8 | 77 | 118 |
| 5500 | 38.6 | 102 | 102 |
| 6000 (WOT) | 40.8 | 126 | 87 |
* Sea-trial data supplied by the author.
McLay Premier Hardtop 801 specs
McLay Premier Hardtop 801 price: $190,000
Priced from
PRICE AS TESTED
$196,115
OPTIONS FITTED
Davit winch and pulleys, hardtop canopy, rear cage, carpet floor, and more
GENERAL
MATERIAL Aluminium
TYPE Monohull
LENGTH 8.05m
BEAM 2.48m
DRAFT 0.55m
WEIGHT 3400kg (BMT fuelled)
DEADRISE 18° (variable)
CAPACITIES
PEOPLE 10
FUEL 300lt
WATER 100lt (optional)
ENGINE
MAKE/MODEL 2 x Mercury 150 FourStroke outboard motor
TYPE Inline four-cylinder four-stroke petrol outboard motor
RATED HP 150 (each)
DISPLACEMENT 3lt (each)
WEIGHT 206kg (each, dry)
PROPELLER Stainless steel Enertia
MORE INFORMATION
McLay Boats
299a Union Street,
Milton, 9220, Otago
Phone (03) 417 8135
Email info@mclayboats.co.nz
Web mclayboats.co.nz
See the full version of this review in Trade-A-Boat #260, November / December 2015. Why not subscribe today?
Keep up to date with news from Trade-A-boat or like us on Facebook!