Review: Osprey 600 Centre Console
---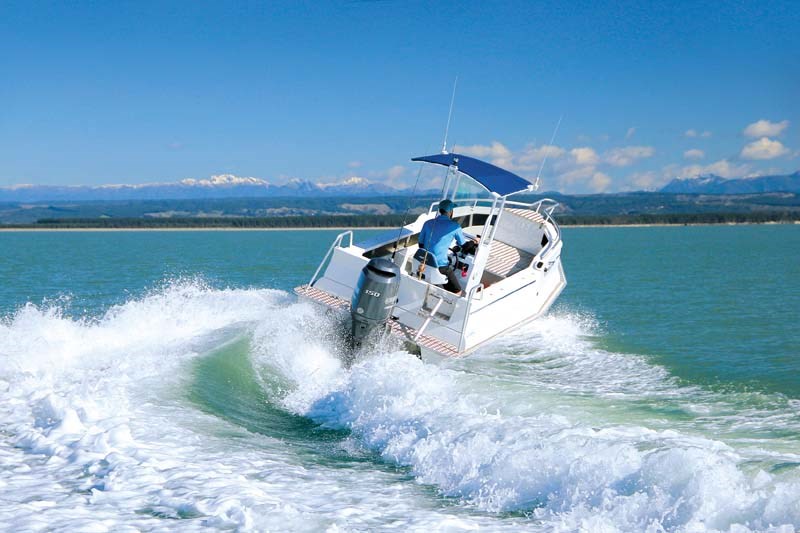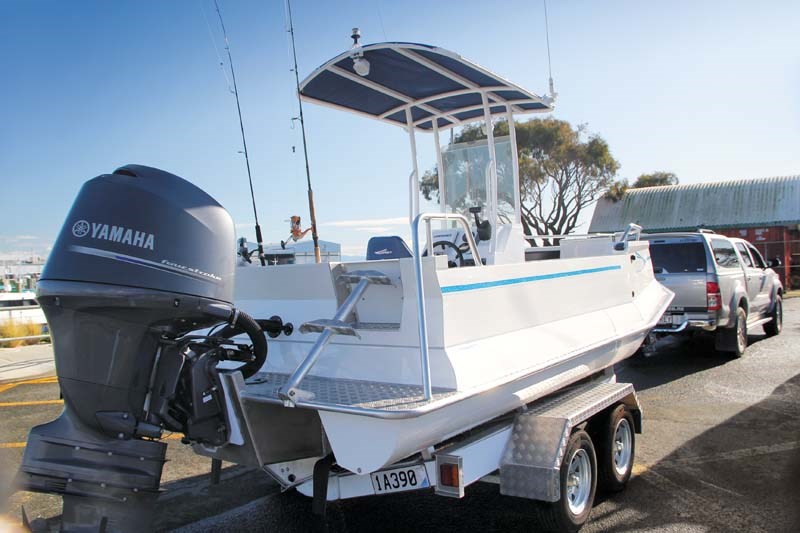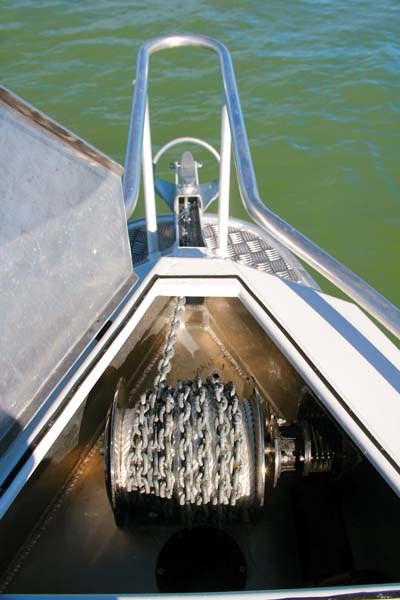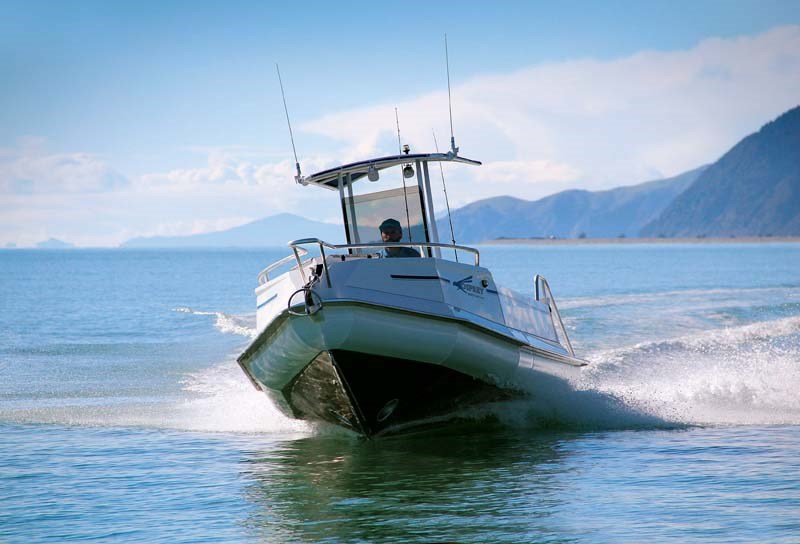 Aluminium pontoon-style boat builder Osprey Boats is a favourite among Australian top end fishermen. We rate and test the Osprey 600CC (Centre Console), derived from the mainstay Osprey 600RC.
A trailblazer when it comes to centre console fishing boats, Nelson-based Osprey Boats has been building centre console and rear console aluminium pontoon boats for some considerable time under the Darwin Series banner. Optimised for open deck casting, the Osprey Darwin Series has been a big success in the Australia's Northern Territory where they're seen as a step up on some of the locally manufactured tinnies that are pressed into service on the NT's extensive inland waterways. A low-value New Zealand dollar initially made the Darwin Series highly attractive and it was Australian orders for centre console and rear console designs that kept Osprey Boats afloat where others foundered during the GFC.
As pioneers of centre console designs many of the innovative features bred into Osprey boats are now being copied to a lesser or greater degree by other manufacturers but there is no shame in that. These features include the Darwin Series trademark forward casting deck with acres of stowage beneath, an electric outboard mount, a split-level walkaround sole and large full-beam boarding platform and integral livebait tank.
A model of enduring success within the Darwin Series is the Osprey 600RC which can be set up as a centre console or a rear console to best suit the boat's application and local conditions. The Osprey centre console featured here might be more practical for coastal conditions, whereas the rear console has benefits for sheltered inland waterways.
Osprey Boats centre console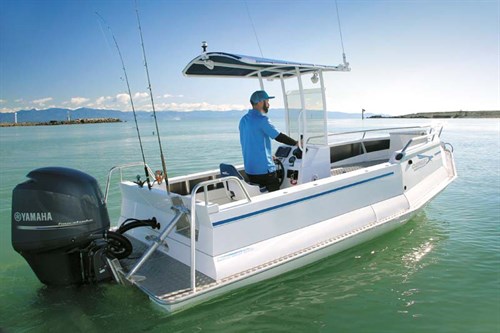 As the builder of choice for many commercial charter and workboat operators, Osprey Boats builds a proven hull that is designed to take the knocks and provide years of reliable service. The builder's 'belt and braces' approach to engineering carries through to its smaller Darwin Series models and it's hard to imagine ever breaking one of these boats through sheer stress of weather.
With its considerable 23-degree transom deadrise and variable chine running forward, these smaller Osprey models share similar on-the-water attributes as Osprey's bigger boats and they have proved eminently capable of voyaging out wide.
With 5mm plate in the hull and 3mm pontoons – the same material strength as many bigger models – the Osprey 600CC hull carries masses of reserve buoyancy in multiple sealed and pressure-tested chambers within each pontoon. Each model in the Darwin Series range is built to very strict Australian survey requirements.
Layout and design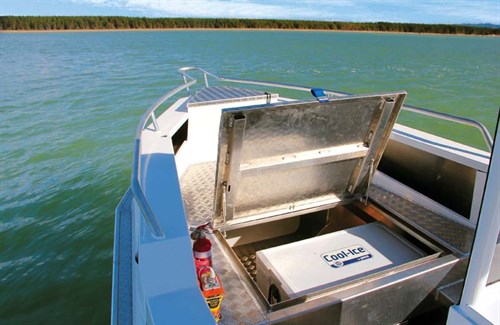 Like all Osprey Boats, the Osprey 600CC has the excellent external walkaround belting that extends from the transom to the bow. Capped with a solid aluminium rail, this provides very effective sacrificial protection for the hull and a surefooted step if moving around the exterior of the boat.
The Osprey 600CC also has one of the biggest and most practical boarding platforms in its class and a set of very substantial aluminium handrails that loop up and over the gunwales to provide extra safety when stepping over the transom bench seats and onto the boarding platform.
Divers will appreciate the sturdy T-bar ladder on the starboard side and the wide aft coamings, although a dedicated transom walkthrough might be a more practical option than full-width transom seating if you're a keen diver and this is offered as an option off the plan.
Fishability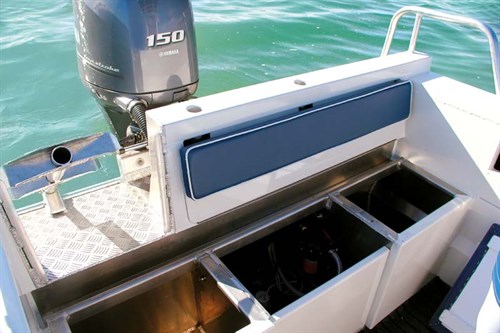 Keeping things simple can go a long way towards making a good boat great and in this regard Osprey has avoided any unnecessary trappings or frills and has delivered what is essentially a very basic but practical boat optimised for fishing.
The casting deck up front delivers a very generous and stable platform from which to sit or stand and flick lures, while aft the step-down checkerplate sole provides easy and secure walkaround access to the cockpit and allows anglers to fish the entire boat. A separate anchor locker with an enclosed Stress Free electric drum winch creates another sizable sitting platform at the stem. This could double as a base mount for an electric trolling motor if required.
A set of massive gussets are welded on each side of the boat to create a solid step up to the casting deck, while providing increased topside rigidity and stiffness. These steps are some height off the sole and could be a trifle challenging in difficult conditions.
Stowage is a feature with cavernous dry storage beneath the casting deck and within deep parcel shelves scalloped into the interior topsides. With additional wet storage in both the anchor locker and under the aft transom seating, there's a secure place for most gear including the large Icy-Tek chilly bin.
Five rodholders are recessed into the coamings on each side and another four are fanned out across the rear of the transom. A baitboard (not fitted) is an optional extra along with an additional rocket launcher fitted to the overhead bimini.
The central console is simple by design and fabricated from aluminium, with a large and effective acrylic windscreen. It is not the most stylish design nor is it particularly aesthetic but it is practical and large enough to accommodate a reasonable spread of instruments.
The overhead bimini is laced to an aluminium frame supported by alloy tube uprights to which the windscreen is attached. A sealed hatch on the forward side of the console gives working access to the instrument looms while, below, the boat's dual batteries, isolator and emergency link are securely mounted within the console at floor level.
Cockpit and helm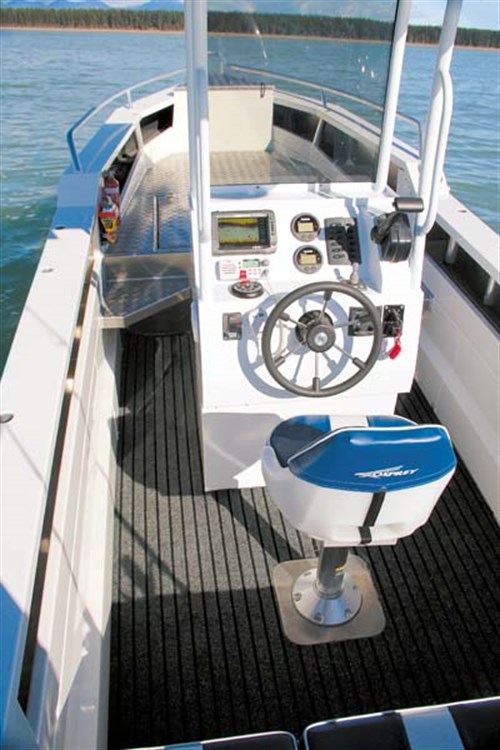 Built to an exacting order for an Australian client this 600CC has a lot of onboard fruit, not least of which is an electric bowthruster. Instrumentation includes a Lowrance HDS-7 plotter-sounder, FUSION stereo, GME VHF, remote anchoring and six-gang BEP switch panel for the bilge pump and overhead forward and reverse facing LED spotlights. The digital/analogue Yamaha instruments are flush mounted into the dash and a left-handed Yamaha remote has been fitted inboard of the overhead canopy upright.
Seating is minimal with a single pedestal swivel seat set behind the helm. This was altogether too close to the wheel to be comfortable but this is no biggie. Passenger seating comes by way of three upholstered seats across the rear of the transom and an upholstered backrest. Beneath these you will find a livebait tank to port, the centrally-mounted electric bilge, livebait and washdown pumps and, to starboard, a utility bin or a second livebait tank.
Handling and ride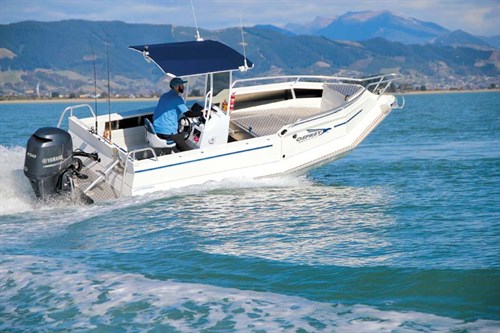 Being relatively light for her size, given there is no cuddy or hardtop to weigh her down, the Osprey 600CC is a spirited performer and the Yamaha F150 four-stroke outboard motor sitting on the transom is at the top end of the boat's recommended horsepower rating. And just as well.
Throttle response is instantaneous and will propel the boat all the way through to 40kts, if that's your thing. Being pontoon built the Osprey 600CC sits and rides very flat on the water and there is little change in pitch between displacement and planing hull speeds.
The hydraulic steering is precise and comfortably firm, with about a wheel-and-a-half from lock to lock. It takes a few brief minutes to get familiar with the left-hand throttle but once you do, everything comes together nicely. Pitch, power and trim are the key ingredients for a quality ride and these come together easily in the Osprey 600CC. The four-stroke Yamaha is beautifully quiet at cruising revs and there is not a hint of a rattle or vibration.
The deep-V ensures the pontoon hull has plenty of bite on the water and answers the slightest adjustment to the helm. While the driver will enjoy relative comfort behind the windscreen, there's no escaping the full sensory pleasures of open boating. If centre consoles have an Achilles heel then this is it. They're hard to beat for practicality and fun but I'm not sure they're an optimum solution for maximising your time on the water given New Zealand's changeable and fickle weather. This is perhaps why Osprey Boats chose to name their Centre Console and Rear Console designs the Darwin Series.
The Trade-a-Boat verdict
This aside, the Osprey 600RC is a competent dayboat with a solid build and proven engineering to venture safely far and wide. And as far as pontoon-hulls go the CC is a handsome boat with a mix of painted and vinyl-wrapped surfaces.
Delivered with a five-year manufacturer warranty and supplied on a braked tandem-axle trailer with Osprey's proprietary Easy Launch Easy Retrieve (ELERT) self-latching trailer system, getting the boat on and off the trailer is child's play. 
HIGHS
• Purposeful fishing platform
• Best-in-class casting deck
• Ample stowage
• Strong, safe and proven
LOWS
• Seating position
• Lack of finesse in some finishing detail
• Compromised walkthrough
Osprey 600 Centre Console specs
Osprey 600CC price: $94,655
Price as tested
PRICED FROM
$58,750
OPTIONS FITTED
Bowthruster, Lowrance HDS-7 touchscreen, LED package, and Yamaha F150 four-stroke outboard motor upgrade
GENERAL
MATERIAL GRP
TYPE Monohull
LENGTH 6m
BEAM 2.25m
WEIGHT 800kg (hull)
DEADRISE 23°
CAPACITIES
PEOPLE 5
FUEL 150lt
ENGINE
MAKE/MODEL Yamaha F150 outboard motor
TYPE Inline EFI four-cylinder petrol outboard motor
RATED HP 150 at 5500rpm
DISPLACEMENT 2670cc
GEAR RATIO 2:1
MORE INFORMATION
Osprey Boats
105 St Vincent Street,
Toi Toi, 7010, Nelson
Phone (03) 5487887
Email lloyd@osprey.co.nz
Web osprey.co.nz
See the full version of this review in Trade-A-Boat #260, November / December 2015. Why not subscribe today?
Keep up to date with news from Trade-A-boat or like us on Facebook!